Honestly, it was yesterday that I finally got in the Christmas spirit! I have been running around CRAZY trying to find gifts, wrap them, grocery shop, go to parties, not to mention work! Something finally clicked yesterday and I found myself full of Christmas cheer! (I'm pretty sure it was because I found the last gift and thus ended the need for more shopping--that makes anyone happy, right?) It was a good thing because I had my holiday baking scheduled for last night. I use the term "baking" loosely, as only 1 thing was actually baked, but still. Anyway, after wrapping the last gifts I started on this year's array of confections. Last year I went OVER the top and was crying after the 2 day baking event. I may have threatened to never make another cookie as long as I lived. This year, I only made ONE type of cookie and focused on other yummies that would make good "tin" snacks for me to distribute. Thanks to pinterest, that wasn't hard to do. I hope you get to make some of these treats and if you do, please let me know what you think! Of course, they are not original ideas and credit is given below! Also, what are some of your favorite holiday treats to make? Leave me a comment so I can start a list for next year!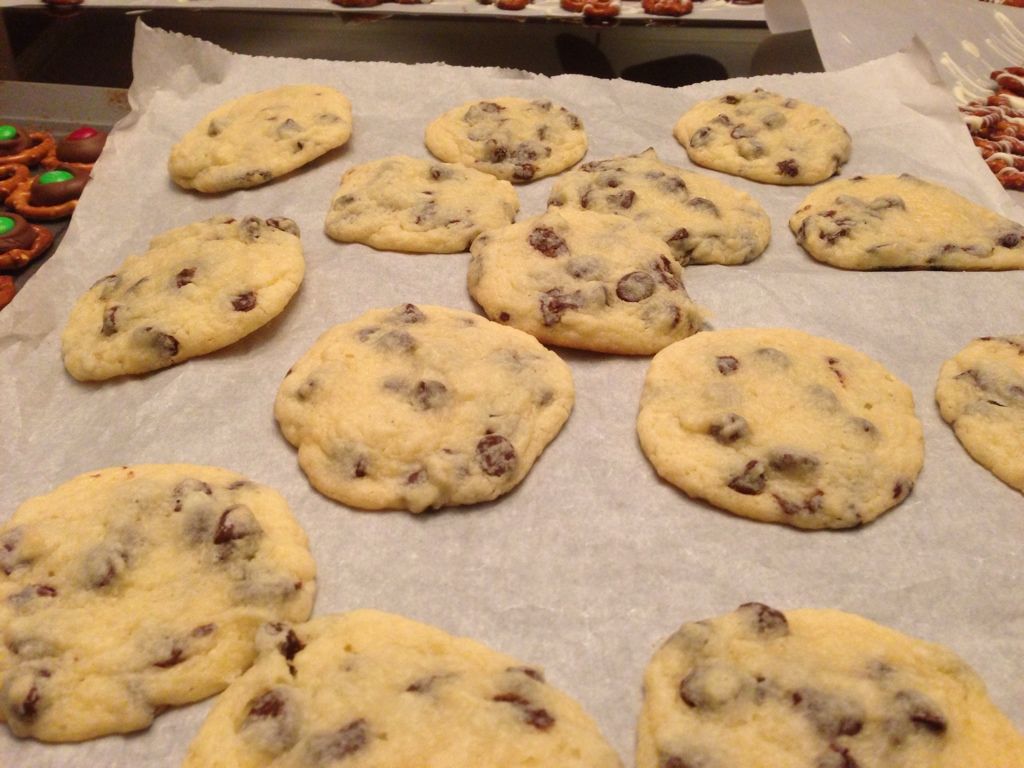 I did NOT add food coloring. I am not a big fan of stains so I am really no fan of food coloring.
1

pouch (1 lb 1.5 oz) Betty Crocker® sugar cookie mix
1/2

cup butter or margarine, softened
1/4

to 1/2 teaspoon mint extract
6

to 8 drops green food color
1

egg
1

cup creme de menthe baking chips (Andes makes these)
1

cup semisweet chocolate chunks






1. Heat oven to 350°F. In large bowl, stir cookie mix, butter, extract, food color and egg until soft dough forms. Stir in creme de menthe baking chips and chocolate chunks. I had to use my hands to mix. The dough is really thick!

2. Using small cookie scoop or teaspoon, drop dough 2 inches apart on ungreased cookie sheet.

3. Bake 8 to 10 minutes or until set. Cool 3 minutes; remove from cookie sheet to wire rack. Serve warm or cool completely. Store tightly covered at room temperature.



These were a new addition this year. I saw them on Pinterest and thought they were super cute but also easy! You will need:
Bugles--in the chip aisle!
Christmas colored M&M's
Almond Bark (although the chocolate kind would be pretty good if you ask me)


1. Melt the almond bark on the stove over low heat. You can use a microwave but I thought it worked easier on the stove.
2. Take a Bugle and scoop a little of the almond bark into the large opening. You want to make sure you choose one with a nice wide mouth--wide enough for an M&M.
3. Stick an M&M into the mouth of the Bugle and you are done!

One bag of M&M's makes like a million hats. Have plenty of chocolate handy!

I stood in front of the stove with my almond bark melted and my Bugles to the left and M&M's to my right and a big piece of wax paper covering the counter. Don't try this at home, because it is probably the least safe way to do this, but I left the eye of the stove on so when my chocolate seems a little thick, I could slide it right onto the eye and stir and never have to stop my personal assembly line. Bugle, scoop, and top. Easy enough.





Forrest did the drizzling and was really good at it!

Things that make you go MMMM!!

Another great Pinterest find! These were ridiculously easy to make. If you have kids this seems like a good one to let them "help" with.




1 bag of pretzels (16-18 oz) (I doubled this--2lbs is a LOT of pretzels. You have been warned)

½ cup cinnamon sugar for sprinkling

1 cup white chocolate chips (or almond bark, which is what I used)




1. Whisk together oil, sugar, and cinnamon.

2. Pour pretzels into a microwave safe bowl and pour oil mixture in. Stir until coated.

3. Microwave for 1 minute, remove and stir. Microwave 45 seconds more.

4. Spread pretzels evenly onto two cookie sheets covered in parchment paper. I just covered my dining room table with parchment paper. It is covered with glass, but these aren't really hot anyway.

5. While still warm, sprinkle cinnamon sugar generously.

6. Melt white chocolate (on low heat, be careful not to burn) and drizzle over cooled pretzels.

7. Store in an airtight container.



My favorite holiday treat!!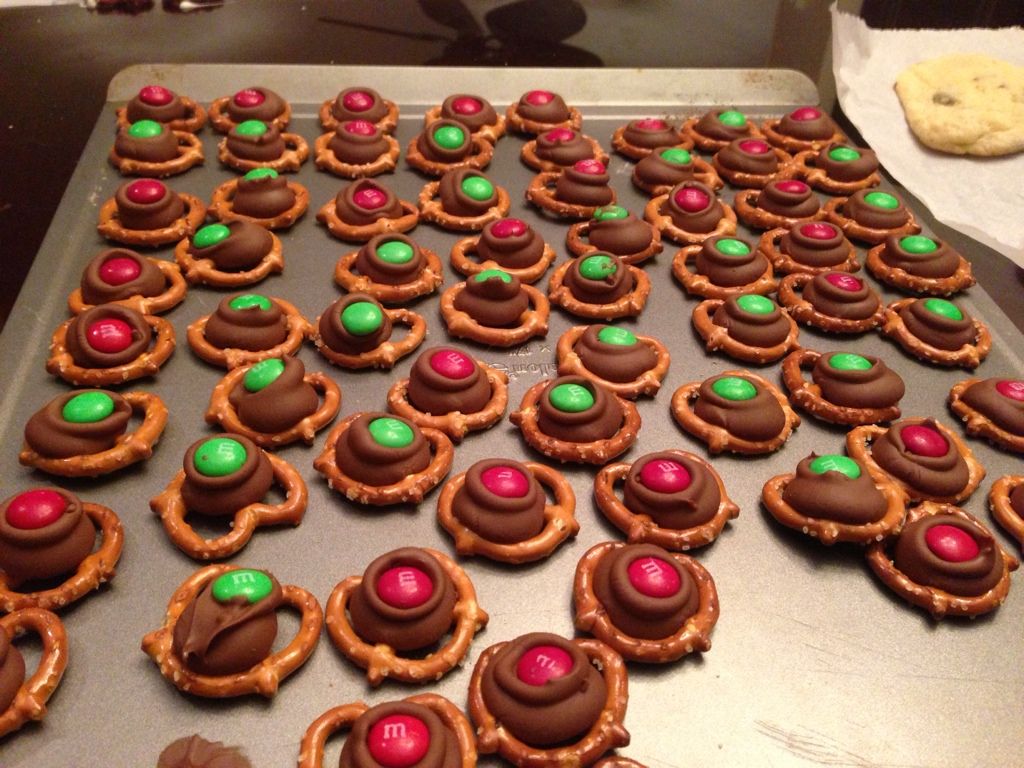 Click the link to take you to my recipe!