I use a question mark in the title because it has been anything but winter around here, and I can't say that I am sorry about it. It has been in the 70's lately and that makes me smile! It has been raining lately and that is no fun, but at least it isn't freezing cold and rainy! It doesn't feel like December, but the Christmas decorations would suggest that it is! We are gearing up for the holidays, even if the weather isn't, and that is fine by me. One of my favorite things about the holidays are all of the Christmas parties, and they are officially in full swing! Last week I had my book club Christmas party. It is one of my favorites because we do a book swap! Everyone brings a book they have at home that they enjoyed reading and we play dirty santa, which is always a blast! My book is The Memory Keeper's Daughter, by Kim Edwards, and I can't wait to start it! Then on Thursday we went to the Etowah County Bar Association Christmas Party at John Jennings' house . It is one of my favorite parties of the year because we get to chill out with other lawyers instead of working against them.
On Friday, we had our Young Marrieds' Christmas Party at the Fords' home. They did a selection of soups and everyone else brought an appetizer. I made a brie/cranberry spread and I have to admit, despite the fact that it was super easy, it was one of the best things I've eaten in a while! I'll post the recipe below! I really love our Young Marrieds group and am so glad that it has continued to grow over the past year. It is nice to have church friends, and especially nice to be able to celebrate with them!
On Saturday Forrest went mountain biking while I was busy "Christmas-ing". I shopped til I just about literally dropped, and wrapped all afternoon! That night we went with our supper club to Highlands Bar and Grille for our Christmas get together. We decided that there is just too much going on during the holidays for us to try to host something at someone's house, so we all elected to get dressed up and go eat together. It was SUCH a fun night! We ordered nearly all of the appetizers and passed them around so everyone could get a little bit of everything. Then, out came the entrees. Again, everyone got a little bite of each dish on the table. Now, I am typically a germaphobe and don't like to share, but this evening called for an exception! My wahoo was amazing, as was Forrest's venison, as was everything else! Even though I was pretty full, we couldn't pass up dessert, right? I ordered the ice cream: chocolate Jack Daniels, egg nog, and caramel. I think my dessert was the best, or maybe tied for the best with Forrest's sweet and salty cake. My mouth is watering just thinking about everything all over again! We truly are lucky to have such a sweet group of friends that makes such an effort to get together each month. Our evening out was the perfect way to celebrate each other!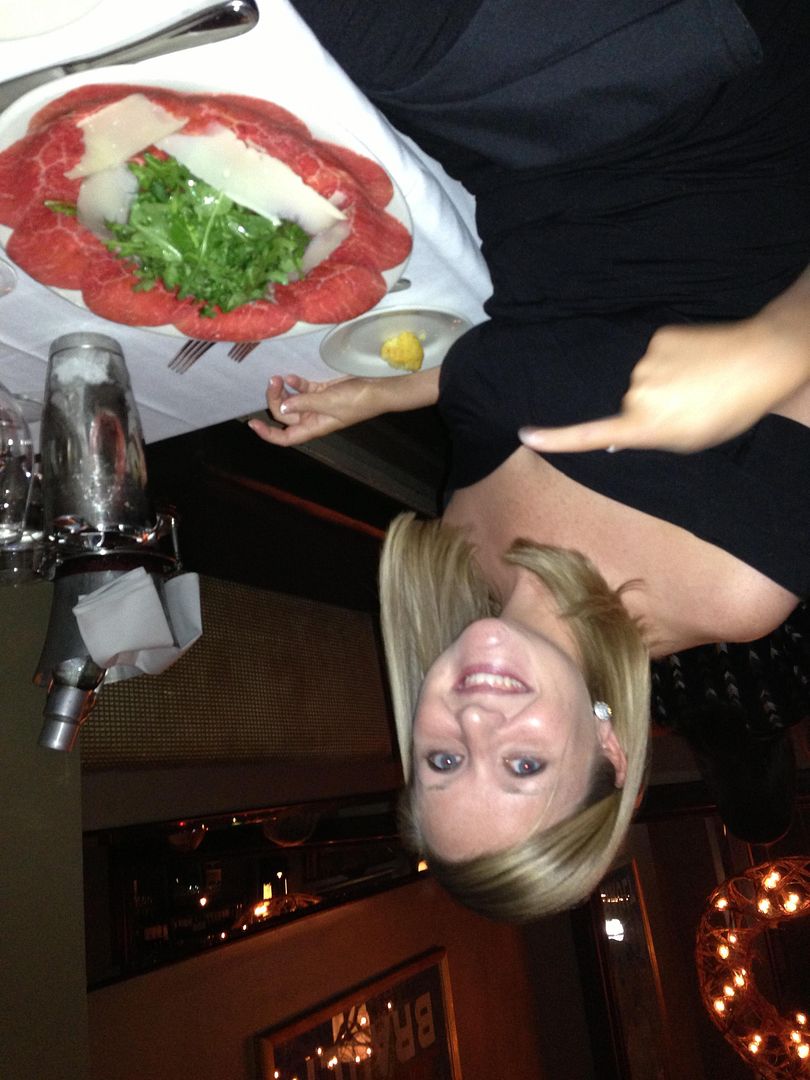 Julie with our favorite app, beef carpaccio
"Wahoo" for the wahooo!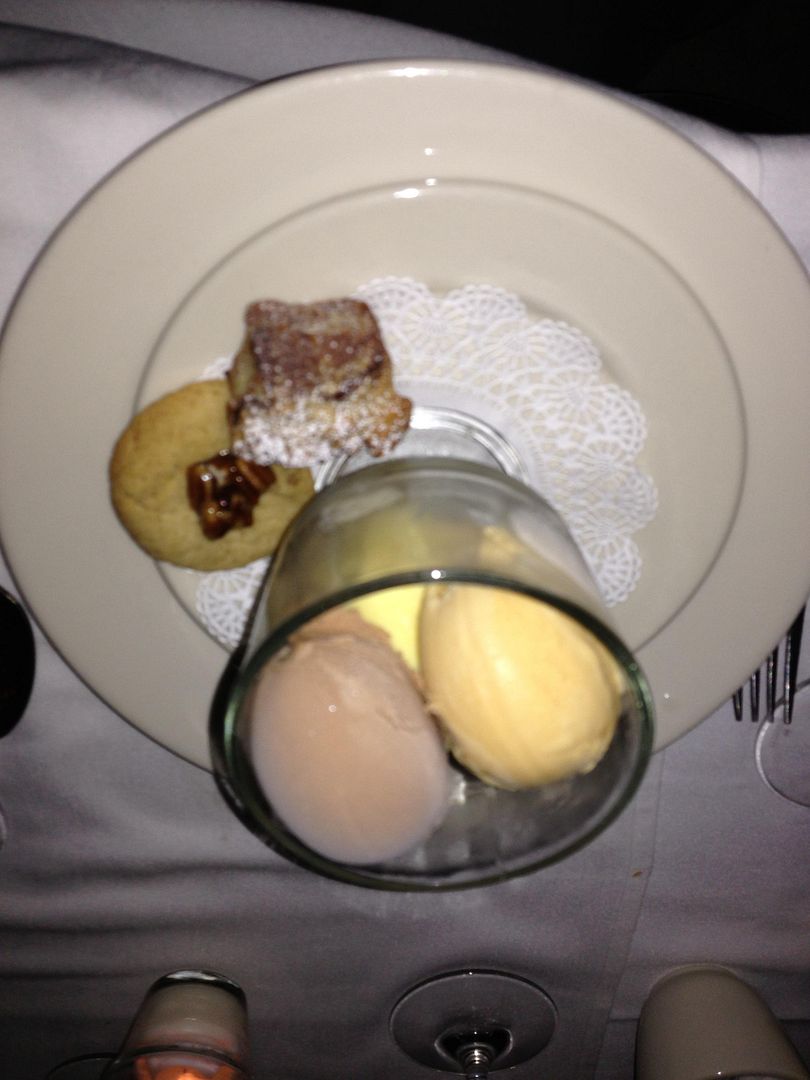 Delicious ice creams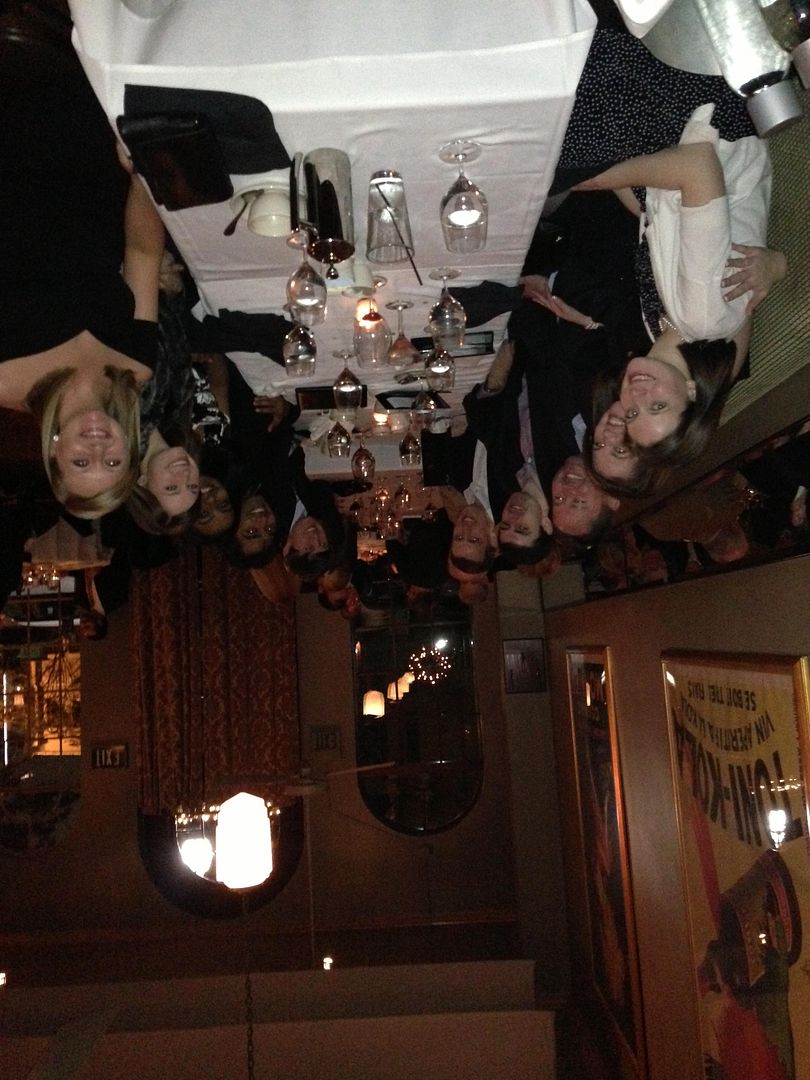 Our wonderful group!
On Sunday I was literally wiped out. After a much needed grocery run, I basically slept all afternoon. I guess I had done a little too much Christmas-ing after all!
There was no rest for the over-Christmas-ed, however, as we were set to decorate my parents' tree that night. Dad made cornish hens for dinner while Mom, MMM, and I decorated the tree. It was a really sweet night with family and it was great to see MMM home again after the big win!
I hope all of your Christmas preparations are going well and that you are gearing up for a great time with your family! Only 1 week to go!
Cranberry Brie Appetizer
Ingredients
3/4 cup cranberry sauce (about 1/2 a can of whole cranberry sauce)
1 16-ounce brie round
Zest of one orange (I didn't use this--too much trouble!)
2/3 cup walnut pieces (I used pecans)
Crackers for serving (you want a plain-ish cracker)
Instructions
Preheat oven to 350 degrees F.
Remove the top of the rind from the cheese using a serrated knife, and discard the rind. Place the cheese, cut side up on an oven safe plate or bowl. Just make sure to use a larger plate or a bowl so your cheese doesn't start oozing off the plate. I used an 8x8 baking pan that came with my every day china so it is "cute" but functional--you can serve it and eat it right out of the dish!) Bake at 350 degrees F for 10 minutes.
Remove from the oven and top with the cranberry sauce. Bake for an additional 5 minutes, or until the cheese is soft and warm. Sprinkle the top with orange zest and walnuts.
Serve immediately with crackers.
Honestly, we gobbled this up. Forrest REALLY enjoyed it and wants me to make it again, so I'm probably bringing it to a party on Saturday! Of course you have to bring this to the party and make there.