So was looking back at my calendar to make sure that I didn't forget to mention any of the fun things we did this weekend and I realized that basically we ate. We ate at home, we ate with friends, we ate and ate and ate! Honestly, eating is one of the most fun things that Forrest and I do. We are both adventurous eaters and like to try new foods all of the time. We are always up for a good meal, whether it be at a gourmet restaurant or a yummy frozen pizza!! This weekend we really had some fun along with our meals! On Thursday night we went with the Gandhis to the Borders for pizza and salad. The real reason was that Forrest and Anu wanted to drive Kevin's GTR before he sold it. They had a blast driving around while we ladies hung out with the kids inside. Kelly has 2 adorable girls and I was in LOVE with all of their princess toys, and Mamatha brought adorable Arth. It was a really fun and easy night with sweet friends!
The next night we met with our Young Marrieds group at Tre Ragazzi, the new Italian restaurant in town. Everyone had a great meal and of course the company was great fun. as well. The Ford's are going to Italy in March so we were excited to share our own experiences with them and to hear about their trip. Ahh, Italy. I wonder if the Fords will let me stow away???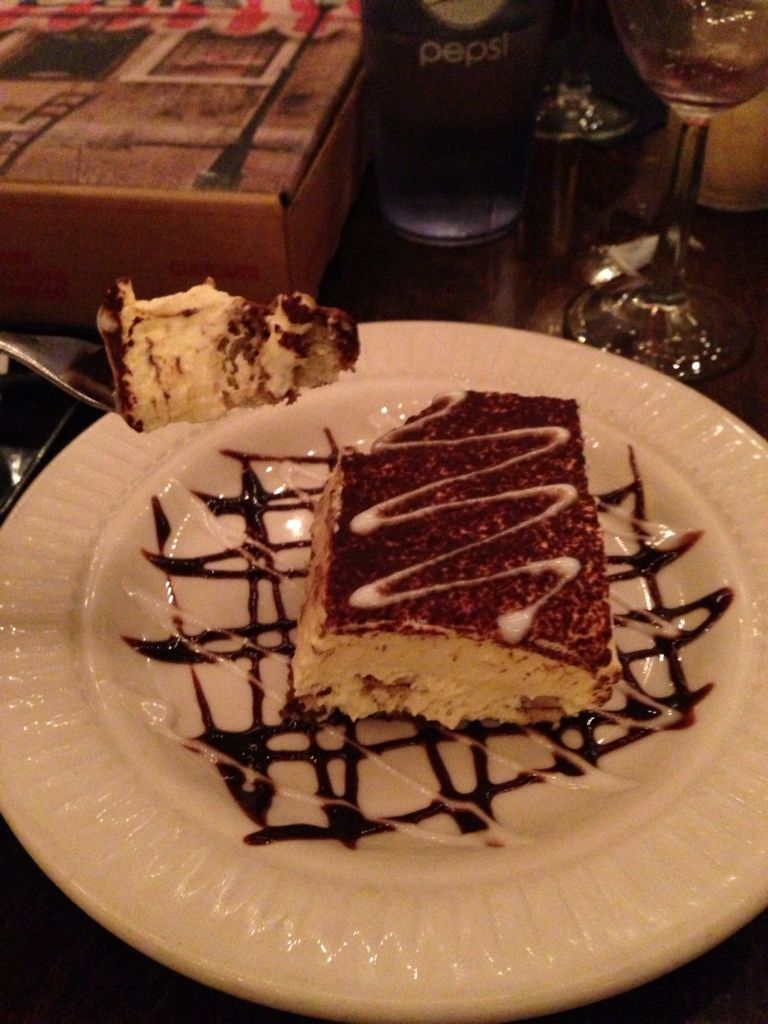 Tiramisu? Don't mind if I do!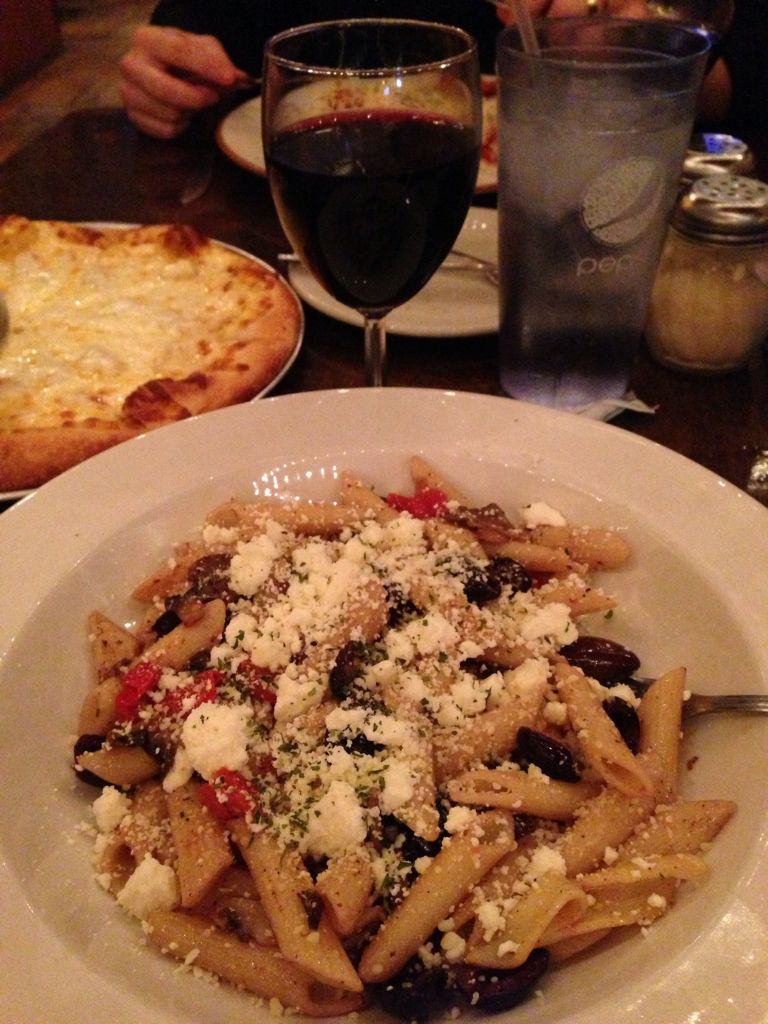 I definitely want to recreate this pasta dish. It was delicious yet light!
On Saturday Forrest was busy with errands and what not so I busied myself by making soup! I love to have soup ready to go in the freezer for those cold nights when I don't feel like cooking, and an open Saturday was just what I needed. I made Vegetarian Taco and Tomato Basil Parmesan. Yummy yummy!!!!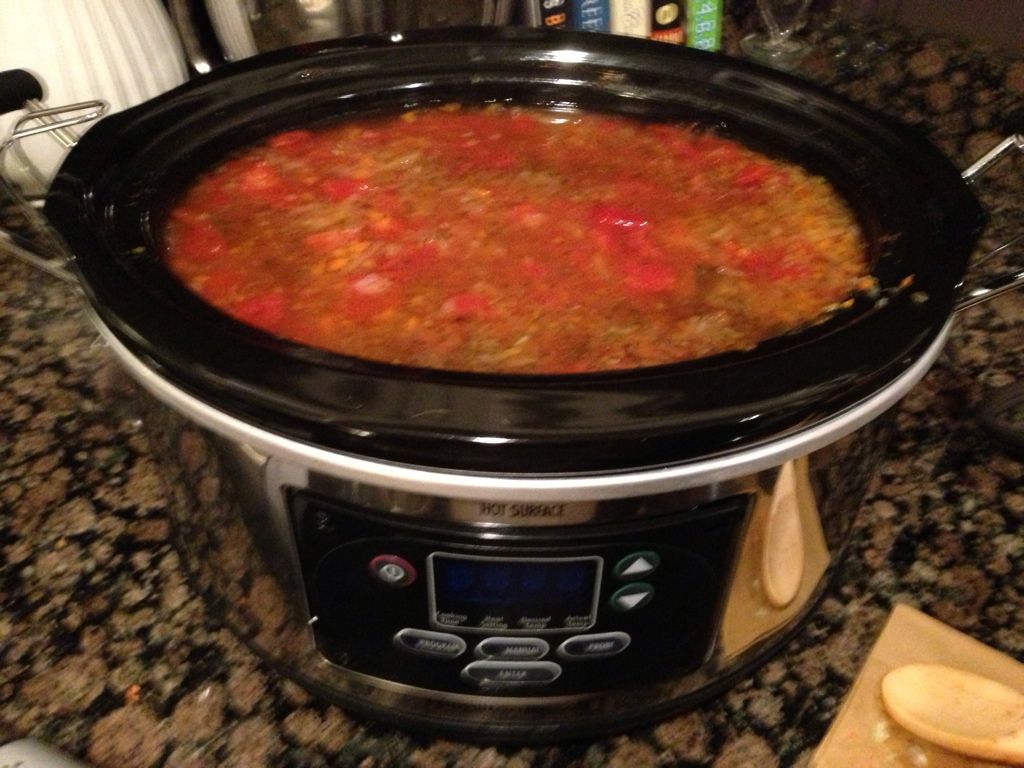 Cooking down the veggies for the Tomato Basil soup in my new crock pot!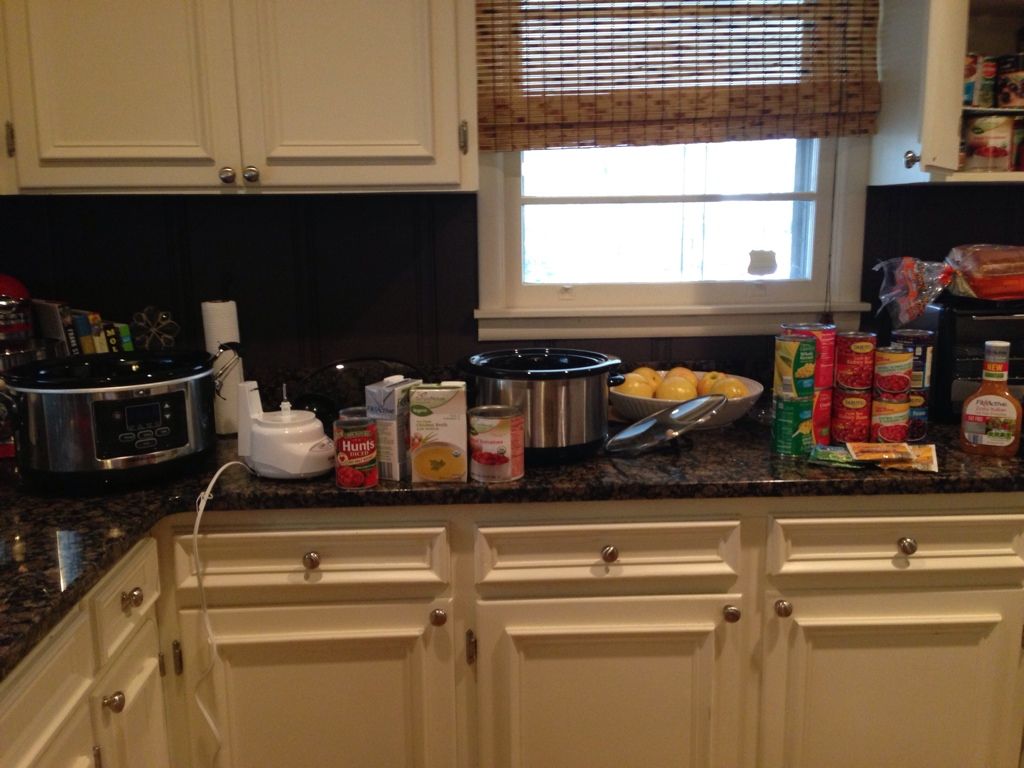 This is what my kitchen looked like--oye
That evening we had supper club at the Yother's. It was their first time to host and I was excited to see their house. Claire and Paul really went above and beyond the call of supper club, that's for sure! We had tomato tarts, homemade crackers (Ina Garten-omg amazing) and Brie with honey, apples, and pecans for appetizers, served with Sidecars to drink. Holy moly--I was stuffed before dinner. Then, they served Coq au vin--oh sweet heavens-how have I never had this before??? I was literally licking my bowl by the end--the chicken was SO tender and flavorful!! I might could eat only that for the rest of my life. I mean, it is pretty good for your heart, right?? Veggies, red wine, chicken? Can't go wrong!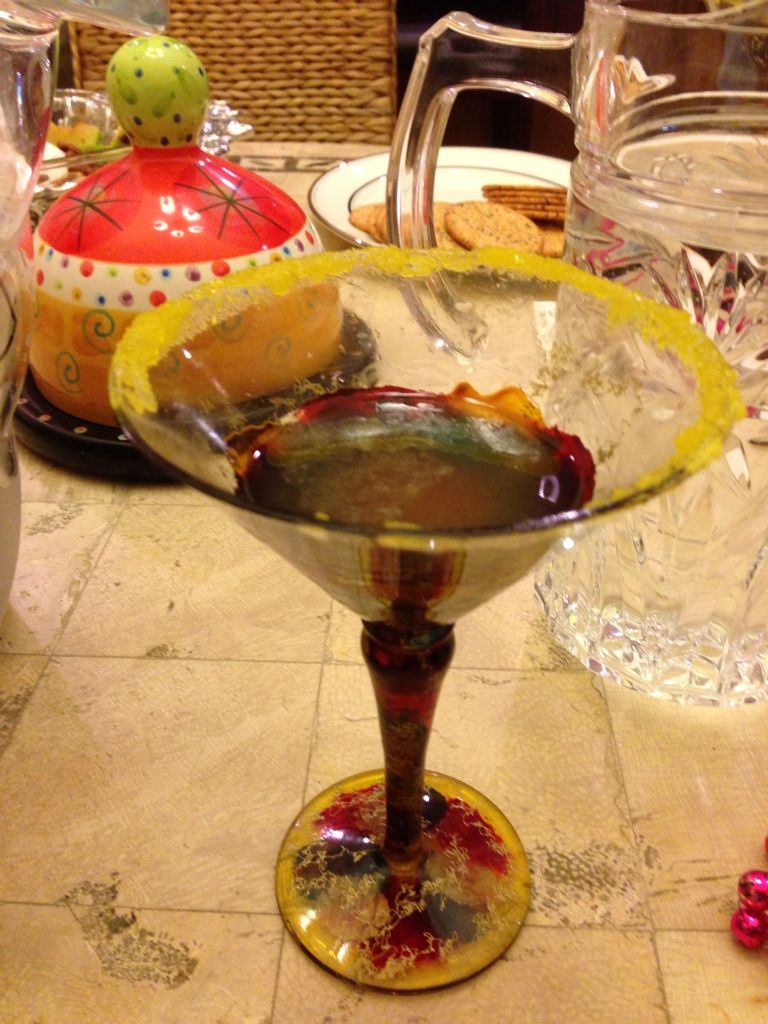 Sidecar--mmmmm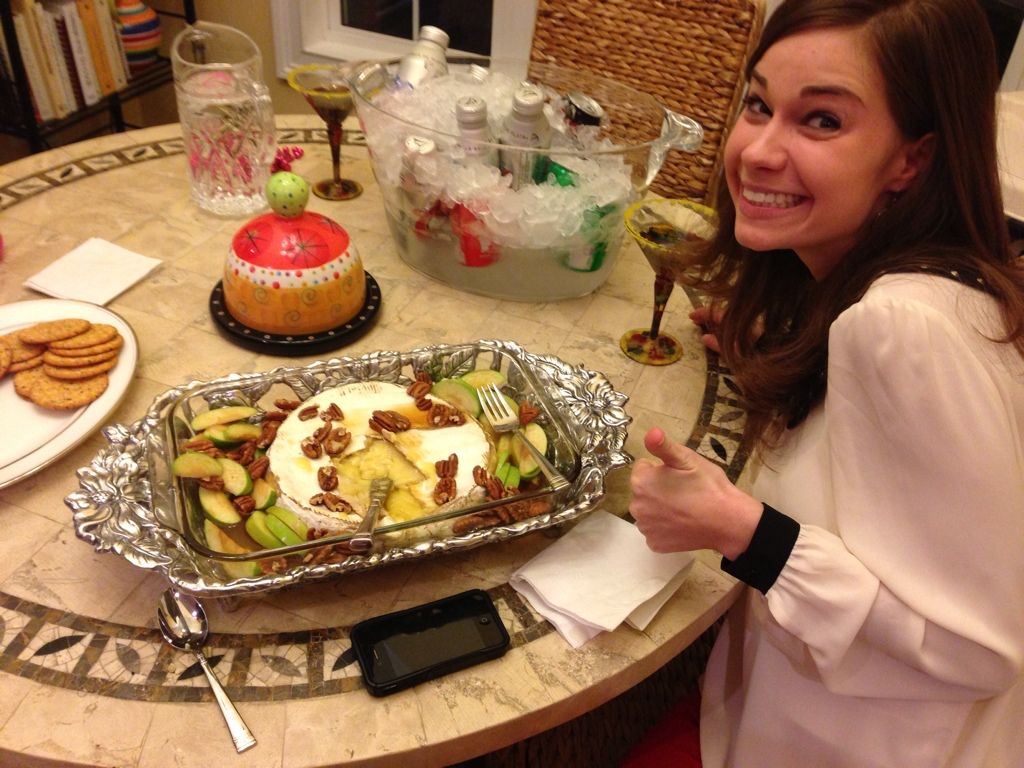 Who doesn't love a giant wheel of cheese?
Homemade bread
Coq au vin!! Magnificent!!!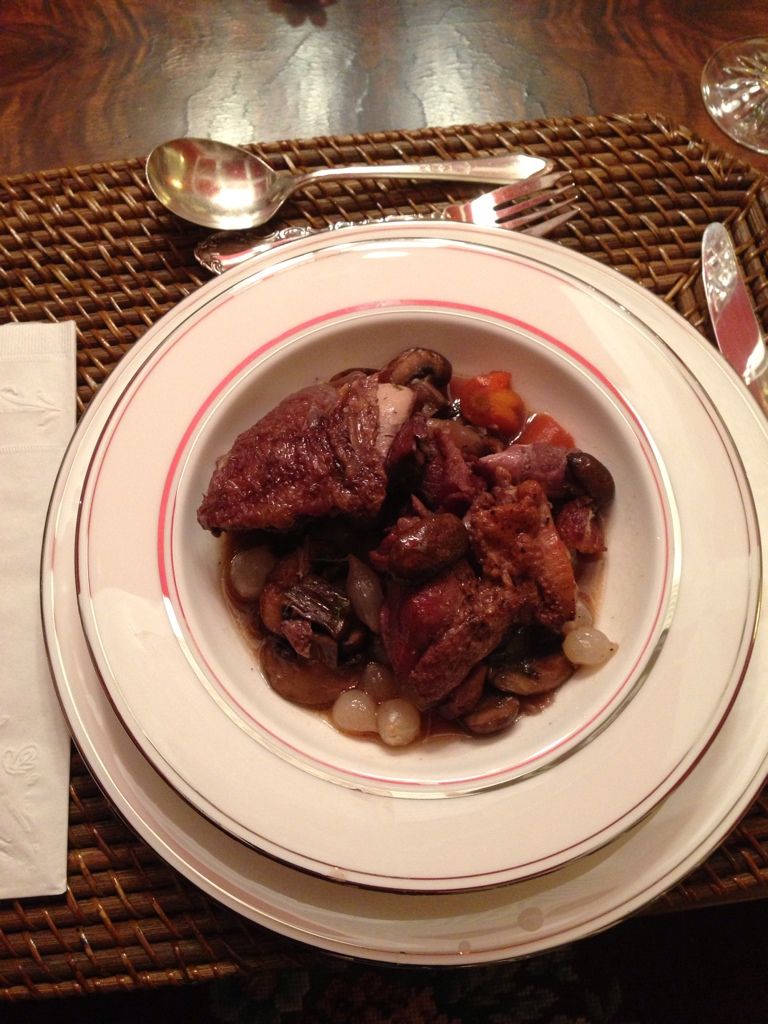 Do you understand why I decided I needed the bowls?? This presentation is wonderful!
Claire's table was lovely and I was super jealous of her bowls and crystal. I don't have the bowls to my china because I thought I would never need them--well now how on earth am I going to be able to serve Coq au vin to my friends? I spent a lot of time trying to find them on eBay but I found my crystal instead--yippee! Even better! Forrest won me 8 of the water goblets for basically the price of one--hooray! If only I could serve coq au vin in those!! Oh well, I digress.....
After dinner we surprised Mamatha with a birthday cake since it was her actual birthday! Yay!! Claire also had the most amazing chocolate mocha cake. By the end of the night Forrest literally had the left over cake plate in his lap. It was that good.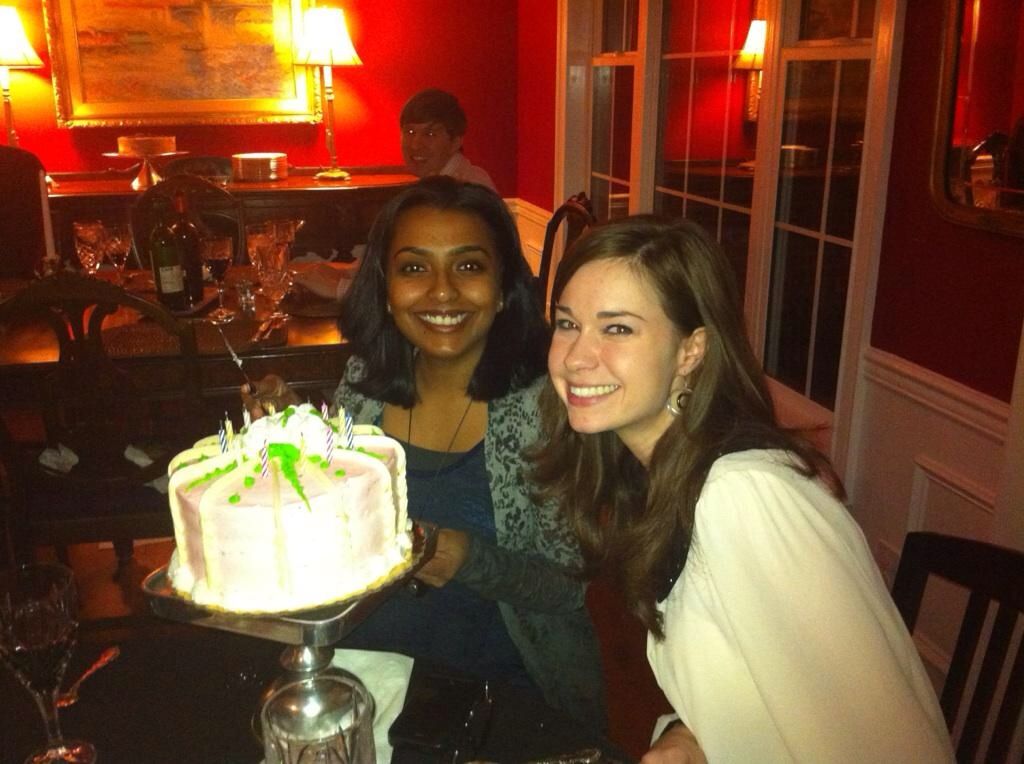 One of my all time favorite people! Happy Birthday Mamatha!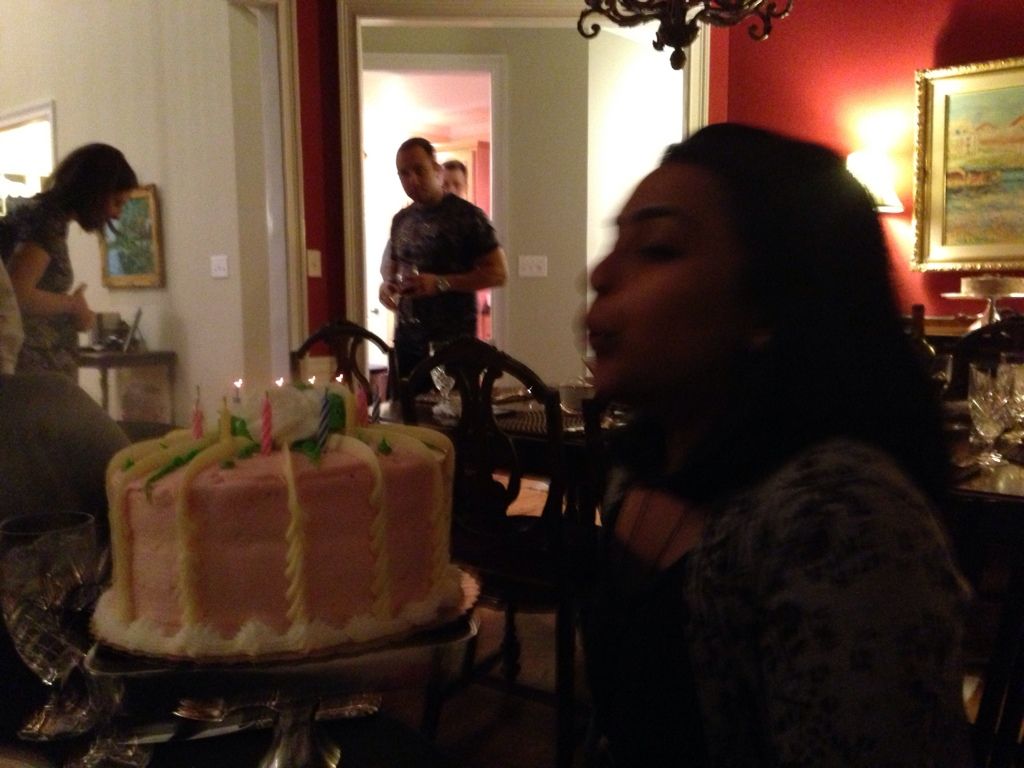 Make a wish!!
After dinner we all played a game called wins and wagers (wagers and wins?) that had us in fits by the end. We played in teams but you couldn't have your spouse which made it really funny and wild! We were screaming, laughing, spilling wine, just plain old having a great time!!!
On Sunday I met my darling friend Randi for lunch to celebrate my birthday. I haven't seen her in so long and it was wonderful to catch up. I picked the Cheesecake Factory for lunch since they obviously have good desserts, and I mean we were celebrating a birthday! I must report that my salad with salmon was the BEST salad and really the best fish I have had anywhere in a really long time! Nice work! Of course, my chocolate tuxedo cheesecake was divine as well!
That night we ate with my parents (mahi mahi) as usual. You'd think that is where our weekend of eating would end, but oh no. Last night we ate at Sky with our "Lake Family" to celebrate January and February birthdays (me, Sara, and Barbara). On top of getting presents (yay!) we ate some amazing smothered chicken, and Aunt Sue brought an adorable cake!!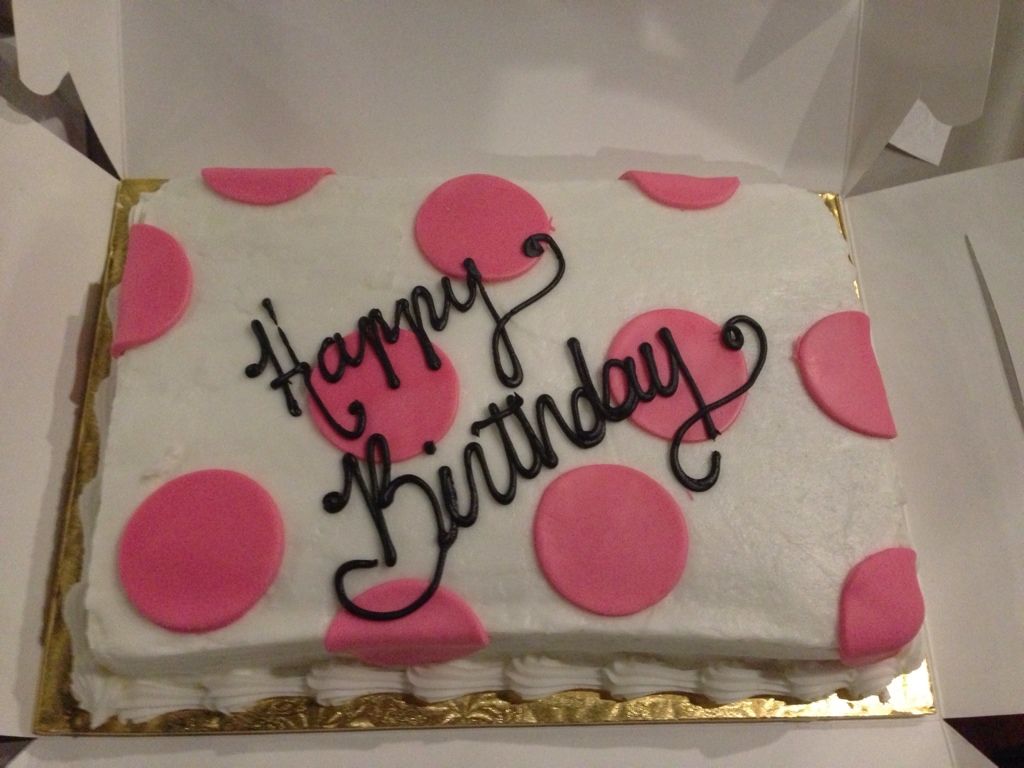 Even today I'm still stuffed and I probably don't need to eat anything again until next weekend!! Hope you had a "full" weekend and are having a fun weekend!!
Soup recipes:
You can find the Tomato Basil Parmesan soup recipe on my blog
here
.
I also make a yummy taco soup that you can find
here
, but I used
this
recipe for my soup this weekend (which is basically the same I think) because it used a crock pot.
Heart Healthy Taco Soup
Ingredients:
28 ounces Hunt's Crushed Tomatoes
10 ounces Rotel
16 ounces Black Beans
16 ounces Kidney Beans
10 ounces Corn
1 package Taco Seasoning
1 package Ranch Seasoning
2 Boneless, Skinless Chicken Breasts (approximately 5 ounces each)
Directions:
If using canned beans, rinse all beans thoroughly. Then dump all ingredients into a slow-cooker and heat on high for 2-3 hours. Shred chicken breasts when cooked thoroughly.