My friend
Lauren
had this link up today and while I'm sure you are bored by now by all of my "facts" that I share with you, in the spirit of blog-erly love, I'm going to be a joiner and go for it! I'm linking up with Whitney from
I Wore Yoga Pants to Work
--who I just started reading and am now obsessed with. Enjoy!
Some Very VERY Random Facts about Catherine:
Fact: I am a joiner, even though my intro may have suggested I am not. I am typically the first one to join anything, but I can hear about something and be all "Ugh, that sounds so lame" but as soon as a friend joins in, I am in too. Currently I am the Bar Association Treasurer, Service Guild VP, County Panhellenic President, in a book club, a blog cooking club, supper club, Young Marrieds group at church, and am on the board for the County Alumni Association and just rolled off the Humane Society Board. Plus I'm the municipal judge in Sardis. Fun times. I love every single one of those groups and wouldn't give them up for the world!
Fact: I love to sing. I sing every song in church (unless I don't like it in that case I rebel by not singing--I'm sure they notice). I was in the choir in high school even though my voice is just ok. I would never sing solo or anything, but I just really really love to sing!
Fact: Despite my love to sing, I do not like listening to the radio because of the chatter. My work involves chatter and while I'm all for chatter, I don't want to listen to it all day long. Therefore, I listen to silence in the car unless it's like a road trip, in which case let's please use an ipod or XM.
Fact: When I had XM, which was only when I got my new car because it was free and then when Forrest got me an extension for my anniversary, but not now because I am cheap, I listened to the satellite radio stations that I probably could pick up in the car. Purpose defeated, I think, but sometimes 90's on 9 would call my name and the fantastic tunes on that station made it all worth it. I loved being 12 again!
Fact: I've seen several boy bands in concert: Backstreet Boys, NSYNC, 98 Degrees, Hanson (when I was in law school-for real) and New Kids on the Block WITH the Backstreet Boys in 2009. I also saw Brittney Spears--Mandy Moore opened for her. Non-boy teeny bopper concerts that I have attended include: Billy Joel, Elton John, Billy Joel AND Elton John, Eric Clapton, Chicago, Harry Connick Junior, Celine Dion (in Vegas, by myself-yep).
Fact: I want to travel as much as possible. If I ever have "extra" money I want to use it for traveling anywhere and everywhere. There is so much of the world that I want to see! Forrest and I have a map that we put pins in to document the places we have been and the places we hope to go next. The best thing about returning from a trip is getting to put a new pin in the map!
Forrest and I in Eze, France this past year
Fact: I have wanted to be a lawyer since I was about 4. For some reason my dad had to take me to court with him one afternoon and I absolutely loved it. I remember exactly what I wore and exactly where I was standing when dad gave me a speech about how I had to be quiet and couldn't run around. I was in AWE of the judge and had a great time meeting everyone after the hearing (of course I don't remember what the hearing was for, yet I remember my outfit 25 years later). Ever since then, all I wanted to do was take after my daddy, and I did just that!
Fact: My sister is the newly crowned Miss Alabama USA! Hooray! However, I am a "beauty queen too"! I won the first pageant I ever entered--Miss Purple and Gold, our high school pageant--in the 11th grade. I was also a "Corolla Favorite" in the 2nd pageant I was ever in (and last), Miss Corolla, at the University of Alabama as a freshman. My crown is still smaller than my sisters. Boo.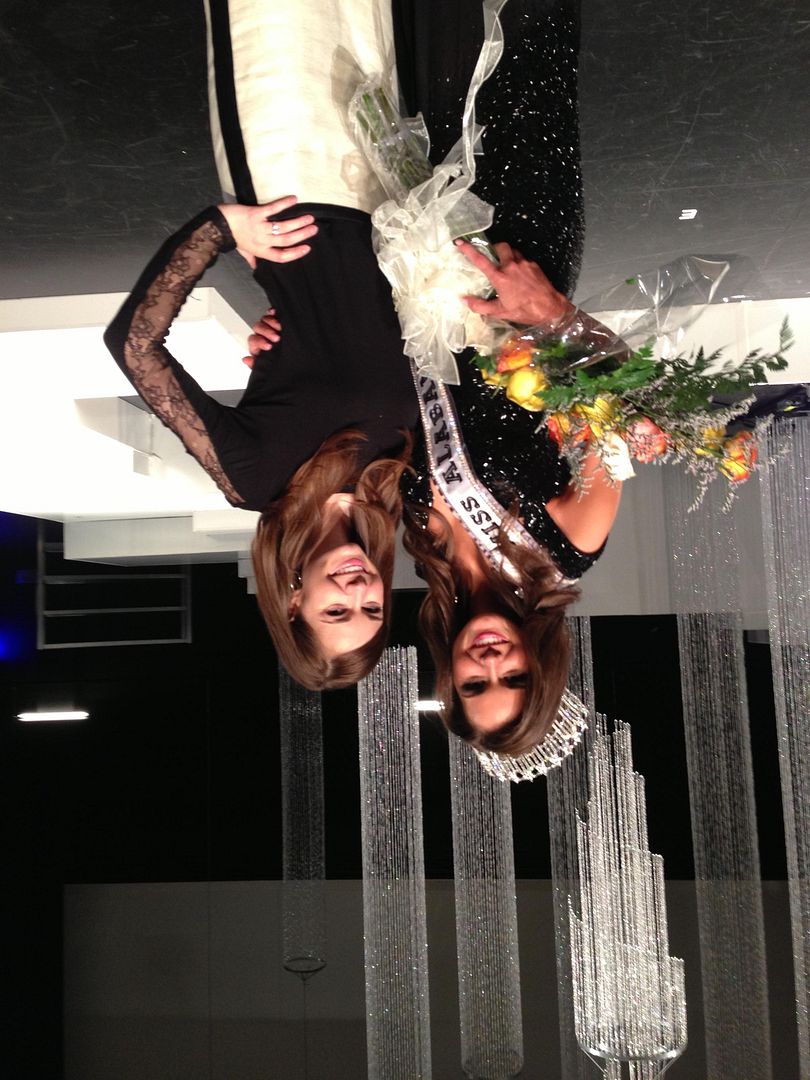 Me and Miss AL USA!
Fact: I love to read, but will only read one book at the time. College killed me because my majors required lots of reading, so I would have to read one whole book before starting the other. I may have made one or two exceptions but didn't like it. Text books are thankfully a different story in my brain.
Fact: I have a brother!!! Usually people forget about him because he went to Georgia Tech for college so he never really met many of my college or grown up friends. My sister went to the same college as me, so people just assumed it was the two of us, when in fact there is a brother in the middle! He is very cool and awesome and is an engineering consultant. I don't even know what that is completely but he is very busy and important. Plus he loves sports and is super fun!
Me, my bro, and my sista
Fact: I have seen up close the following list of celebrities: Ruben Studdard (American Idol), Matthew McConaughey, Usher and Chili (from TLC) who were at Six Flags and cut line to ride the Superman, Angie Harmon and her football playing husband Jason Seahorn, Paul Finebaum (sports personality). I've met several University of Alabama football celebs, but for the sake of time, let's just leave it at that.
Farrah, Me, and Paul Finebaum in Gainesville
Ok--surely you are tired of random facts about me. This was kinda fun though! Have a fun Tuesday!