When we made up our minds to fly to Miami, we decided that it wouldn't kill us to drive a little bit, so we planned to spend the weekend in Key West. Forrest and I both have always wanted to visit the Keys and we hated to waste an opportunity since we would be so close! After a late arriving flight into Miami on Friday night, we got up early on Saturday to make the 3 hour drive to the Keys. It was a beautiful day and the scenery on the way down did not disappoint! There was a relay race going from Miami to Key West that weekend and they happened to be ending in Key West on that very day, so traffic was slow moving. On top of that, we didn't have a hotel room yet and most were booked! We threw caution to the wind and decided the laid back approach was the best, and it was! Everything fell into place and we had a fantastic time! The trip can best be described through all of the pictures we took. Enjoy!!!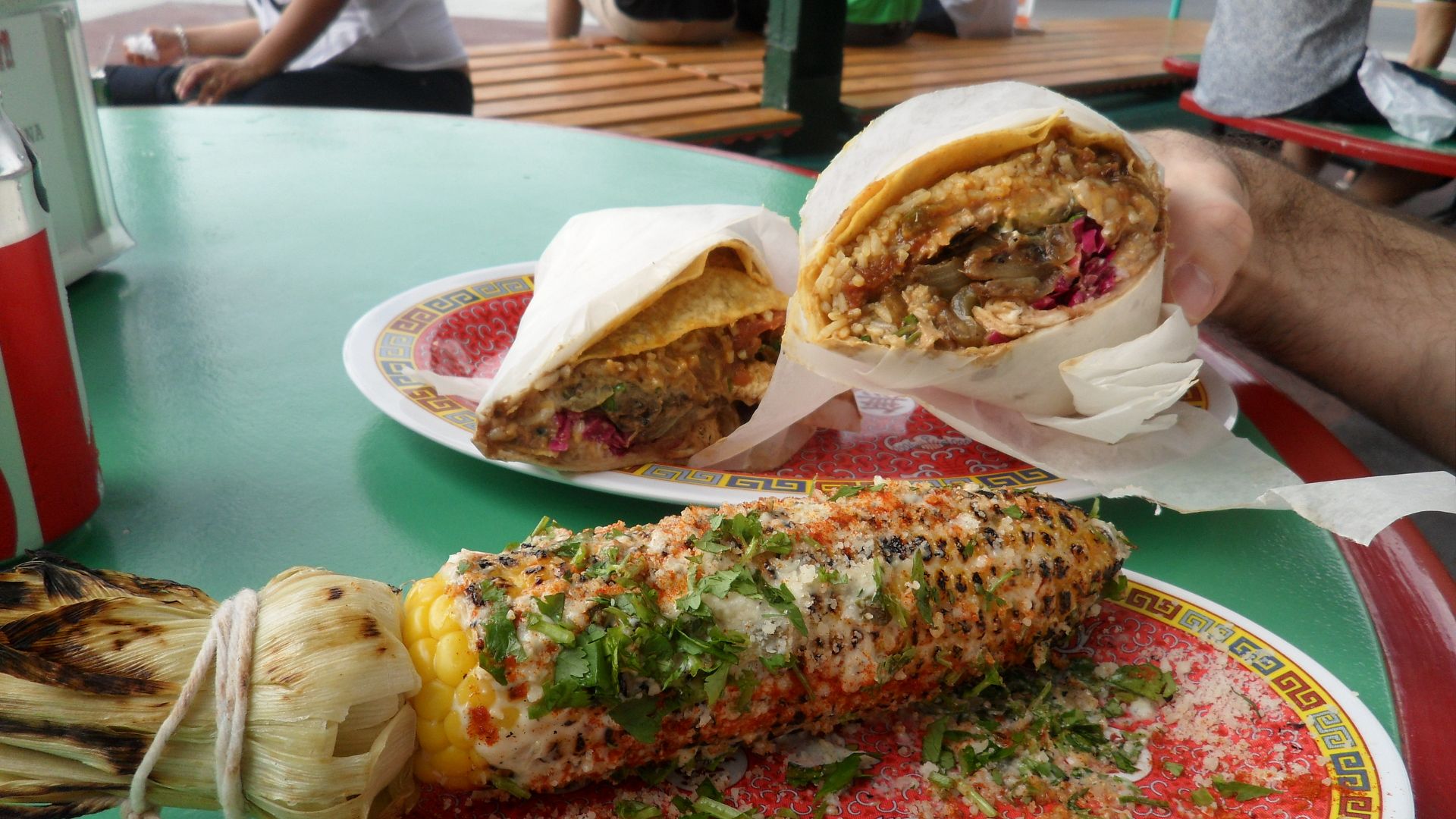 You would think our first order of business would be to find a hotel, but instead we chose to eat, and it was definitely the right decision! We ate lunch outside at a little restaurant called Paseo, recommended to us by my friend Carla. OMG--it was to die for. This is Forrest's meal--caribbean wrap and the most delicious corn on the planet!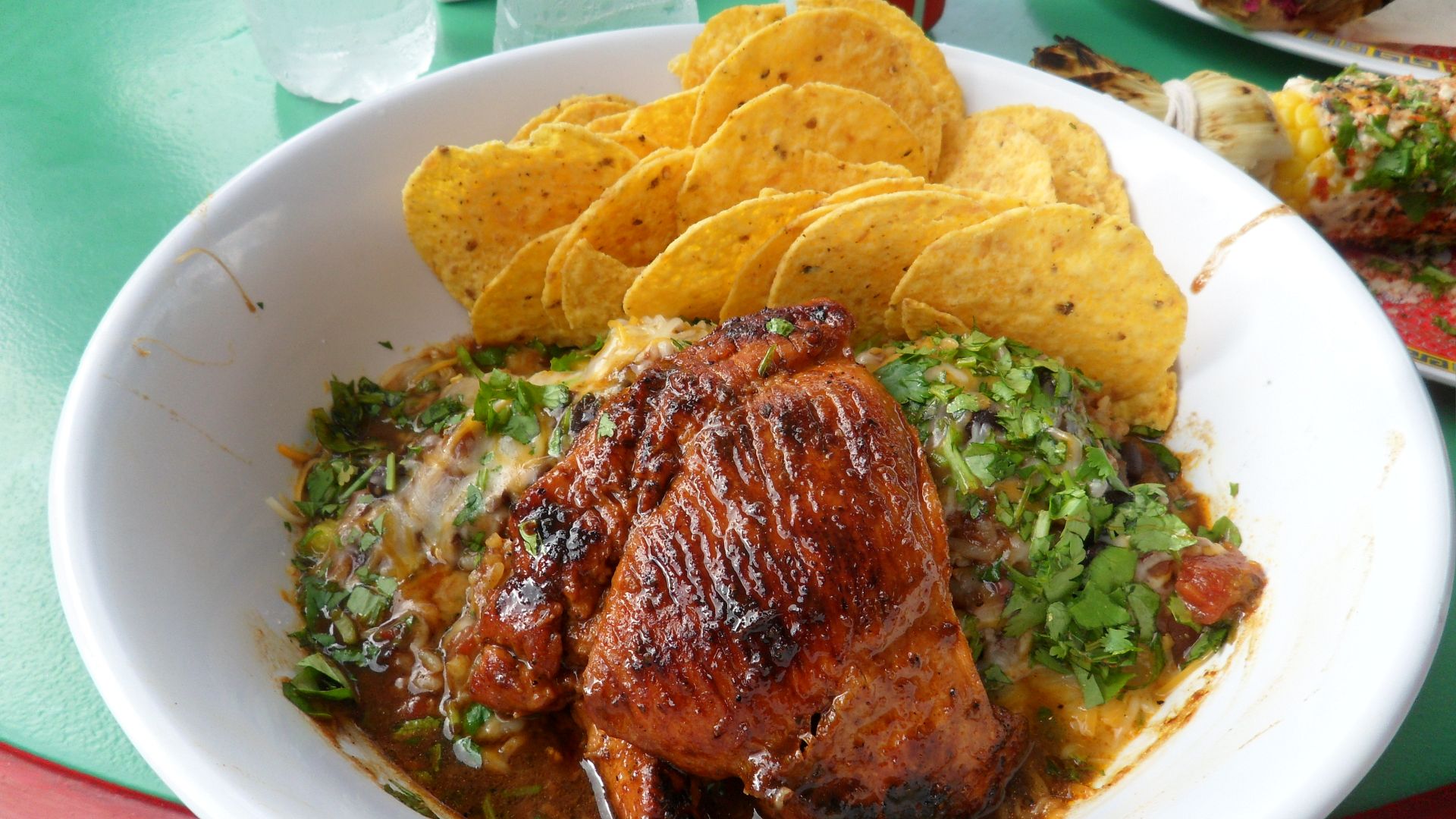 The lunch was so good I felt I needed to show you all of it. This is my caribbean bowl. I am a little sad looking at this picture because I know I won't get to eat this again for a long long time.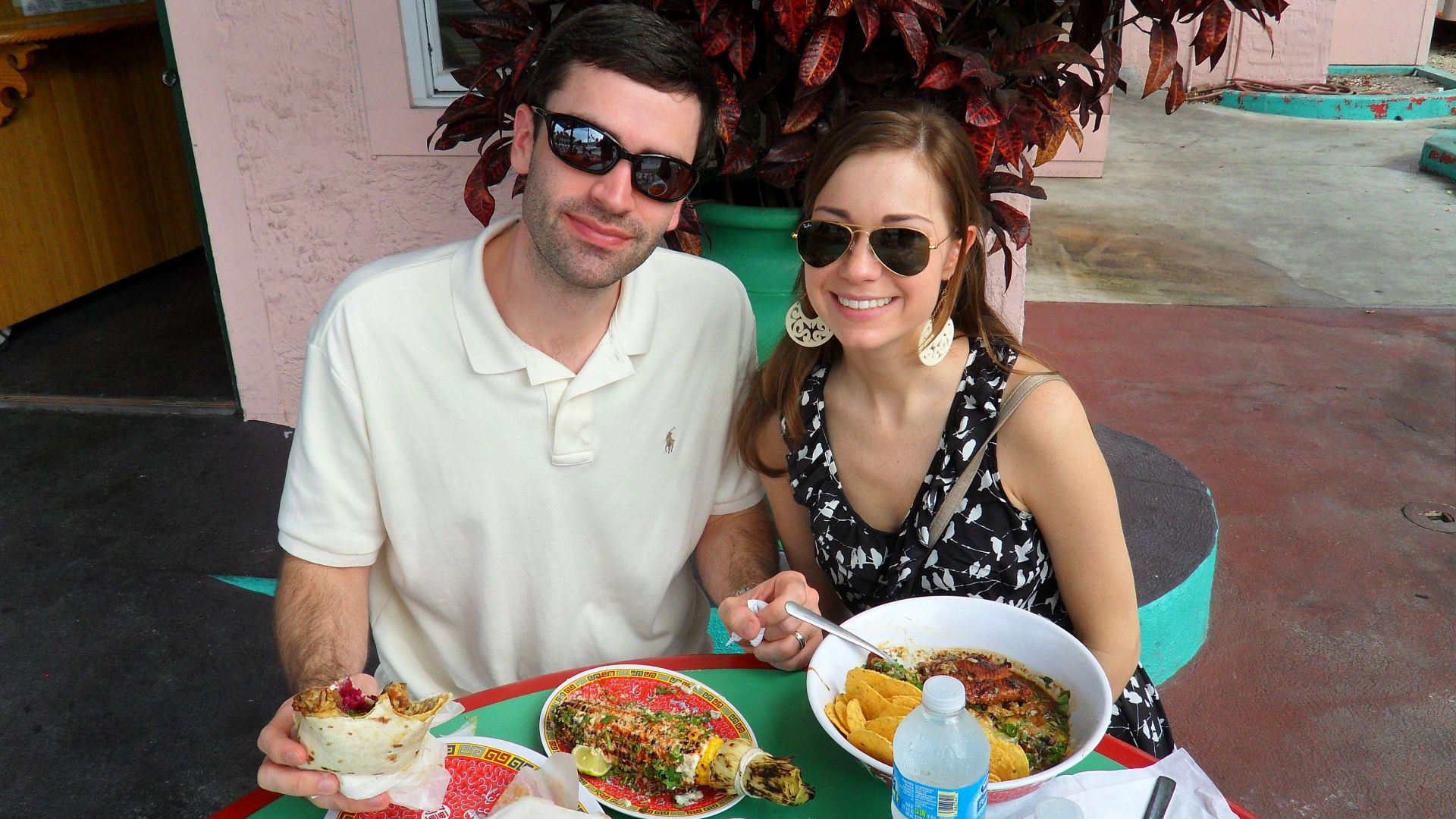 Super happy at Paseo
Time to walk the famous strip!!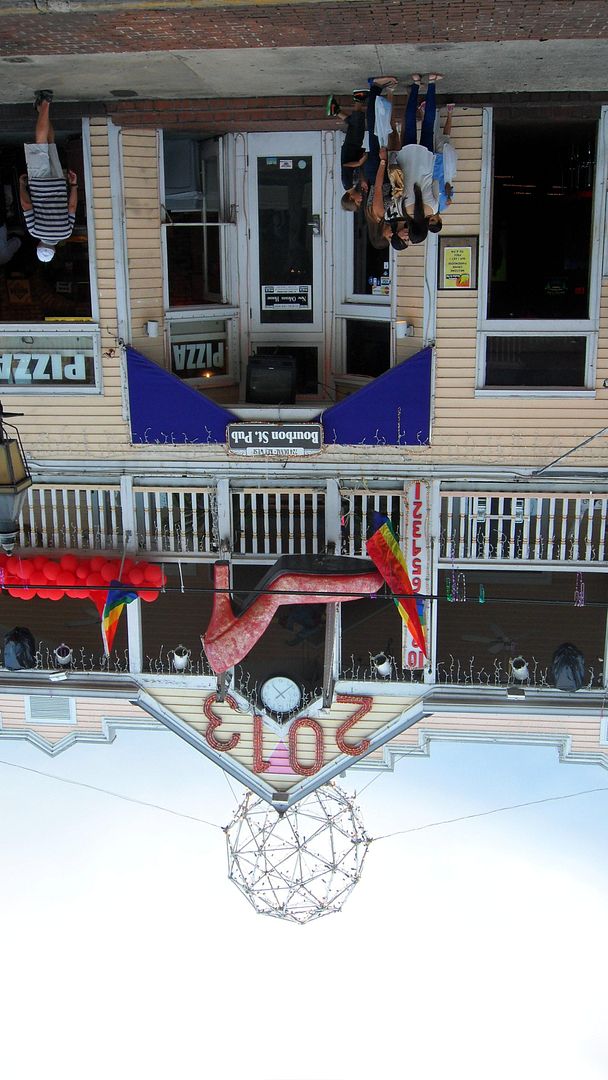 They drop this shoe on NYE!!! Adorable!!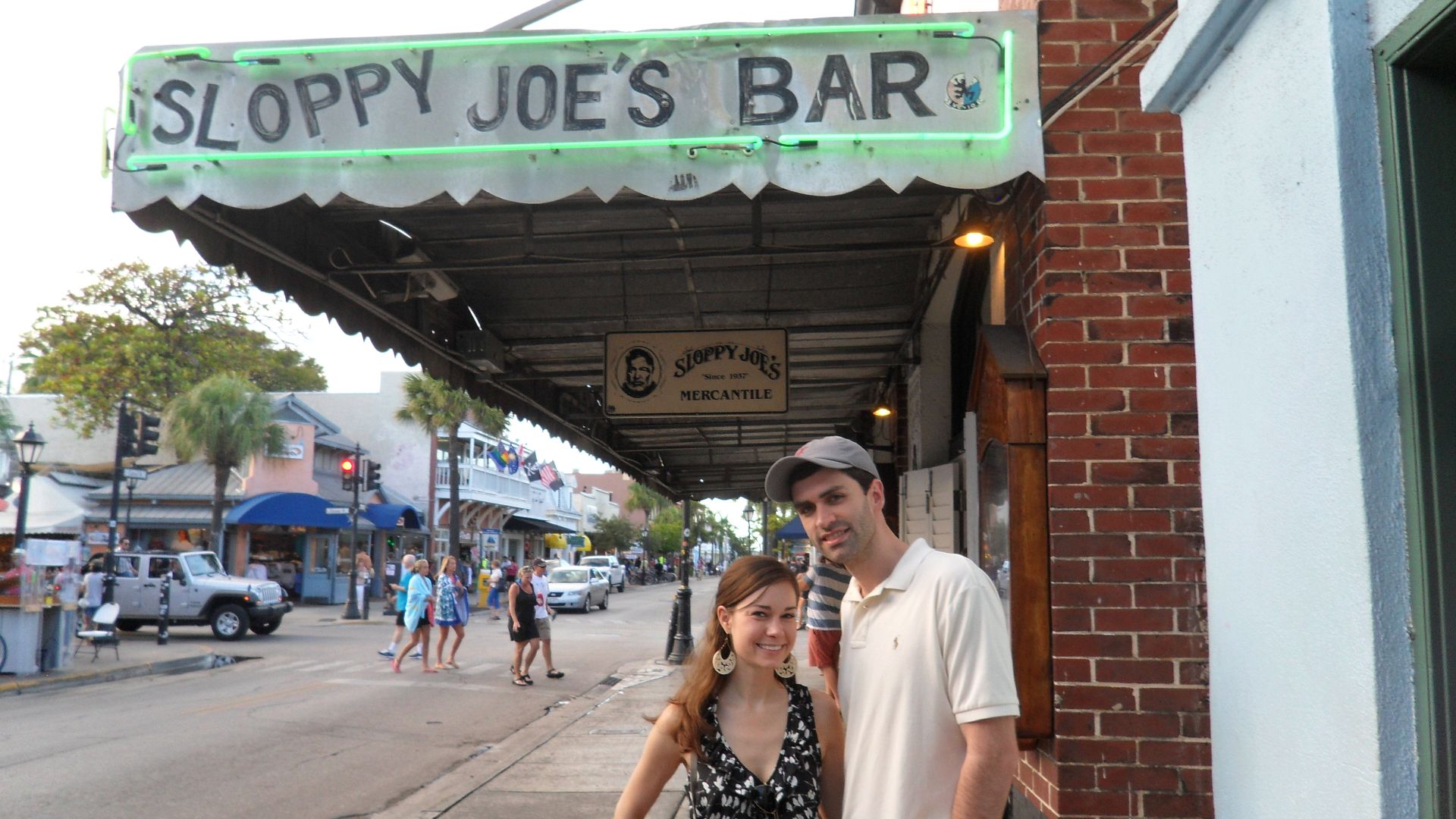 We had a great time checking out the sights while walking down Duval Street. Of course we had to pose with Hemingway's favorite haunt!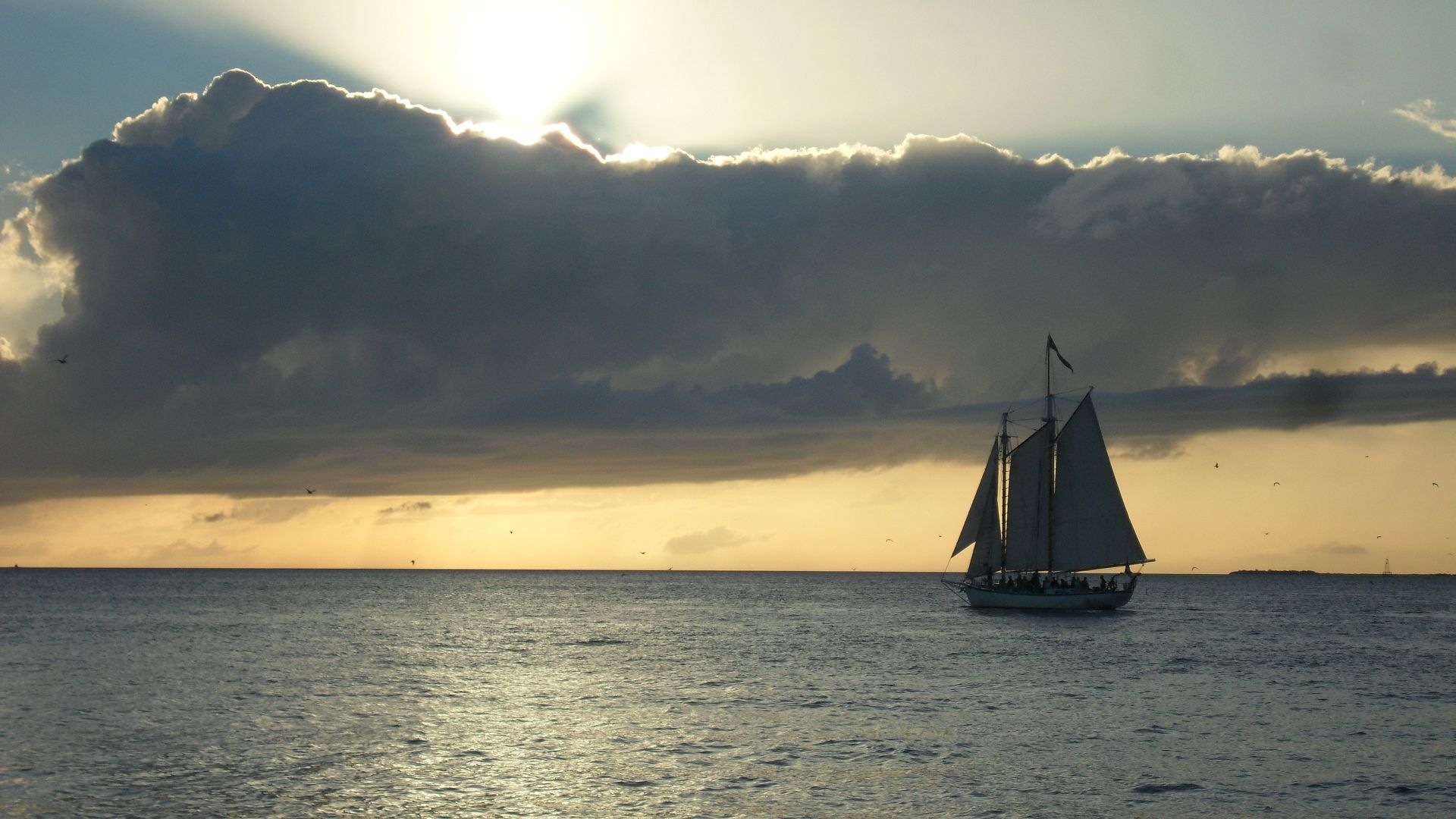 We window shopped all the way down Duval to Mallory Square to take in the sunset. It was fantastic! I was less impressed with the street performers, especially the guy dressed as a bush who scared the crap out of me, and the guy with the trained cats. The sunset made up for it!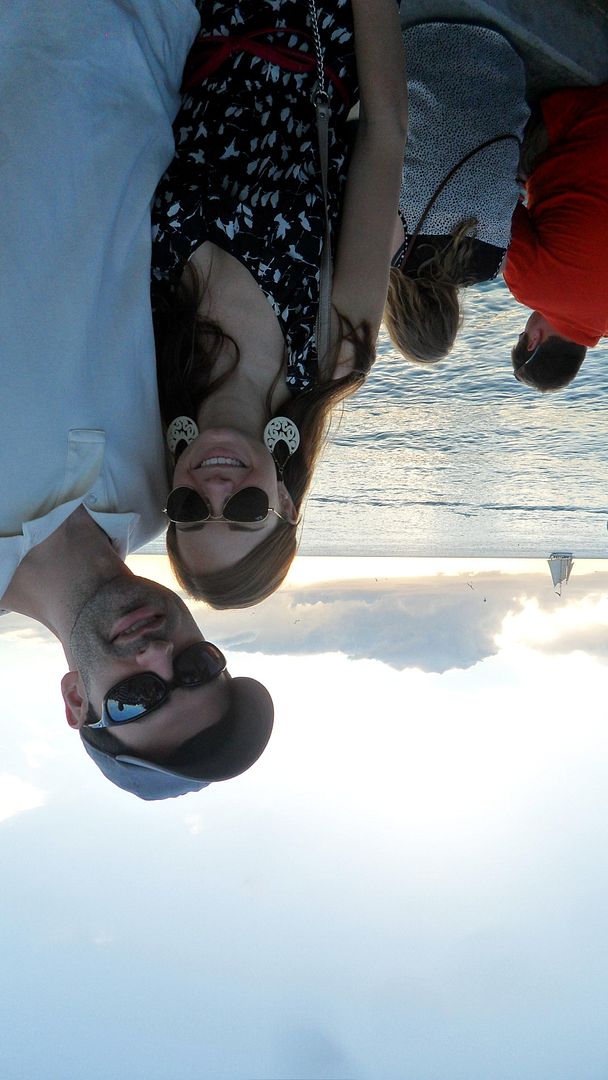 So happy to be in Key West!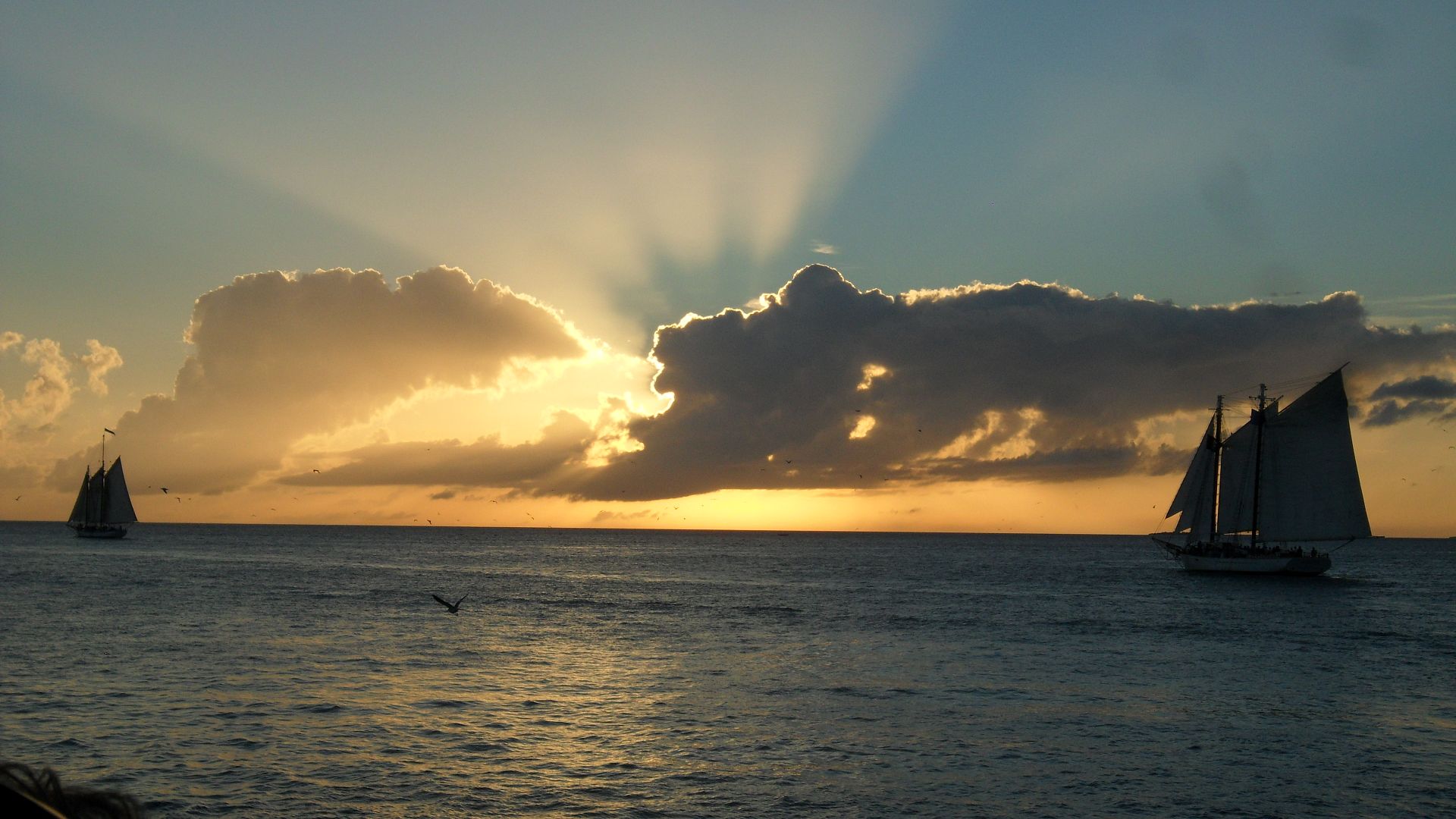 Thanking God for his glory and giving us this life to enjoy!!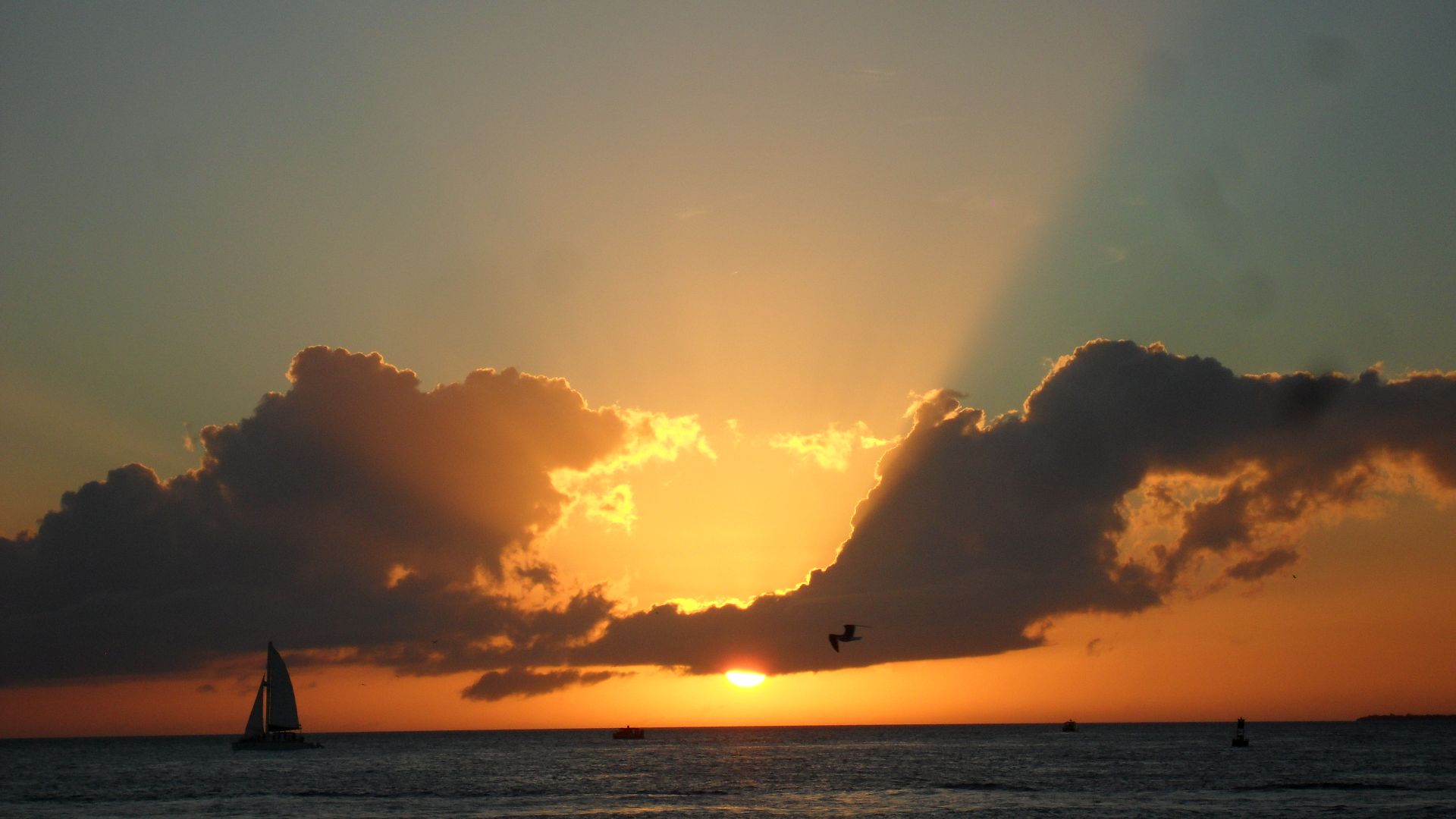 SO lovely!!!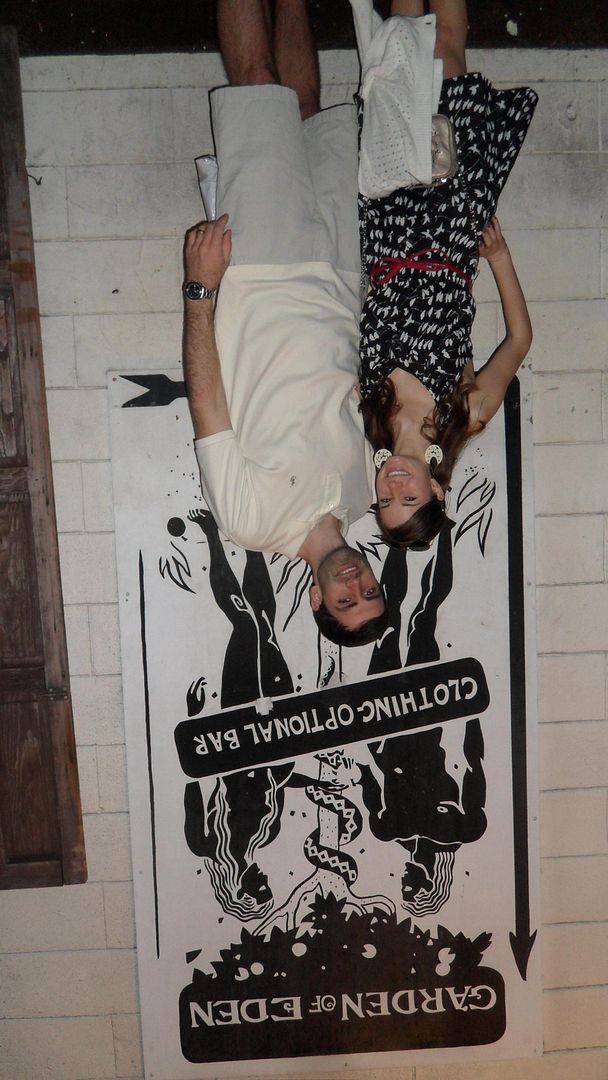 Duval Street had some very interesting places to see, including this bar! Of course curiosity got the best of us and we had to go check it out WITH our clothes on! It was really early so nothing was going on, but I'm glad we went up there because it was on top of another bar and was open air so you could look down onto the street. So pretty!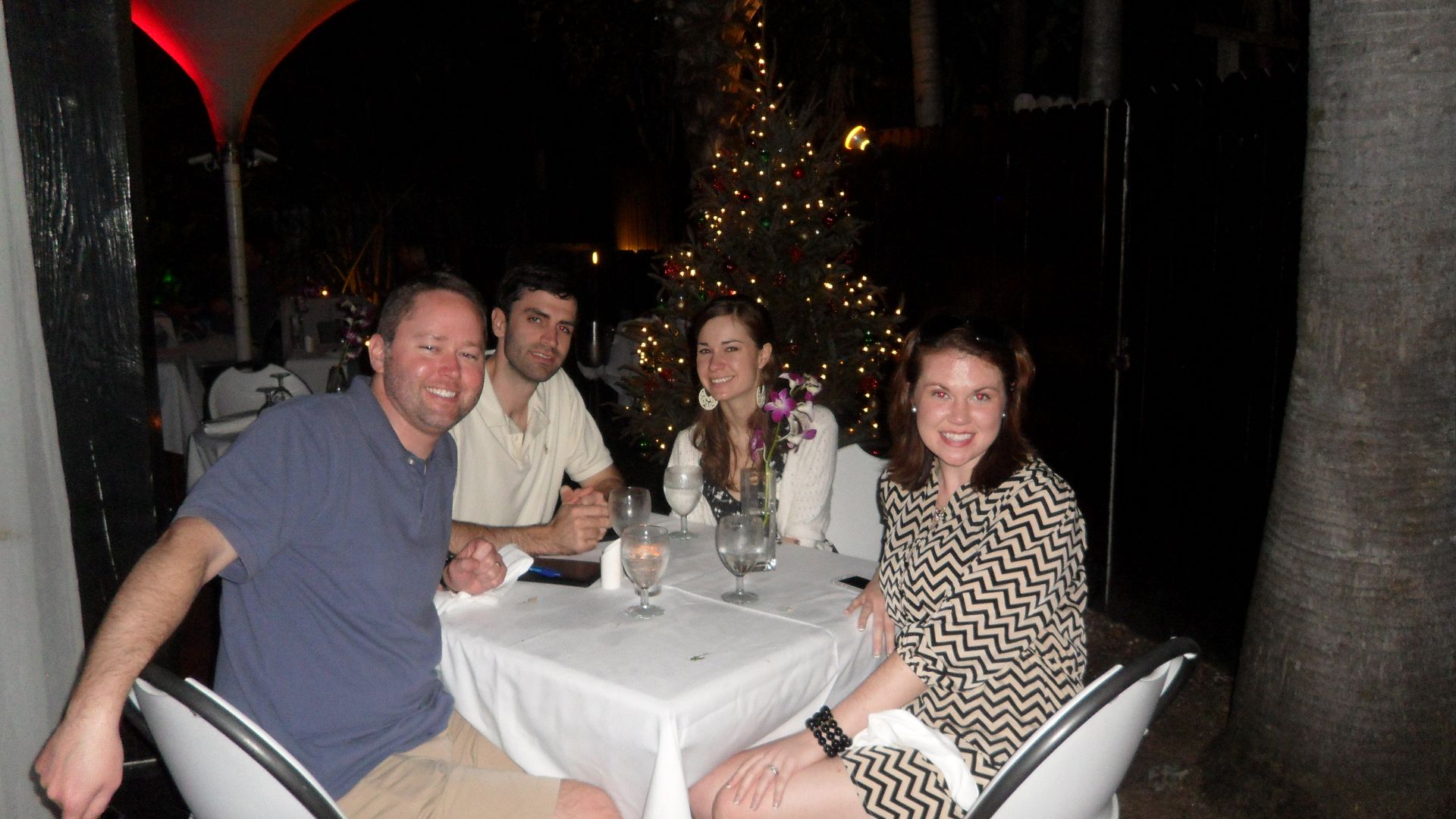 Farrah chose Martin's as our dinner destination because it had a tapas menu. Instead of ordering entrees, we ordered 5 tapas plates to share. Serrano ham, crab cakes, baked brie, scallops florentine, and lobster medallions---man I'm getting hungry just typing this!! The atmosphere of this restaurant was superb!!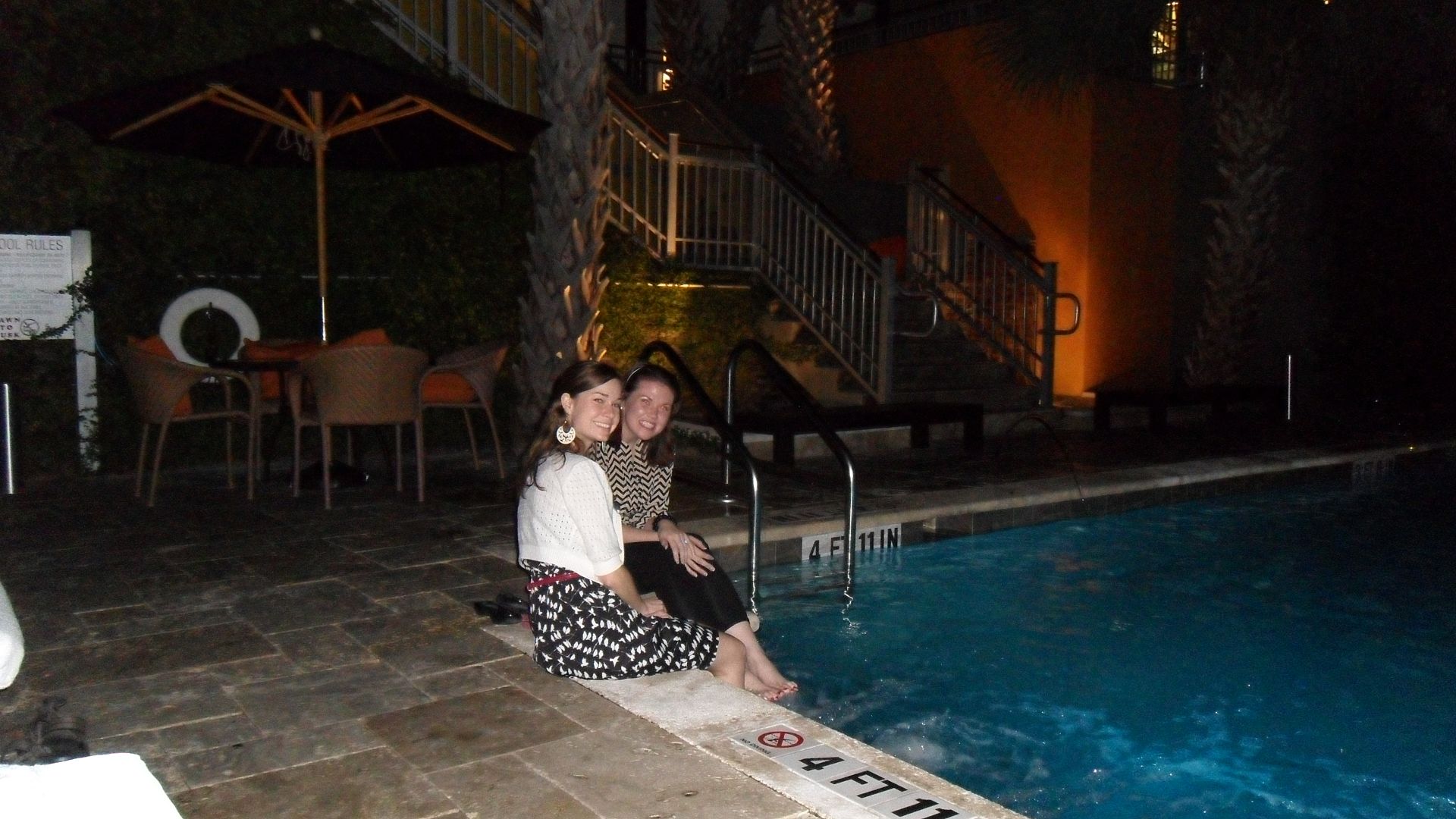 After dinner we went back to the Truman Hotel to freshen up and rest. Thankfully we had found a place to take us in for the night! This hotel was truly fantastic. Our room was lovely, the pool/bar area was super cute, and they even had breakfast for us. Best of all, it was right off Duval so we could walk everywhere! I highly recommend this awesome hotel!!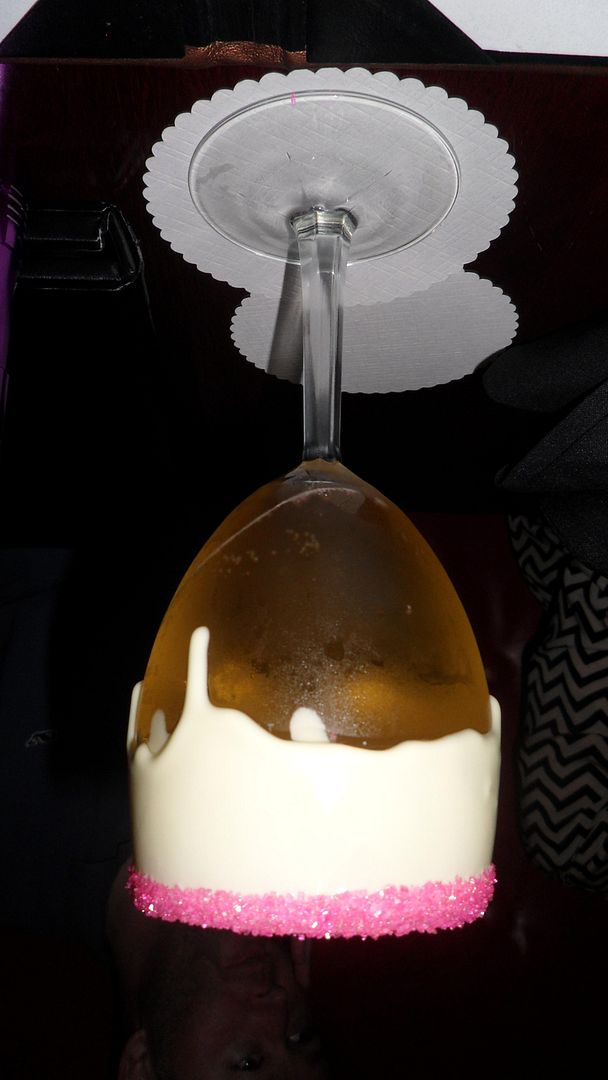 I made reservations for us at a dessert restaurant called Better Than Sex for that evening. I was on pinterest and typed in "Key West" and I found so many pins and reviews of this place that we had to try it to kick off my birthday celebration. This is a pic of the 'sex appeal', moscato served in a glass dipped in white chocolate and rimmed in pink sugar! You better believe I am going to try to make these next time I host book club!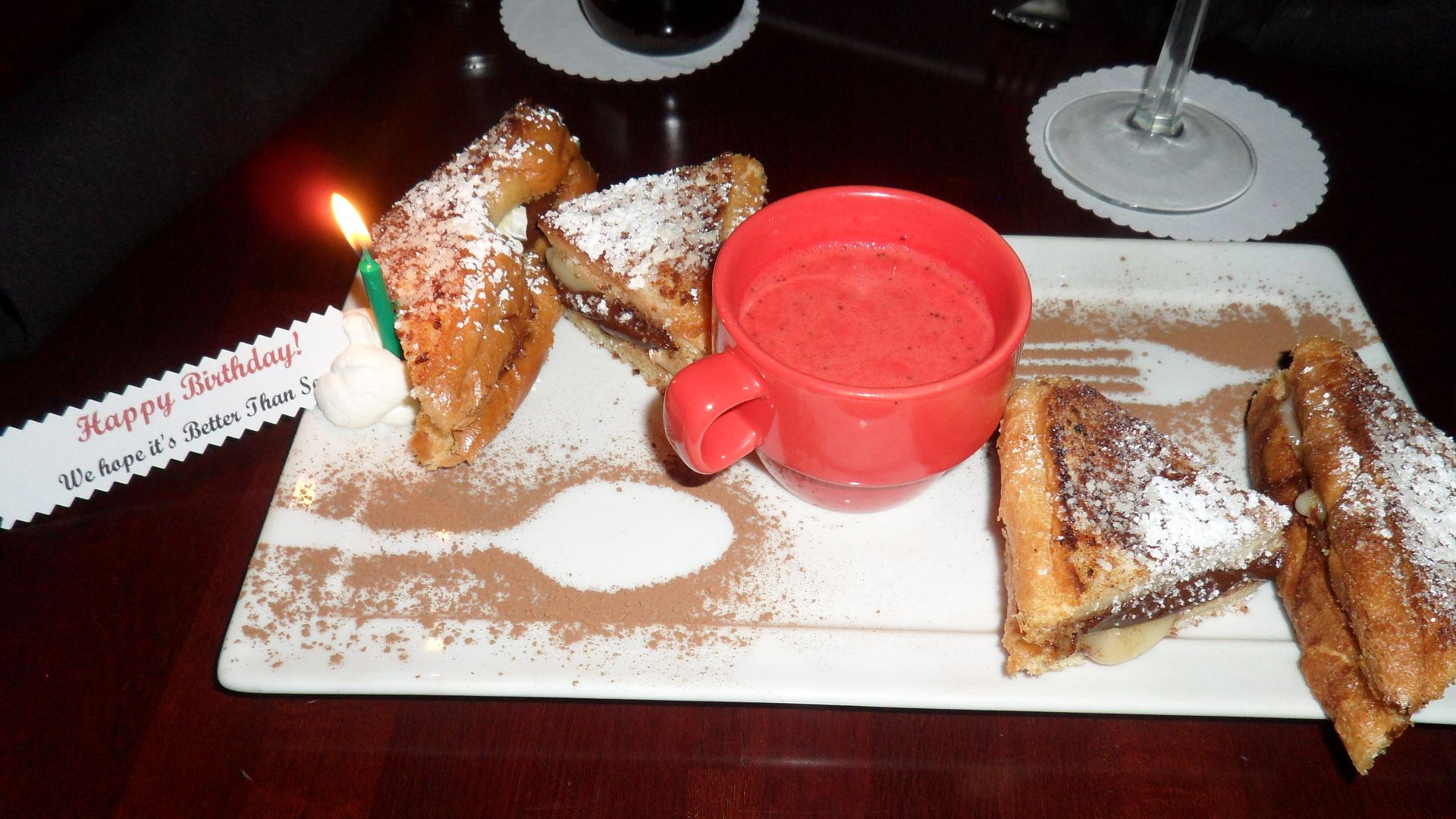 One of the best things about traveling with the Hayes is that they are food sharers. We each ordered a different dessert and everyone got to try them all! This is my chcolate grilled cheese (brie and chocolate--delish) served with strawberry champagne "soup" for dipping. They even fancied it up for my birthday!!
WOW what a day right??? We saw some amazing sights and had probably the best day of eating of my whole life. Seriously!!! Stay tuned for day 2!!!