This was my pick for cooking club this month. I of course found it on pinterest and thought it looked quick, easy, and light. Yesterday I went home a little early due to the snow (really because of the fact that a transformer blew and knocked out the power at the office) and Forrest got home early so we ended up making this together. We thoroughly enjoyed it and it has definitely been elevated to "do again" status. Good thing I bought enough to double the recipe and freeze a batch! Hope you like it as much as we did!
Pan Roasted Chicken with Lemon Garlic Green Beans
Directions
Preheat oven to 450°F. Coat a large baking dish or cast-iron skillet with 1 tablespoon of the olive oil. Arrange the lemon slices in a single layer in the bottom of the dish or skillet.

So So fresh and healthy!

There was plenty of dressing for all of the ingredients. No need to add anything!

So pretty!

In a large bowl, combine the remaining oil, lemon juice, garlic, salt, and pepper; add the green beans and toss to coat. Using a slotted spoon or tongs, remove the green beans and arrange them on top of the lemon slices. Add the potatoes to the same olive-oil mixture and toss to coat. Using a slotted spoon or tongs, arrange the potatoes along the inside edge of the dish or skillet on top of the green beans. Place the chicken in the same bowl with the olive-oil mixture and coat thoroughly. Place the chicken, skin-side up, in the dish or skillet. Pour any of the remaining olive-oil mixture over the chicken.

Mouth watering!

Roast for 50 minutes. Remove the chicken from the dish or skillet. Place the beans and potatoes back in oven for 10 minutes more or until the potatoes are tender. Place a chicken breast on each of 4 serving plates; divide the green beans and potatoes equally. Serve warm.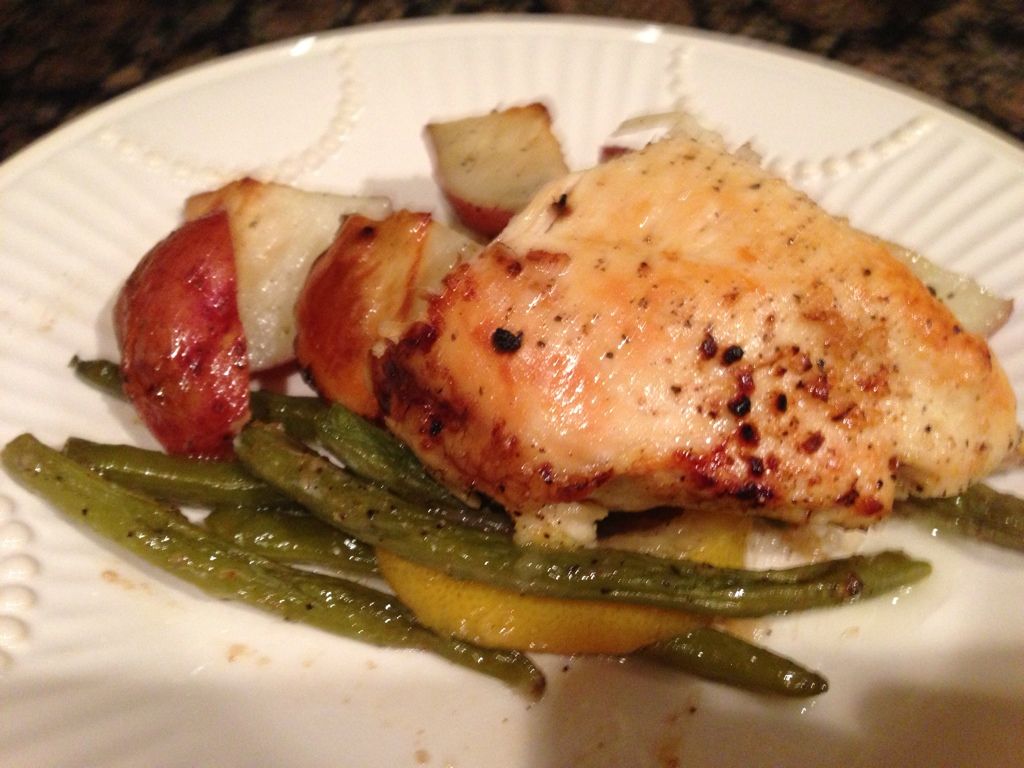 I'm really upset that this isn't in focus. I promise you this meal was delicious and very good for you, even if you may not be able to see it that well.