...was this past Friday! Yes! I had a blind date on Friday night! Actually, Forrest and I both had our first blind dates this weekend. Strange? Not really. I set one of my best friends (Randi--shout out girl!) with one of the new doctors in town.When Randi and I had lunch in January she was joking that I should fix her up and after I laughed, I thought "HEY! I actually know a guy!" I had met Mark once when he came with the Yother's to our supper club one night. He seemed nice and cool and Forrest liked him and so I took a chance. I mean hey, the last people I set up got married (you're welcome Jay and Claire!) so I figured I could take a stab at it again. I thought Forrest might think I was being silly but he really liked the idea of them meeting so I jumped right into making it happen when I got home from lunch that day. Claire (not the one I set up with Jay) and I worked it all out and picked out a date and we waited. Honestly Forrest and I were kind of giddy about it, if that is the right word. Every day we would say "3 more days til the date" or "OMG the date is tomorrow!" I think we were so excited about it because it sort of felt like WE were going on a blind date, even though that makes no sense. We were tagging along on this date so we would get to experience all of those first date nerves and jitters. Since we started dating in high school, it has been a LONG time since we had a first date and the whole thing just seemed really exciting! Randi lives in Tuscaloosa and we are all 2 hours away so we met in Birmingham. Our group all rode down together which made it even more fun--a road trip on top of a blind date? I almost couldn't handle the excitement! As we waited in Randi to meet us at the restaurant, I was literally freaking out--I think all of us were! Every time the door opened we'd turn and look and gasp. Nope, not her yet. Thanks to Facebook everyone knew what she looked like so there were no surprises. When she did arrive the group had actually been seated so I waited at the front door for her and then brought her to the table and introduced everyone. We really did all have a great "date" together and there was really nothing to be nervous about. The food was delicious, the wine was excellent (and freely flowing) and the conversation was always fun and jovial. I don't think we ever had a dreaded lull! We even got to witness a proposal, which was pretty sweet. The night went off without a hitch and I thought I could rest easily knowing I had made a good match and they would at least be friends if nothing else. Well, that is until I got home and was like "OMG, what's next? Will he call? Should I text him?" Yeah, I went all "girl" and it wasn't even my date. I guess some things never change, even when you've been out of the game for 11 years. Will sparks fly? That remains to be seen, but I guess I won't be "seeing" them, considering I'll probably not be invited on any future dates.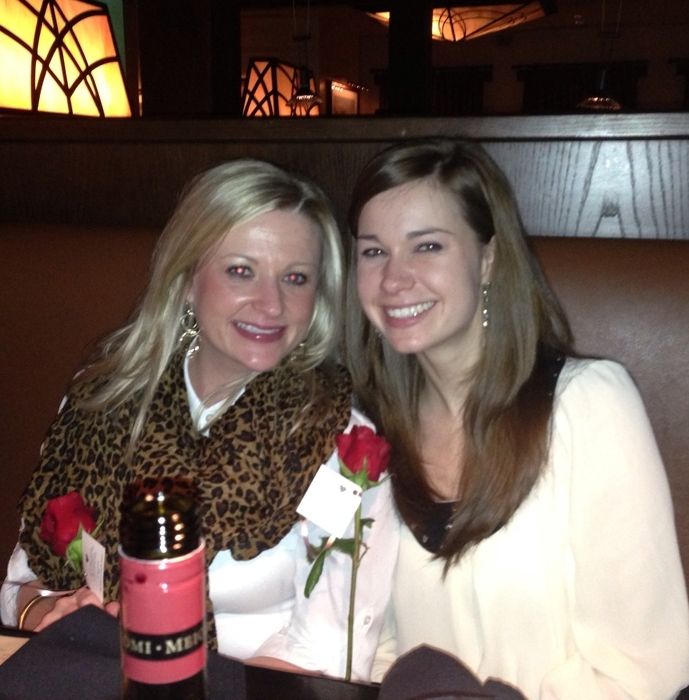 Me and my sweet Randi. The restaurant was giving out roses, so we happily accepted. The wine bottle was left in this pic because well, I thought it added some interest, especially since this is not the best pic of Randi and me!
Anyone have any amazing and/or horrible blind dates to share? Email me and I'd LOVE to post them!!
I'm liking up this post with Sami's Shenanigan's--go check her out!!