As promised, here are some of the great finds I got at Americasmart (aka, market in ATL). Sorry for all of the random pics--this was my first time to pretend to be a fashion blogger and you can definitely tell. I think I will be investing in a tripod for any future fashion pictures!!
Here is me trying to be a cute fashion blogger while my mom was trying on dresses in the Galleria. I got the cute green skinnies at market and have already worn them 3 different times! I totally adore them!!
I started my jewelry run with this fun statement necklace in my "signature" color. Who doesn't love purple??
I had to get this pretty thing because Farrah has one in pink and I was jealous!! Actually, I really liked the cream and thought it would match lots of outfits. Plus now Farrah and I can swap!
When I saw this clutch I thought "VEGAS". I need to look super cute when we go to Miss USA and I think this clutch will help! It is really thin but opens wider than you would think so it will actually be functional. BONUS you get to see my cream skinnies that I purchased at market in this pic! Hooray! Also you can see that I am sporting my fave Kate Spade snow boots. Yes, it was so cold that day in MARCH in ALABAMA I felt the need to wear insulated snow boots. Go figure.
This purse is so much more beautiful than it is in my sad pic. It is a rough material, more suitable for fall and winter, I feel. Of course I will be using this lovely at Bama football games when I wear my houndstooth coat!
Notice how I am justifying each purse purchase?
I LOVE a cross body bag for shopping and traveling. They feel much more secure to me and typically I buy them smaller than my usual every day purse so they force me to take out the piles of unnecessary stuff I tote around with me and carry only essentials. This one was such a cute style and color I couldn't pass it up. Plus, it will hold a full sized bottle of water (I checked) when traveling and that is always a plus!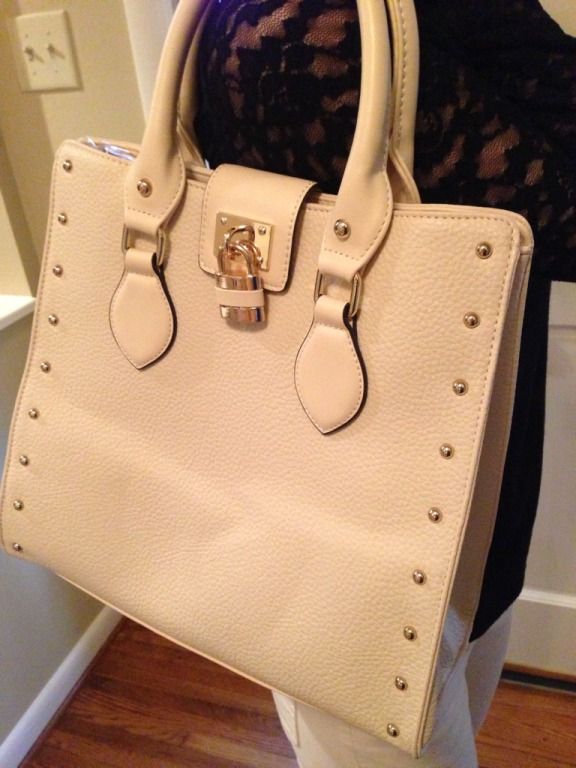 Another cream purse, but it is DIFFERENT than the clutch! This purse is really beautiful and can hold all of my stuff, plus extras! It's almost more of a small tote. LOVE IT!!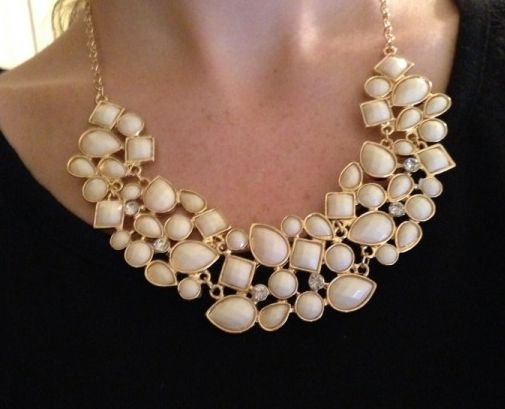 Clearly I was loving some cream when I shopped. This collar necklace is just the perfect length, if you ask me, and can dress an outfit both up and down!!
LOVE this bow necklace! Perfect for everyday wearing!! I wore it Tuesday and got so many compliments!!
On top of all this swag, I also got 3 scarves, 2 of which were gifts, and 2 pairs of earrings, which refused to cooperate for photographs. I also found Mrs. Bailey's birthday gift! Sorry again that you were subjected to my sad little pics, but I hope you enjoyed seeing my new favorite things!!