As I sit at my desk listening to the rain fall, I can't help but think back fondly over the amazing weather we had this weekend. 70 degrees and sunny? Thank you very much!! I actually was able to take advantage of the gorgeous weather but we will get to that!
Forrest and I kicked off the weekend by hosting our "dinner club". I typically avoid hosting things on Friday since I have to work and get crazy when I'm pushed for time, but the date worked the best for everyone and I like it when most people can come. I had planned an Italian theme (you can check out my recipes
HERE
) and was able to get many things prepared ahead of time. I did 2 lasagnas (one regular and one veggie) and prepared those on Thursday night (thank heavens for Forrest--he did all of my chopping for me so all I had to do was a little cooking and a little combining--still took 3 hours, but it could have taken 5), along with one appetizer and our signature drink (frozen belinis, so all we had to do was pour and freeze--nice). All I had to do on Friday was pick up the dessert (pre ordered Tiramisu from a restaurant, which I couldn't eat due to Lent but you better believe I froze the left overs), straighten and vacuum, set the table, and finish up the apps. I really LOVE to entertain but I will go psycho crazy if I feel like I don't have enough time to get everything ready. A little planning goes a long way in my book!! I was really proud of my dinner, which everyone seemed to love, and was REALLY proud of how my table looked!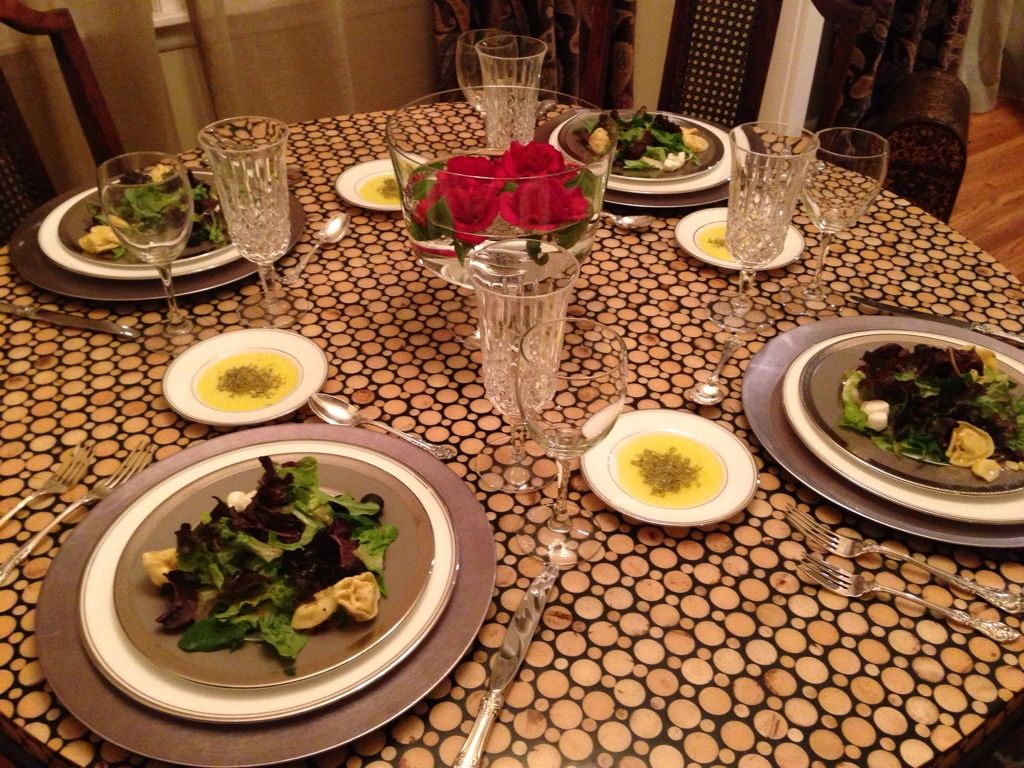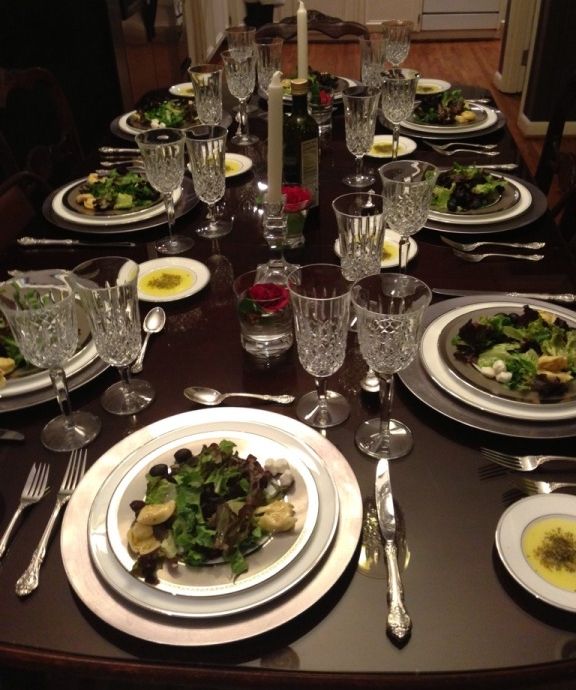 Dinner Menu
Appetizers: Baked Feta, Homemade Bruschetta, Antipasto Skewers
Antipasto Salad (with olives, tortelini, mozzarella, and red wine vinegar dressing
Bread with olive oil and spices for dipping
Main Course: Lasagna and Veggie Lasana
Dessert: Tiramisu with chocolate syrup and a pirouette
I stayed up until 2am cleaning and putting everything away, but I'd rather wake up to a clean house with no work to do instead of a messy one.
On Saturday after church Forrest and I went to Guntersville to meet the Pucketts at
The Rock House Eatery
for dinner. I see this little place every time I go up there for court and have always wanted to try it. When we found out the Pucketts were expecting twins, we decided to celebrate and I knew this restaurant would be perfect--plus, it's half way between Gadsden and Huntsville, where the Pucketts live. They brought sweet Hudson who really was an angel all night long. I cannot believe this little man is going to be 2 next month!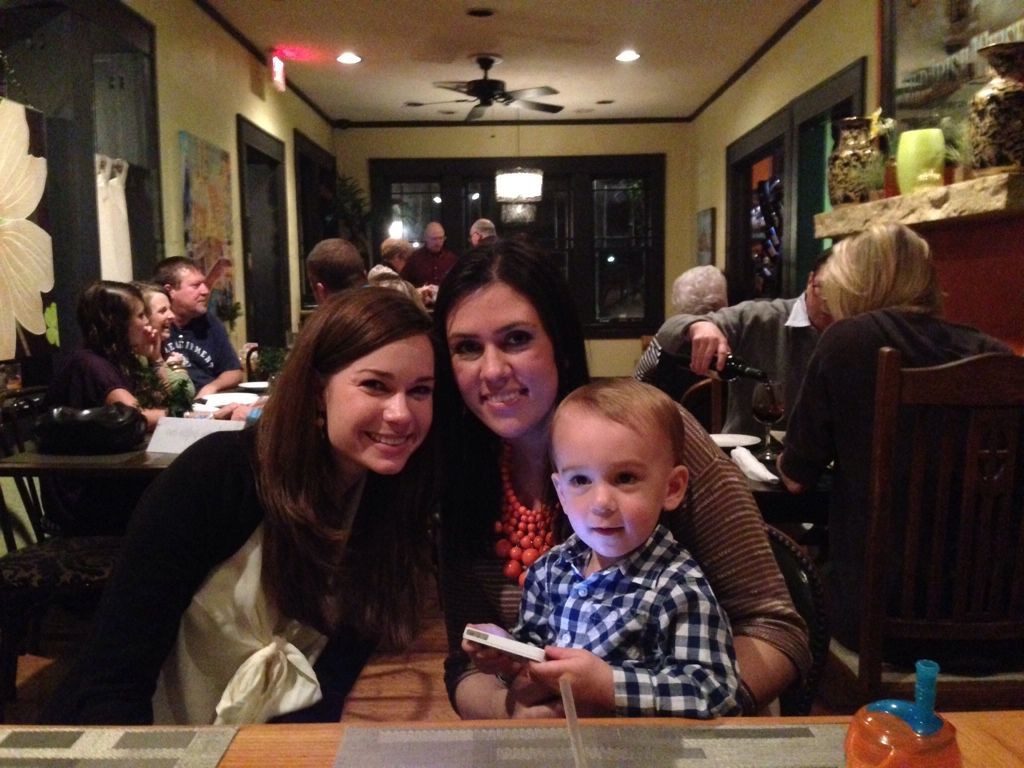 Our dinner was completely fabulous---it was probably the best piece of fish I have ever eaten!! Forrest is a pizza lover and his veggie pizza was to die for (so much so that Ruffles stole a piece that he had brought home and warmed up for a quick lunch on Sunday--he really shouldn't have left it in such a precarious position!) It was so great to catch up with
Lauren
and Joseph and hear about all their plans for becoming a family of 5. That night I literally fell asleep before 10pm. I guess all of my hostessing had caught up with me!
Sunday was BEAUTIFUL and luckily we planned an afternoon trip to the lake! It was so nice to be able to take advantage of the sun! It was really windy on the water but that didn't stop Sonny from swimming nearly the entire time we were there! He LOVES water and just can't help himself. Poor baby was exhausted last night!
Forrest helped my dad move some furniture around to make room for the new TV we got him for Christmas. Unfortunately Forrest pulled a muscle in his back so he was kind of puny for the rest of the day. He did put on a brave face and go running with me--how nice to be able to run outside! Hopefully it will continue to warm quickly so I can continue running outside. I am on week 5 of couch to 5k and boy is it getting tough. I'm really proud of myself though! If you are considering running I HIGHLY recommend this app!
Ok now I have a question for all of my blog friends out there. I got an email from eshakti offering me a free dress so that I can review it. On one hand I'm all "Woohoo--free dress" and on the other I'm all "Scam". I have read reviews--some great and some horrible--and I just wasn't sure what to do! (Did I mention "free dress"?) If you have had any experience with this please comment below or send me an email! I'd appreciate any feed back. I'm leaning towards doing it because I will definitely write about my true experience and not be biased towards them because of the "free dress". What's a girl to do???
Hope your weekend was great and that you are getting some warm weather wherever you are! Don't forget to link up with Sami for Weekend Shenanigans!
ALSO don't forget to register to win the tear drop necklace
HERE
. Only a few more days left!
AND, check me out on
The Life of Bon
. We are doing a group giveaway and you can win SO MUCH LOOT!! Gift cards, jewelry, doughnuts, check it out!!