So this week I'm loving Calla Lilies boutique, a locally owned and operated women's clothing store in my town. Lucky for YOU, you can also order from them online here. It is co-owned by Katelyn and Ashley and BOY do they have a great selection! Not only do they sell darling clothes, but they also have over 100 pieces of jewelry in the store AT ALL TIMES! Their goal is to offer budget-friendly prices on fashion-forward clothes to all sizes of women. Now that is a business model I can get on board with! I was in the store the other day and purchased THIS darling necklace!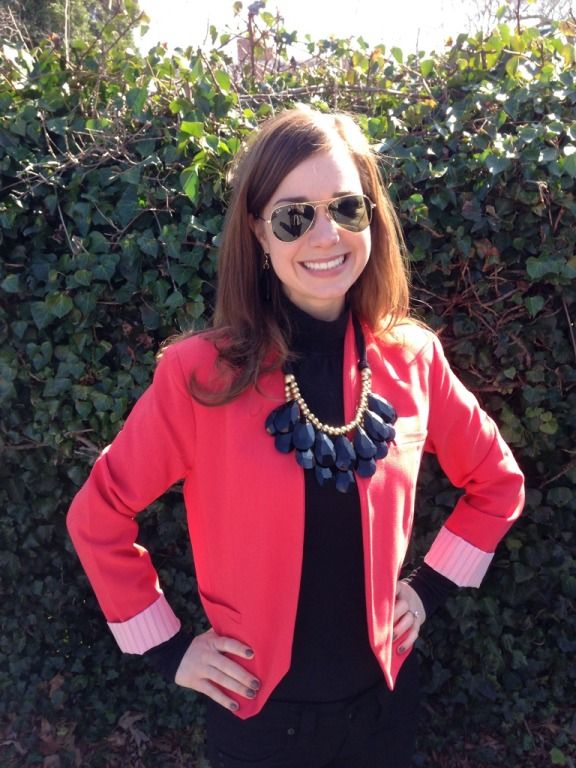 I can't wait to wear it with my spring clothes, although it really could be worn all year round!
(PS don't you love my modeling? At work no less?)

Here I am wearing the necklace at Birmingham Fashion Week! My sister said I looked cute so I really must have.
What was even more super than getting this necklace for myself was that Ashley and Katelyn are offering YOU a chance to get one too! Hooray for free jewelry! All you have to do is enter the giveaway below. I know you want to! Especially since the necklace comes with a matching pair of earrings! Its like 2 freebies!
Here I am sporting said earrings at the 9 0' Clock dance last Friday. Aren't they cute!?
Ok, so hurry hurry hurry and enter this giveaway so you can WIN and we can wear our matching necklaces together! Yay! Happy Friday!
a Rafflecopter giveaway