This week, I'm LOVING my community. On Monday afternoon, my town was hit by a big storm with hurricane force straight line winds. I was actually sitting in my office and heard a huge roar. I kind of laughed and called out to my assistant "Is there a tornado coming?" at which point she came into my office and said no, but she and the others were coming in my office since I don't have windows because a big storm had just come in. It got really scary when the hail started. The wind kept roaring and all I could think about was the fact that my poor animals were home alone and I knew they were scared (maybe that was silly but it is truthful). We kept power at the office but our cell service was spotty. My neighbor Melissa called me to say that a neighbor called her to say she had a tree on her house. OH-MY-GOSH. Then Justin (across the street and one down from me) text saying they had a tree across their driveway and one hit the side of their house and took out the power lines and their fence. Thankfully, he walked to my house and said everything was fine. I seriously got TONS of text from friends asking if we were ok. Apparently our area was one of the hardest hit and we are SO lucky to have zero damage. Later I got a text that the road was blocked and that I couldn't get home. Well, not getting home was NOT an option. I went home anyway and was greeted by a tree across the road, and a neighbor out directing traffic through another neighbor's (and elderly lady) yard. The lady didn't mind that cars were tearing up her beautiful yard one bit. She even let people who were stuck park at her house and walk home. Another neighbor was walking home to his wife and newborn and saw me and told me I couldn't get home. I told him I HAD to and he said that I'd have to off road it through the yard (I have an Acura--not a 4 wheel drive) and drive under the dangling transformer. I was up for it so he sweetly walked next to my car while I trudged through the yard and watched as I sped under the precariously dangling transformer. I made it home and had Forrest and I packed in a few minutes. Already, neighbors were coming out to help Melissa with her house--oh what a mess. Another sweet neighbor boy who was home from college on spring break came to my door to check on me, as did my next door neighbor family. I was so touched by the outpouring of love and support from everyone in my community. Everyone did their part, from helping move limbs, to directing traffic, to just sending a text to check in. We stayed at my parents' last night since they have power and mom has been feeding everyone she can. It is so nice to know that we have wonderful friends, family, and neighbors who are willing to help at a moment's notice. In this crazy world, that fact is refreshing.
This was the first real damage I saw on the way home. And this is where the tears started.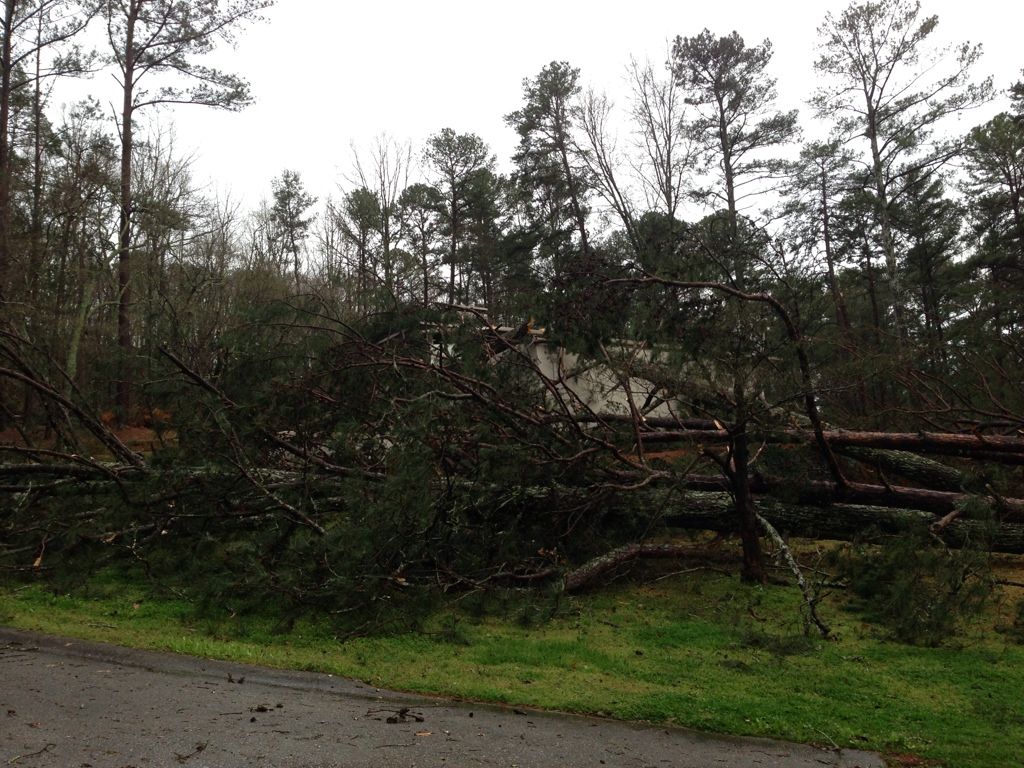 This is a side view of that same house. They lost just about every tree in their yard. Luckily the house didn't sustain too much damage.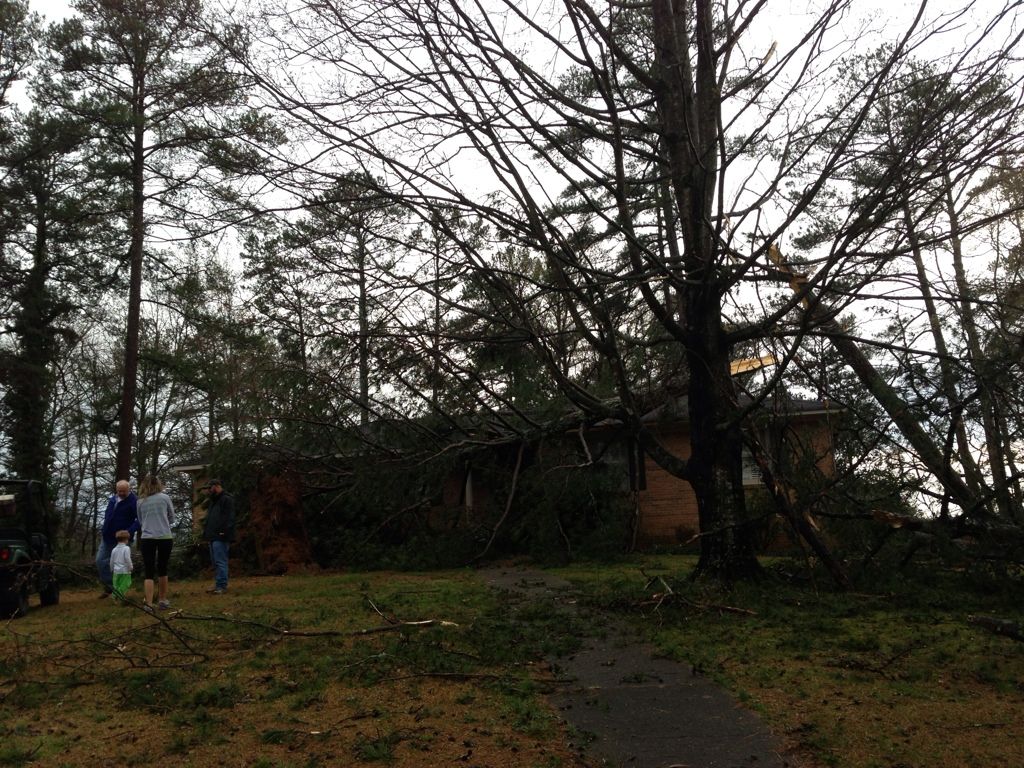 This is my neighbor Melissa's house. I live around the circle directly across from the right side of this pic. It looks like nothing happened at my house.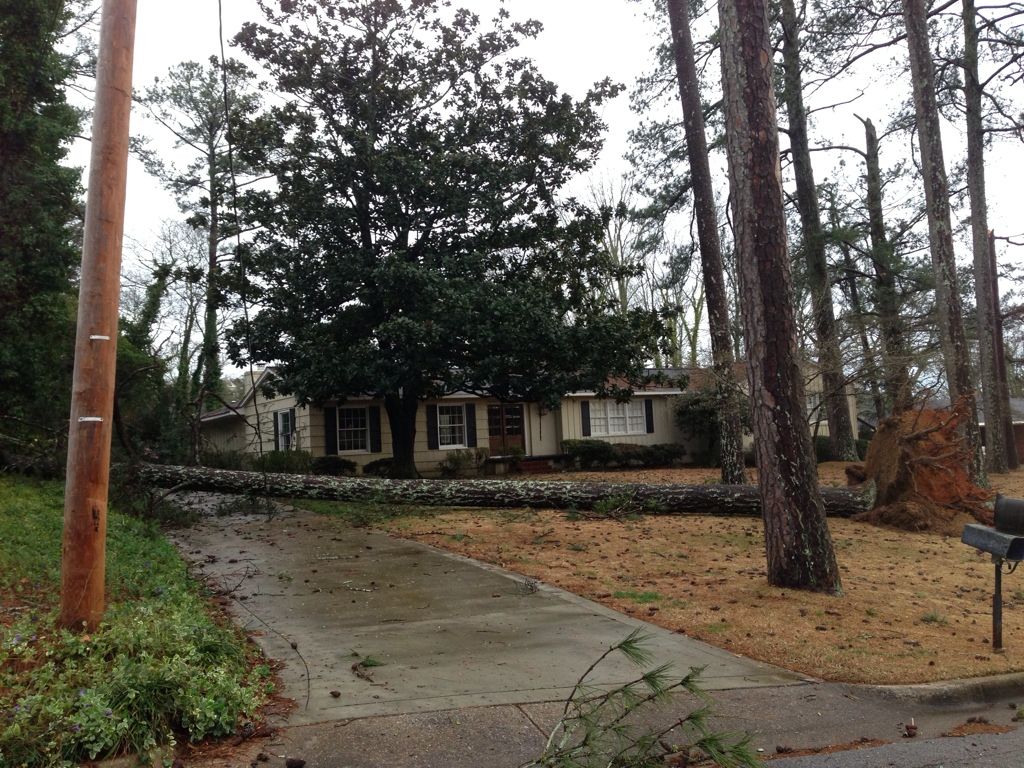 Farrah and Justin's house. They couldn't get out because the tree blocked the driveway.
This is the first house on my street. The hole under that tree is enormous!!
The day after the storm we got the word that our lake house suffered damage. It still has power though! Go figure!
Thanks Mark and Barbara for checking on everything and for sending us these pics!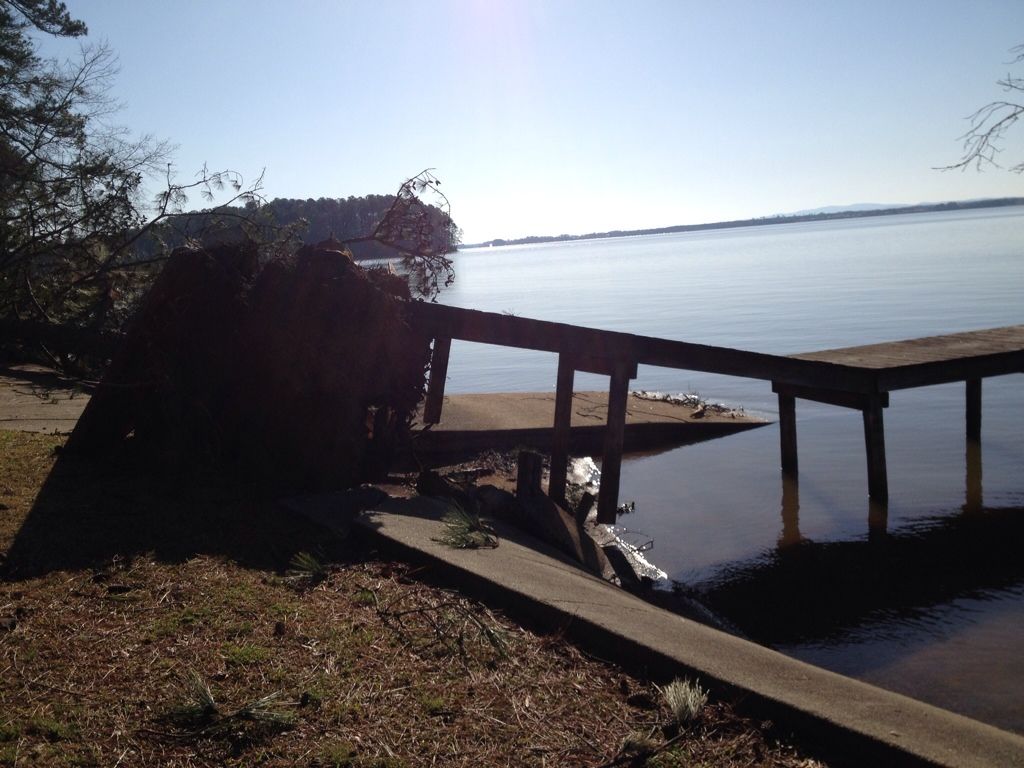 The tree next to the pier blew over and ripped up the sea wall, boat launch, and pier.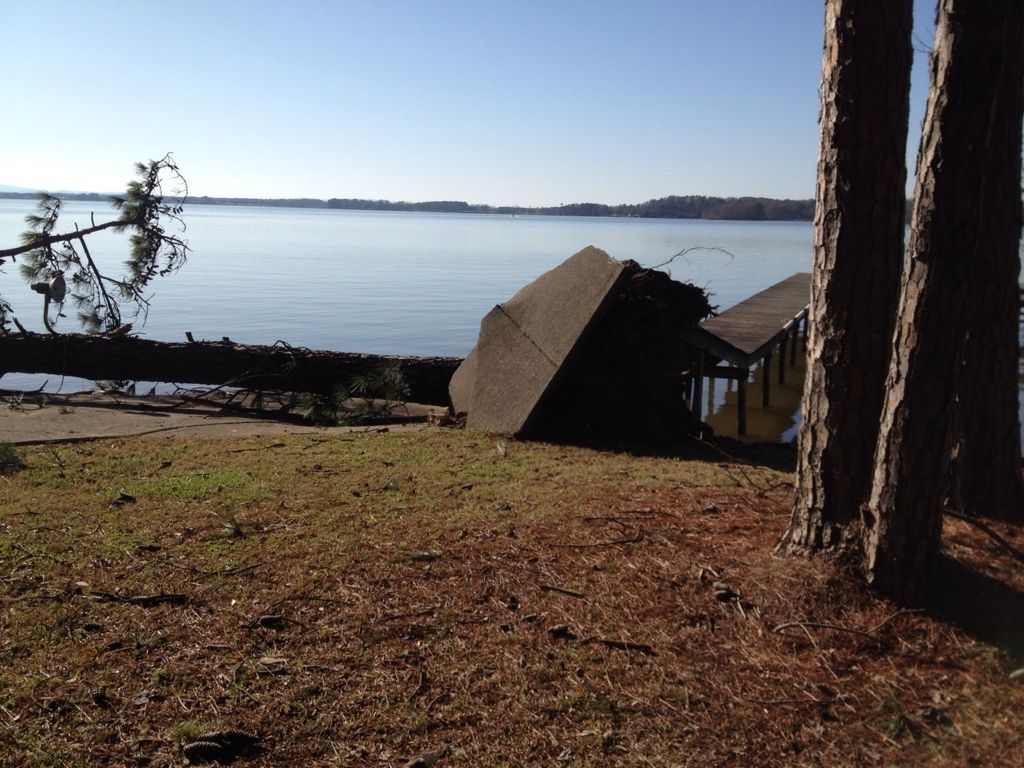 I can't believe it ripped up the concrete!!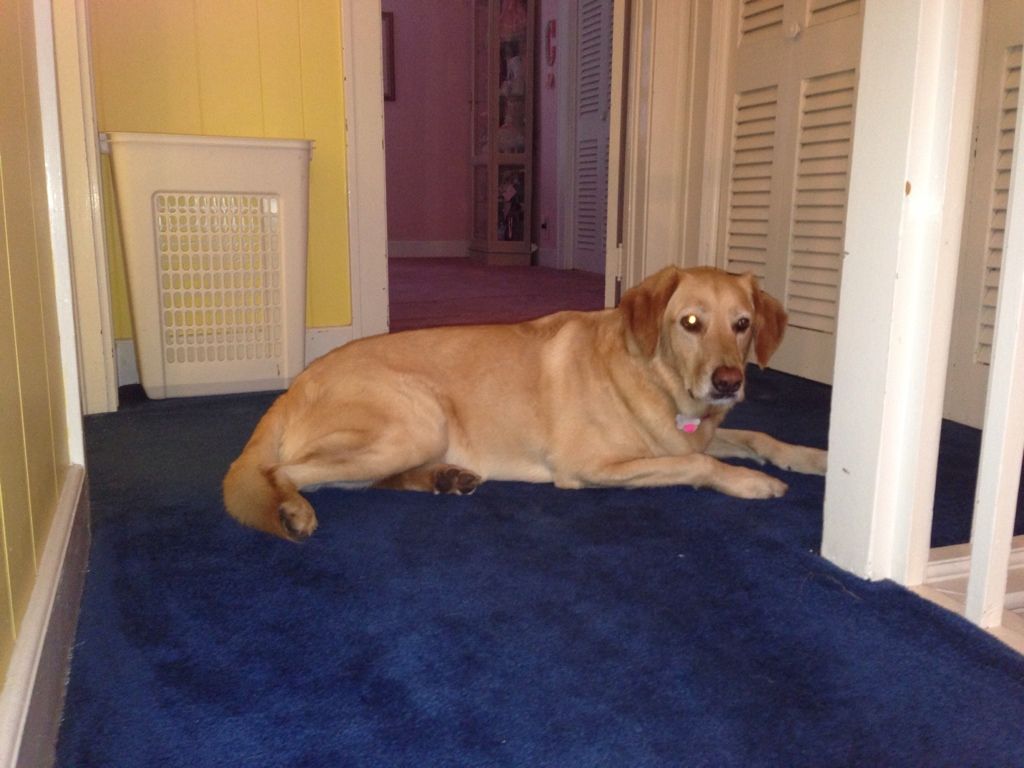 Poor Sonny. He REALLY hates storms. I know he was freaking out when the wind was howling, the hail was falling, and the trees were snapping. He was still a little nervous at my mom's and was so confused about why we were staying there (or that's why I think he has been acting weird).