Hello and Happy Wednesday! I need to get a few housekeeping items out of the way first.
1. Don't forget that there is still time to enter my giveaway for the necklace from
Calla Lilies Boutique
!
2. Also, you can enter this monster giveaway on
The Life of Bon
. I'm contributing so check it out!
3. Sweet
Jackie Jade
tagged me to do a 5 things post. I have come to adore Jackie and her beautiful blog from our
Legally Blogging
series. Are you a lawyer blogger that would like to be featured in the series? Send me an email! Anyway, back to Jackie and the 5 things. I linked up with Bonnie for a 5 things post just a few weeks ago so I will spare you any more random facts (although my blog is pretty random all the time so you are probably used to randomness by now) but you can check out that post
HERE
and Bonnie's Link Up
HERE
. But I WILL say a huge thanks to Jackie for the shout out AND that since I was tagged and I am technically doing the post now, I get to tag other bloggers, so I choose
WHITNEY
,
LAUREN
,
MEIGHAN
, and
BONNIE
since no one tagged her in the first place, and that is why she did her link up when she did, so she can do it now if she is so inclined.
Ok, now on to the point of this post--my latest (first, latest, LAST) home renovation project.
When Forrest and I bought our house it was absolutely perfect--totally updated, beautiful paint, pristine appliances; you name it, it had it. We only painted one room and that was just to match our bedding. We were so lucky to find such a perfect house in our price range and I'm still thanking Alie and Michael for moving so that we didn't have to come back after our honeymoon as homeless newly weds. Where would I have stored the gifts??? Anyway, the hall bath had pink tile and a pink tub back in the day and previous owners painted over it (with special paint, of course) so that it was white. Four years of Bailey wear and tear and the paint was starting to chip. At first I just covered it with the bathmat. Then I bought a bigger bathmat. Then I just decided to ignore it. Well, after a while Forrest decided he couldn't ignore it and decided it was time to redo the tile.
See that dark line where the floor meets the wall? It's really a pink line.
Forrest even had a "tile guy" that could do it for a great price. Of course I always say sure, let's do it, I just don't want to have to be in charge of it. Except that that is a lie and I take over everything--so I was running between the 2 tile stores in town, comparing, bringing items home and staring at them for hours, you know, crazy tile lady stuff. Finally we chose one and Tile Guy said he would start on Monday. I had apprehensions about leaving someone in my house all day and I should have known from that moment on that it wasn't going to be a smooth easy ride. I didn't think Tile Guy was going to steal from us--actually he was a really nice and cool dude--but with 4 animals, 2 of which are declawed cats and 1 of which is a diva, there were so many variables to consider I started panicking before he even arrived. I gave a HUGE speech about not going in the basement because the cats were down there and they don't like strangers and they will run and if they get out it will be the end, yada yada yada. I gave dog instructions specific for each one and left feeling slightly better. When I went home at lunch, OMG, disaster. Ruffles was so freaked out she was literally screaming at me in this weird doggy yelp. She kept trying to climb my legs (and I had on tights) so I decided she would just have to go to work. I checked on the progress and it was kind of cool to see the floor all dug up, until I noticed that the "sub floor" planks had gaps between them, so tons of debris was falling into the basement, where my scared kitties were. Not good.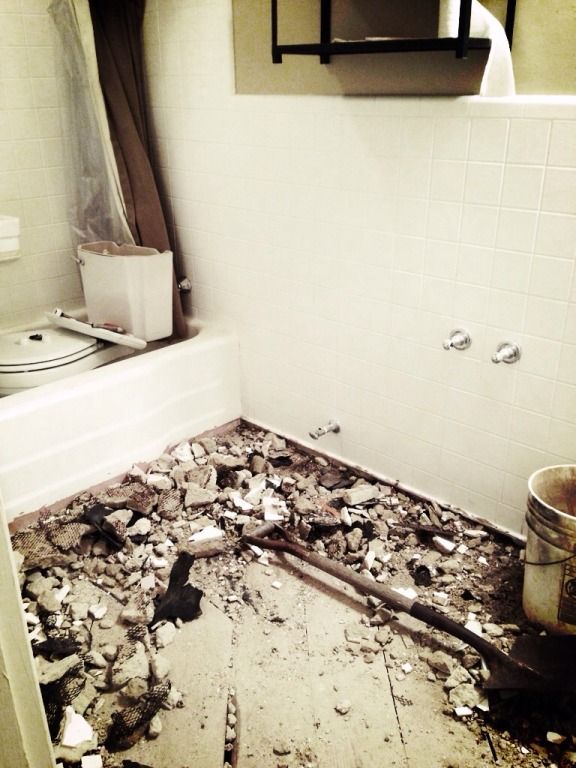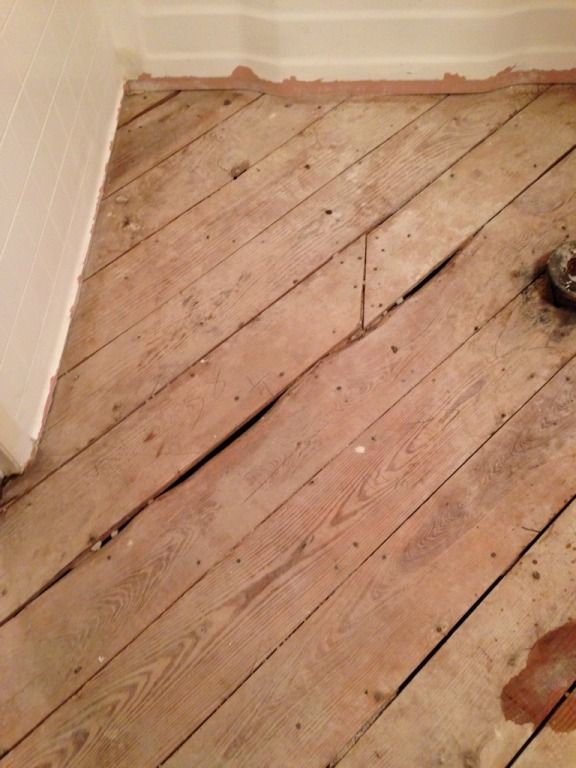 When I came back after work, Tile Guy had left, and what did I find? The door to the basement wide open. Apparently he went to find a broom and didn't close it all the way. I frantically searched for the cats and they were inside and safe (mad at me, but safe). On my search I noticed that everything in the house was covered in DUST! I had closed the doors near the bathroom, but the rest of the house is open so there was no stopping the dust from travelling. I may or may not have cried. A lot.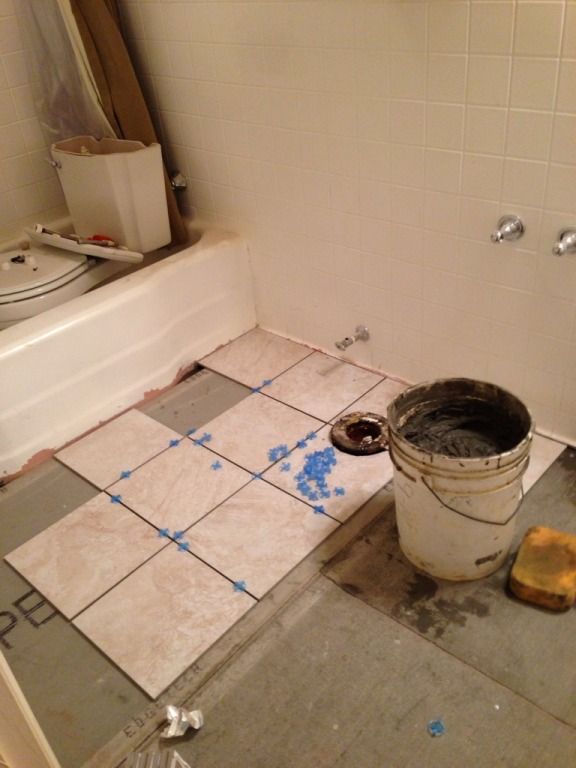 This went on for 2 more tense days and finally Tile Guy was finished and I have to say I LOVE the finished product--love it. He did a great job and gave us exactly what we wanted for a very reasonable price. Still, will there be any future renovations done to this house? No--not if I can help it. I don't think I can take all of that madness again--not ever.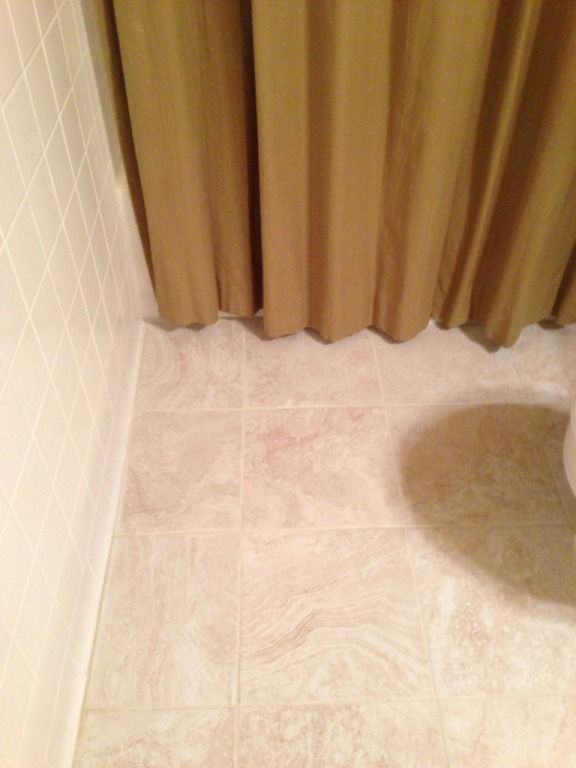 TaDa!!