Last Thursday we attended the annual Paws for a Cause auction benefiting our local humane society. I was a member of the board last year and this year I was put in charge of the live auction. I was running around like a crazy person, literally, all of last week. Clients had appointments with me despite the fact that there were live auction items strewn about my office. I had 25 bottles of liquor in my car (for the liquor wagon prize). I took Forrest to Wal Mart at 9:30pm in search of tissue paper and the perfect shade of green gift bags. It was intense. The auction is the main fundraiser for the shelter and so it is an event that I hold near and dear to my heart. Plus, we got Ruffles from the auction (I am the ONLY person to ever attend the auction and leave with a pet, as no pets are auctioned or available for adoption--they just bring a few to look cute) 3 years ago! Despite the fact that I was exhausted by trying to juggle work, auction, and all of the other things I have going, I was honored to be a part of such a worthy cause! The night was actually quite a success and we all had a good time in the process. There is a silent auction as well and Forrest loves nothing more than a good silent auction! He won a couple of pretty great prizes and was very pleased. I also had to sell raffle tickets for a game through which you could win your choice of live auction item (wine tour, Africa trip, etc). They were $100 each and we had to sell 50. There were 2 teams and I sold 37--yep, 37 out of the 50! I was super proud!! Thank you to everyone who came out and supported our shelter! Please keep giving, and remember "Why buy when shelter pets die??" Something to think about!!
Me with Mark the Leprechaun!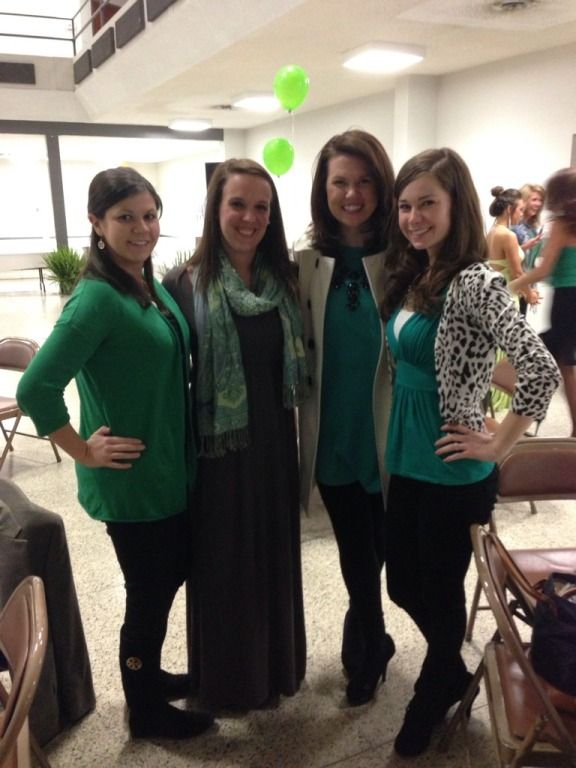 Sweet friends supporting a wonderful cause!
Claire, Anna, Farrah, and Me