Happy Easter!! We have been preparing for Easter for what seems like FOREVER around here--probably because we gave up sweets for
Lent.
I always say that I give that up because Forrest does and that it isn't hard for me, but it really is. While we don't usually keep sweets in the house on a daily basis, we went to SO many things this past month were dessert was present and we had to be strong!! Also, you know those nights where you just NEED a Frosty? (If you don't know what that is like, I'm sorry). Well we had those nights A LOT and of course we could not have a Frosty, and we decided that not having Frosties made us meaner people. That says a lot about us, I am aware!
I know Easter isn't about sweets and Frosties but we give up something during Lent to make us more mindful of the sacrifices made for us by Jesus. Of course, a Frosty doesn't equal death on a cross, but every time we denied ourselves that Frosty, we remembered what Jesus did for us. Simple, huh??
Aside from constantly thinking about ice cream, we did other fun stuff this week and weekend to get ready for the day! We started last Sunday at dinner at my parents' house. Davis and his girlfriend Megumi, who is from Japan came over to eat with us and to dye eggs. You may be saying "Catherine, aren't you 29??" Why yes, yes I am--and Forrest is 28 and Davis is 30 and Megumi is 35. STILL, Megumi has NEVER DYED EGGS before and I thought that was really a travesty so I organized a whole evening around that activity so she could. I mean who has never dyed eggs before?? (Answer--someone from Japan). Anyway, I splurged and got the GLITTER eggs and I have to say we had a pretty groovy time.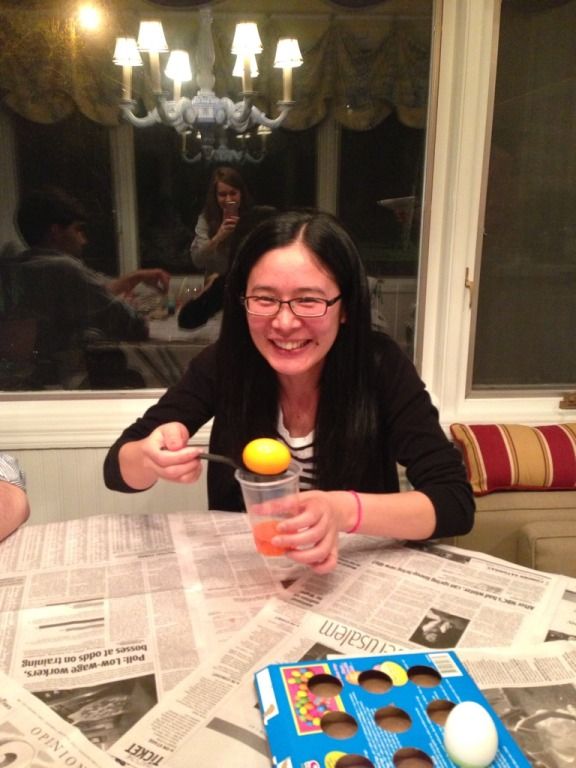 Dying her first egg!!! Woop Woop!!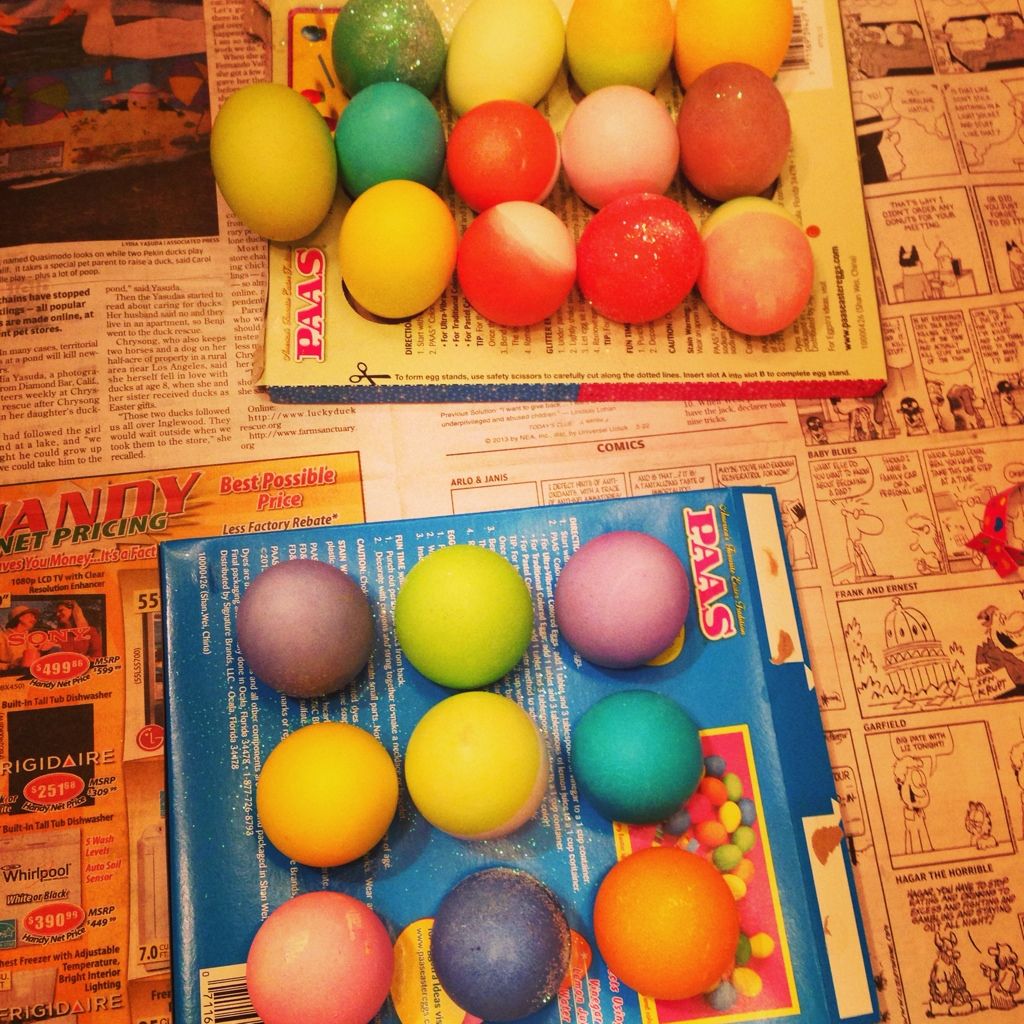 I have to say our eggs were lovely, especially with the glitter!
Fast forward to Good Friday, which we celebrated with cheese pizza (my last Friday of no meat this year) and wine with Laura and Codey. Yummy!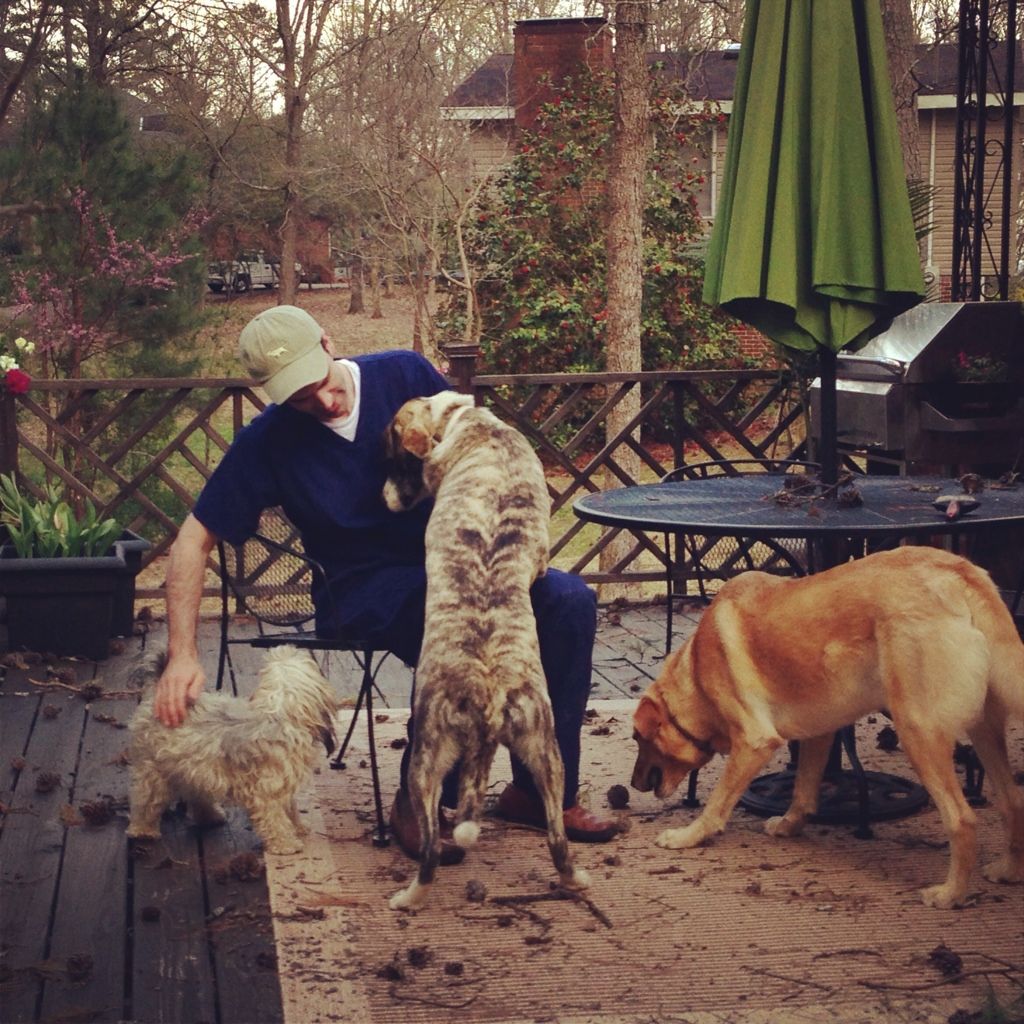 It was so nice FINALLY on Friday evening that I sat outside reading and waiting on Forrest to get home so we could leave. When he did, the neighborhood dogs descended upon us and as usual, Forrest gave them treats. Oh see all of those pine cones and sticks? That was our damage from the storm (which Forrest cleaned up on Saturday--he totally rocks for doing the yard), while as you may recall, our neighbors' homes
had trees on them
. We were SO blessed!!
Saturday was kind of a mish mash leading up to the main event--Megumi's Easter egg hunt. I had lunch with Randi in Birmingham at Superior Grille to celebrate her birthday. I love our monthly lunches so much and always look forward to seeing what she's been up to. If you were curious, she DID go on a second date with
the guy I set her up with
, so we will see what happens with that!
While I was gone Forrest spent the day with his best dental school bud Richard. He was in Birmingham for Spring Break with his wife and he took some time to drive up hang with Forrest. We really miss having Richard and Tara close by and can't wait until they get to leave frigid Ohio and come back!! (Although, it was kind of frigid around here to start the week, so I can't say much).
THEN, the Easter egg hunt. Megumi turned 35 on Friday and asked for an Easter egg hunt party with me because she had never had one. Again, this blew my mind! We were bummed that it started raining and we had to do the egg hunt indoors but I have to admit it was totally awesome! Forrest, Davis, and my brother hid the eggs while Megumi and I were sequestered in the bathroom. I took the opportunity to explain to her all about the Easter bunny and I'm pretty sure the real meaning of Easter may have been lost in all of the bunny/candy talk but I did my best. Then, we were released. I was running around that house like a 5 year old child with my basket, over turning furniture and throwing things out of my way. The eggs were filled with candy and I had to stock up!!! What's wrong with that???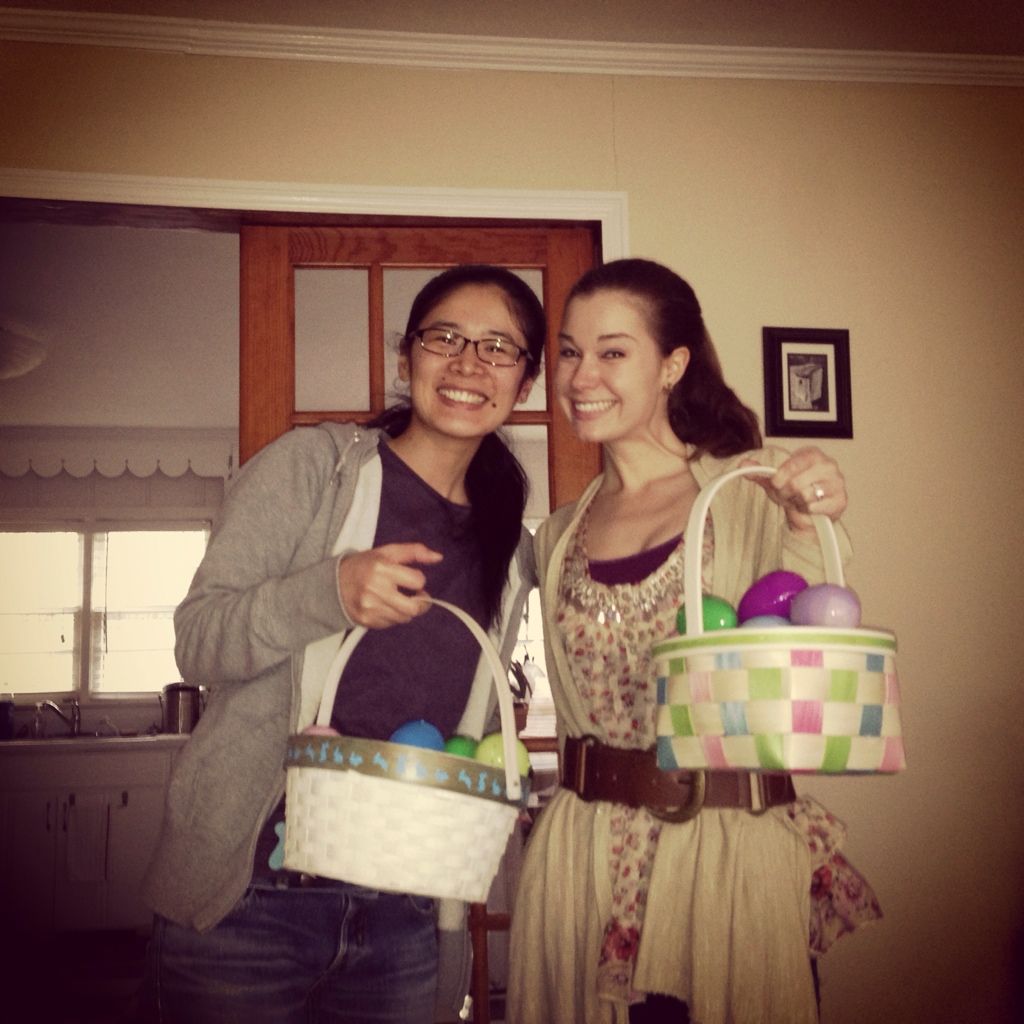 I did not push nor did I steal any eggs. I promise.
That evening we had dinner with our Young Marrieds group from church and we went bowling! I TOTALLY won if you use golf rules, but Forrest kept reminding me that we were bowling, not golfing. Oh.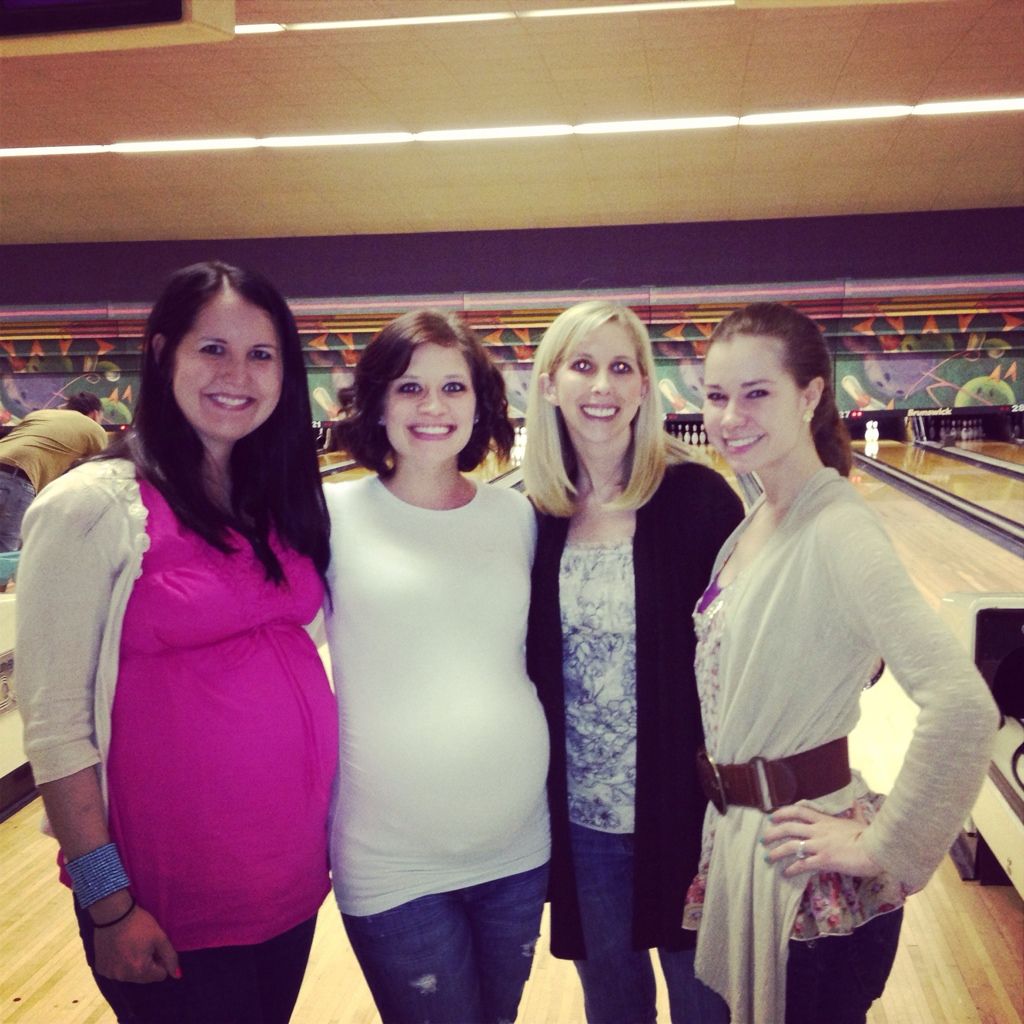 Nope, those aren't bowling balls under their shirts! Jenna and Shannon are both due in May!
At midnight, when it became Easter officially, Forrest and I cracked open all of the 4 kinds of ice cream I purchased for the occasion! Yay for sweets!!
We spent a very lovely Easter Sunday: Mass, lunch with my mom's family, and a nice run to try to flush out all of the desserts we consumed!!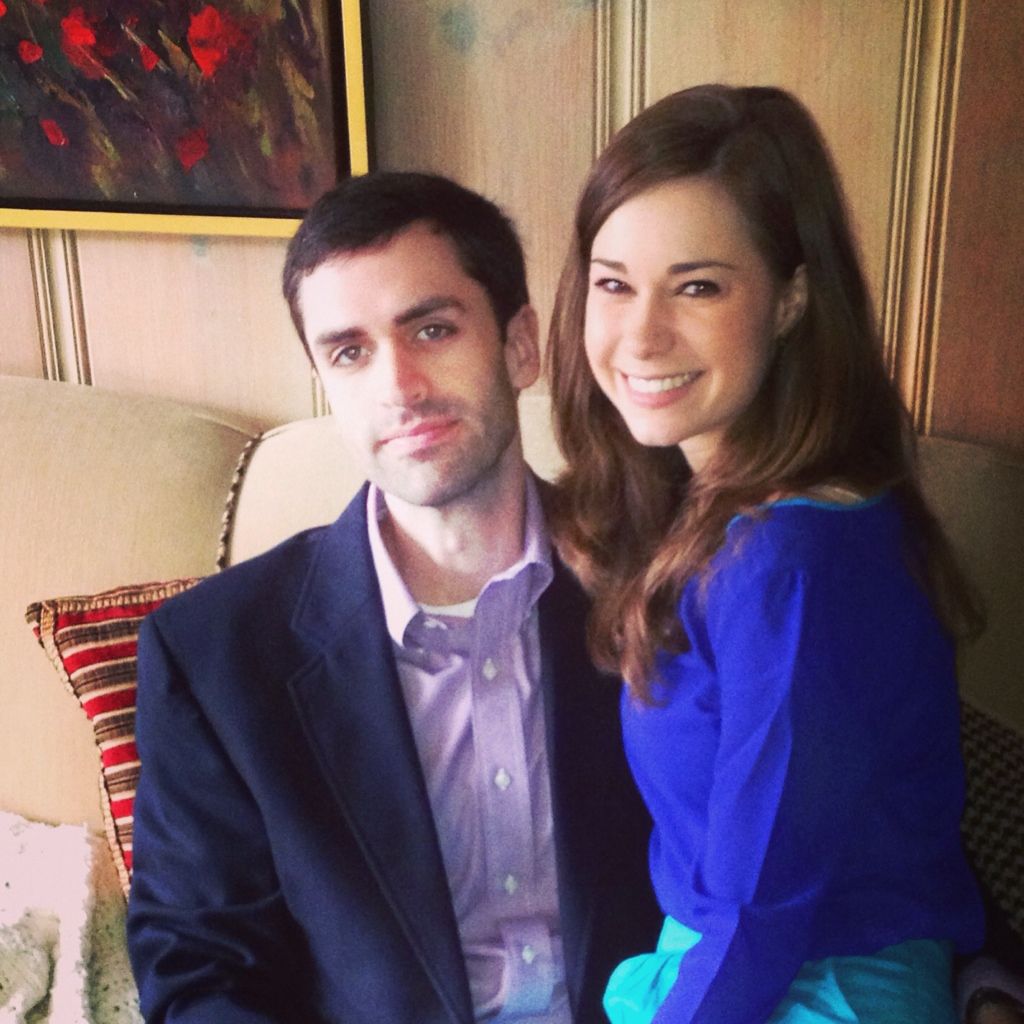 Happy Easter from the Bailies!!!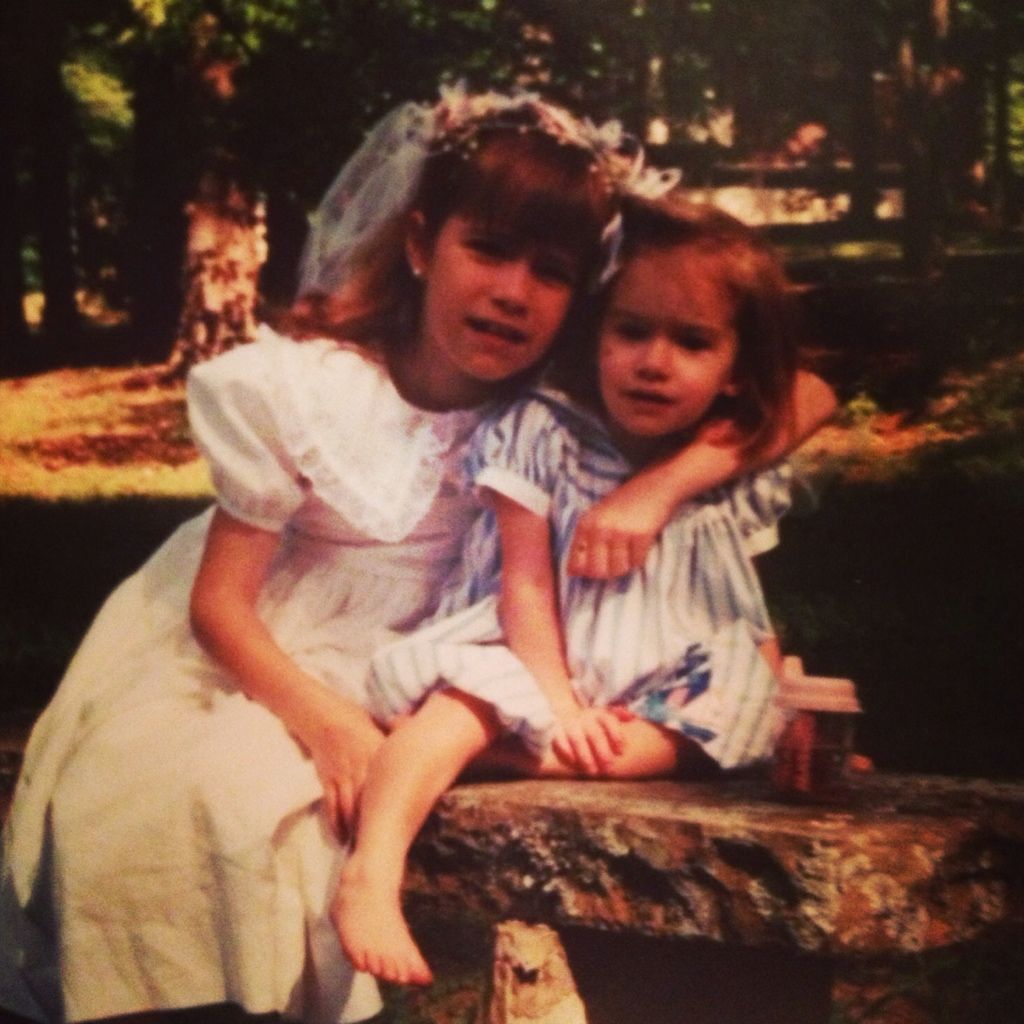 My sister was pulling out old pictures while she was home and found some really adorable ones! This is actually my first communion, not Easter, but check out me and my sissy then....
and now!
Who know that little bit above would become Miss AL USA?
Hope those of you that celebrated Easter had a great day and I hope everyone else had a wonderful weekend in general. We have a CRAZY week ahead so stay tuned for what should be some really fun posts!
As usual, I'm linking up with Sami for Weekend Shenanigans! I'm sponsoring her this month so please check her out!!