I need to take this opportunity (bloger-tunity?) to say HAPPY BIRTHDAY to one of my dearest friends. Jenny is the reason I started blogging, actually, and Jenny is also the reason that I have as many sweet friends in my town as I do. That sounds kind of weird but it's true. After Forrest and I moved back home I felt really lost and like I had no friends, even though I was living in my hometown. It was really hard for me but Jenny took me under her wing, invited me to book club, and the rest in history. I think I've told this story on here several times, but it is true so I hope you aren't bored by it! ANYWAY, mushiness aside (well not really), I was SO sad when Jenny and Adam moved back to Birmingham but satisfied in the knowledge that she would always be a great friend, no matter how far away she was! Kelly, Kelli and I took the opportunity to take her to dinner to celebrate her birthday last week and we had the BEST night! Laughing, chatting, eating, drinking--what more does a good girls' night need? We went to
Five
, a cool new restaurant in Birmingham. Each night they have 5 beers, 5 whites, 5 reds, 5 apps, 5 entrees, you get the idea. It's kind of nice--no overwhelming menu that slows you down, no wine book instead of wine list. The atmosphere is amazing and our waitress happened to be a friend of my sister (hi B!!) so I give the restaurant a 10! I give the night with good food and great friends a 20! Yay!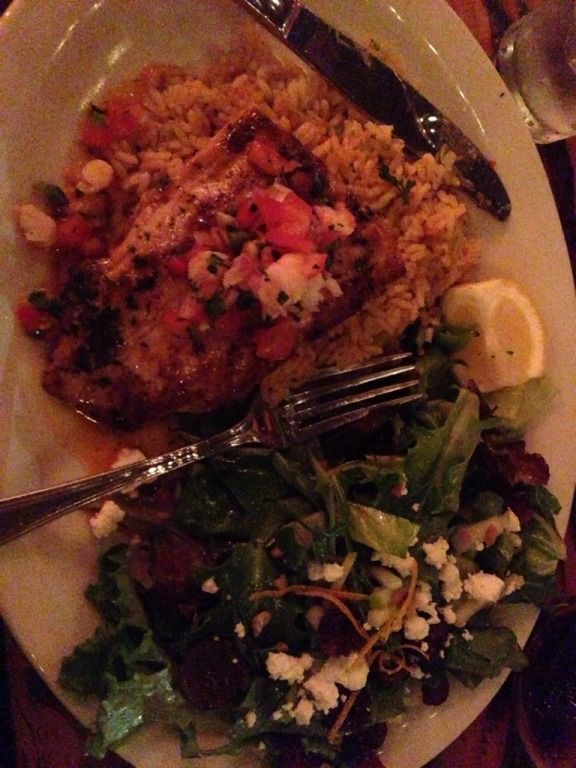 I had the nightly Gulf Catch Special--I honestly ate every bite off of this plate--no regrets!
Happy Birthday Jenny!
This bread pudding was TO DIE FOR!! OMG we thought we were being good to order just one--we should have gotten 4 because it was to spectacular to share!
Me, Jenny, Kelli, and Kelly
Fun night with fun friends!!
(Ok, I thought I looked pretty cute but when I got home Forrest said "you look like Kimmie off of Full House". I'm not sure why--the baggy sweater? The bright pants? Do I look like I'm channeling Kimmie??)