Hi and happy Friday! I don't know about you but I am dying for the weekend! Here is a glimpse into what I've been loving this week!
New Spring Outfits
I like spring clothes much better than winter clothes. Sandals, dresses, anything flowy.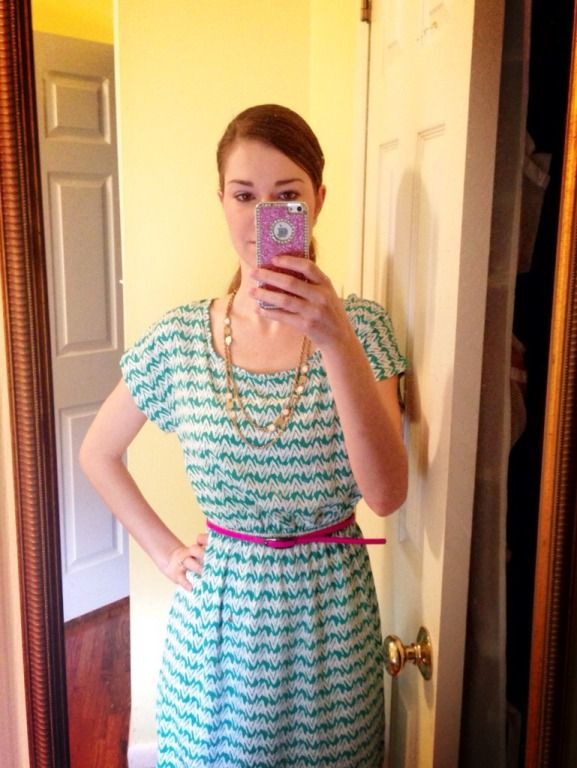 This is a new dress I picked up during the winter and have been dying to wear! I love the cute hot pink skinny belt! I wore it with some chunky wedges and the necklace is my grandmother's. She was oh so hip!
Spring Cleaning
We spent a solid Saturday, plus some time during the week last week spring cleaning. It took forever but it was totally worth it. I was most excited to get my gift wrap station set up (most of my wrapping stuff was in a pile--not helpful) and to reorganize my closet for spring!
It took me at least 2 hours to transform my closet from this...
to this. Can you tell a difference? No? I promise it's different!! :)
Spring Flowers
March showers bring April flowers at our house, apparently! I LOVE these tulips that Forrest planted for me last year and was tickled when they started to bloom again this year!
Boston
I mean really, there are no words. I was about to strike
my first jury
when news of the Boston Marathon bombings came out. I only heard a quick snippet about an explosion at the finish line and since we were so engrossed in trial prep, that was really all I knew until I got home that evening and turned on the news. Devastated is the word I would use to describe my feelings when I saw the scene. Who would do such a thing at such an iconic event? Who would do such a thing, EVER? Why people want to intentionally hurt others, especially innocent, unsuspecting strangers, is beyond me. I mean, isn't that what we are taught when we are little? Be nice to others? Surely I'm not the only one who learned this in kindergarten. How do we get from the Golden Rule to blowing people up in a matter of years in our lives? I saw so many people on Facebook and Twitter talking about the end of humanity, lack of faith in humanity, etc. In times like these, it's easy to jump on that bandwagon, and I don't blame anyone for feeling that way. However, bad things happen, and when they do, I like to focus on the GOOD of humanity--those first responders who rushed back into the smoke to save people, the boyfriends who jumped on top of their girlfriends to save them from the blast, the men taking off their shirts to use as bandages for the wounded. Those are the things I like to focus on in times of tragedy. There were thousands of people at the marathon, and only a few were bad people. If we focus on them, they win. If we focus on the good, which far outnumbered the bad, the good wins. Maybe that is simple, maybe that is naive, but I have faith in God and in HIS people, and that faith is what gets me through it all.
and lastly but certainly not "leastly", New Followers
Hi all of you new friends out there! Thanks for stopping over from Bonnie's blog! She has an AWESOME giveaway going on right now so if you don't know Bonnie, go check it out
HERE
! Want to stay in touch with Bailey Dailies? Don't forget to follow on GFC (button on the right),
Bloglovin
(also a handy button on the right),
Twitter
,
Facebook
,
Pinterest
, or
Instagram
! I hope you all have a great weekend and that you have lots of fun ahead! We do, so there are bound to be lots of fun tweets and instagram pics ahead! Happy weekend to you all!