Ok so everyone knows by now that I HATE cold weather. Although, would like to welcome some awesome new readers and followers--"HI THERE!!"--so maybe not everyone knows this particular thing about me. Anyway, I hate it. There is nothing about being cold that is fun or exciting to me and once I hit the "cold" mark, I cannot warm back up, no matter what! That being said, now that we are in full spring mode here in Alabama (aka summer--we typically skip straight from winter to summer to surface of the sun), I do have a few things about winter that I miss. Notice that they are all WARM things.
1. Electric Mattress Pad--the day I discovered that these existed was one of the best days of my life. I was living in Tuscaloosa in an old drafty house with leaky windows and no matter how high I jacked the heat, my bedroom remained frigid. My sheets were SO COLD that I couldn't warm them up myself. I'd go to bed shivering, wake up shivering, stay shivering. This is NO way to live! Enter, the miracle mattress pad. Turn that baby on while you are getting ready for bed and once it's time to crawl under the covers, everything is toasty! When Forrest and I got married I bought one with dual sides because I like my bed much hotter than he does. I don't sleep with it on, I just use it to warm up the sheets. It is also nice to turn on low and crawl under the covers and spend a wintery afternoon with a book.
2. Being Lazy--all that bed talk above made me sleepy. On cold, dreary days, there is NOTHING better than staying in bed or on the couch under the blanket with a cup of hot chocolate and just doing absolutely nada all day. No need for make up or fixing your hair, you have your trusty wool socks, a tv, and no reason to go outside! When it is warm and sunny out, I feel like I'm wasting the day by staying indoors and doing nothing. I could get over this, and yes, I've tried, but I just can't be a sluggish on beautiful days! In the words of some great old Southerners, "Quit wasting daylight!"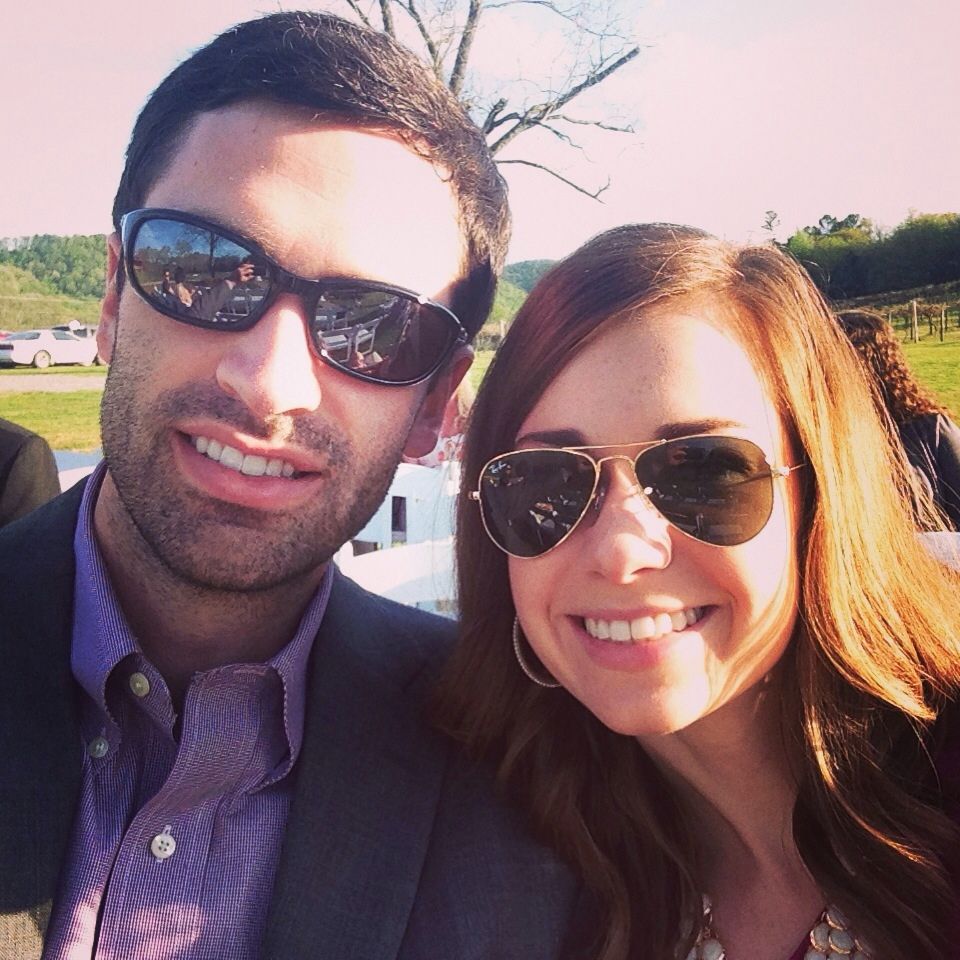 How could anyone stay indoors on such a gorgeous day as this one was??
3. SOUPS--OMG is there anything better than soups in the winter? I love throwing everything in the crock pot in the morning before work and returning home to a piping hot bowl of soup. This year, my favorite soups were
Tomato Basil Parmesan
and
Taco
. I also really like a good bowl of chili, and I ran across this
Ratatouille
recipe that was perfect for warming up a cold tummy! Try as I might, I just can't handle a hot bowl of soup on a hot day.
4. Coats--I love wearing coats, especially knee length wool ones. They look so classic, don't you think? I have one in just about every color (red, white, black, gray, houndstooth, pink, purple--next year I want to find a light pink one). They are a quick and easy way to jazz up your look on any winter day and I always feel so professional wearing one.
See? Doesn't a coat just sass up everything?? Even a cheesy selfie??
5. My earmuffs and crochet hat--no you are not supposed to wear these at the same time, although yes I have done it (I was THAT cold). My mom made my hat and I have to say I think I look really cute it in. The ear muffs were just for fun but they really turned out to be a great find because OMG they are SOOOO warm!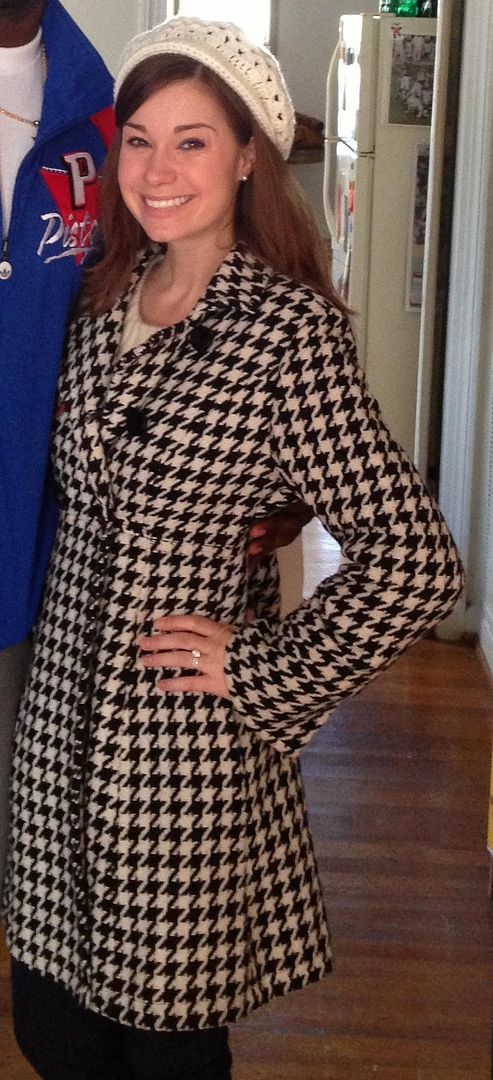 Exhibit A: My crochet hat and my houndstooth coat (see, I told you I had a thing for coats)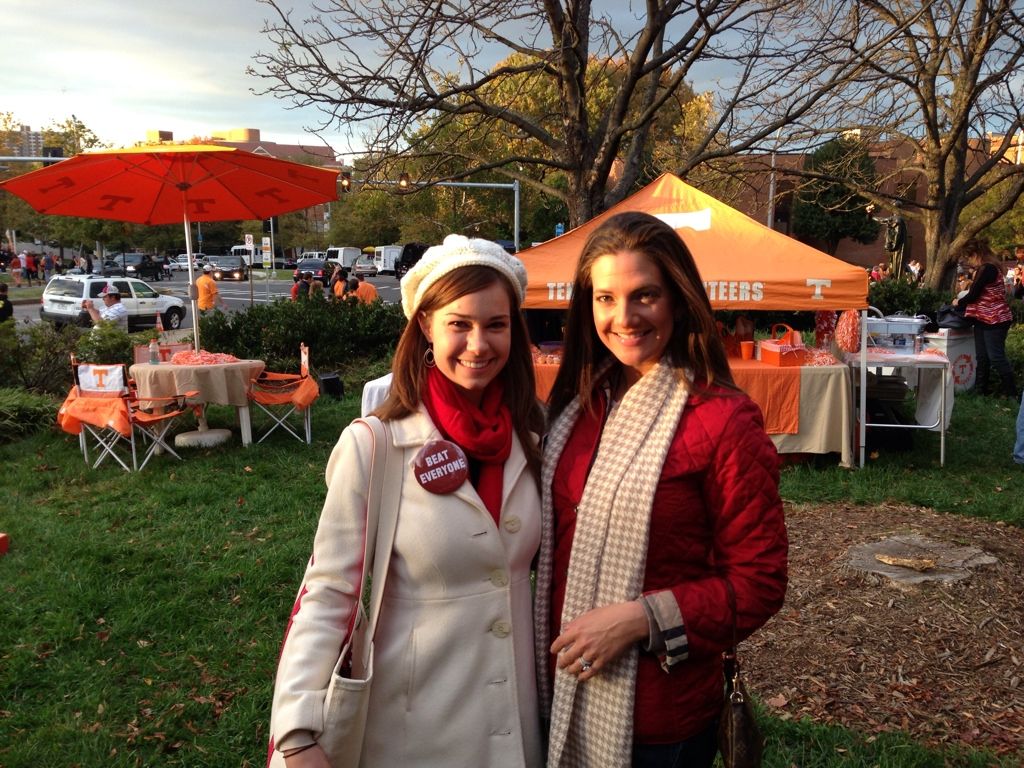 Exhibit B: crochet hat and winter white coat (Clearly Deb and I are NOT Tennessee fans)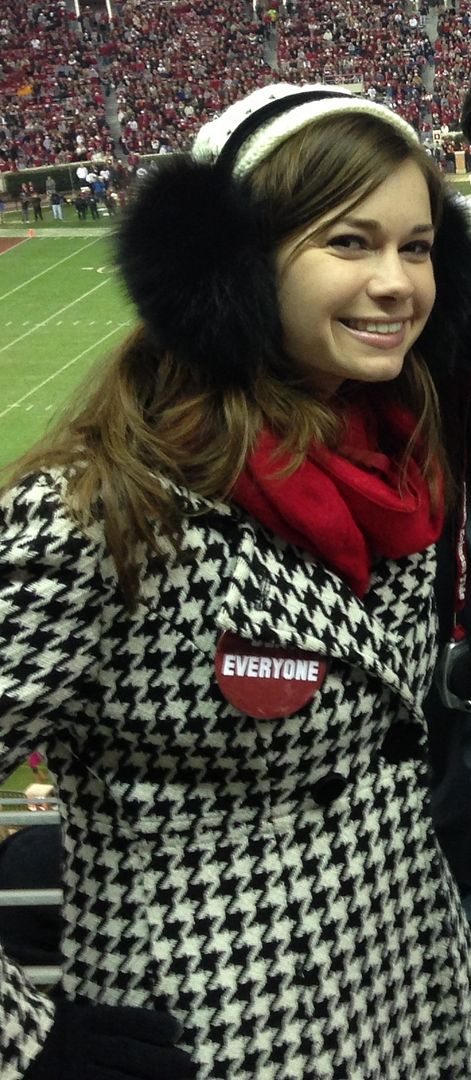 Exhibit C: Ear muffs with crochet hat and houndstooth coat. NOT my best look, but OMG those babies are so warm.
6. Kate Spade snow boots-I got these for a steal on eBay and have been obsessed ever since. They have a wedge heel so I don't look short and a BOW at the top--who doesn't love bows?? They are insulated so my feet are always toasty and dry no matter the conditions!
I have NO pics of the boots, which is sad, because I would totally save them if a disaster was befalling my closet.
Ahh, that feels better. I needed to unload all of that nonsense so I could move on into spring without looking back! Bring on the swim suits, flip flops, and sunscreen! Summer here I come!
Are you missing anything from winter?? Is it just me? Say it isn't just me!