Maybe I can't really call this "They Year in Sports" since it is only April, but I feel that this post deserves a title fitting of a Sports Illustrated article because so far it has been amazing!! We kicked the year off right with a big Bama win at the BCS National Championship game in Miami!! ROLL TIDE!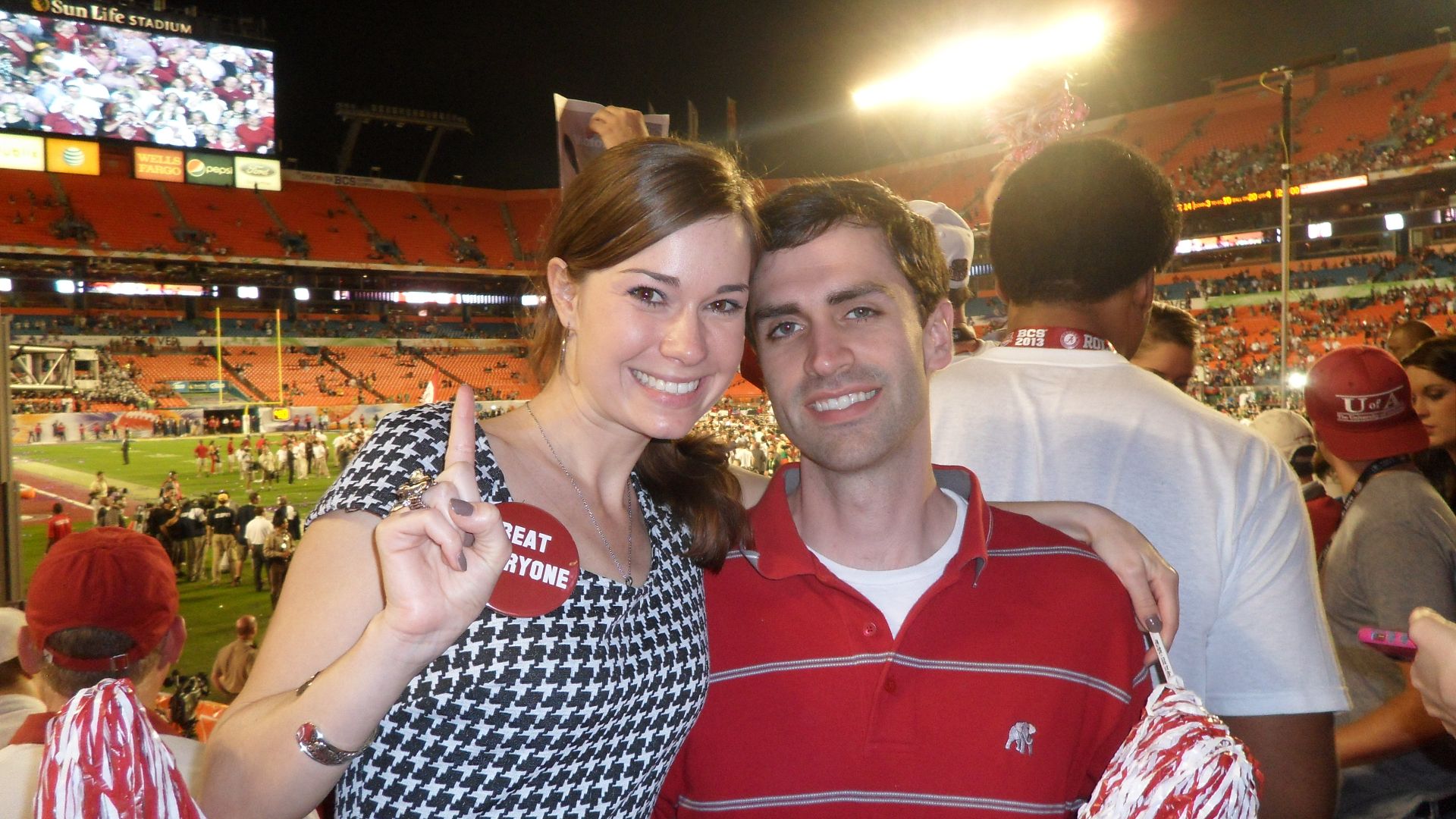 THEN my brother won tickets to the Masters practice rounds in the ticket lottery and invited Forrest. I am not personally into golf but I AM into celebrities and pretty scenery, so I was sad I couldn't go. Forrest had a SPECTACULAR time--thanks Roy for inviting him! I pretty much freaked out when he showed me the following pics:
OMG isn't this pretty!! Forrest knows exactly what hole this is and what par it is--I just think it is gorgeous!
When I saw this pic I determined that I definitely belonged at the Masters.
Again, how stunning is this view? I was going to crop out all of these heads but I liked seeing how many people were there to watch golf. Doesn't this remind you of that pointillism painting by Georges Seurat--A Sunday Afternoon--you know, the one with all the little dots?
Oh and apparently all the cool golfers skip balls across that water. It's a Masters thing.
And here is where I lost my mind. TIGER!! Yes, he is a cheating ho bag but it is still TIGER!!!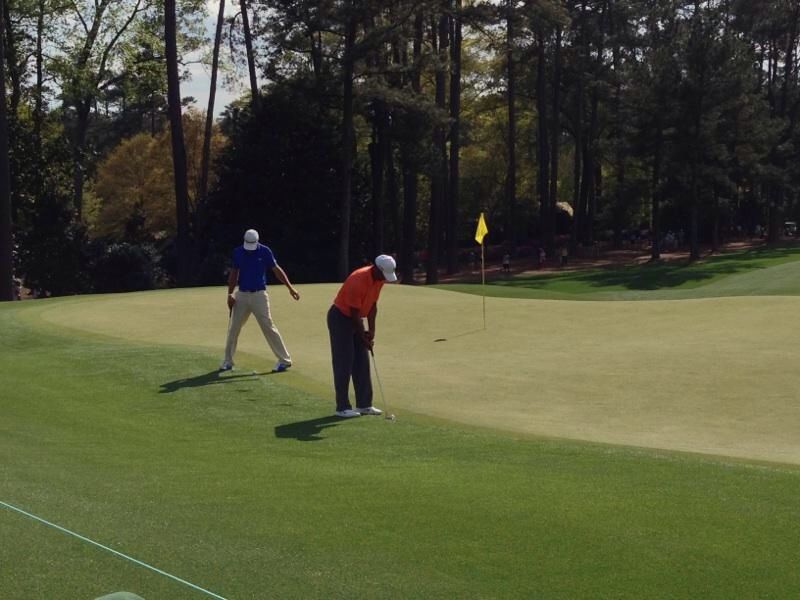 Putt Tiger, Putt!
I think this is Ben Crenshaw. I mean, Forrest could have literally touched this guy!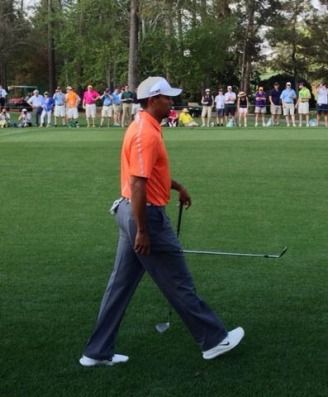 Hi Tiger! Will you take a pic with me?
Apparently I am not invited to the Masters ever because you are not allowed to take pics with golfers nor talk to them nor talk at all. I'm not good at any of these rules, unfortunately.
Bubba Watson. Cute little Southern guy who won the Masters last year.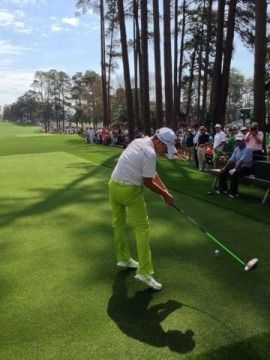 This is a 14 year old golfer--amazing! I love his pants!! His name is Guan.
If that wasn't enough, our darling friends the Borders invited us to the NCAA basketball finals! It was kind of funny, actually, because I didn't even realize what we were being invited to. Kelly came up to me at
Girlfriend Gala
and says "Hey! Kevin won some tickets to the basketball games in Atlanta--would yall like to go with us?" Never one to turn down fun, I agreed and asked the dates. She says "April 6 and 8th". Great! We have a wedding on the 6th but we can totally do the 8th! So I tell Forrest and he is all "THE 8th is the FINALS!!". Clearly he's pumped and now I'm pumped! What sweet friends to ask us to such a big game! The perfect thing was that Forrest and Roy had Masters tickets for the same day as the Finals so Forrest was already off of work and would be in Georgia anyway. All I had to do was ride with the Borders and tada! Fun day of sports! It was kind of weird not being for any team once we got to Atlanta. Kelly wore Michigan colors because she enjoyed meeting some nice Michigan fans, plus she liked their dances. I wore Louisville colors because, well, I have a lot of red clothes since I'm a Bama fan. People kept screaming "Go CARDS" at me and I'd have to realize they thought I was one of their own fans. It was fun! While we waiting on Forrest we went to Brackettown where they had games and things. The best part was the Coke mixer machine--it had every flavor of coke, sprite, etc and you could mix and match. We went through the line twice mixing up concoctions! I don't drink Coke because I can't do caffeine, but this was too good to miss!
Kelly and I showing our basketball team spirit in our opposing team colors with the trophy!
As my sister would say, the whole thing was pretty "legit". There were people everywhere screaming, cheering, pushing, etc. I wouldn't have a sporting event any other way!
The stadium atmosphere was electric once we were inside. The game itself was AWESOME! There were some amazing plays and OMG the players were so skilled! It was neat to see so many basketball greats flashed on the jumbo tron, including Kareem Adbul Jabaar and someone that looked a lot like Michael Jordan--Forrest and I have yet to determine if it was in fact him. We also saw funny guys Steve Carrell, Paul Rudd, and Jason Sudeikis! I was FLIPPING out!!
I obvs didn't take this pic, as I was sitting quite FAR away from them. Probably a good idea on the part of the stadium, btw. You can check out this and other really cool professional shots that I did not take
HERE
. I have thought a lot about them riding on a private plane to the game together, snapping pics, telling jokes, etc. That happened, right?
There was also a surprise flash mob which knocked my socks off. It seemed that a rouge Michigan fan was running on the court with security chasing him but then they started dancing and people kept joining in! HOW MUCH FUN!! We also had a blast watching the trophy presentation after Louisville had put the game away. It was wonderful for us that the game was so back and forth since we didn't have a team preference--we just wanted a great game and that is what we got!!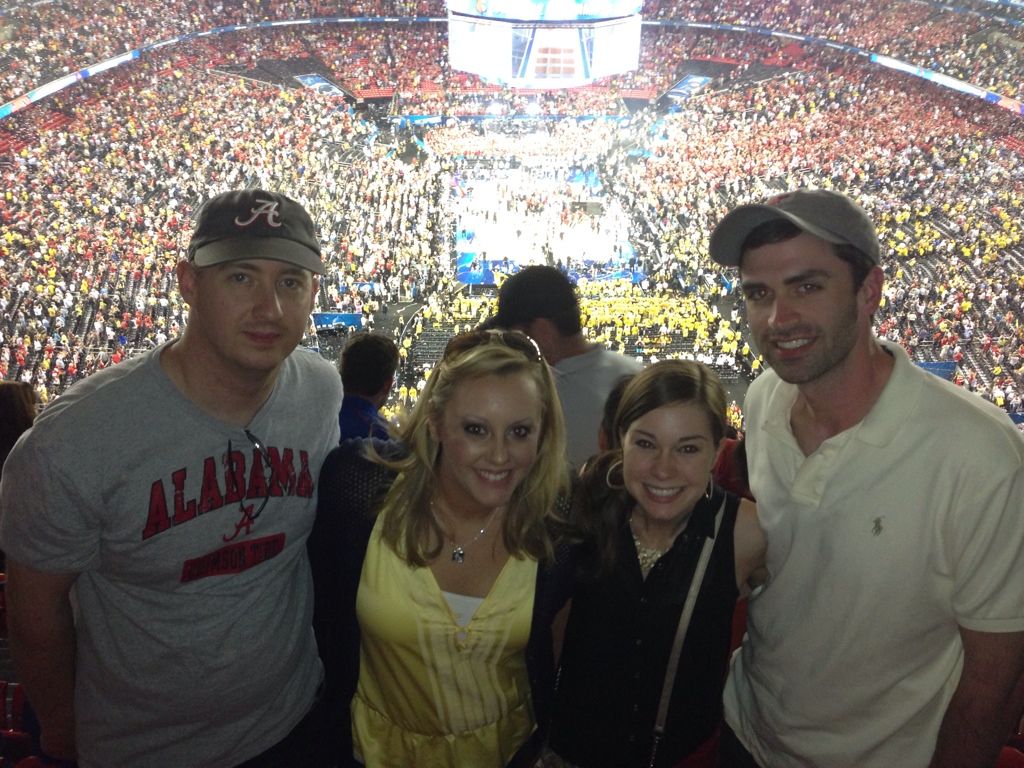 Thanks Kevin and Kelly for a great time!!!
LOVE how Kevin represented Bama!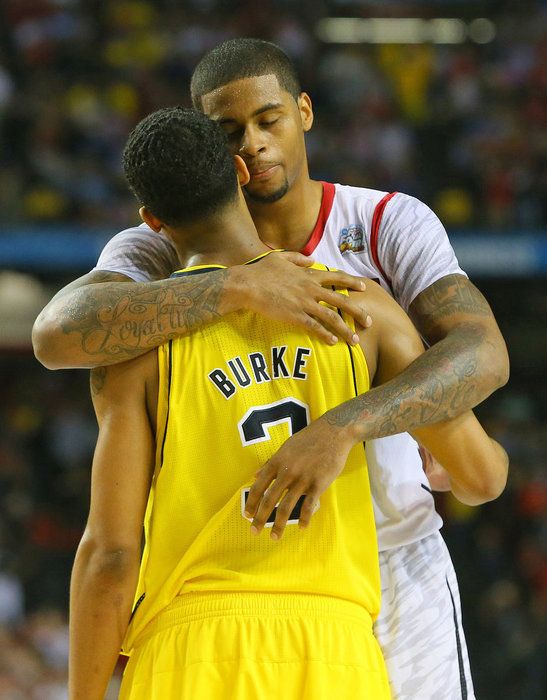 I didn't take this either but I saw this happen live. OMG it was so sweet. I was really sad for Michigan because they played a great game. Of course, I was thrilled for Louisville because I know what that championship win feels like when you are a fan!
VIA
It's pretty much my dream to have confetti, streamers, balloons, etc dropped on me in celebration of something I have done. Maybe that is what happens when you have a baby? Is that why all my friends have them? Hmm--must look into this.
VIA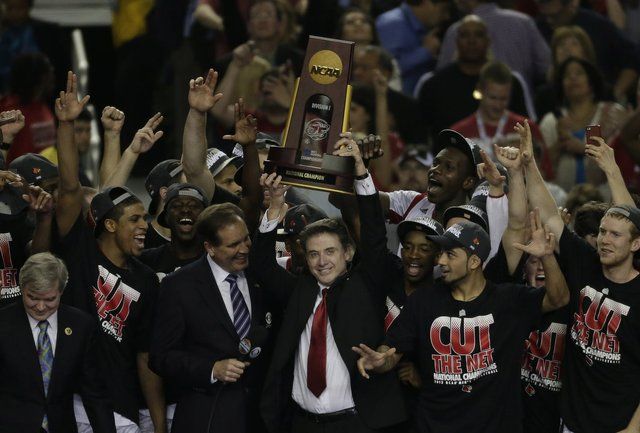 Look at these happy little guys. The coach pretty much scares me. I think he was on the Godfather. I mean, what if you woke up and that man was sitting there? SCARY!! The guy to the right of him is Peyton Siva and he was REALLY good. Then there is a guy named LUUUUUUUUUUKE somewhere that went on like a 14 point run to get them back in the game. The guy that broke his leg in half (Ware) is up in there too. Oh and PS when they cut the nets down in celebration, it takes FOREVER!!
Yes we did get home at 2am and yes we did drag our tired selves around work the next day, but YES it was totally worth it! I'm obsessed with entering ticket lotteries so I can go to more cool games in the future! World Series, Super Bowl, where ever you win in hockey, here I come!! Thanks again to the Borders for an amazing experience!!
C! A! R! D! S! CARDS!! (see, I learned a new cheer!)