Why did I wake up on Saturday earlier than I woke up for work during the week? It was my first ever 5K!! I've been doing couch to 5k since February and once I got "good" at running, my friend Kelly decided that we needed to do a 5k to keep us motivated. We chose one several weeks away and started practicing the course every week. This course was tough, let me just say. There were lots of hills and so we had to keep a consistent pace even though we had to deal with inclines. Getting to a good pace was the toughest part of our practice. We never thought we were going to win, but we wanted to be able to run the entire time and not be basically walking--that defeated the purpose. We got quicker each time we practiced the course, but the thing that helped me the most was running the course with Forrest. He is a foot taller than us so of course, he runs faster than us without having to even try. He kept us on pace and we shaved a whole minute off of our time in a week! By Saturday, we were ready, but I was really really REALLY nervous. Since it was my first race, I was worried about running with all the other people around me. What if someone fell? What if I fell? How do you stand when it starts? Aren't the people at the back of the starting line at a disadvantage? Do I tuck in my shirt? What do I eat before the race? I'm sure I drove Forrest crazy with all of these questions, but his sweet and simple response was the best advice ever--JUST RUN.
I went to the race by myself and I instantly felt out of place. There were TONS of runners stretching, jogging, wearing cooler outfits than me. I waiting in the parking lot for Kelly and started doing ballet stretches so I would fit in. (In retrospect, I probably looked like an idiot, but ballet stretches are the best, thank you very much). Kelly arrived and we quickly signed in and then tried to assess our "competition". There were men, women, and children of all ages. Apparently we picked a very attractive race because there were cash prizes, so LOTS of great runners were there. I kissed all hopes of a division trophy good bye (which was really had because they were really pretty) and Kelly and I decided that we were just going to have to beat our best times because we probably weren't beating most of the runners.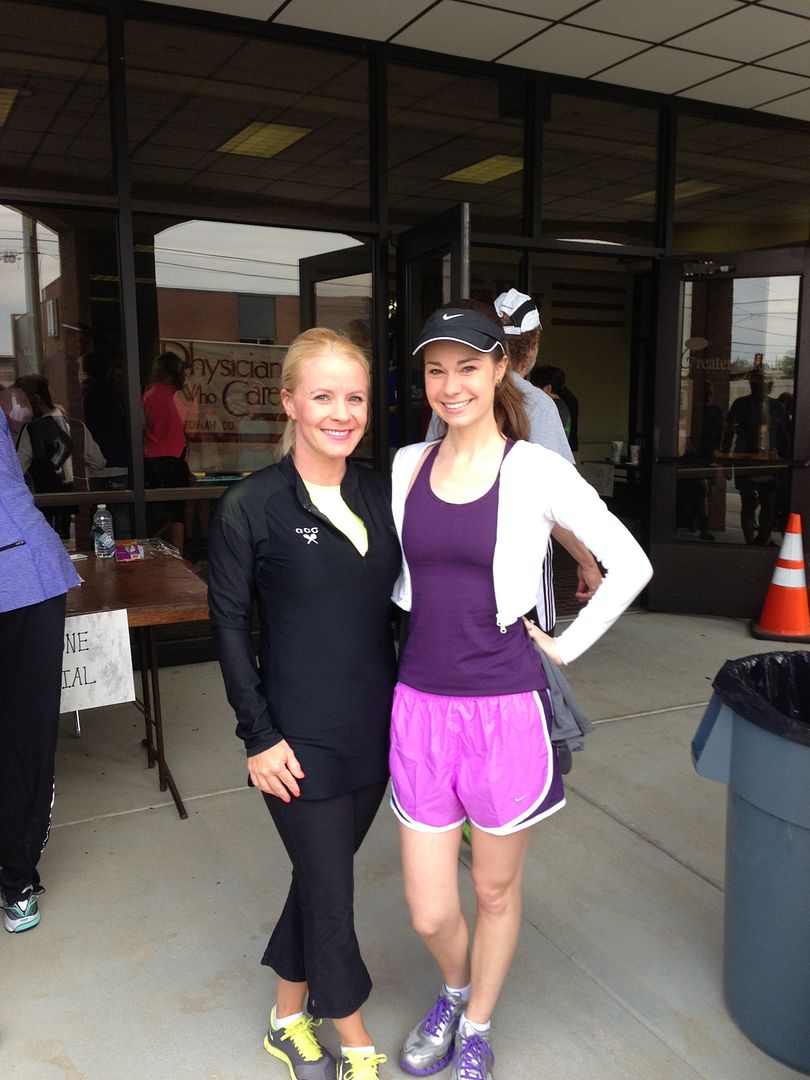 We are ready!!
Approaching the starting line made me crazy nervous, but made me feel like a real runner (Forrest was taking pics of me so maybe that reduced my credibility a little).
Getting on our mark...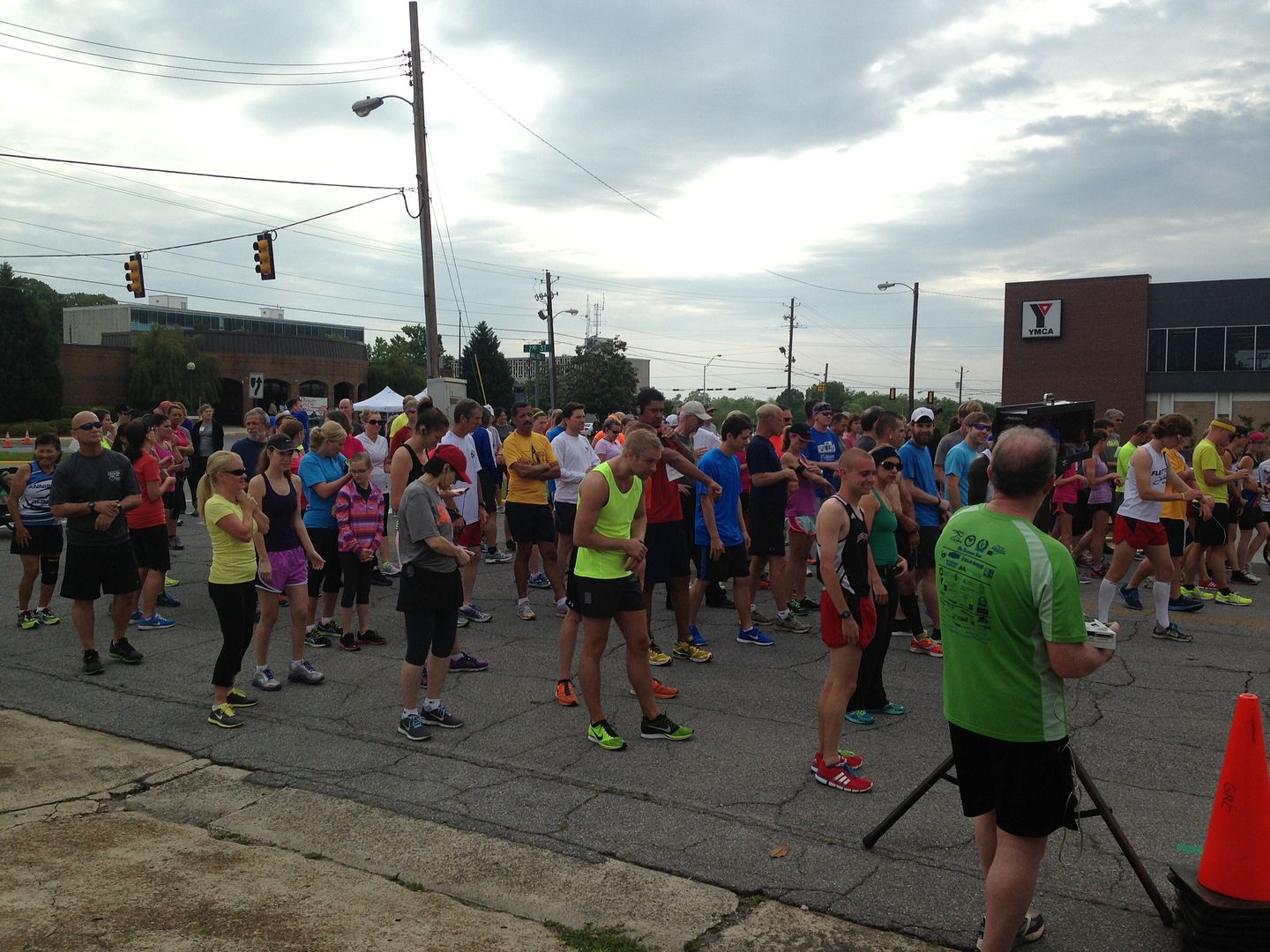 "Why are we in the back? The people in front of us have to take less steps to finish!!"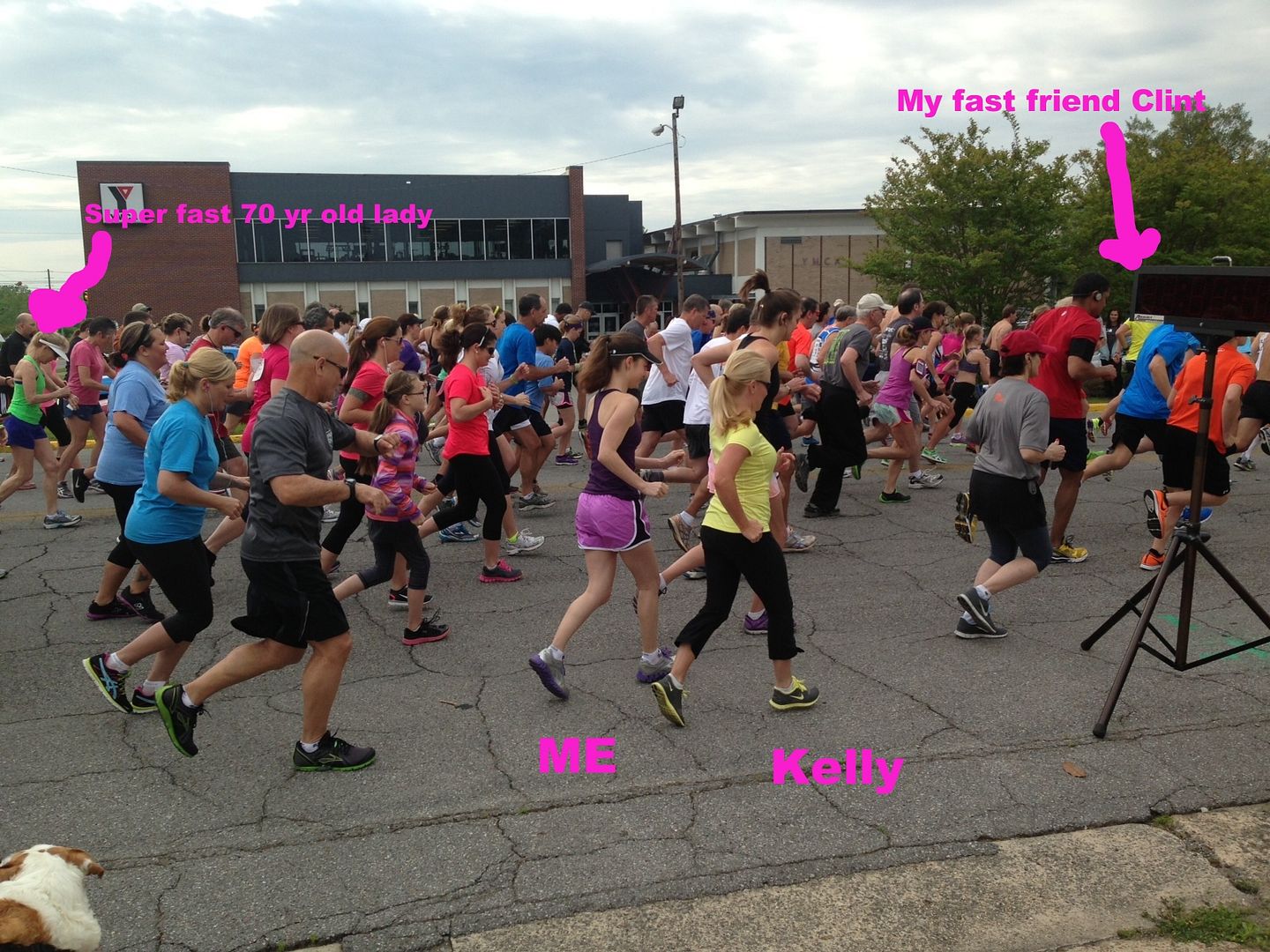 The gun sounded and off we went! It was hard to have people flying by me, but we kept our pace. I actually started feeling really sick during the race but we couldn't stop so Kelly just coached me through. I don't know if it was because it was morning or what but I definitely felt different than usual. At one point I asked Kelly if we were going fast enough and she said OH YES, at which point, this VERY old lady flew past us (turns out this lady was over 70 and came it at 26 min, see above pic). That made me very worried. At the 2 mile mark, a man was calling out the split time. We were at 18:34! We had never run that fast before so that spurred us on. When we reached the final turn, Kelly said to speed up so we could finish under 31. By this time I was exhausted but we did it anyway. We held hands and finished together, right at 31 min--basically 10 minutes per mile. UGH I was so tired and felt so sick so I immediately sat down (not good, I know) but after a couple minutes I felt great. We were SO proud of ourselves!
We are the champions!!! (or something like that)
Forrest could not have been prouder if I had won--I had beaten my very best time!! While we didn't win trophies (the overall winner ran it in under 17 min--omg) we felt like we had actually won. It felt great to see such positive results after working so hard to achieve a goal. If anyone out there is considering running, you should definitely go for it! It is great exercise and a wonderful way to spend time with friends, plus, the sense of achievement is indescribable! Even though by the end of the race my brain was screaming "NEVER DO THIS AGAIN!!!!!" I will definitely be signing up for another 5k in the future!! Go me!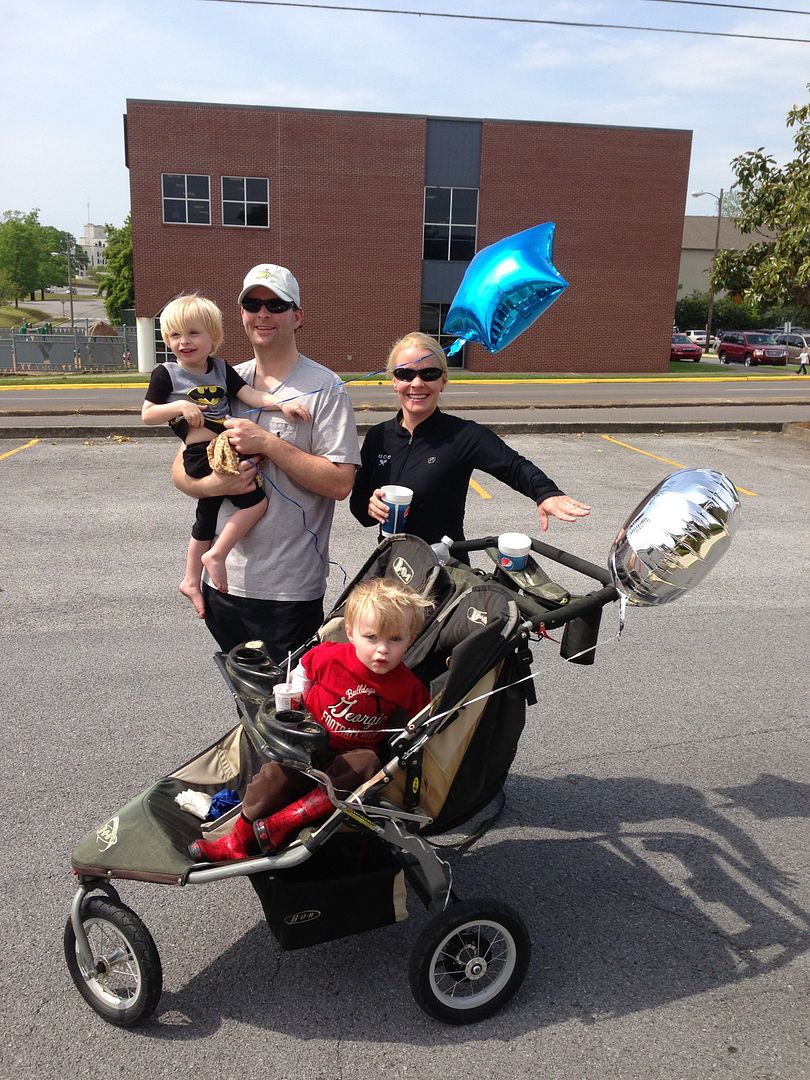 Kelly's husband brought their boys to the race. We actually passed them while we were running. It was adorable.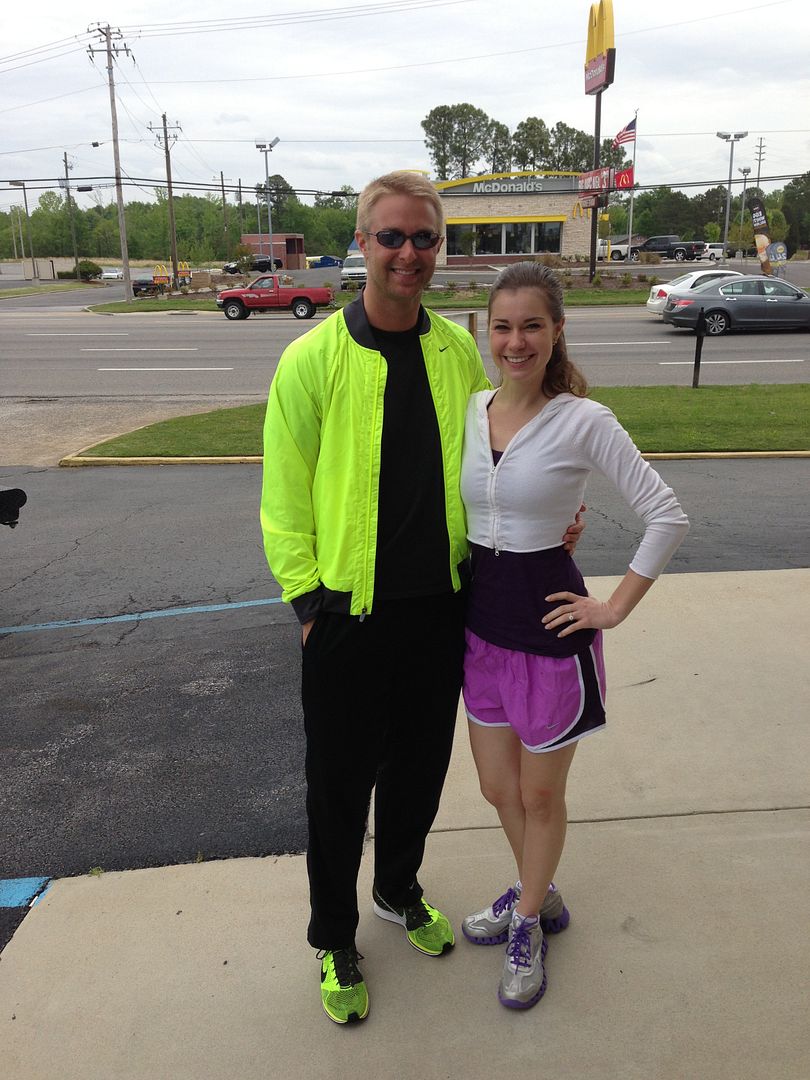 My friend Clint came to run the race with us! We were at college together and I haven't seen him in ages!!
Don't forget to link up your weekends!