Happy Friday! All I can say is HOORAY! Who's ready for a long weekend? ME ME ME!! Here is a quick run down of what I'm loving this week!
I am SO excited to have been accepted as a member of the
Alabama Women Bloggers
! It is a sweet group of women dedicated to helping each other grow as bloggers. They have regional meetings and even a big state meetings and I am PUMPED to be included! Can't wait to meet all of the other blogging ladies!
I've been voting like a fool for my sister to earn a spot in the top 16 at Miss USA. I spend a good 20 minutes of each day voting for her 10 times with each of 4 email addresses (40 votes a day--woohoo) and another 10 asking others to remember to
VOTE
for her. Thanks to all of you who have voted and I hope you will continue to vote each day! Go Miss ALABAMA!!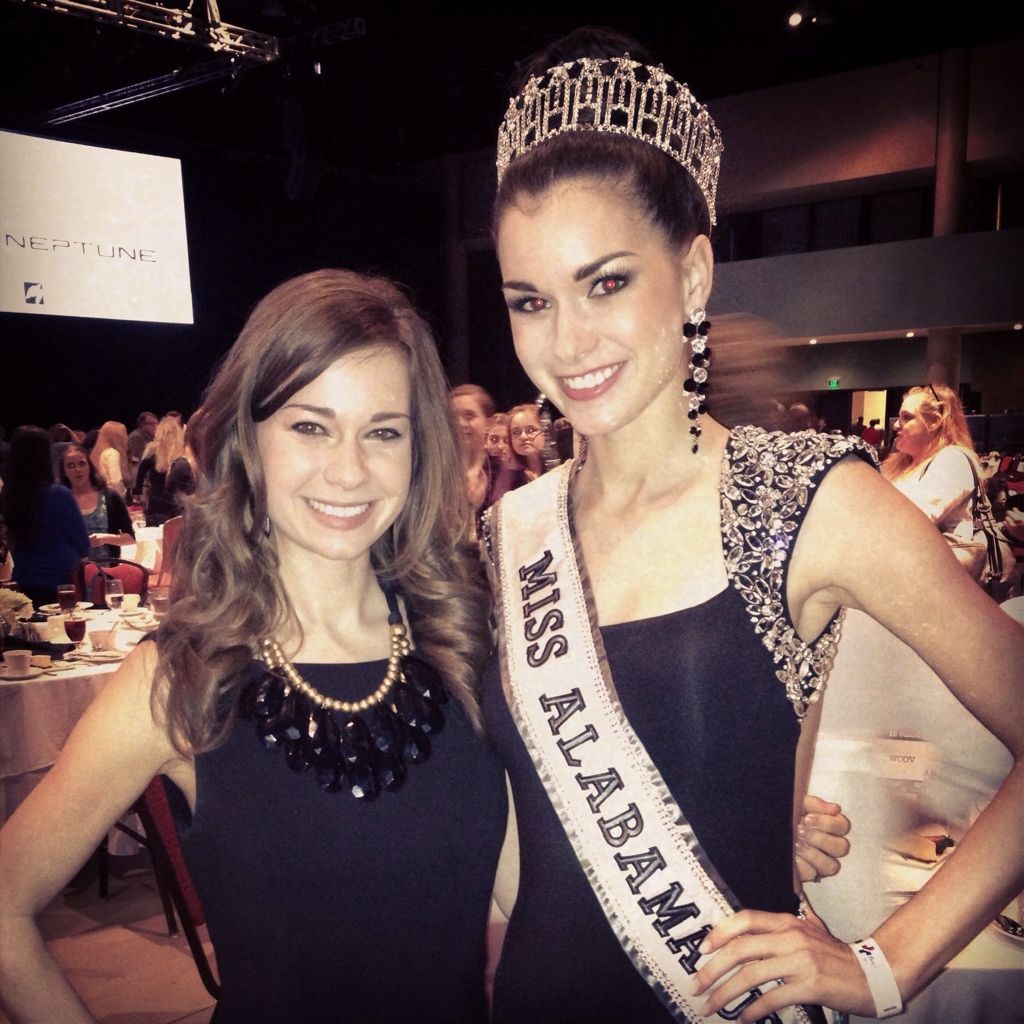 Please vote for my sissy!!
..and just like that, it's time to complain about being hot in Alabama! It's been in the high 80's around here lately and I LOVE it, other than the fact that I had to turn on the air last night. High power bills are NOT something that I love. Bring on the flip flops, dresses, new bathing suits, and sunscreen!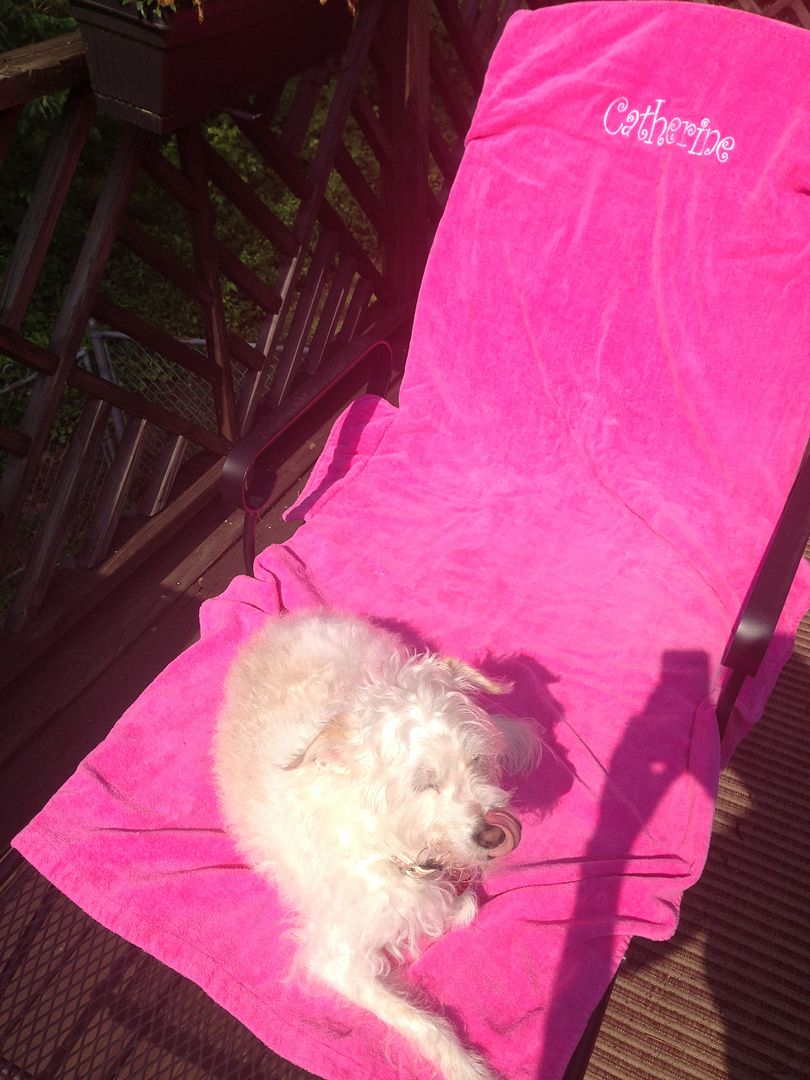 Bathing beauty
In honor of summer, Forrest bought this little bird feeder and hung it in the carport. It just so happens that we have a window that looks into the carport, and the cats have quickly realized that they can happily sit and watch birds eat ALL DAY LONG from the window. They are constantly running from the window into the den where they can see out of the doors to the deck. One night Brownie was going NUTS and was beating on the door to get outside. She had spotted a squirrel and she wanted at him! Granted, the squirrel was nearly her size, but she is a tough little thing! It has been so funny to watch them this week!
Who knew this little thing could create so much enjoyment!
Sirius XM Radio
No, they are not paying me to write this (although "Hi Sirius! You are welcome to sponsor me at any time!"). Forrest surprised me while I was driving back from the
Kentucky Derby
--he had turned my XM back on! Hooray! I LOVE LOVE LOVE the selection and they are always playing my favorites (ehem, Luke Bryan). No summer road trip is complete without it!!
SNAKES
I'm cheating here because I wanted to tell this story but I do NOT love snakes (as evidenced from
THIS
post). Clearly, no one likes snakes, am I right? You may not hate them and they may not bother you (my husband is this way--weird) but I mean, no one really LIKES them. Or at least, no one likes to be surprised by one--maybe that is a better statement? Ok so Forrest and I were walking on Monday night and it was just about dark. We were walking down the road heading home and Sonny started to sniff something in the grass. He kept putting his nose down and pulling it away, over and over. I freaked out and got Forrest to pull him away in case it was a snake. It was a lizard. Whew. I turned to continue walking and after about 3 steps Forrest yelled "STOP". With my right foot in mid air, I looked down--I was about to step on a fat brown snake. Screaming of course ensued and I kind of danced to the left, where I almost stepped on Snake 1's friend, Snake 2. I kind of don't remember what happened at this point. I literally have nightmares about this very thing happening--the spotting of one snake and then the realization that they are actually everywhere--yep, straight out of my actual nightmares. I do remember acting like a total fool (I can maintain in just about any situation, except when snakes are involved) and begging Forrest to carry me home. There was NO way I was risking stepping on another snake. NO WAY. I am pretty sure they followed me home and therefore know where I live. My guard will NOT be let down--stay alert snakes--I'm on to you. Shout out to Farrah for offering to bring Justin's gun over so we could shoot them. Note to self: Catherine and Farrah with a gun is a far more dangerous situation than the spotting of 2 non-poisonous snakes. Remember this EVERY TIME.
I am NOT loving the devastation that was brought on by the enormous tornado that destroyed parts of Oklahoma early this week. I have honestly barely looked at pictures or watched the coverage on tv because it reminds me of the tornado that narrowly missed my sister in Tuscaloosa on
4/27/2011
and I literally get queasy. What I DO love is the outpouring of love and support that has flowed to OK. From bloggers (
Venus Trapped in Mars
, I'm looking at you), to celebrities (Kudos, Kevin Durant!), to just your every day average Jane, people have stepped it up this week and shown their compassion for their fellow man, and this makes me smile. It will be a long road to "normal" for OK, but with our help and support, it may be a little bit easier. Wondering how you can get involved? Check out
THIS
article.
Hope you guys and gals have a great LONG weekend planned!
Happy Memorial Day