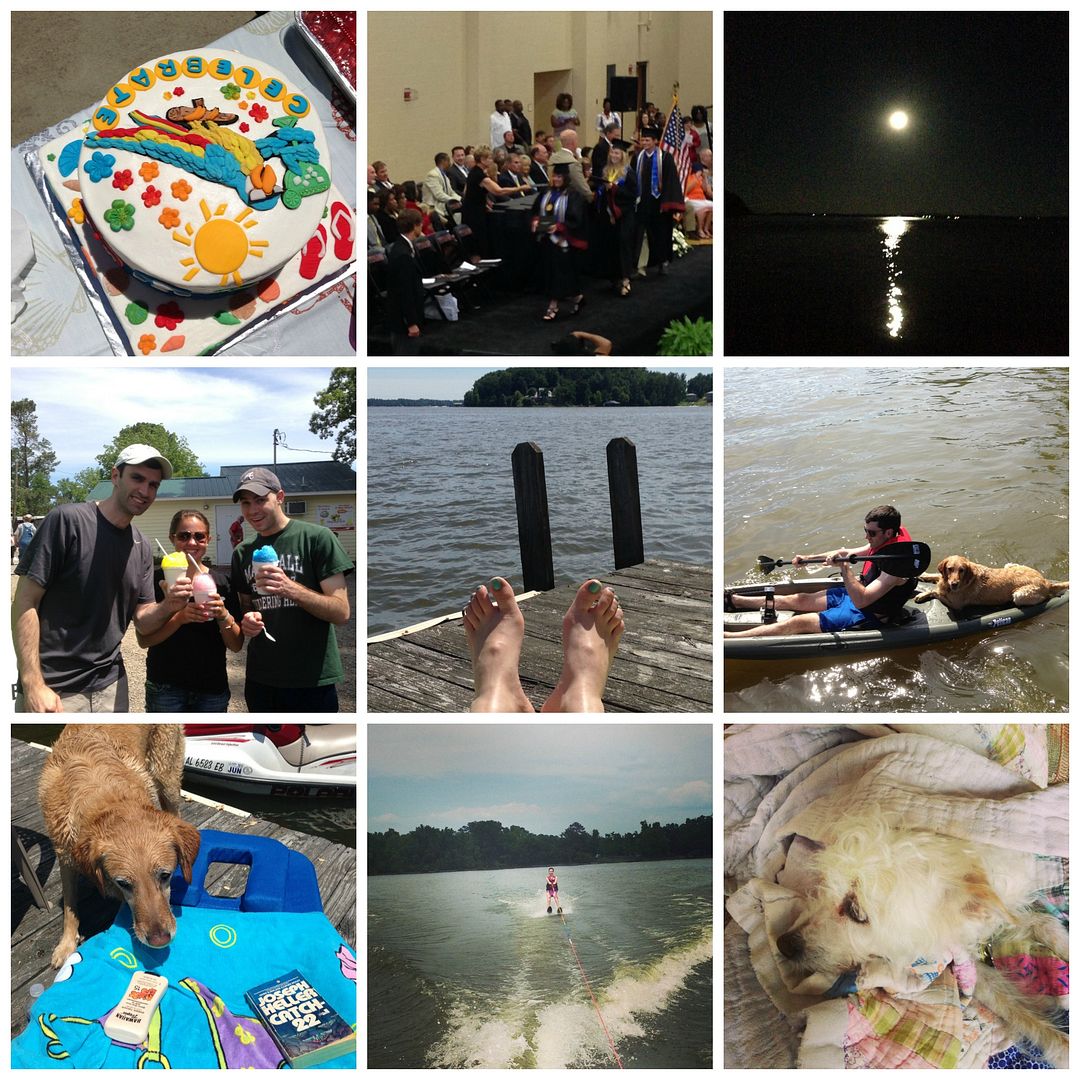 Since it is 8pm and I'm just now getting my post up, I thought I would just do a pictorial view of our Memorial Day weekend! It was my first time to play around with picmonkey and clearly I didn't do that great of a job, since the first pic is upside down. Oh well--practice makes perfect!
From L-R, top to bottom
1. On Friday we celebrated Mr. Bailey's retirement at the high school where he has taught for 25 years! They grilled steaks and had a shrimp boil, and of course a cake! I actually did take this upside down to avoid a shadow, and then I couldn't flip it!
2. That night, we went to see my cousin Sara graduate from her high school as the valedictorian! She got to give a speech and it was perfect. I'm so proud of her!
3. Afterwards, we drove straight to the lake so the fun could begin. The moon was full and beautiful!
4. We kicked off Memorial Day Weekend with our annual Trade Day trip! Forrest, Hannah, and Roy were enjoying snow cones and I enjoyed discount shopping!
5. I spent the rest of the day (and the next 2 as well) trying to get some sun on my PALE body! It was so relaxing to sit still and do NOTHING!
6. Always active, Forrest and Sonny tried out their new kayak!
7. My perch for the weekend--isn't this chair fabulous? The hole for your face is perfect! Sonny kept me busy by bringing his ball to me so I could throw it in the water and he could jump in after it. I also tried to read Catch 22 but I'm having a hard time getting into it!
8. I tried skiing for the first time in probably about 15 years and I got up on the very first try and never fell! I used to be pretty good, so next time I think I will attempt to slalom. Here goes nothing!!
9. Like Ruffles, we were all EXHAUSTED after a fun weekend in the sun!!
Hope your weekend was just as wonderful! Thank you to ALL of our service men and women for giving the ultimate sacrifice so that we can stay free! God Bless America and God bless you!!