Of course I took zero pics of our meal on Saturday. I made my mom's famous
Italian Hamburgers
with Barbara's famous baked beans. I had never tried to make her beans before but we eat them for every Memorial Day and 4th of July at the lake so I am kind of surprised I haven't tried to knock them off yet. They are DELISH and super easy:
2 large cans baked beans (I used Bush's Country Style)
1/2 box of brown sugar (you know, the regular size box)
1/2 bottle bbq sauce
(you can also cut up a green pepper and onion)
Mix all ingredients in a 13x9 pan. Drizzle more bbq sauce on top to make a glaze. Bake at 350 for 1 hr.
(Barbara cooks hers on 200 ALL DAY but I just can't have my oven on that long--we'd burn up!)

Thanks Barbara!!
Ok, so now on to the title recipe of the post--poppyseed chicken. I'm sure EVERYONE has had this, right? I actually had never had it until college at the sorority house and it quickly became one of my favorite meals. I have only cooked it once since we have been married and so I thought it would be the perfect recipe for Mother's Day--everyone likes a casserole, right? I made the casserole on Saturday and we took it with us to the Bailey's on Sunday for lunch so Mrs. Bailey didn't have to cook. It was so yummy--the perfect comfort food!
5 cups chicken breasts, cooked and cubed (I cut up a rotisserie chicken--EASY!)
1 cup sour cream
2 cans condensed cream of chicken soup (I used 98% fat free)
2 cups crushed Ritz crackers-about 1 1/2 rolls of crackers (I would use just one roll)
1/2 cup melted butter
1 T poppy seeds
Additional Ingredients to make it fancy: (I did this!)
1 tsp Worchestire sauce (I think it needed more--maybe 2 tsp?)
1 tsp celery salt (they suggested garlic salt so I used garlic powder)
1 tsp minced garlic
1 T lemon juice
1/4 tsp pepper
Preheat oven to 350 degrees.
Boil raw chicken breasts with salt and pepper until done. Let chicken cool slightly and cut into one inch cubes. Place cubed chicken in a 9X13 casserole dish.
Stir together the condensed soup and sour cream. If you wish to add the additional flavorings stir in the worchestire, celery salt, garlic, lemon juice, and pepper to the soup and sour cream mixture. Pour over the chicken.
In a separate bowl, stir together the crushed crackers, poppy seeds and melted butter. Sprinkle over the chicken and sauce.
Bake for 30 minutes in the preheated oven, until the top of the casserole is browned and the sauce is bubbly.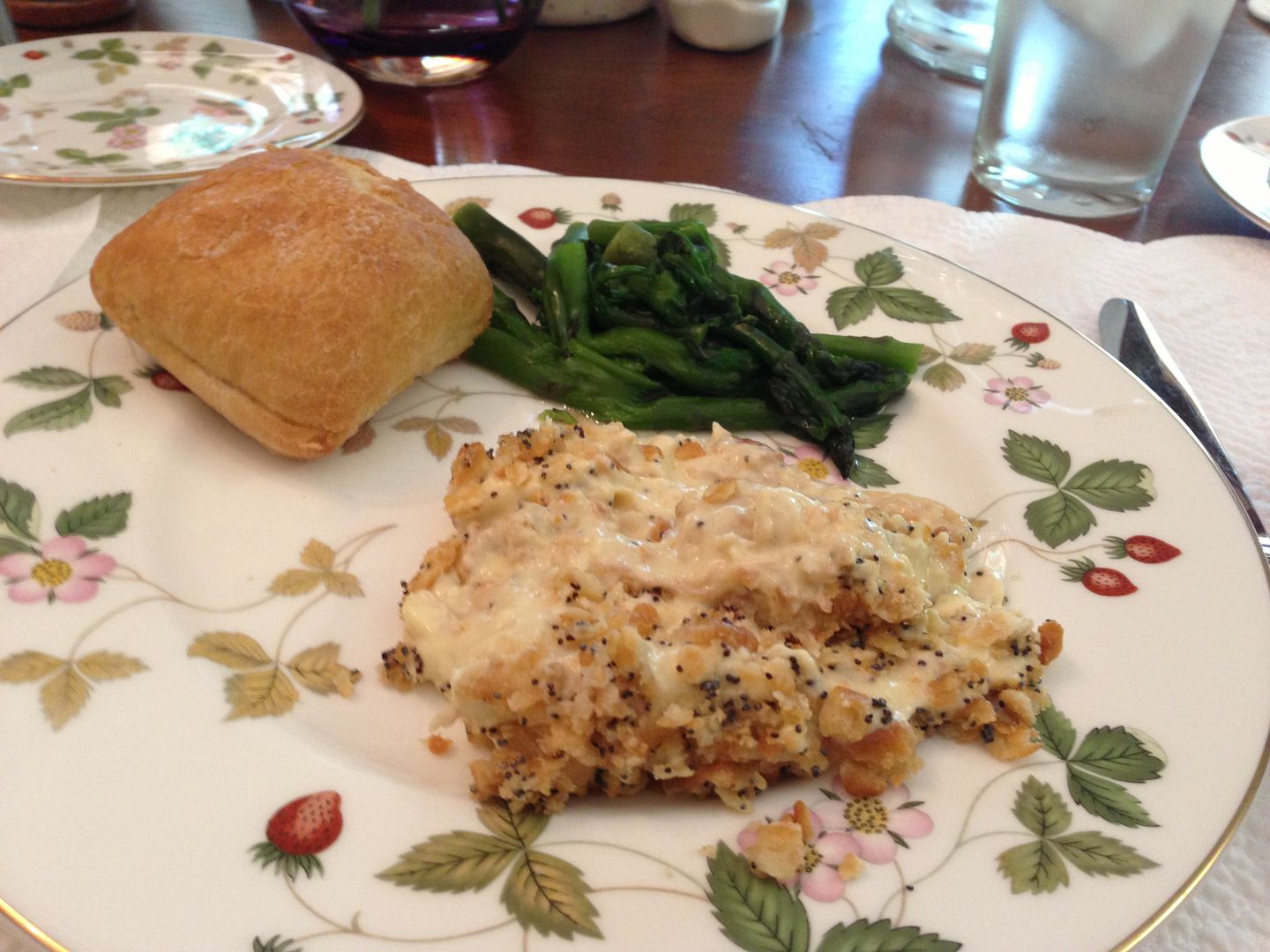 Doesn't that sound good???
HEY! Don't forget that my restaurant gift card giveaway is still going on in celebration of Forrest's new dental practice! Hooray! Click
HERE
to enter!