I was thrilled when my friend Deborah invited me to girl's trip it to the Kentucky Derby this past weekend. I grew up riding horses and would LOVE to own some one day so the trip was right up my alley. Plus, I got to buy a hat!! I met Deborah at her house in Knoxville and we headed up to Lexington, KY that evening.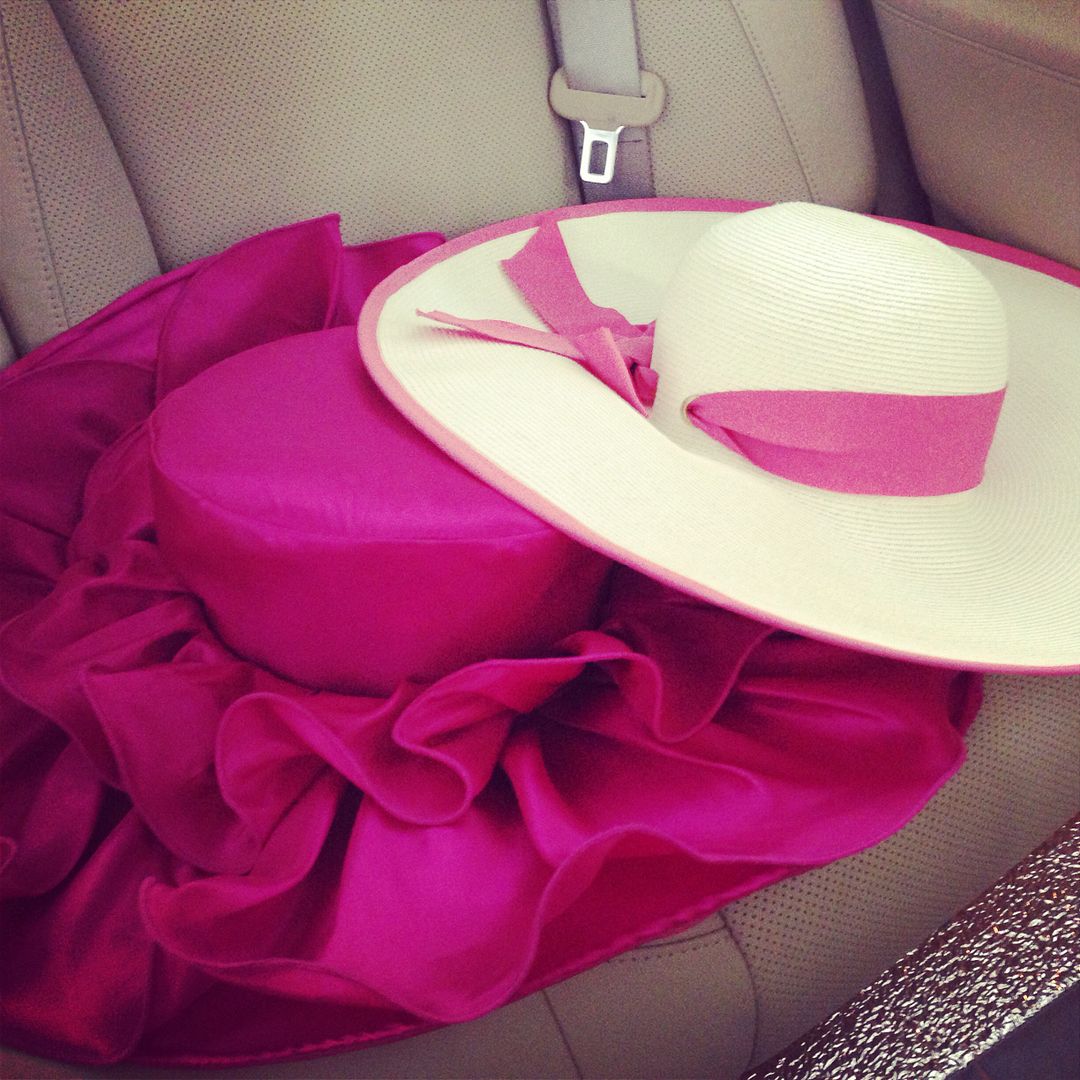 Oh so pretty!!
We enjoyed a lovely dinner at the Tulip Bistro before calling it a night in our hotel, which was across the street from an establishment called the "Spearmint Rhino". Classy, right? We took our time the next morning and Deborah talked me into going to a Barre class with her. It really was a good workout and a fun way to burn some calories! I only wish they offered some in my town!
We headed up to Louisville, only to be met with rain...and lots of it.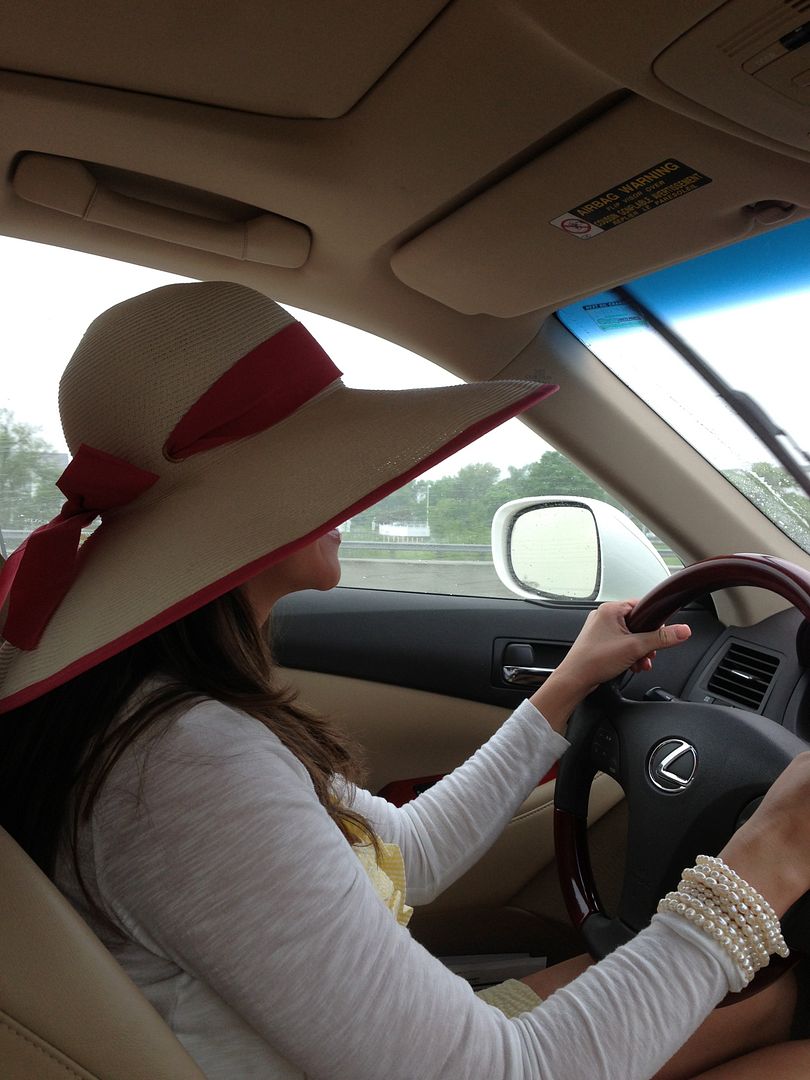 Deborah trying to be optimistic despite the dreary weather.
When we pulled into the parking lot it was literally monsooning outside. What were we going to do!!?? We had on our cutest Lilly dresses, flip flops, pearls, and of course, our hats. Luckily we had planned ahead and brought rain boots, but I was so sad that I had to wear them with my perfectly planned outfit. We wrapped ourselves and our hats in ponchos and headed to Churchill Downs, determined to make the most of it.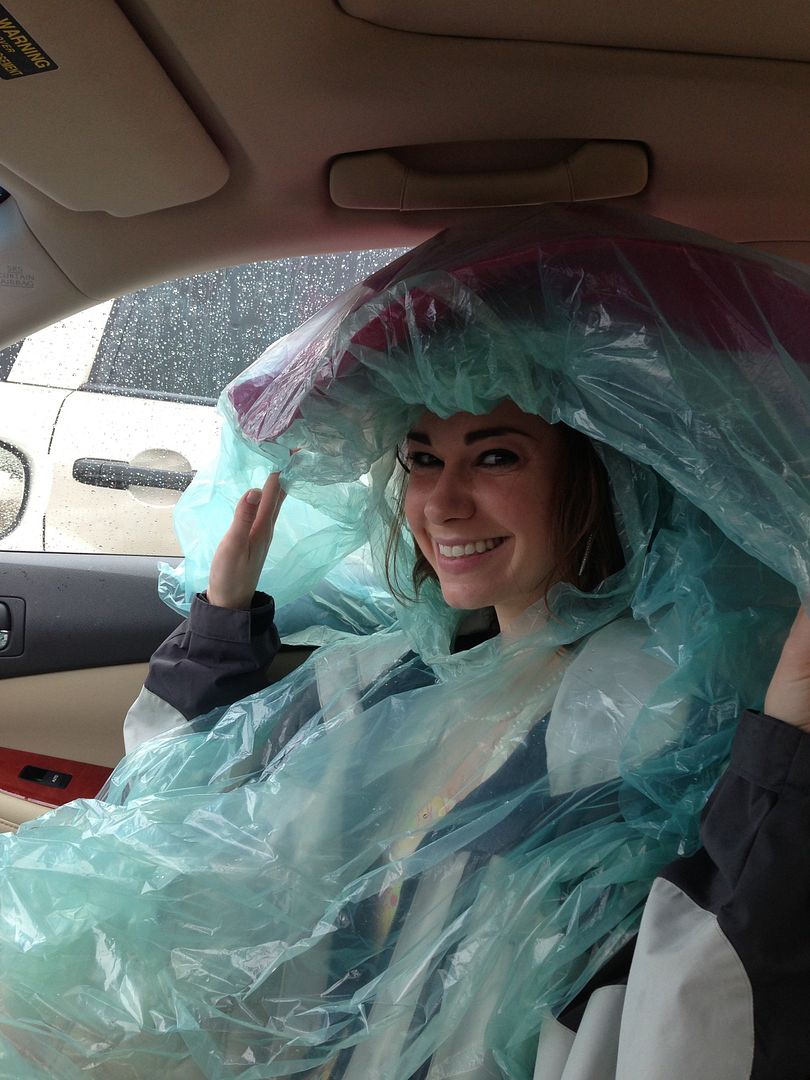 This is real life.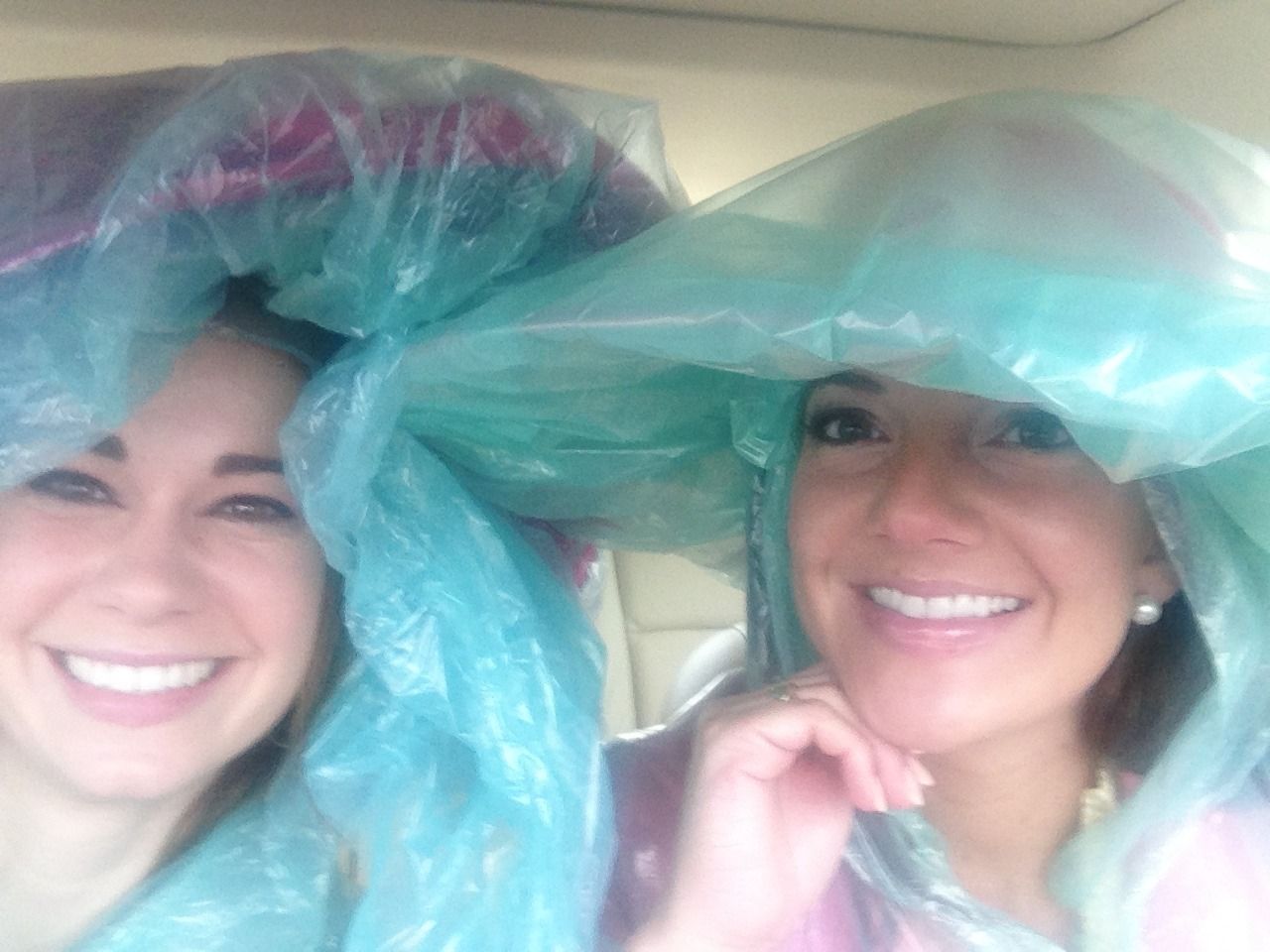 We literally went out in public like this. One of my finest moments.
Deborah had gotten us infield tickets and we were excited to see just what exactly that would be like.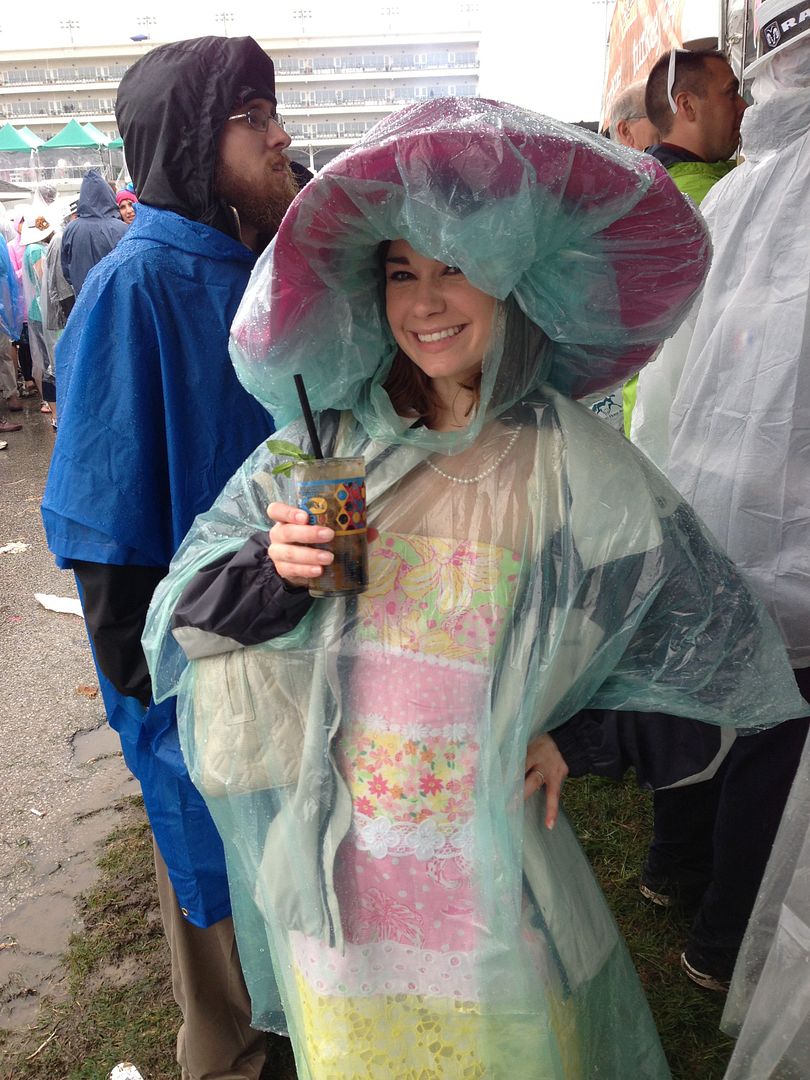 I was so excited to get my mint julep! I knew Forrest would want a souvenir cup so I sprung for the expensive one. Turns out, I am no fan of mint juleps and ended up pouring it out after 3 sips. At least I got to keep the cool cup!
The best word I can use to describe it was: GROSS. It was SO muddy and people were SO dirty. We may have looked crazy in our ponchos, but at least were were clean and dry! We saw people slip n sliding through the mud, a girl standing in her bra and panties and a raincoat, people dancing in a muddy mosh pit--you name it, we saw it. Not the classy endeavor that I was expecting! If it wasn't raining, I'm sure it would have been a much better experience. I'm all for fun, but mud fun is not fun in my book! Once we found our way through the tunnel to the "fancy" side of the track, we were much happier!!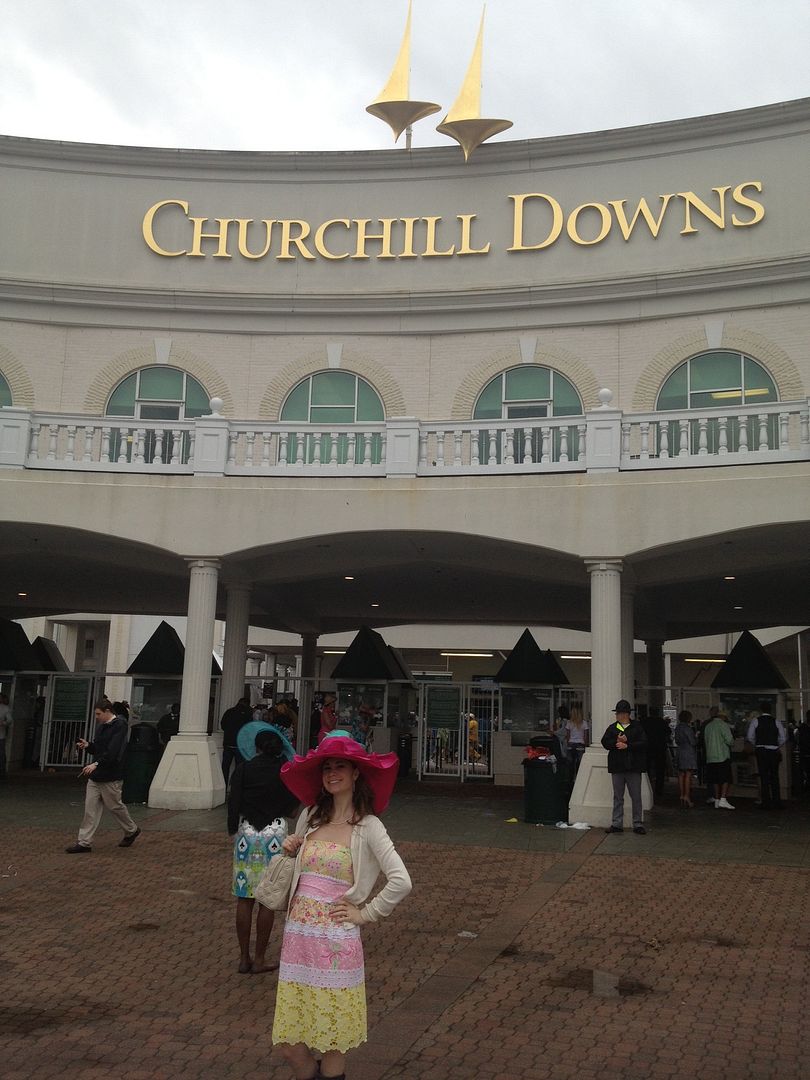 Yay for being at the Derby! BOO for this dress--I look pregnant. Horizontal stripes at the belly are apparently no good for me.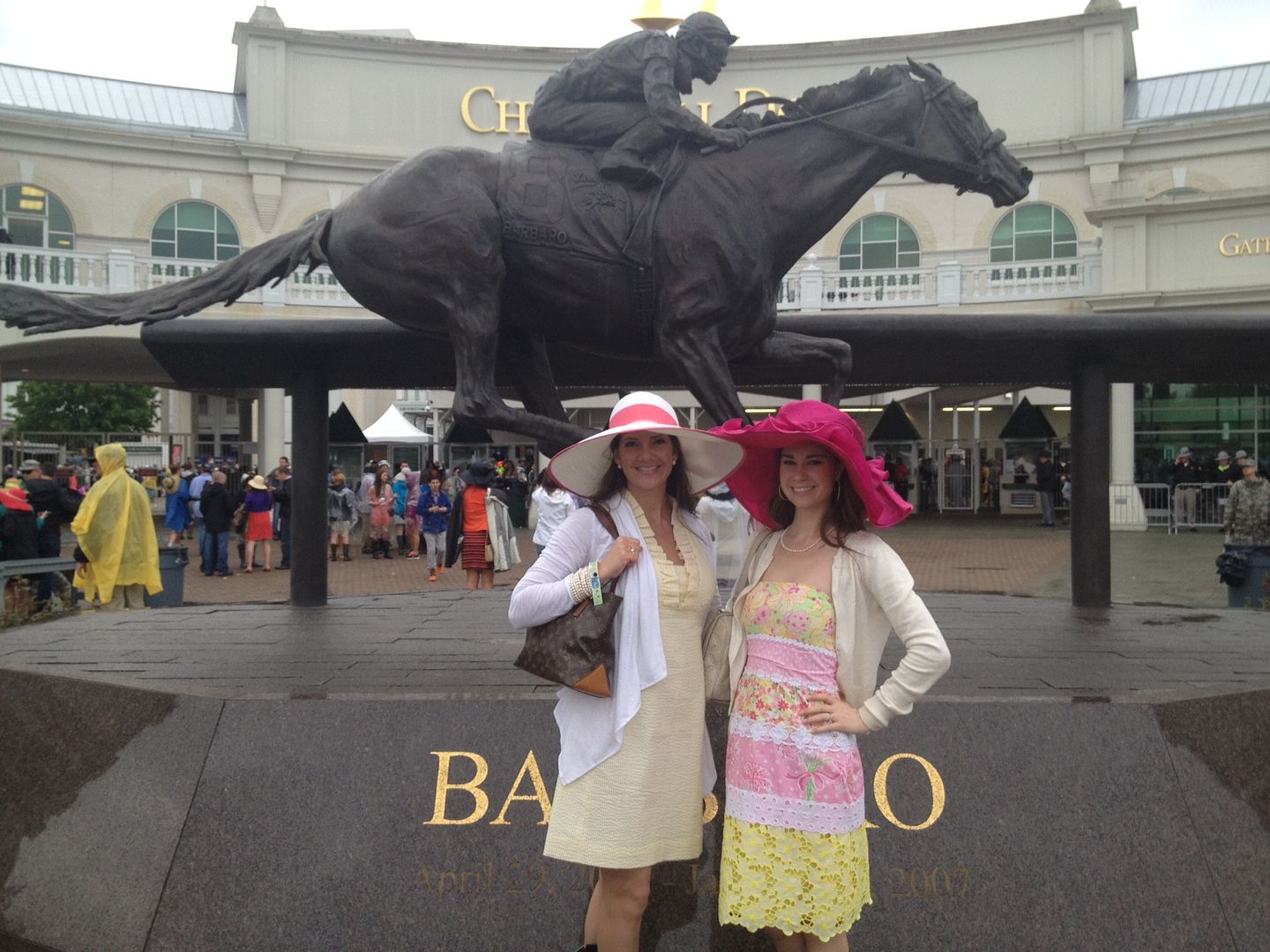 Again, I'm looking plump in front of the Barbaro statue. Poor horsey.
We did watch the race from turn 3 in the infield. We had primo spots thanks to our friend Clint--right at the fence and right in front of a jumbo tron!
See that officer in the yellow standing up behind us? Well all of the officers decided to stand up there. I thought it was pretty rude!
(Thankfully I'm not looking preg in this pic)
I was so nervous that a horse would fall due to the muddy track, but thankfully, everyone was safe. It was THRILLING when the horses ran by us. I didn't know who was who but we were cheering and screaming like we did. Orb was the big winner, and we were both disappointed that we hadn't placed bets, since Deb's husband told us to bet on him. Boo!!!
It was SUCH a fun day, despite the rain and the mud. Hopefully we will get to go back again, with seats, and with sunshine!! Thank you Deborah for inviting me for such a memorable weekend!