Here are my favorite things that we did in Vegas! This may help everyone understand why I've been so exhausted and MIA this week!! Prepare yourself, this will be long!
Michael Jackson ONE Cirque du Soleil
Ok so no trip to Vegas would be complete without a trip to Cirque du Soleil! Since Tuesday night was MMM's only free day to see us, we went to the MJ show because it was her choice. OMG--it was incredible. Of course, the music was fantastic--duh! I was actually terrified for a while because the actors kept coming into the audience, down from the ceiling, out of a side door near me! I didn't know where to look or if one of them was going to try to take me on stage so I was just in a panic for the first little bit! We had great seats so we could really see all of the cool tricks, flips, and dancing. My favorite was Billy Jean!! If you are in Vegas, you MUST go to this!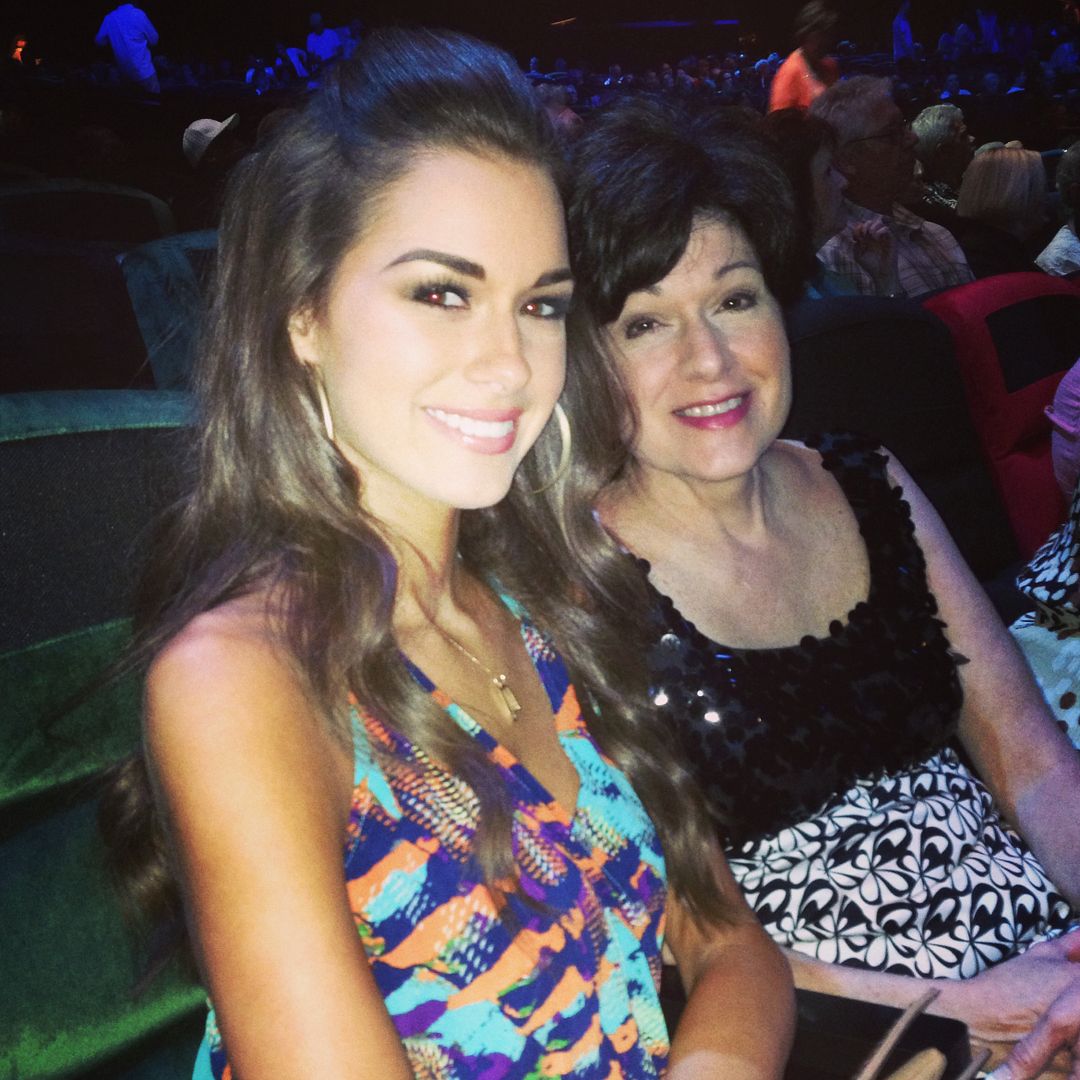 Miss AL USA and her momma at ONE!
Grand Canyon
One of the biggest successes of the trip was our Grand Canyon adventure. Mom and I boarded this tiny plane and bumped along to the canyon. Of course, it was totally worth it because the canyon was amazing. I just couldn't stop looking at it! We went to several vista points while were were there for differing views. I would highly recommend the plane ride, as you aren't squished on top of each other like you are in the helicopter, and you actually get to get out. A bus ride is like 6 hours, so that was not even an option for us. The ride IS bumpy but totally worth it to see the majesty of the canyon!!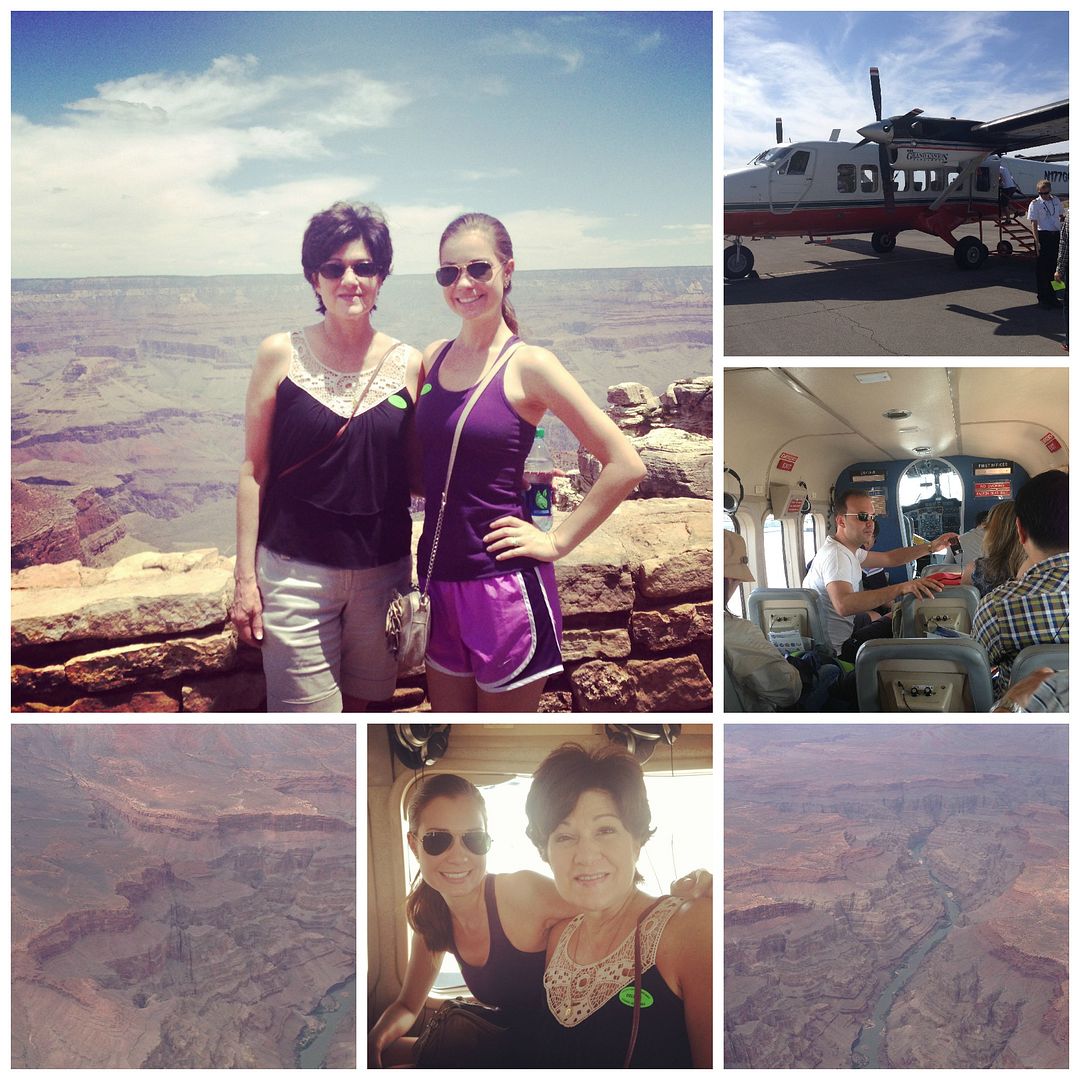 Preliminaries
After the Canyon mom and I strutted our stuff to the Miss USA prelims. I loved seeing all the girls in their outfits, especially their gowns! There is just nothing better than seeing all of those gorgeous designs, in my opinion! I also got to meet Alyssa Campanella and Shanna Moakler (both former Miss USAs) and sit behind Robin Leach! We got to go the after party and see all the girls!

1. Me and Alyssa Campanella--she was cheering for Miss Alabama!
2. Robin Leach! Yeah!
3. Mom, Will the Pageant Guy, and Me at the prelim after party
Red Rock Canyon
Forrest and I went here last time we were in Vegas (for 40 hours) and I knew my mom would enjoy it. It is a 13 mile scenic drive though the gorgeous rock formations. It isn't that far out of town and we both really were in awe. It's no Grand Canyon, but it's close.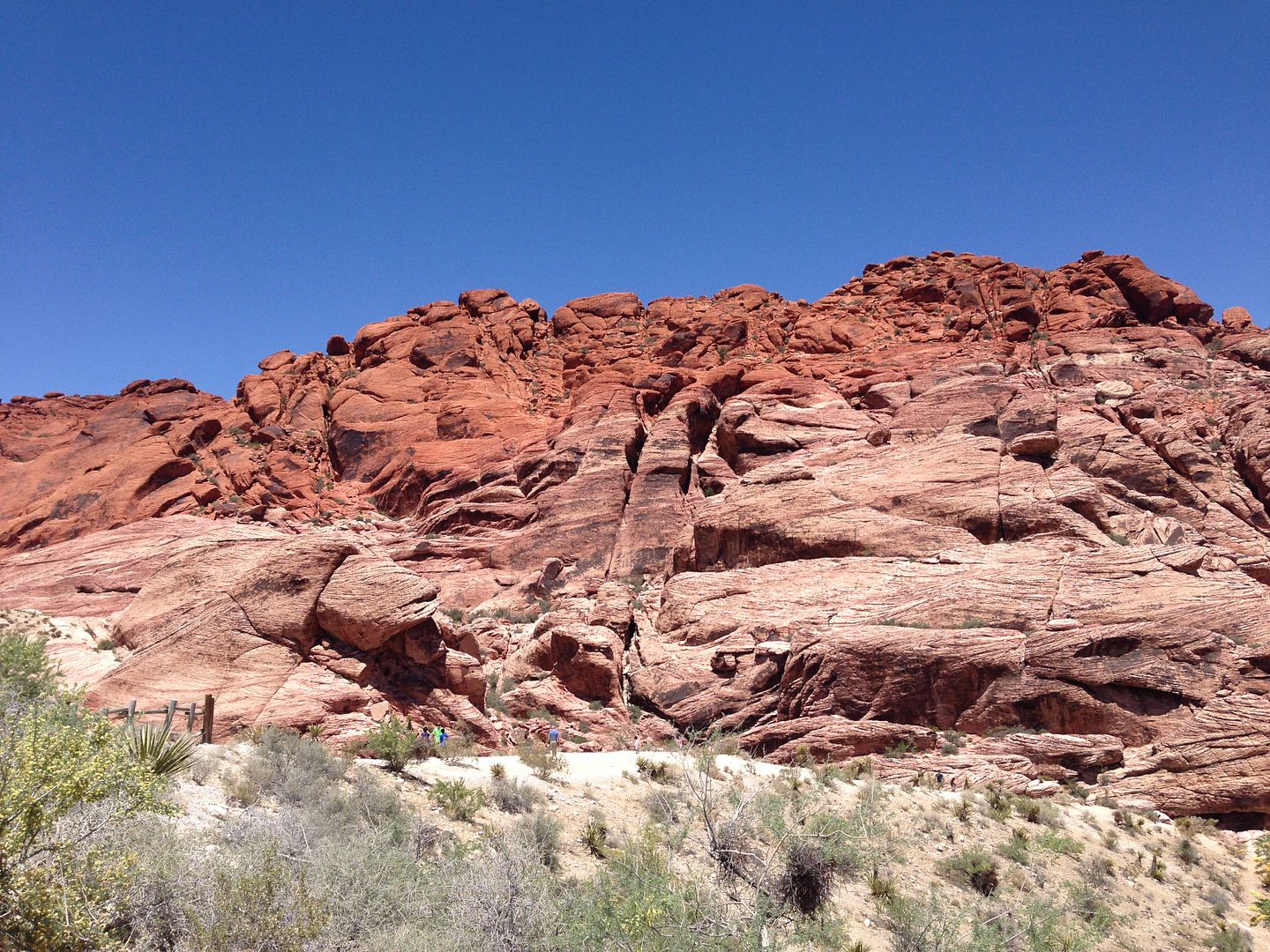 Fremont Street
I had never been here and I half loved it, half hated it. I could probably have really gotten on board with all the crazy if I hadn't been starving. There were lots of weirdos walking around in costumes asking you to take pictures with them for money. This always stresses me out. They did have an awesome concert playing and you could zip line through it (I had on a dress so I opted not to). We did have dinner at an AMAZING restaurant at the Golden Nugget called Vic and Anthony's. We thought this was hilarious because my grandparents are Vicki and Anthony. This place obviously isn't on the main drag but if you are willing to brave the fray of Fremont, definitely try this place out! Also, the Golden Nugget has a pool with an aquarium around it. There is a water slide that goes through the aquarium, which is full of sharks!! I really want to go back and try that out next time!

Serendipity 3
Who doesn't love good food in a cute restaurant? What about delicious desserts? Then you will LOVE Serendipity! Deborah's triple decker grilled cheese was the highlight of our table, until the chocolate cake sundae arrived!! Yummy yum yum!!

Miss USA rehearsals
I got to watch several rehearsals and I have to say it was so cool to get this behind the scenes view! We got to watch the girls practice their dances and even got to hear them answer fake top 5 questions. They have to practice calling the top 15, 10, and 5, and they call all the girls so they will have a chance to practice where to go and stand. When they called my sister as a practice top 5, Carla, Deborah, and I LOST it. Too funny! We also got to see Nick Jonas and Guiliana Rancic!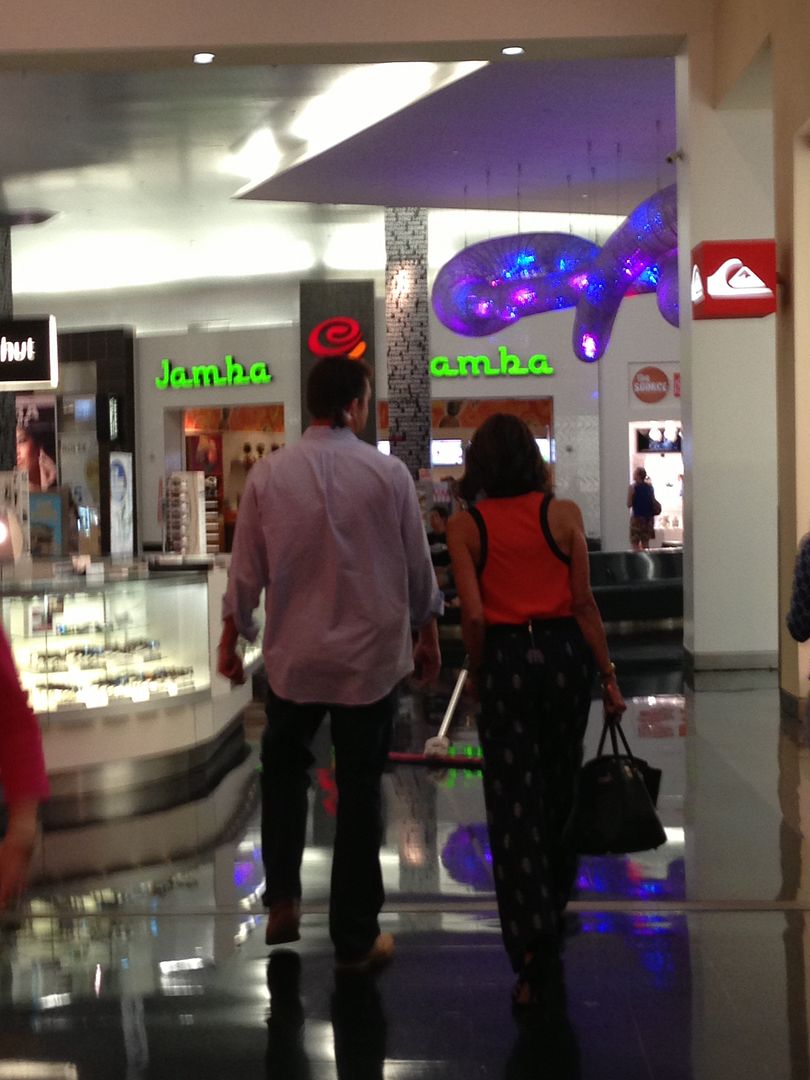 (following Guiliana through the mall--totally not creepy at all)
Planet Hollywood Pool
There are actually 2 pools--a loud one and a quite one. We opted for quiet and spent a relaxing at the pool talking with family and pageant friends! Nothing quite tops pool time in HOT Las Vegas!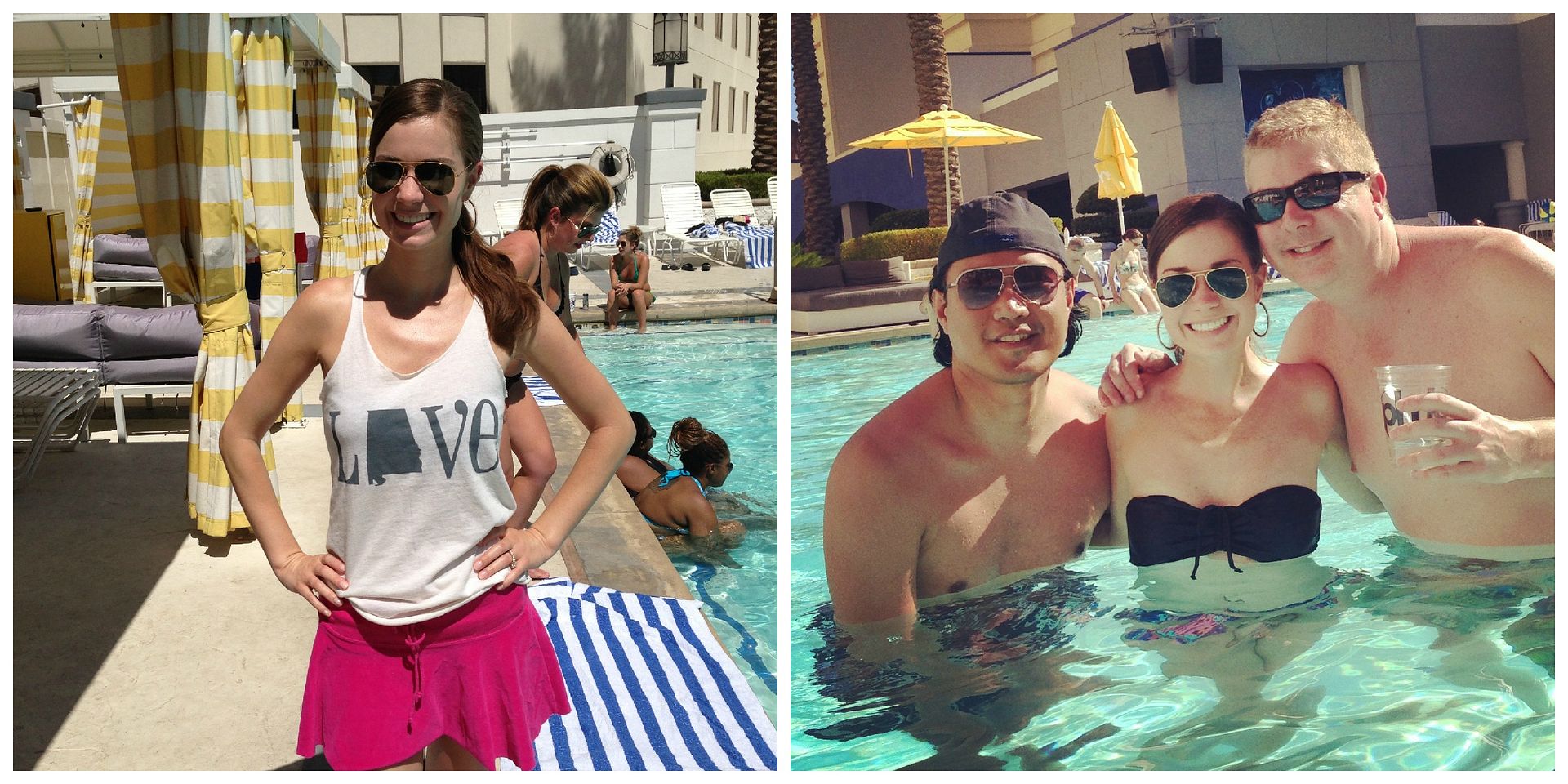 1. Sporting my awesome tank from
shopriffraff.co
m! These girls are amazing and their shop has so much to offer. Please check them out!
2. Pool time with
Will the Pageant Guy
and Jason!
Sugar Factory
I didn't particularly think the food here was fantastic but is was an adorable place. Plus, our whole family got to eat together so it made it so worth it. We had most of our Birmingham family, along with my Aunt Sue and Sara from Gadsden AND our cousins from Chicago and our cousin Jennifer from Vegas!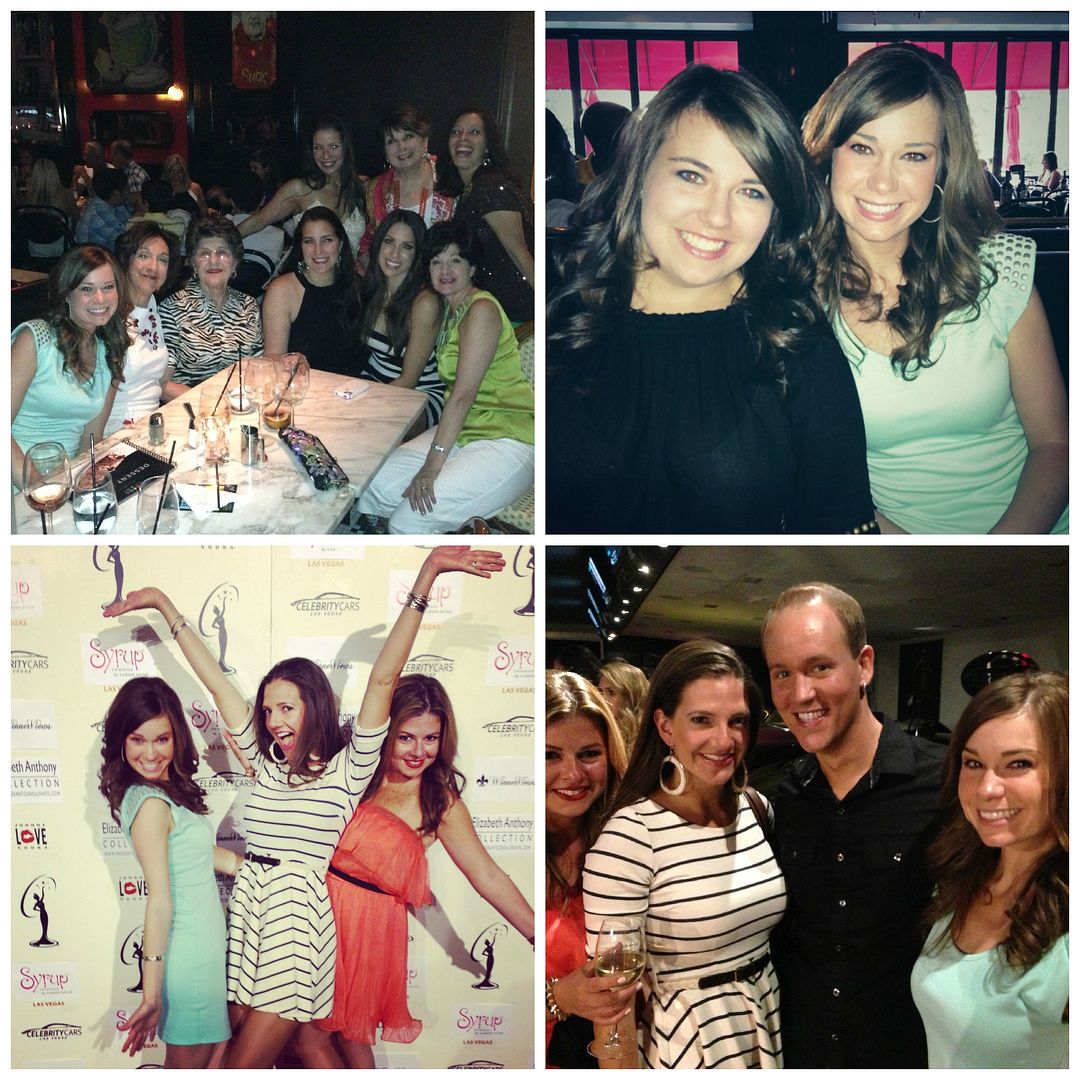 Miss USA Welcome Party
This was crazy! It was at Dal Toro at the Palazzo. There were all of these expensive cars in the room, which made it super fancy. Deborah, Carla, Forrest and I had a blast watching the girls compete in the catwalk contest and hanging out with our new pageant buddy Travis! I can't even describe how much fun we had. The laughing was just non stop! Forrest said it was like being in a Seinfeld episode--you know it was fun, but you can't explain what happened! Pics above!
Exotics Racing
This was Forrest's dream so we made it come true for our anniversary! He chose to drive the Lambo but we got to sit in and play with all of the other exotics, like the Corvette, Audi R8, some really fast Mercedes, Nissan GTR (shout out to Kelly B on this one) and some other shiny ones. I don't really get that into cars but they were so pretty! Forrest talked me into doing a ride along with a professional drifter in the Corvette. I was screaming like a maniac but it was SO much fun! Forrest got to drive himself with a professional instructor around the track. He was like lightening out there! He was SO thrilled with the experience!!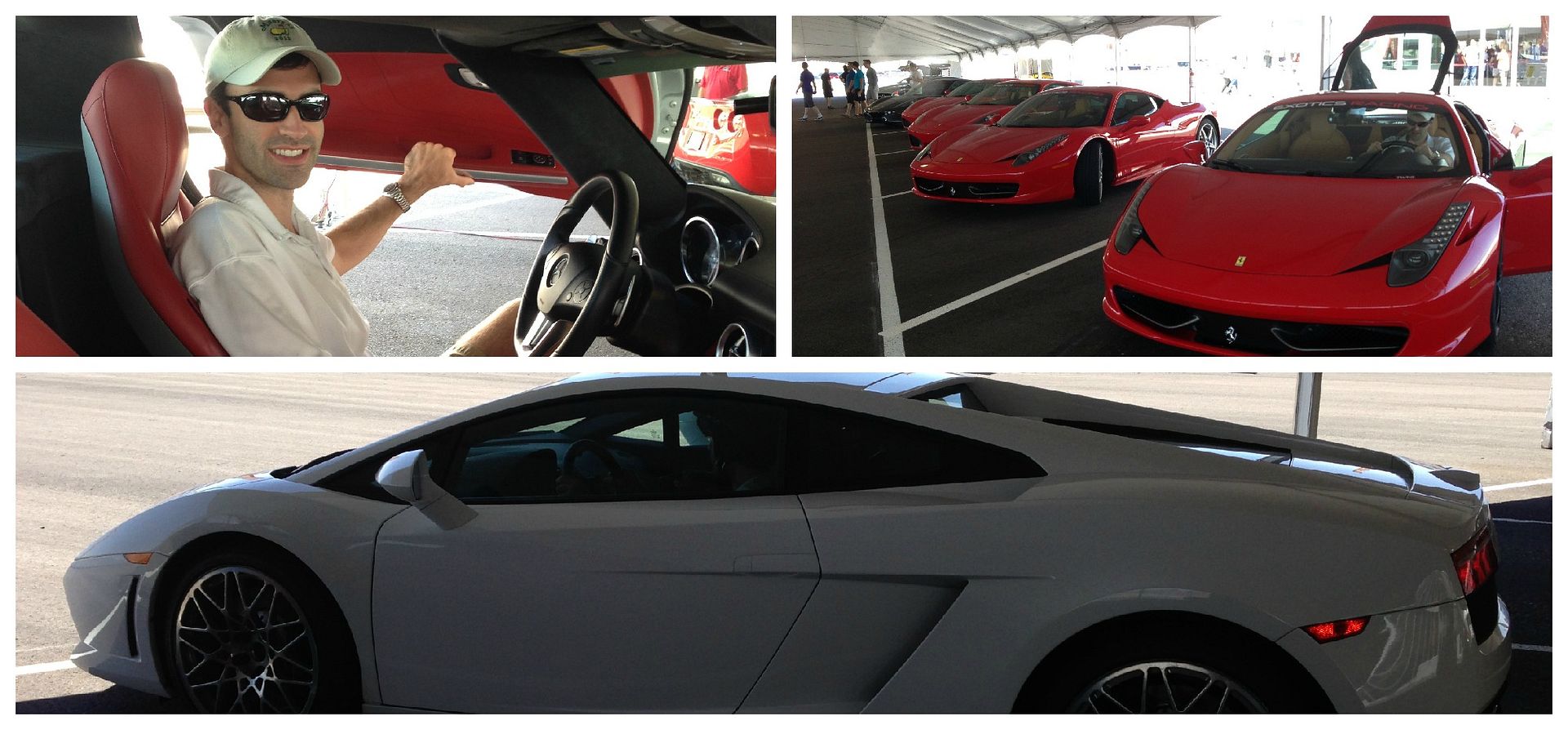 Wet Republic Pool Party at MGM
We got into this because of the pageant peeps we met at the Welcome party. We rode in a limo there (holla!) and I had no idea what we were getting ourselves into. It was like MTV Spring Break in there! We were in the DJ booths right next to the DJ (R3HAB, apparently, he's famous) so it was like we were on stage. We had couches and free bottle service--woop woop! I have never had so much fun! We danced all afternoon and I almost forgot I am 29 and a lawyer. All I wanted to do for the rest of ever was dance around in my swimsuit while the dj blasted music and the CO2 rained down on the crowd. I still kind of want to do that forever! Boo for working!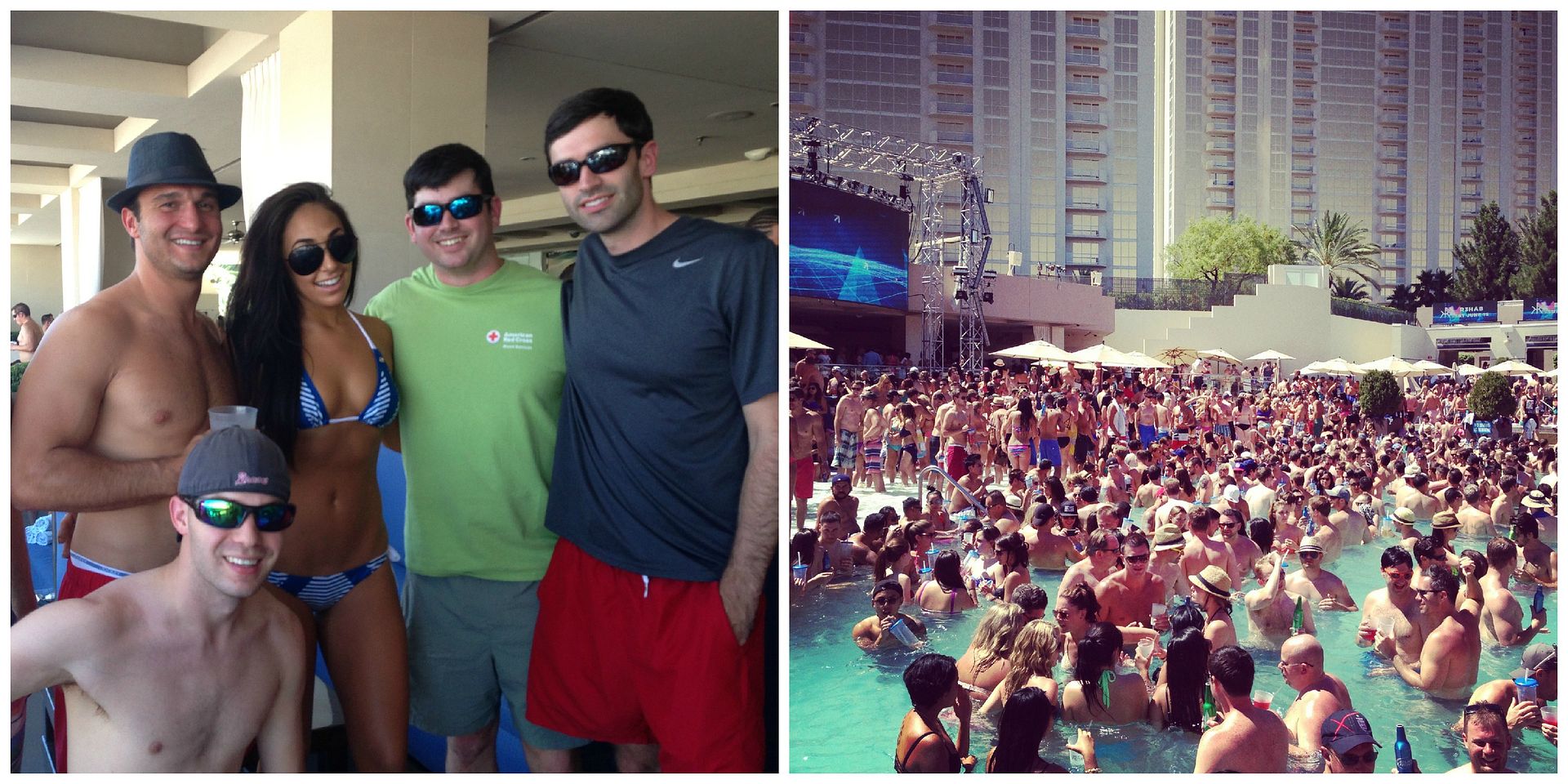 Olives at the Bellagio
We heard that this was a MUST do and it was! This Todd English restaurant overlooks the Bellagio fountains! SO romantic! We chose this place to celebrate our anniversary, and celebrate we did. We started out with the most amazing beef carpaccio (it made me miss you, Julie and Lance!). The bread came next and it was the sweetest, most decadent bread I have ever tasted! After demolishing our apps, we were too full for entrees so we opted to split the portobello flatbread. Good decision! Since it was our anniversary, they brought us a sweet surprise before we finished off the night with a chocolate falling cake. It was a cake filled with ooey gooey chocolate ganache, garnished with raspberry glace. Oh I am sad now--I'm going to miss that meal forever!!

Fantasy
After dinner we met Deborah and Carla for Fantasy, a show girl show! We had gotten the hook up from my cousin so we were so excited to experience this Las Vegas staple. It was kind of "interesting" watching girls dance around topless, but hey, it's Vegas, right?? They also had a hilarious comedian that Forrest and I keep quoting.
Miss USA
Of course, the highlight of the trip was seeing my sister compete in the Miss USA pageant. We started with a big party in my parents' suite to get pumped up. Then into the ballroom we went. The guy that comes and warms up the crowd during commercials told us that we had to be really loud so our group took that as a challenge. We were screaming like crazy and even pulled out some Alabama football cheers! We loved seeing our girl compete and were THRILLED when she made top 15. Then, she was called for top 10. THEN, she was called for top 5! I was screaming like an idiot! Top 5! She's going to place! I was very proud of her response to her question. Each girl was asked a very hard political question and I think she handled herself with poise and grace. She was so articulate! Before we knew it, she was in the final 2 and she got 1st runner up. It was the saddest/happiest I had ever felt all at once. I was disappointed that she didn't win, especially since she came so far, but elated that she got 2nd place in Miss USA! Our group was cheering just as if she won. I will never forget hugging my brother after the pageant. It was so sweet. We were so emotional and just proud of her! She was ridiculously proud of herself and couldn't stop smiling afterwards. We got to accompany her to the after party, where I met and got my picture taken with SO many celebs! If you don't follow me on
instagram
or
facebook
, it's time to start. The pictures are priceless!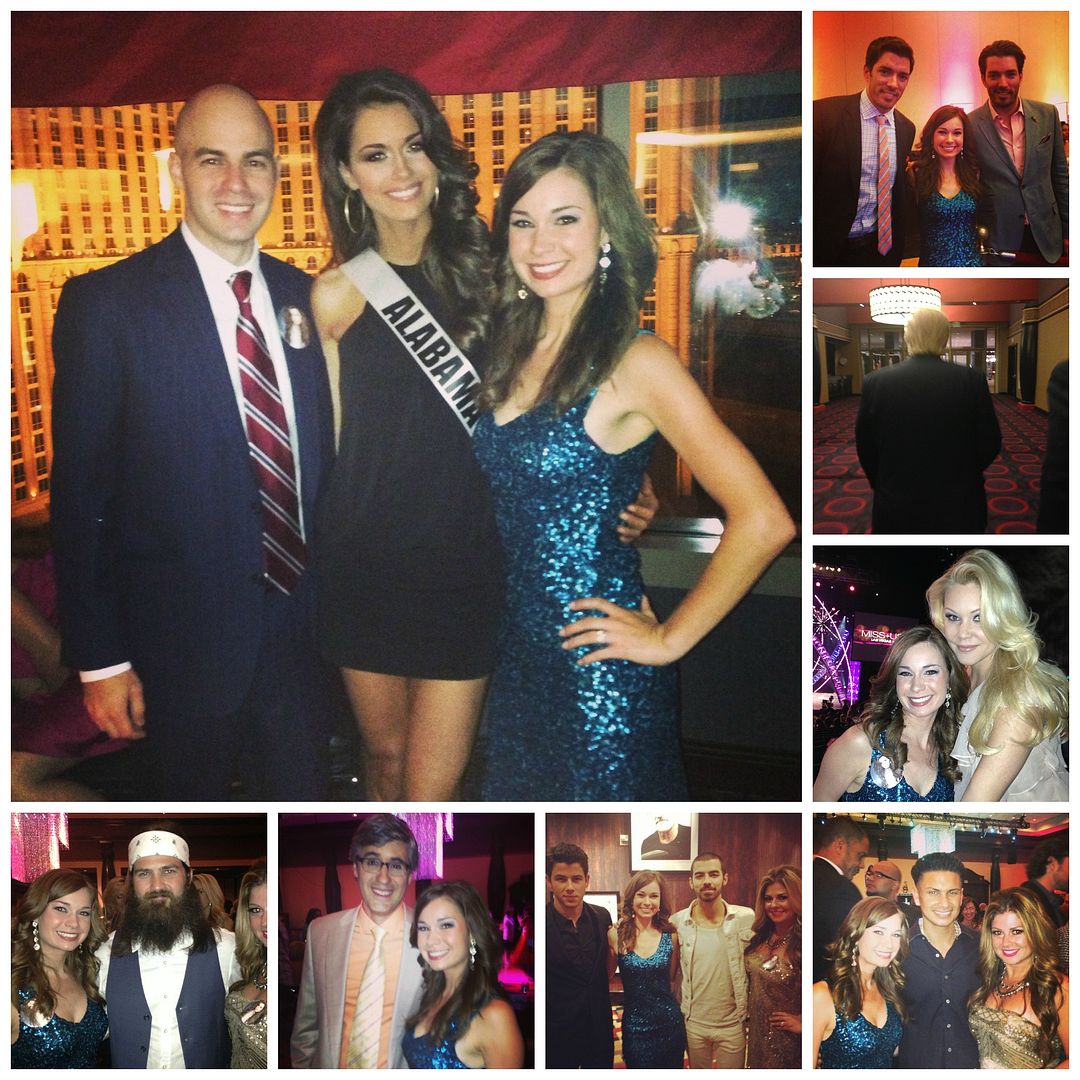 Famous people I met in Vegas (starting with the big pic, going clockwise)
1. Miss Al USA! 1st runner up! Aka--my sister!
2. The Property Brothers from HGTV!
3. Donald Trump-He actually posed for a picture with us but some weirdos came up to him before the picture was taken and his security pulled him away. Here is a nice shot of his head.
4. Shanna Moakler--aka Shanna Barker. She was so much fun. She is the director of the Nevada USA pageant.
5. Pauly D! Fist Pump!!
6. Nick and Joe Jonas! They performed during the show and Nick was the co-host
7. Mo Rocca! He was a Judge.
8. Duck Dynasty guy! I have to admit I have never seen this show so I'm not sure what his name is. His wife Jessica was a judge. She was gorgeous!!
So what am I doing now? Trying to get myself back to reality. I just can't make myself come off of my Vegas high! Thanks again to all of you for your unwavering support and all of your excitement! I suppose my days as a pageant sister are over, but I will retire as the proudest one there ever was!
Happy weekend to you all!