Hooray for summer! I know that I don't really get a "summer" but I have been enjoying it all the same! Staying up late, eating outside, soaking up the sun--don't you just love it?? We did most of those very activities this weekend. On Friday night we stayed up WAY too late watching Mad Men. I'm pretty sure we watched 5 episodes, at 45 minutes a piece. I have no idea what time we finally called it a night, but I do know I woke up at NOON on Saturday! I haven't slept that late since college! I'm no early riser by any means, but I never sleep until noon! That really threw my day off but hey, I felt great! That evening we hosted the Hayes and the Gandhis for a cookout. Justin and Farrah had some steaks they wanted to cook using Forrest's enormous grill, so we decided to make a night of it. It rained a little that day and so it was nice and cool when everyone arrived, so we sat outside, enjoying some wine and Brie and playing with Arth, the Gandhis adorable little boy! He is so good natured and loves to laugh and play!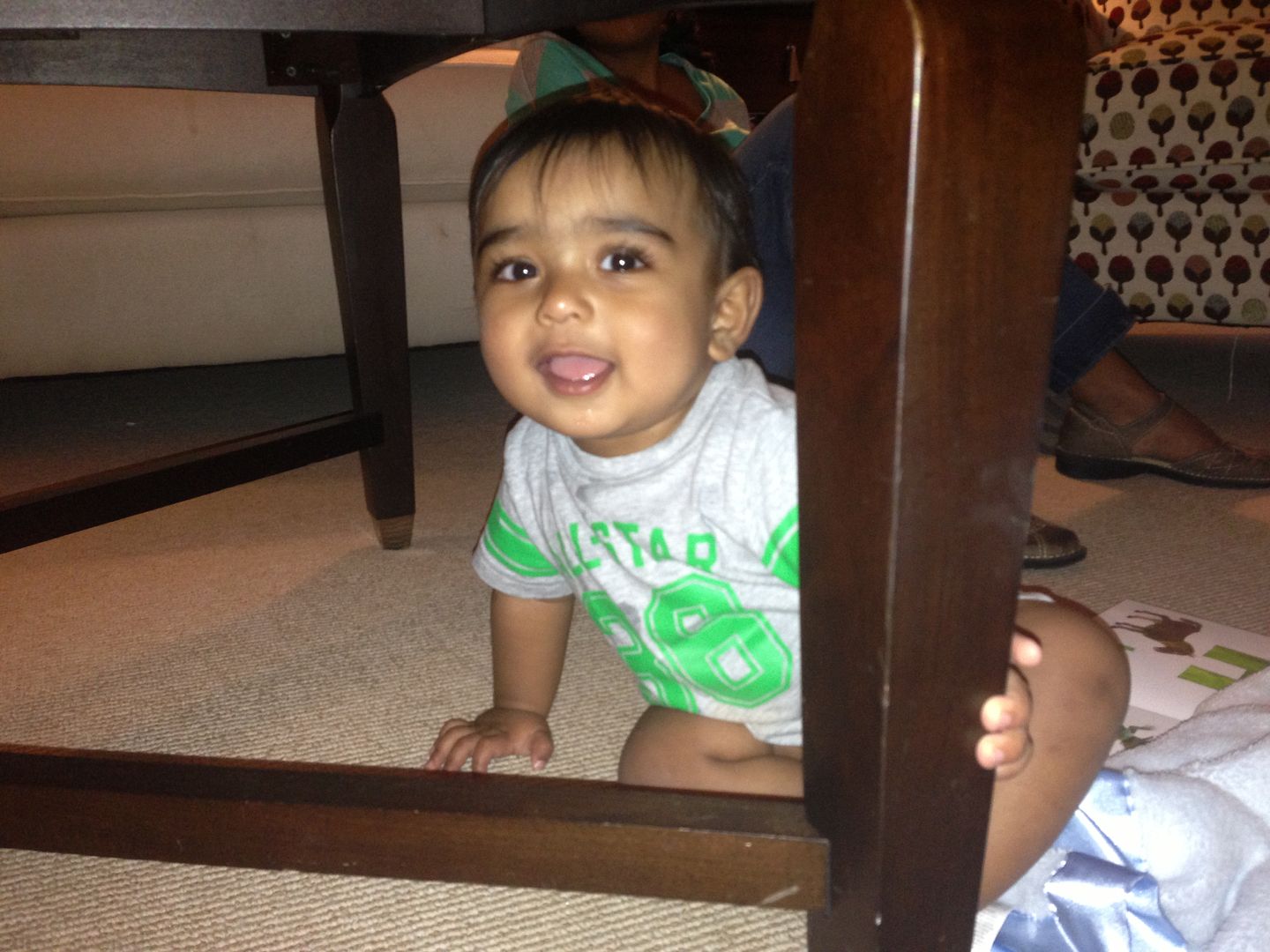 He wanted to come inside and show off his crawling abilities!
OMG don't you just want to love on this little munchkin?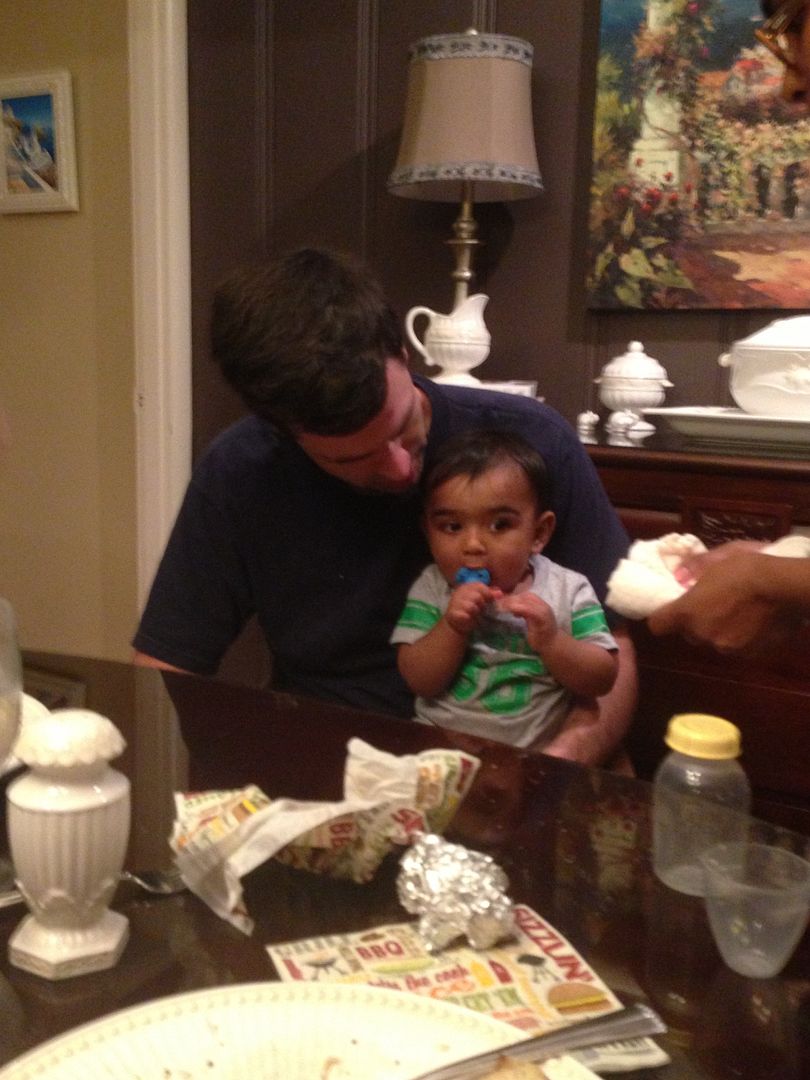 Right before he threw up on Uncle Forrest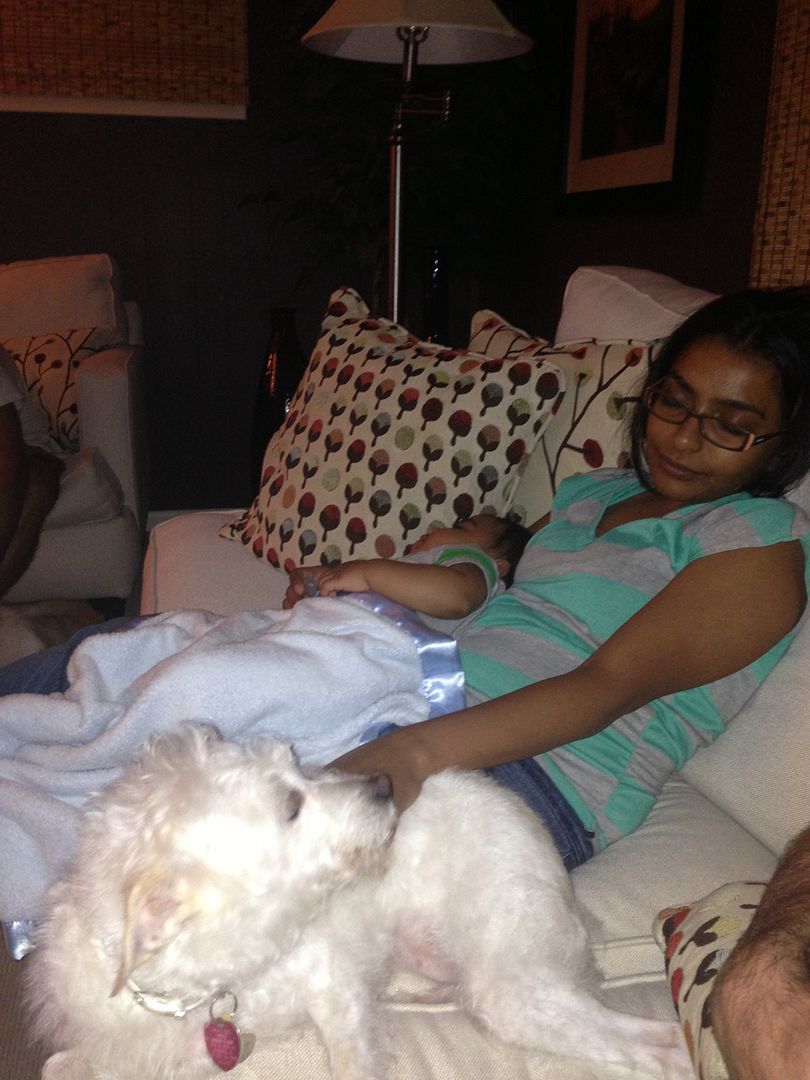 Everyone was so full and cozy after dinner!
Our meal was fantastic as was the company. There is really nothing like a fun night with great friends!
Here was our menu for the evening:
Grilled Steaks
(Mamatha and I were feeling fish)
Ben's Steak Dip
Ok I don't really know what you call green stuff you dip your steak into but whatever it is it is yummy. We discovered this at Ben and Michelle's for a football game during the fall and Forrest was dying to try it. Thankfully, Ben was happy to share the recipe.
2 cups packed fresh cilantro, leaves and stems
1/2 cup fresh lime juice
1/3 cup extra virgin olive oil
8 cloves garlic, minced
4 scallions, chopped
1 serrano chile, seeded if desired, and chopped (I used 2 jalapenos instead)
1 1/2 tsp salt
Put all of this in a food processor and chop chop chop!! Serve with steak!
(This was such a hit people were putting it on their potatoes, slaw, everything!)
Baked Potatoes
Stir Fried Okra (I MUST get this recipe from Mamatha!)
Asian Slaw (Farrah's specialty)
Ingredients:
1 bag of slaw (from the salad section)
3 chopped green onions
1 bag uncooked chicken flavored Ramen noodles
sesame seeds (a good sprinkle)
slivered almonds (as many as you like)
Dressing
1/4 c olive oil
1/4 cup sugar
2 tablespoons vinegar
1/2 teaspoon salt
1/2 teaspoon pepper
chicken flavor packet from Ramen noodles
Toss the slaw ingredients in a large bowl. Mix up the dressing and pour over the slaw, then toss again. Serve cold.
Grilled Portobellos
(I told you I would find a way to use them this weekend!)
Forrest looked up many recipes for this and we kind of combined a few. This is what we did:
equal parts Balsamic vinegar and olive oil (about 1/2 cup each)
8 tablespoons minced garlic (could get by with 6)
2 tablespoons lemon juice
Mix together and pour in to clean mushroom caps. Grill for about 15 minutes or until they turn brown
This was my recipe choice for cooking club in February and I just now got around to making it. It was simple yet delicious! A definitely "do again"!
1 can (21 oz) raspberry pie filling
1 pouch (1 lb 1.5 oz) Betty Crocker® double chocolate chunk cookie mix
3/4 cup butter or margarine, melted
Heat oven to 350°F. Spray bottom and sides of 11x7-inch (2-quart) glass baking dish with cooking spray. Spread pie filling in bottom of baking dish. Sprinkle cookie mix evenly over pie filling. Pour melted butter evenly over cookie mix. Using small metal spatula, gently spread melted butter over cookie mix just to cover the dry mix.
Bake 28 to 30 minutes or until topping is set. To serve warm, cool 15 minutes or serve at room temperature. Store covered in refrigerator.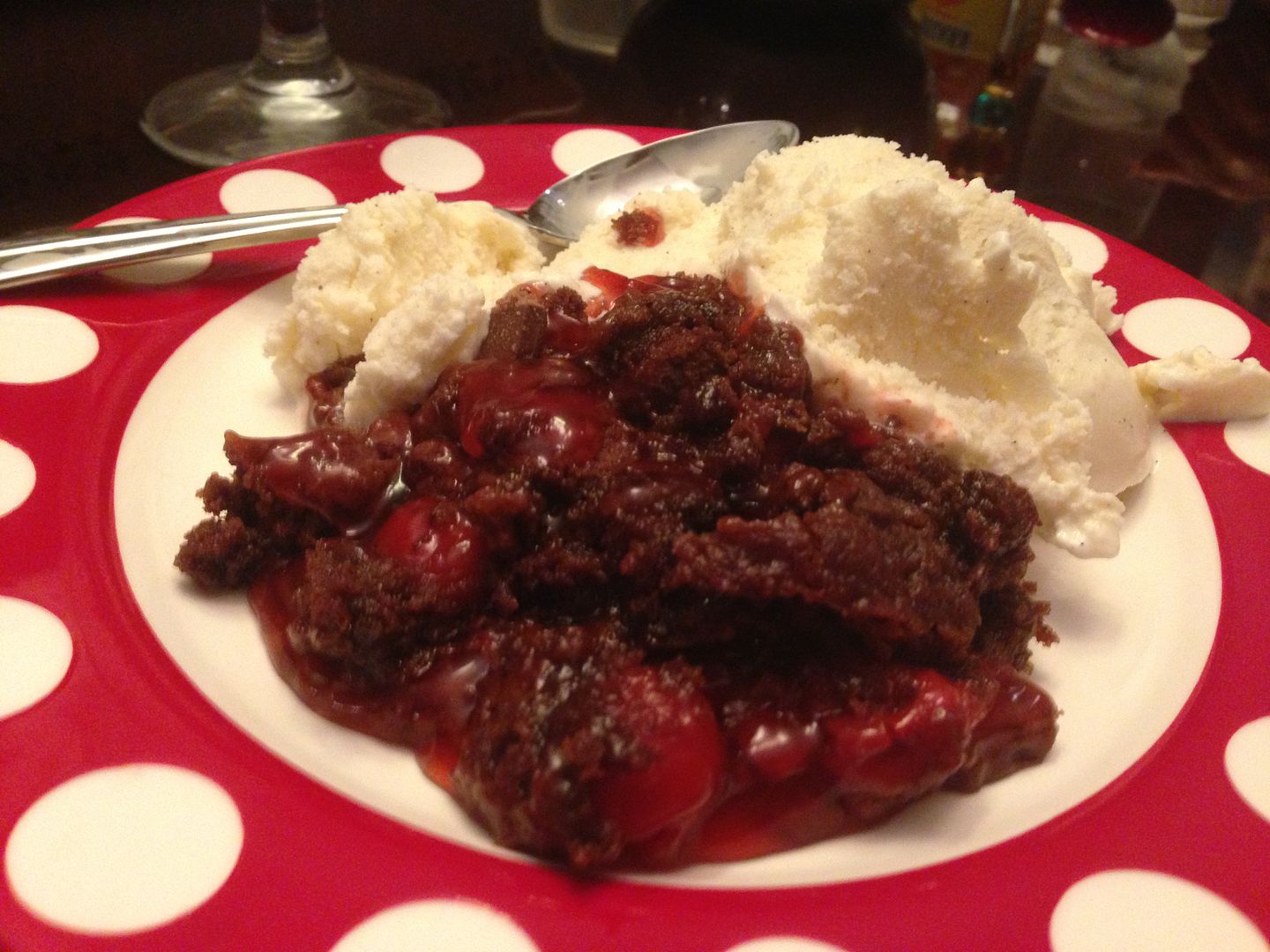 Doesn't all of this sound yum??? Let me know if you make any of these!
Hope you had a wonderful weekend!!