(WARNING: This post has lots of pics of middle aged yet good looking men. Proceed at your own risk).
Rewind to January-Laura calls me to say she got an email from the New Kids on the Block fan club and they were were going to be touring with Boys 2 Men and 98 Degrees this summer. Was I interested? Um, YEAH! 4 years ago I went with Laura and Kendall to the NKOTB concert and loved every minute of it, and with the addition of the other groups, I knew it would be a night to remember. Oh yes, it was. Are they coming to a city near you? Even if they are going to be in a city far from you, you SHOULD GO! It was amazing!! You don't even have to know most of the songs to have an amazing night! (PS Kendall took nearly all of these pics. Way to go girl!)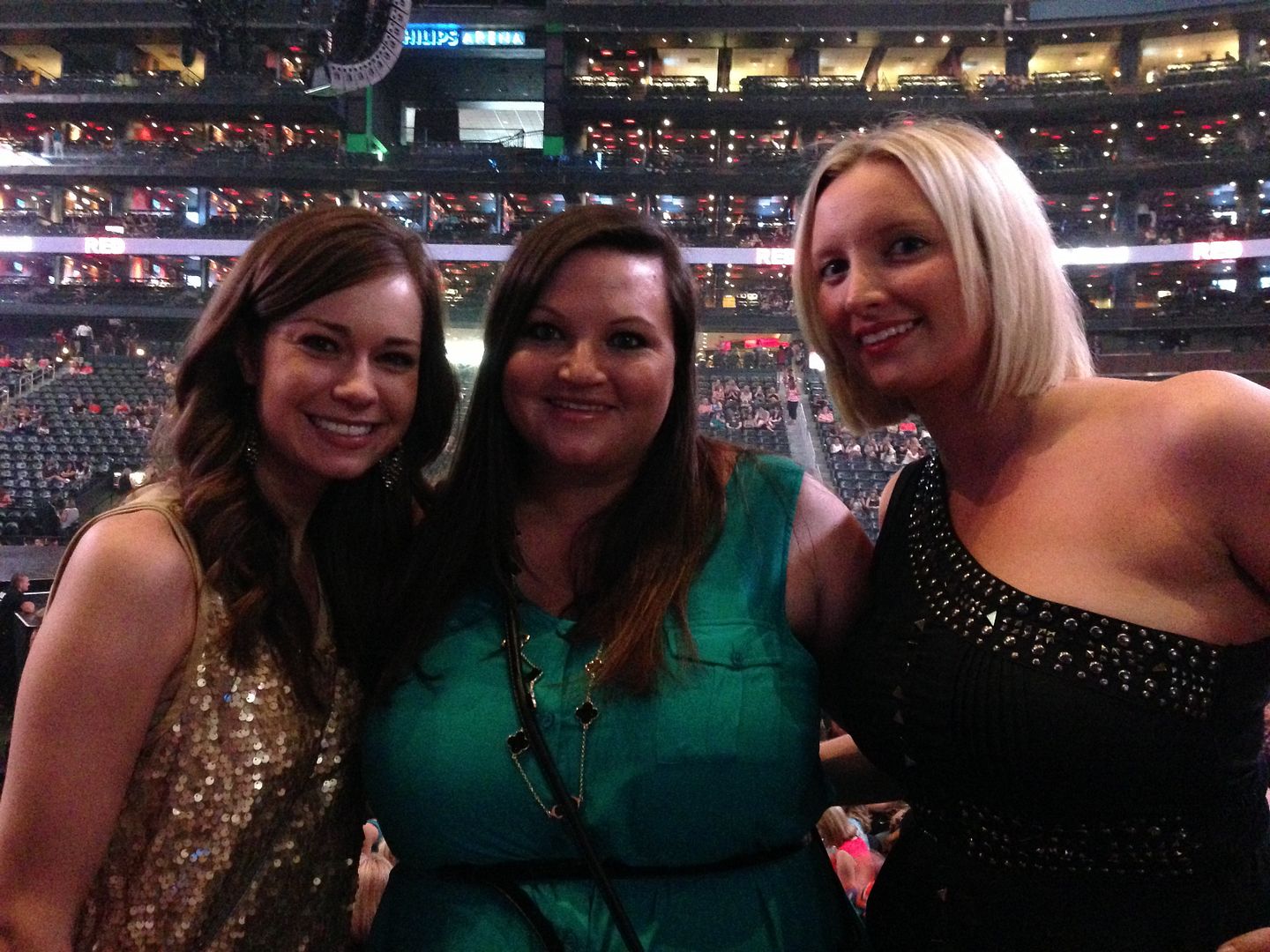 Me, Kendall, and Laura
SPOILER ALERT--I'm going to give away the details below. If you are going, proceed with caution if you don't want to know what you are in for!
BIIM
Boys 2 Men comes out first (disappointing--I wanted more of them). The crowd went wild and so did I! When they started singing On Bended Knee, I thought I would cry--yes that makes me sound crazy but it was true. It's all real on the blog today, my friends. Then they came through this walk way through the crowd onto a round stage right in front of us. OMG!! (I'm going to say that A LOT in this post).
Holy Moly! It's Boys to Men!
They continued with Water Runs Dry (my favorite). Then the lights go out and they start into I'll Make Love to You. The crowd LOST IT I tell you! Lost it! Rose petals were falling from the ceiling and the guys were handing out roses to the girls in the front row. I instantly hated those girls all for whatever good fortune got them the close seats! We were in the lower level, row F, so we had AWESOME seats, but not as awesome as the front row floor girls!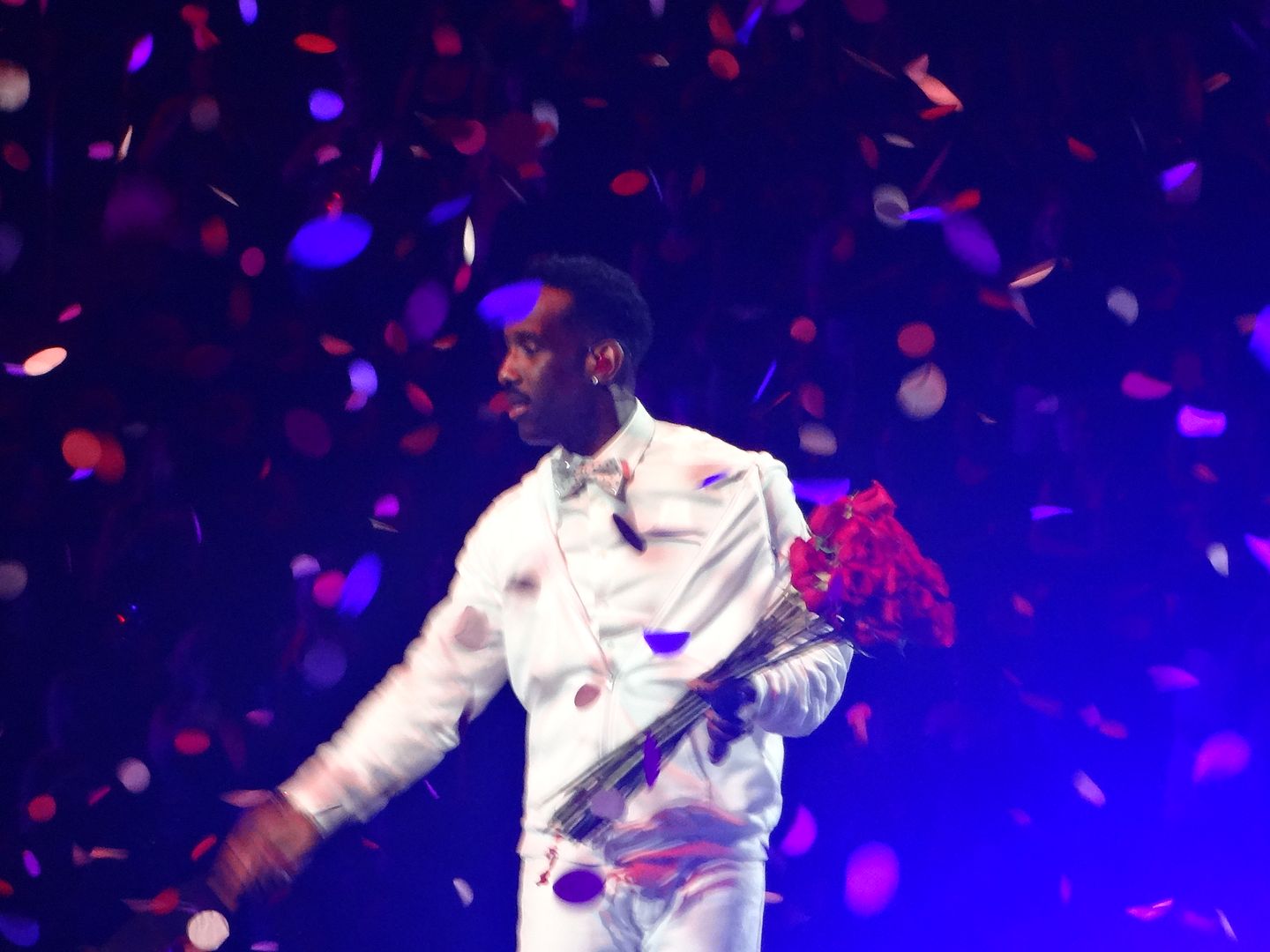 You KNOW I love when confetti falls on me--rose petals are WAY better!
Yes! I will accept this rose!!
Then they did End of the Road (swoon) and then they did In the Still of the Night A Capella. I kept saying "This is MAGICAL!". They finished with a bang with Mo Town Philly, including original dance moves, which of course, I was doing in the stands. They've still got it, and so do I! I was SO SAD when they left!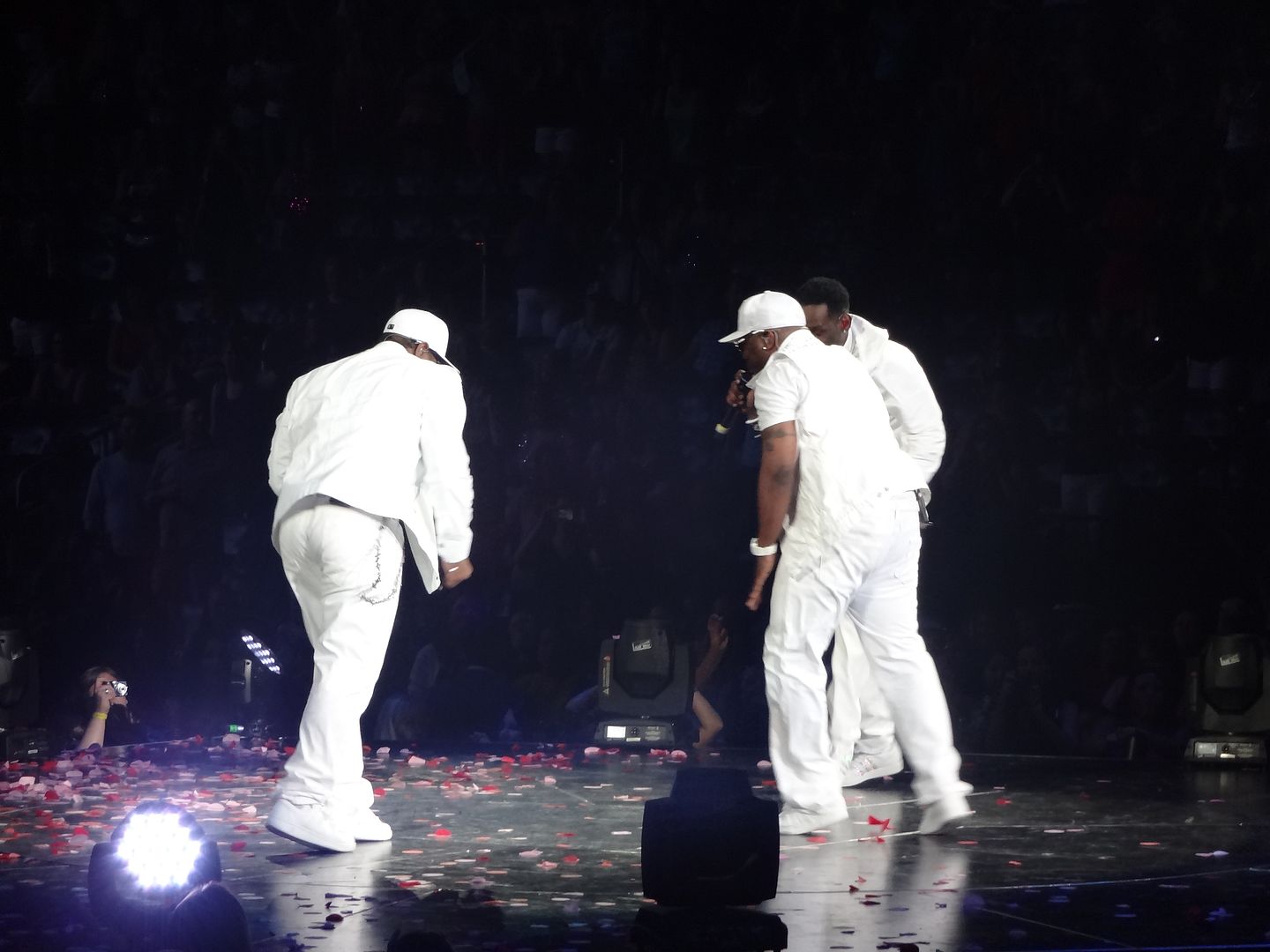 Boys to Men! ABC, BBD!!
98 Degrees
I feel bad for admitting this but I wasn't all that excited about this group because I couldn't remember much about them. I was an NSYNC girl plus I loved BSB so there was just no more room in my teeny bopper heart for 98 degrees. The only song I remembered before I got there was I Do. I was pleasantly surprised at how much fun the guys were (and they look great). As a Dancing with the Stars fan I was pumped to see Drew Lachey up close and personal and of course everyone remembers Nick.
He do, cherish you!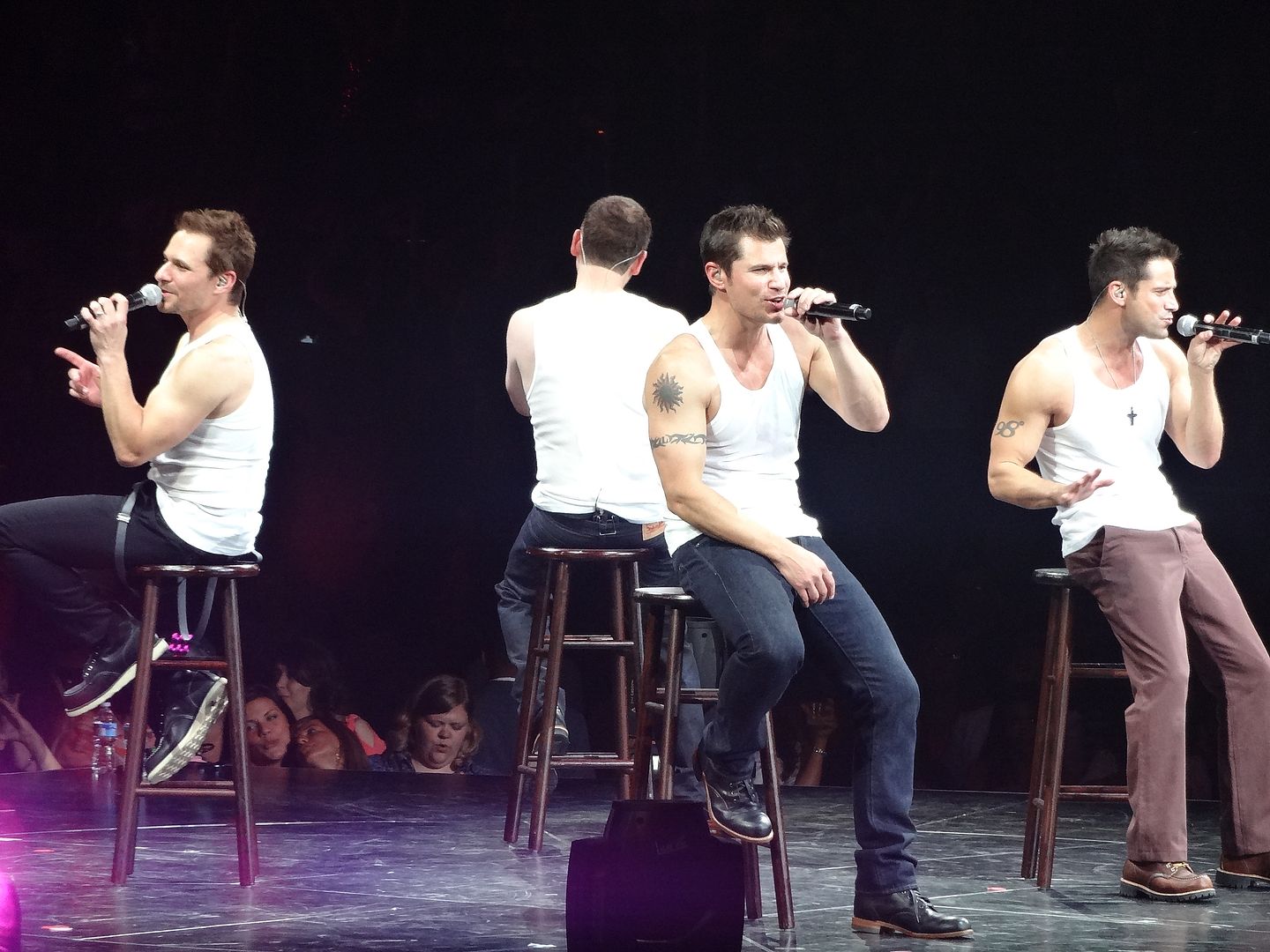 Cause I'm losing my mind, when you're not around!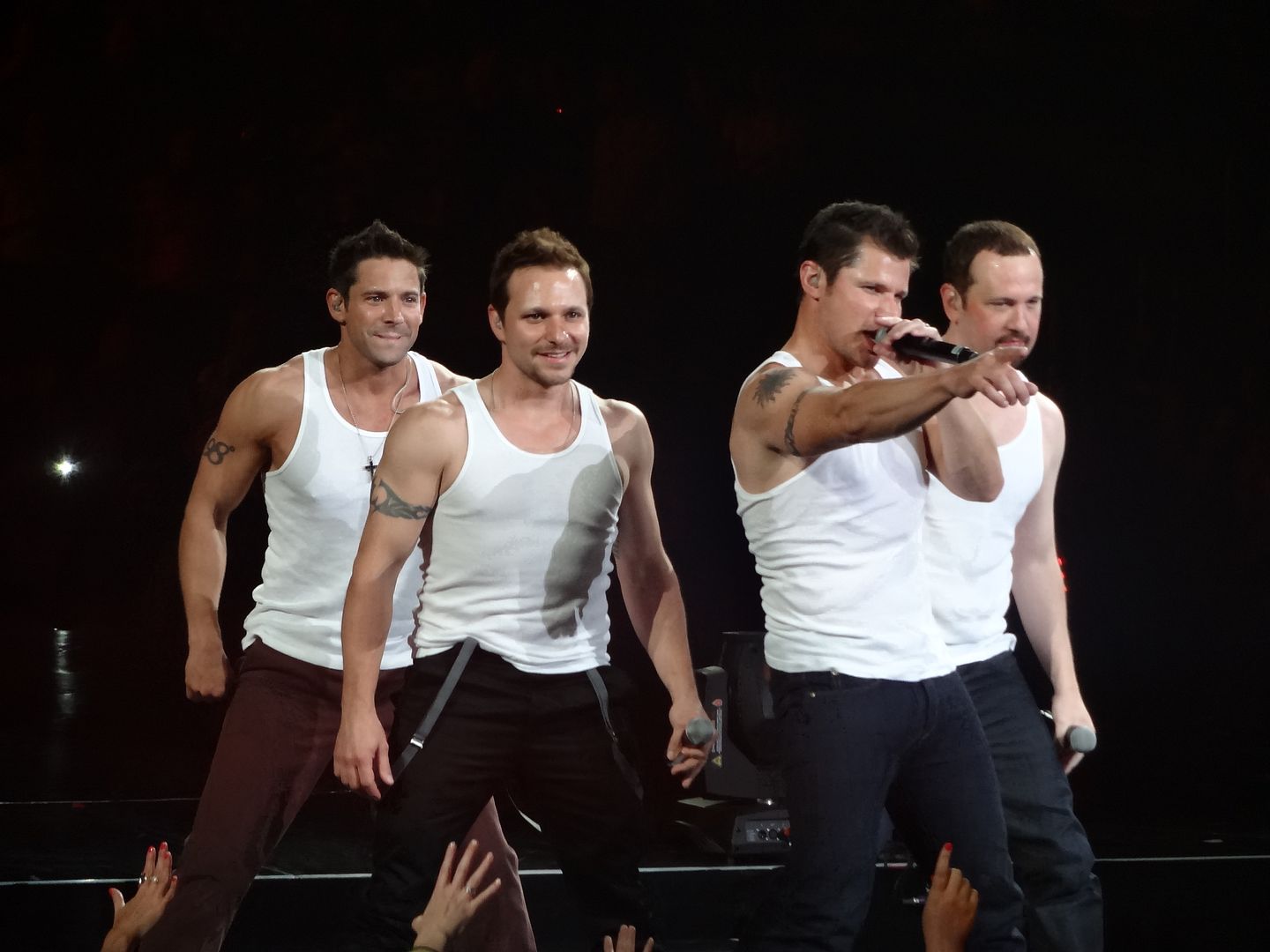 Isn't one of them a Chippendale now? I'm serious....
I also remembered most of the songs and thought it was sweet that they pulled audience members on stage to serenade! (Again, jealous!! How much do these peeps pay for their tickets? I have extra plasma to spare!)
NKOTB
O...M...G...There really are no words to adequately describe the awesomeness that was the NKOTB portion of the show. This part is probably going to be poorly written because there are only so many ways to say "awesome, amazing, wild" before it gets old. I apologize in advance. Ok, so the lights go out and the screens come on and NKOTB comes over the speaker and says we have to repeat the pledge on the screen before they will come out. It basically said we were going to have FUN and leave all our drama and worries behind because we earned the night, we worked hard for the night, we deserved the night, we OWNED the night! I kind of felt like that was aimed at the moms in the crowd so it was really sweet. Then they came out and it literally felt like being in one of those behind the music shows where you saw girls screaming and crying at them--it was happening again with the same girls, those girls were just 25 years older!
Since Kendall took these pics, most of them are of Joey.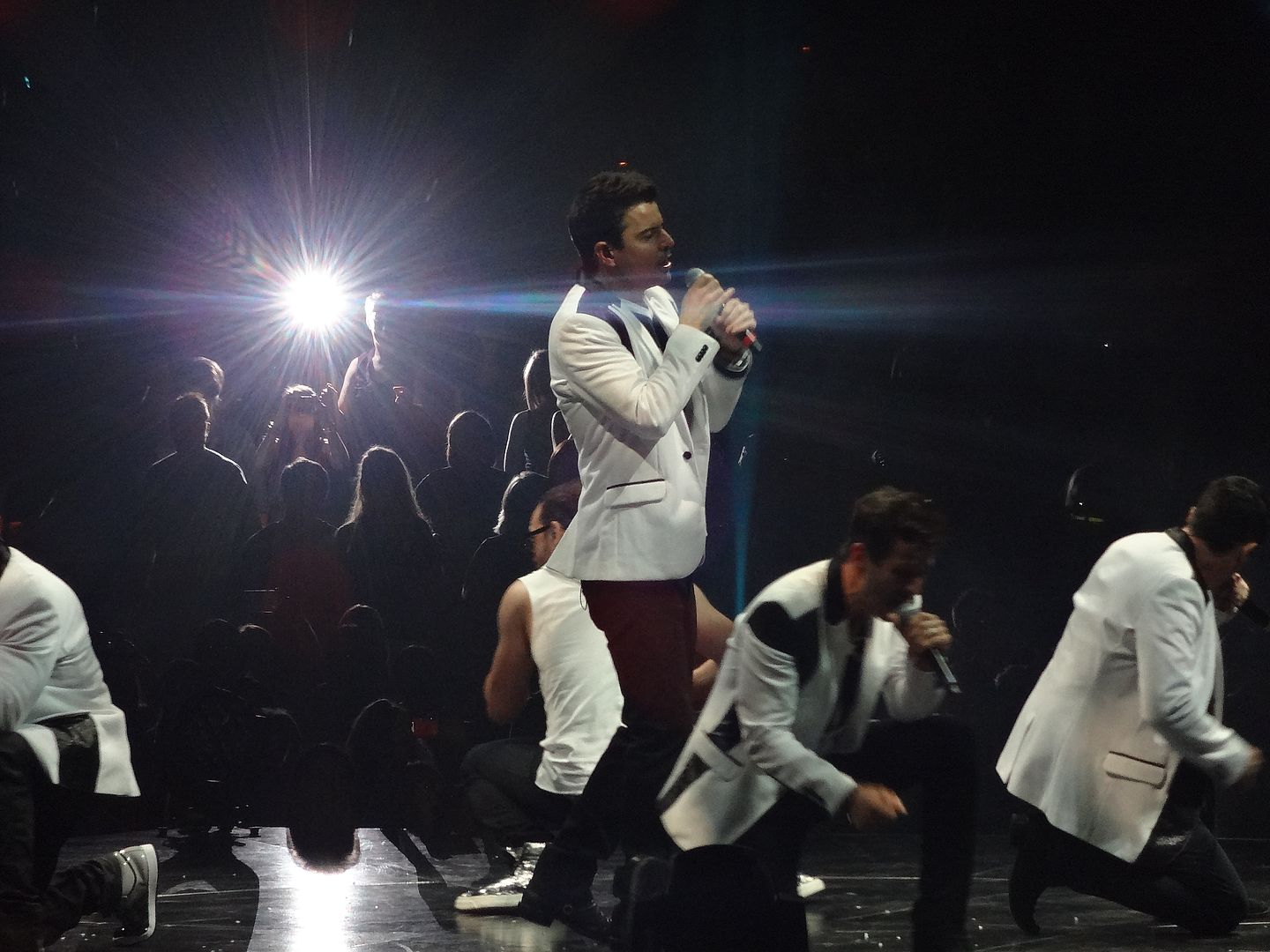 Hi Jordan Knight! (I was kind of sad that they didn't let him sing his single, "Give it to You")
Jonathan, Joey, Donnie, Danny, and Jordan! Ahh! Swoon!
They came to the middle stage and were hugging fans all along the way (who are these people--I need to befriend them). They did many songs from their brand new album, like "Remix" which I LOVE (haha, I like the Remix, baby!), but most of those I didn't know. My favorites of course were the old school songs. During the Right Stuff, in which Kendall and Laura and I were singing our lungs out (and remember, I had lost my voice in Vegas at the pageant, so I sounded lovely already), they started ahem, "thrusting" over and over and over
.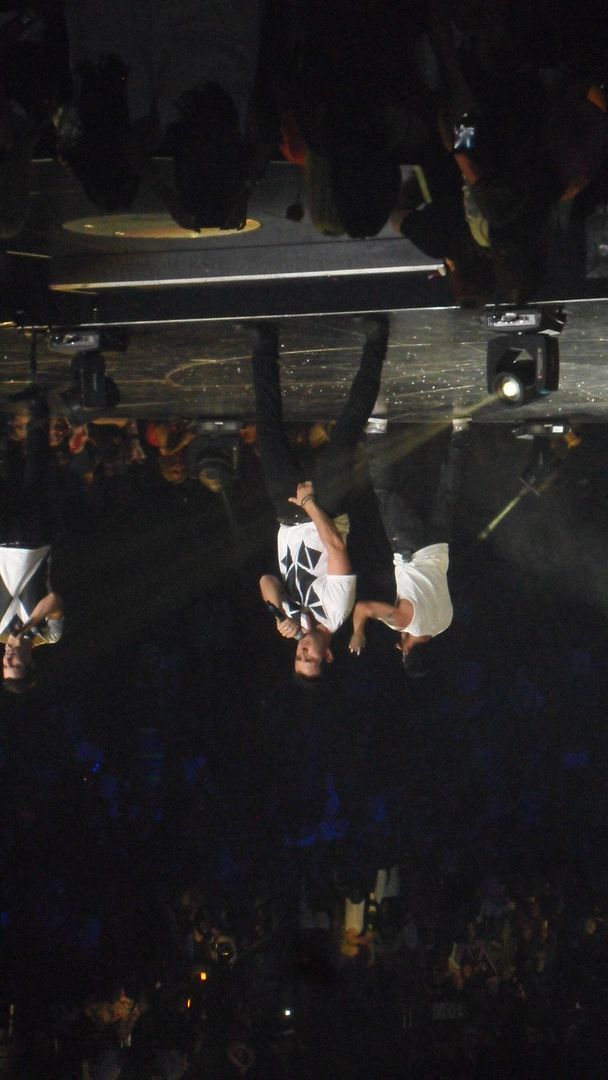 They were quite grabby, actually. There may have even been some slapping motions made. THE CROWD WENT WILD. I mean, losing their you- know-what wild. Who knew 40 year old men in skinny jeans thrusting themselves at an audience full of 30 something women could have such an affect??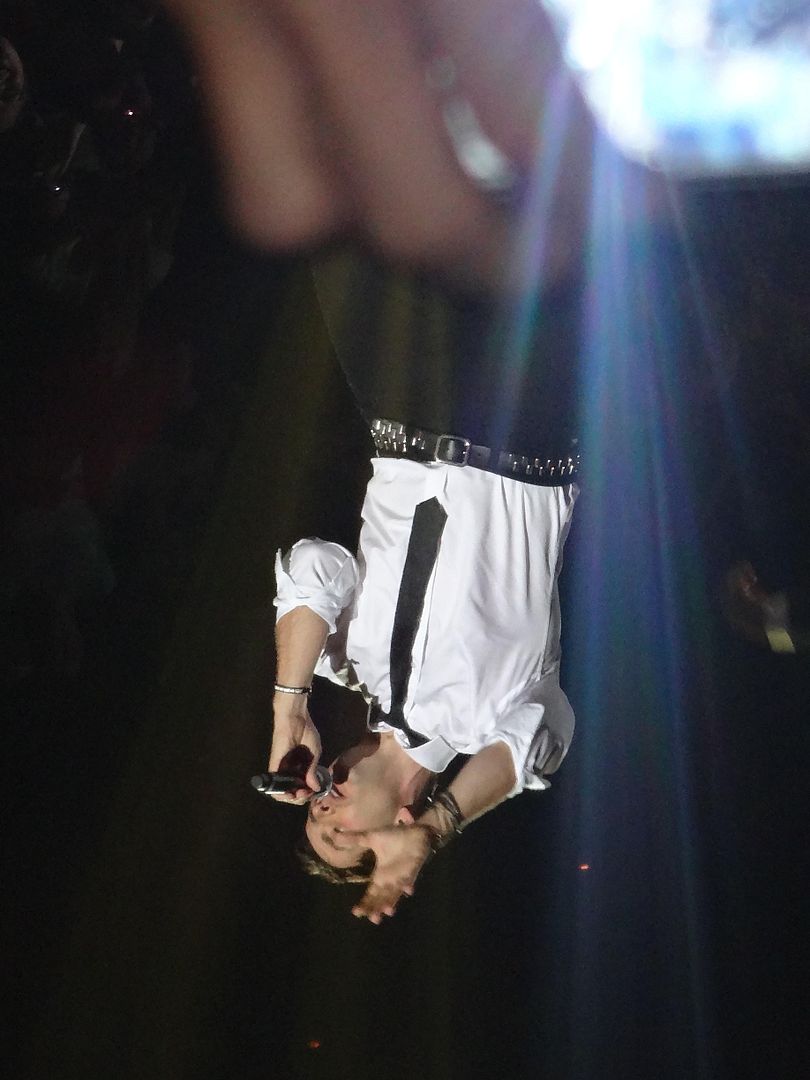 Please don't go giiiiiiiiirrrrrrrrllllll!!
Ok anyway, it took off from there and hit a frenzy with Joey sang George Michael's "Faith" (yes, Joey, it would be nice, if we could touch your body) and Jordan sang Prince's "Kiss" (there was much lifting of the shirt and belly rolling during this one, especially when the other guys started in with "girl look at that body, he works out"). Then, they start singing Nelly's "Hot in Here" and women were literally taking off their clothes!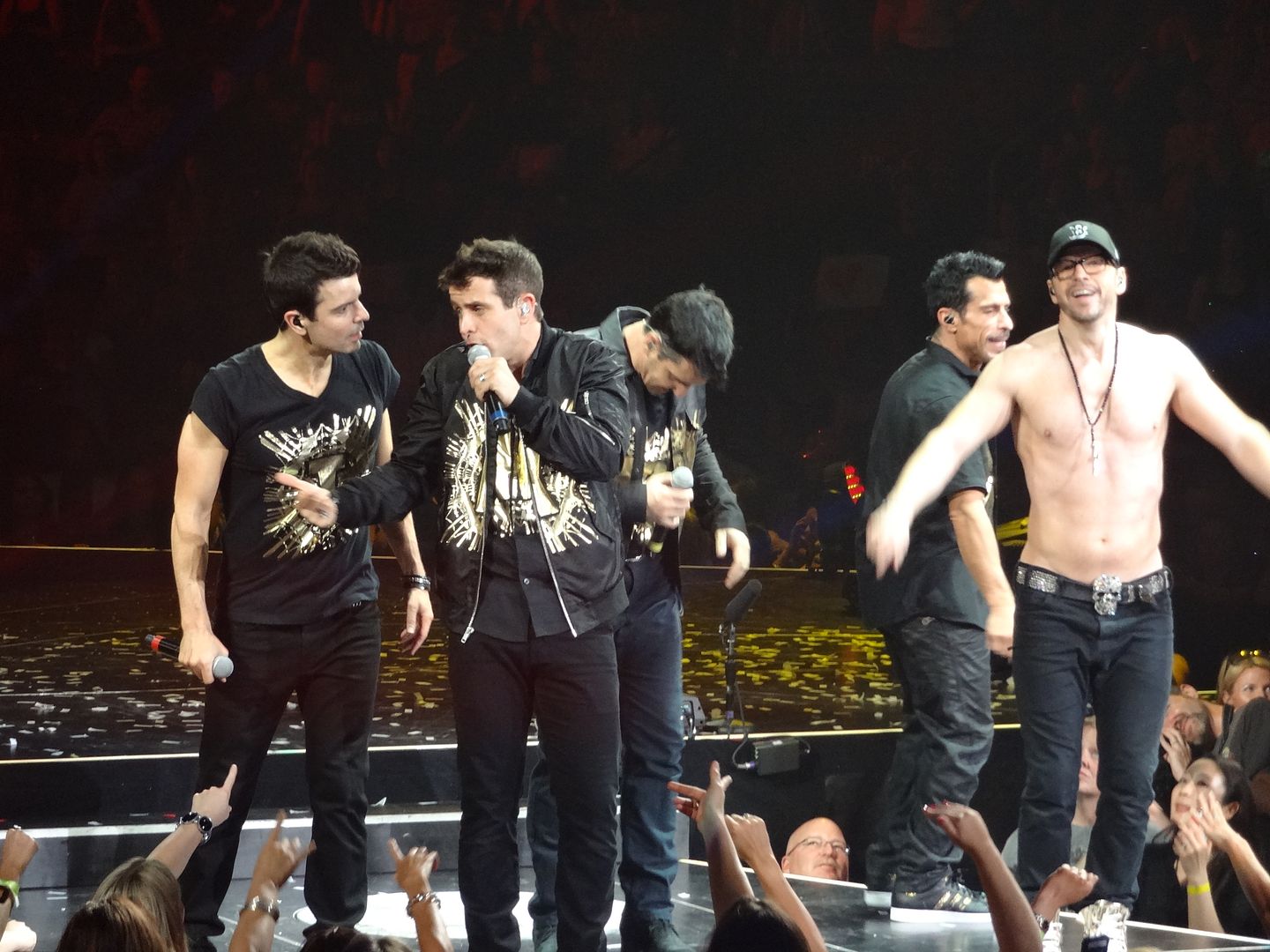 Donnie was the only one who ran around half naked. Who is surprised?
One lady threw her large beige strapless bra in Joey's face and he kind of um, rode it, before throwing it back into the crowd. At some point Donnie starts singing a slow song and I noticed on the screen he was REALLY close to a girl's face. I pointed at the screens to Kendall and Laura and before we knew it, they were MAKING OUT! Laura was screaming like someone was kissing her own man (I mean, he kind of is, she is a Donnie girl). I'm still convinced it was staged but still! WHOA.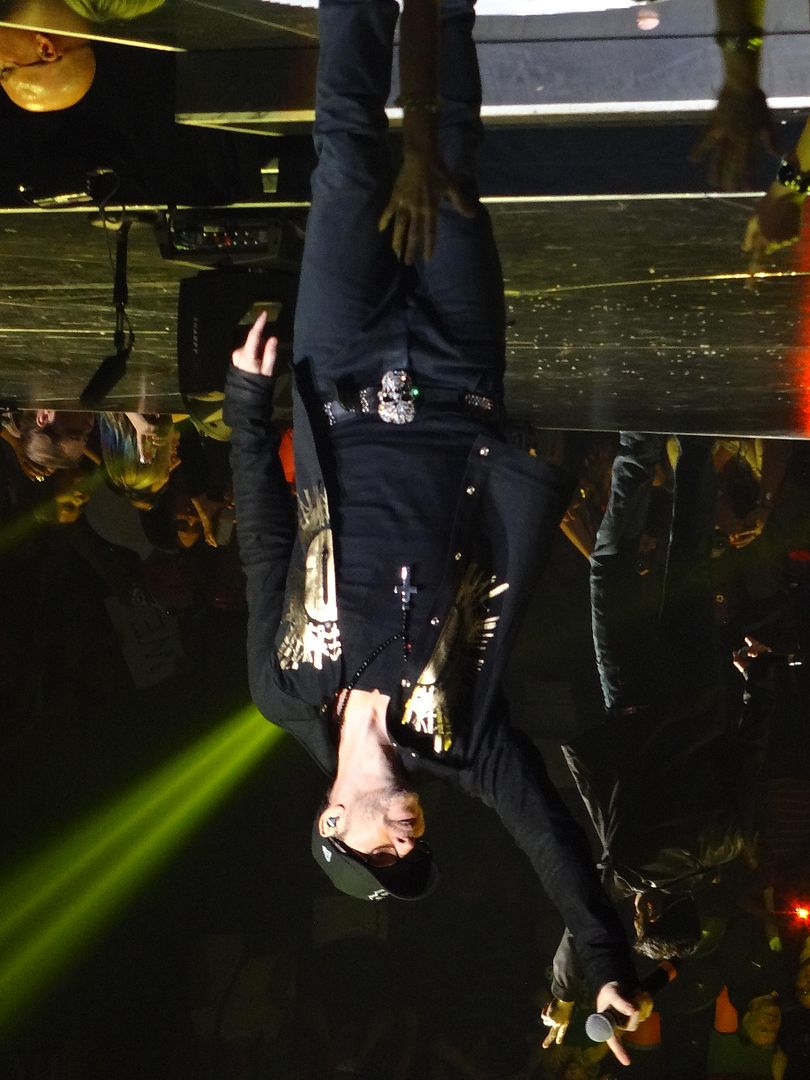 Donnie--how do you chose the random girl to suck face with during the concert?
Do your abs automatically detect which girl is most down for a lip lock?
Step by Step, my personal favorite, did not disappoint, and I LOVED that we got to fill in the "steps" for them. "Step 1!!! We can have lots of fun!!" (I did a dance to this when I was in the 1st grade--ahh, memories)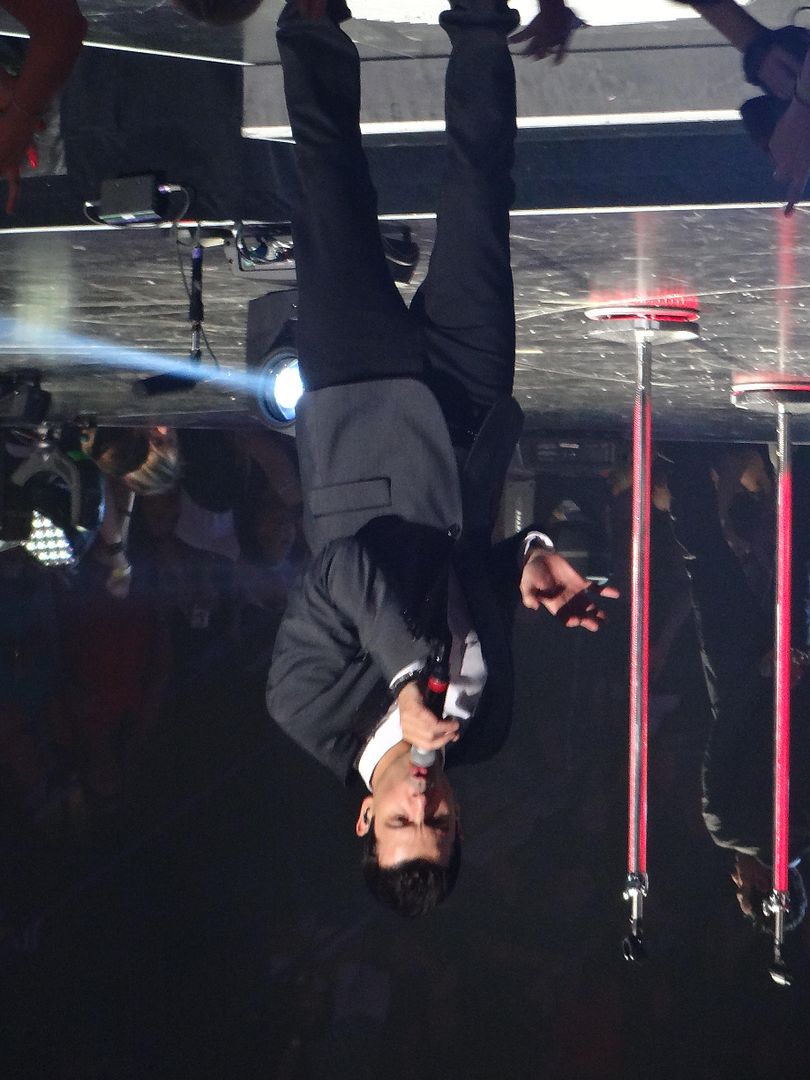 During Tonight (lalalalalala TONIGHT) we were having the best time and then the guys kind of vanished off stage and before we knew it Joey was right up in the crowd WITH US! Like, 3 rows in front of me!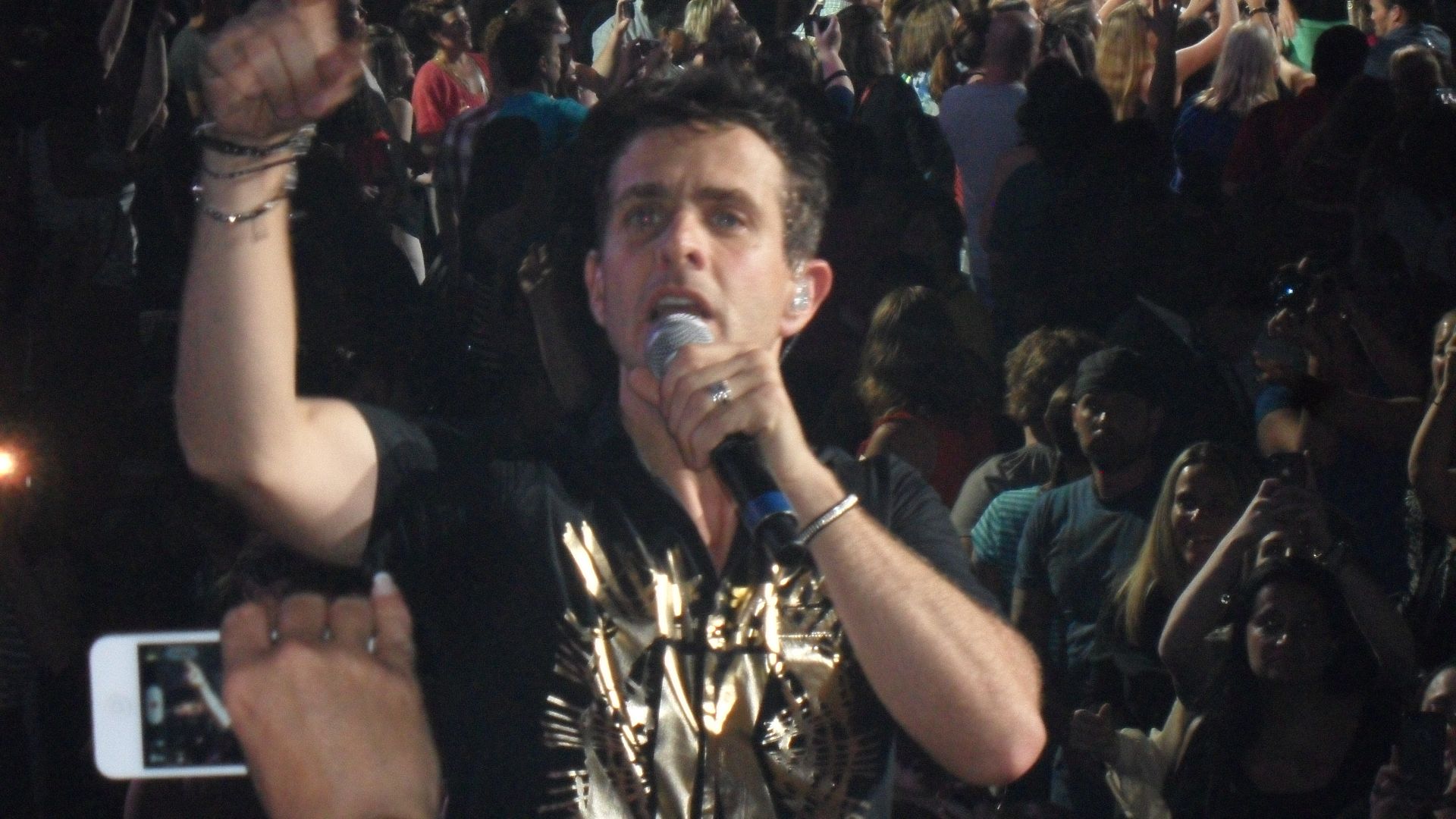 I tried to crawl over the seats in front of me (ahhh, a proud moment) but the lady there was just SITTING. Laura has a video of Kendall and I SHRIEKING like fools. (Kendall is a Joey girl). They stayed for the whole song (even though some girl grabbed Joey's "package tour" and he had to swat at her and say "no". Busted) and it was SO much fun. I mean, I knew we were being silly but it was fun to act like 16 year olds again!! The finished with Hangin Tough. All the arms waving in time with the guys was pretty cool! Love it!
Hanging Tough!! Oh oh oh oh oh!!
I did not want the night to end! It was just pure, girly, giggly, good times and totally worth it. Would I go again tonight if I could? (I'm writing this the day after, although I won't post til next week). YES. Have I looked to see if they had a concert tonight? YES. Do they? NO. Did we sing their songs ALL the way home (for 2 hours). YES!
Interesting Things to Mention:
1. I would not wear pants. I was in stretchy black pants and gold sparkly top. I looked so cute but man I was sweating to death in the pants because I was dancing like a fool. A skirt or dress would have been better.
2. I had literally no alcohol during the concert and was still acting like a lunatic.
3. The arena was filled with pregnant women. I honestly have never seen so many pregnant ladies in one room! I guess it is just the age that the fans are. I was on the young end of the crowd (I was 5 or 6 when Step by Step came out) and I think most people were like 35ish. Those soccer moms knew how to party, though!
4. MAJOR LET DOWN is that none of the groups sing with each other. I was super bummed. I have heard that in some places they HAVE been on stage together and this makes me really sad that they didn't do it in ATL!
5. Also, Mariah Carey does not come out and surprise the arena by singing One Sweet Day with Boys 2 Men, as I fantasized. Bummer.
6. Confetti, balloons, rose petals--all fall from the ceiling. One of my dreams includes dancing around in falling confetti so it really was "my night", in the words of Boys 2 Men.
7. You are going to have a BLAST!!!
Any one out there been to the concert or are you heading there in the near future? Let me hear from you!!