WOW what a weekend! After a less than thrilling seminar on Friday, we spent the evening celebrating Davis and Megumi's marriage with a shower at Aunt Debbie's. I was in charge of invitations and bulling Davis into letting us have the shower in the first place! :) The night was so sweet--tons of food, fun, and family!
Jennie had this fabulous cake made
Opening their gifts!
On Saturday I did a great job of laying around until we took a walk in the blazing hot sun. Then it was off to Mass before going to our tasting dinner with our supper club. Julie set the evening up with a restaurant in Anniston and it SO exceeded expectations! We seemed to eat and eat and eat and drink and drink and drink, as we also had wine pairings! It was a great way to spend time together and do something a little different. We also celebrated baby Mary Catherine Yother and said farewell to the LeBlancs, who are moving to Tulsa, OK next week. I think the best part of the night was toasting each other and making fun speeches each time we were poured a new wine! Or maybe the food was the best part? Or driving everyone back home in Mamatha's car while we were singing rap music at the top of our lungs? I don't know how to choose!!!! Who says being a grown up isn't fun???
Our wonderful supper club, minus Shannon, who took the picture. LOVE these people!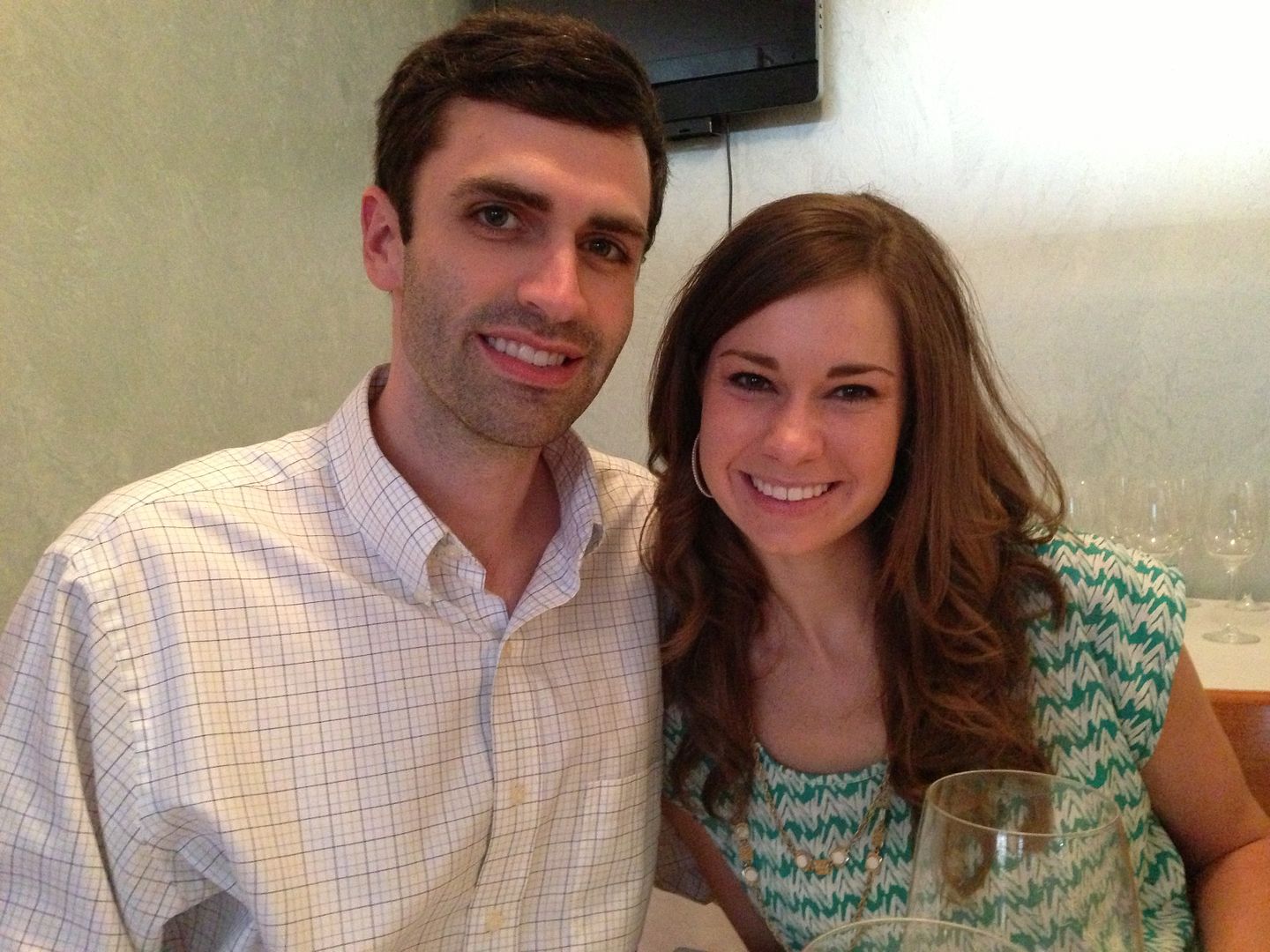 Awww! Love the hubs!
Starting with the big picture, then clockwise:
1. Our tasting menu with wine pairings! (I didn't get a picture of the antipasti platter at the beginning because we had pretty much demolished it by the time I thought about it.)
2. Scallop with creamed corn (best scallop EVER)
3. Sea bass with spinach and pomegranate and grapefruit sauce
4. Lamb with farrow
5. OMG I just realized I left out the picture of the tenderloin medallions and mashed potatoes.
6. Lemon Verbena panna cotta (the Foris moscato paired with this pretty much changed my life)
7. Adorable cake Mamatha had made celebrating the anticipated arrival of Mary Catherine Yother
On Sunday we had a lovely cookout at Davis and Megumi's to say goodbye to all the family that was in town for his shower. It was so nice to have one last hurrah with them all because most everyone lives out of town. Then, it was back home for a much needed NAP. Then we took the dogs to walk on a new walking trail in town. It follows a creek that goes beneath a waterfall. It is breathtakingly beautiful! It was shady beneath the trees so it wasn't too hot and there were plenty of areas that were safe for the dogs to get into the water for a drink. It was about 3.5 miles so it made for a nice walk.
Isn't it lovely?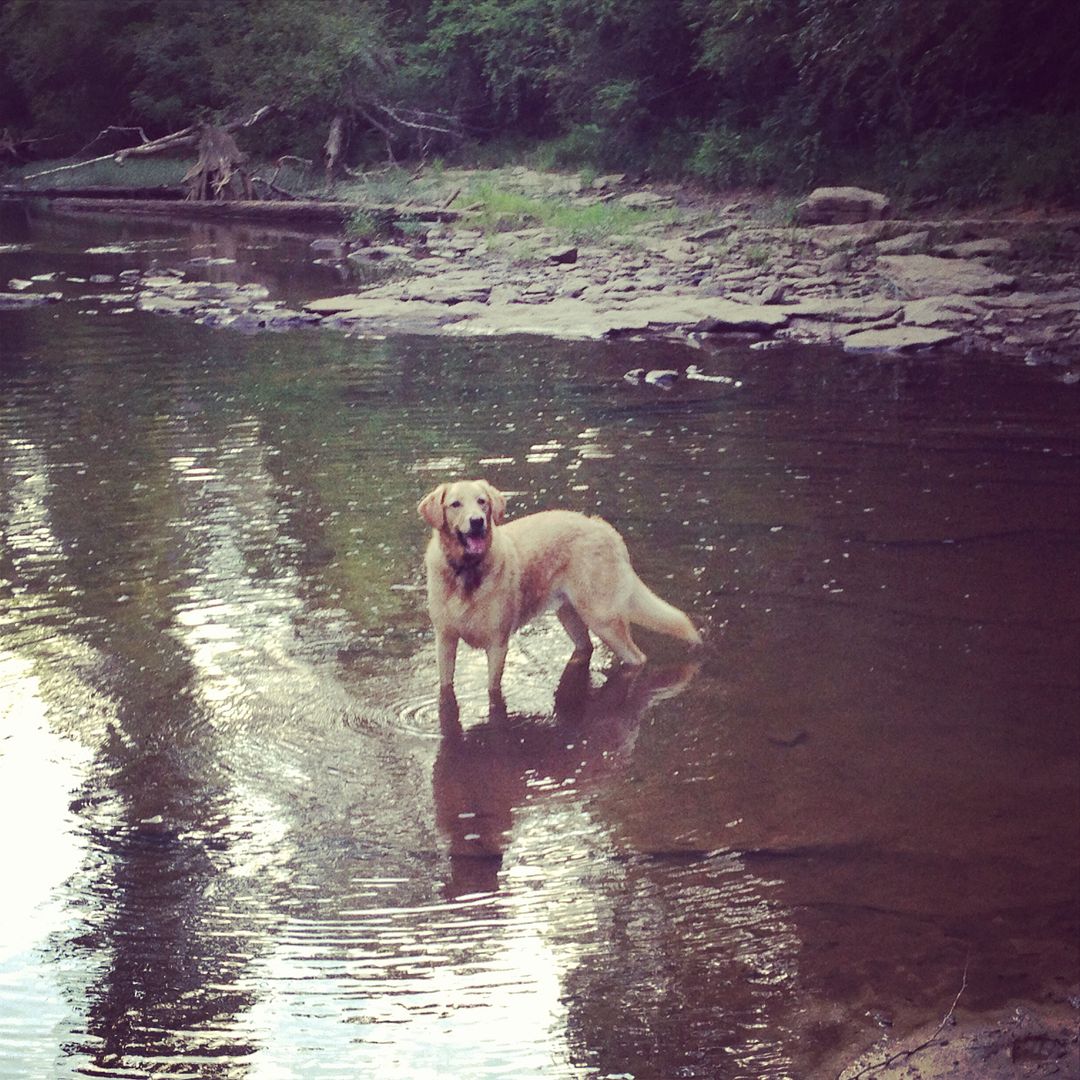 My sweet Sonny had a GREAT time! He loved swimming and splashing in the water! I think he could be a model doggie!
Ruffles enjoyed the outing as well! She didn't get in the water (because "wet" is not her best look) but she loved running around on the flat rocks and drinking from the stream. She got so tired Forrest had to carry her the whole way back. DIVA!
After a lovely dinner at my parents' house, it was bed time for the Baileys (of course, after an episode of Mad Men). We are gearing up for this 3 day work week--woohoo!!