Hap, hap, happy Friday! Woohoo! It's time for I'm Loving It!
Pool Time
No explanations here--after such a nice day at the pool last weekend, I'm hankering for another! Maybe our new house could have a pool? Pleeeeeeaaaaaassssseeeeee husband??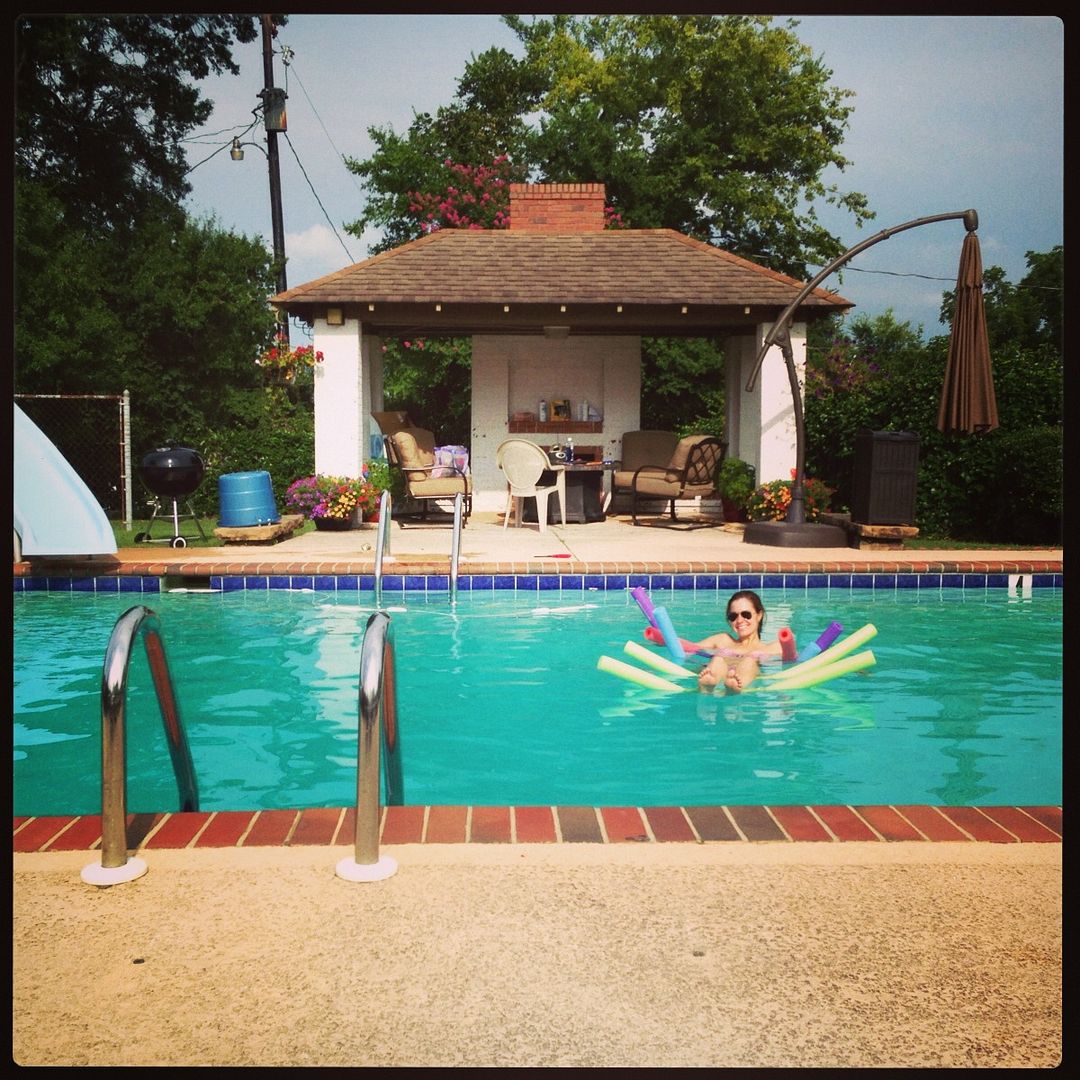 I could TOTALLY get used to this!!
Hana
The fab people at Misikko asked me to review their Hana Pro Flat Iron. I have to admit I felt like a rock star when I got the email! It came to the office looking lovely and I can't wait for you to read my review!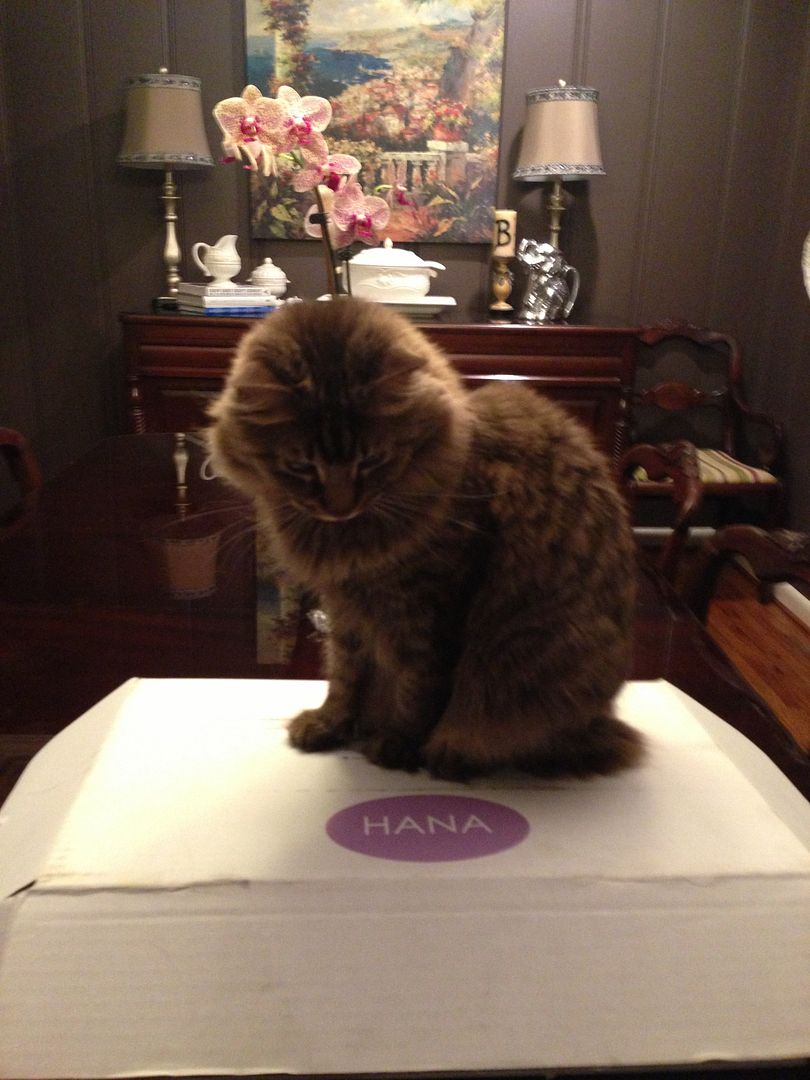 Even Brownie was excited!
Getting back on the healthy wagon
Las Vegas and the 4th of July holiday really kicked me off the healthy train. I haven't been running as much as I should and we were eating horribly. This week I really committed to getting back into my healthy routine. It's always tough at first but once I'm back in the groove of working out and eating right I always wonder why I stopped! Here is a new recipe I tried from the
Women Heart's All Heart Family Cookbook
, which I picked up on Black Friday. #yesidid
Spaghetti with Puttanesca Sauce
12 oz whole wheat spaghetti (I used a box of whole wheat penne)
1 red pepper, chopped
1 large onion, chopped
8oz portobello mushrooms, sliced (I added this to the recipe)
1 can artichoke hearts, drained (I added this too)
4 cloves garlic, minced
2 teaspoons dried oregano
28oz low sodium whole tomatoes, chopped (I cut them up while they are still in the can with kitchen scissors)
1/2 cup red wine
1/4 cut kalamata olives
olive oil
Romano cheese (for topping)
Heat olive oil in a large skillet. Once hot, cook red pepper, onion, mushrooms, and artichoke hearts for about 5 minutes or until lightly browned. Add the garlic and oregano and cook another minute. Pour in the tomatoes and their juices. Add the red wine and olives. Bring to a boil. Then, reduce heat and simmer for 15 minutes for flavors to blend. In the mean time, cook the pasta according to package directions. Once cooked and drained, mix in with sauce. Served with Romano cheese sprinkled on top.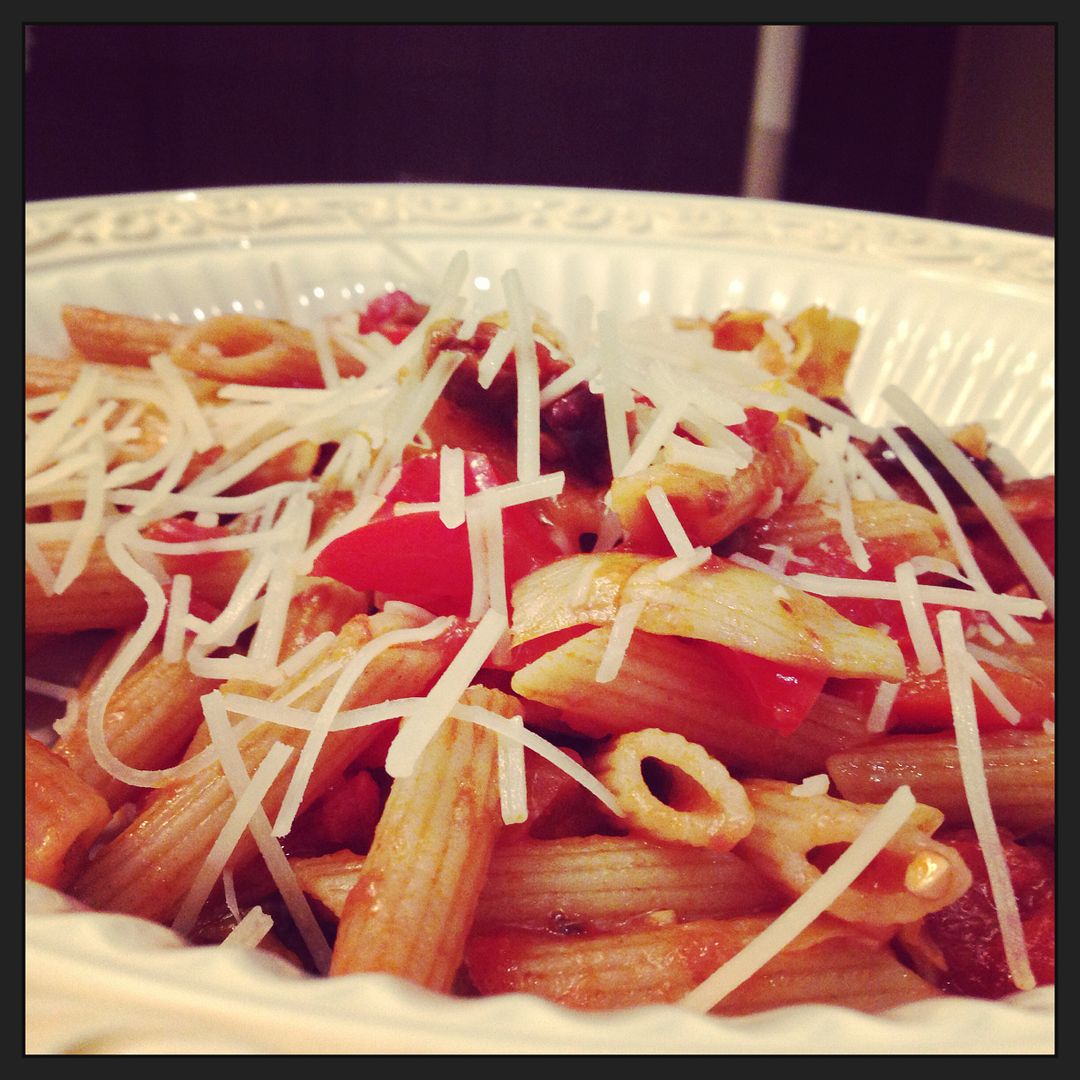 Y'ALL--this was GOOD!
(PS raise your hand if when you read puttanesca you instantly thought of that episode of SATC where Charlotte throws Miranda a baby shower and she wants to serve "a lovely puttanesca")
Sponsor Love
I am currently sponsoring some fantastic ladies and I wanted you to know about them. I have sponsored several other blogs in the past and have gotten great results, but this month has particularly been great! Make sure to check these chicas out!
Confessions of a Northern Belle
: I'm pretty much in love with Caitlyn and we have SO much in common. She lives right next door in Georgia and I'm currently trying to figure out how to get us together so we can become real life friends! She is currently expecting and I'm really enjoying hearing her take on it on the blog!
Noor's Place
: Another fab new blog friend! Noor is in Pakistan--not the UK as I thought. She is cute and funny and very encouraging! I love reading her blog and imagining how she would sound speaking. Crazy, yes. This girl LOVES twitter and is great at doing shout outs!
Dancin with a Dolly
: OMG Jen is too cute. She does it all! She's a photographer, writer, make up artist, blogger, crafter, and don't forget mom and wife! She is super woman and I really can't wait to get to know her better! (I kind of want to be her, actually)
I Wore Yoga Pants
: Whitney---what can I say about Whitney? This girl is totally hilarious and so savvy. I try to live vicariously through her whirlwind life of fun. She always has something cute to say or a pic to share and I'm typically laughing out loud when I am reading her posts!
The links above are the links to the posts that each girl did for me so you can see exactly what they can do for you if you choose to sponsor.