A week or so ago I talked about my supper club's night out for a
tasting dinner
. Afterwards, I got a few comments and even more emails about how we started our club and how we operated it. When I hear the phrase "supper club" I typically think of a group of older Southern men and women sitting around being served a super fancy meal in their finest attire (maybe I watch too many movies, I don't know). Well, that is NOT how our club operates BY FAR, and we love it that way. More and more, younger people are starting these groups as a way to have a fun social night out with people their own age. If you are interested in starting one of your own, I highly recommend it! Here are some ideas you might can use to make your club your own.
1. Pick your members wisely. You will probably want a group of people with similar interests, schedules, ages, etc. Our group is composed of all couples, around 30 (give or take), about half have kids, the rest don't. Ours actually started as an accident. We had been to dinner at several friends' homes and I needed to return the favor, so I just had one big dinner party (maybe this was cheating?). Everyone really enjoyed each other's company and thus our group was born! Mine worked out thankfully but you want to make sure that you build a group of people who actually like each other and get along. You don't have to all be best friends though. It's fun to include people that you might not see all the time! Also be mindful of the numbers. Our group does a sit down dinner so we can't really have 20 people because who has that many places at their dining room table (you might?). I will say though that my parents have been in a supper club for 29 years and it has been a wonderful experience. I grew up with the children of the other couples and we are all very close. It's like another little family--and I hope that our group will be the same way!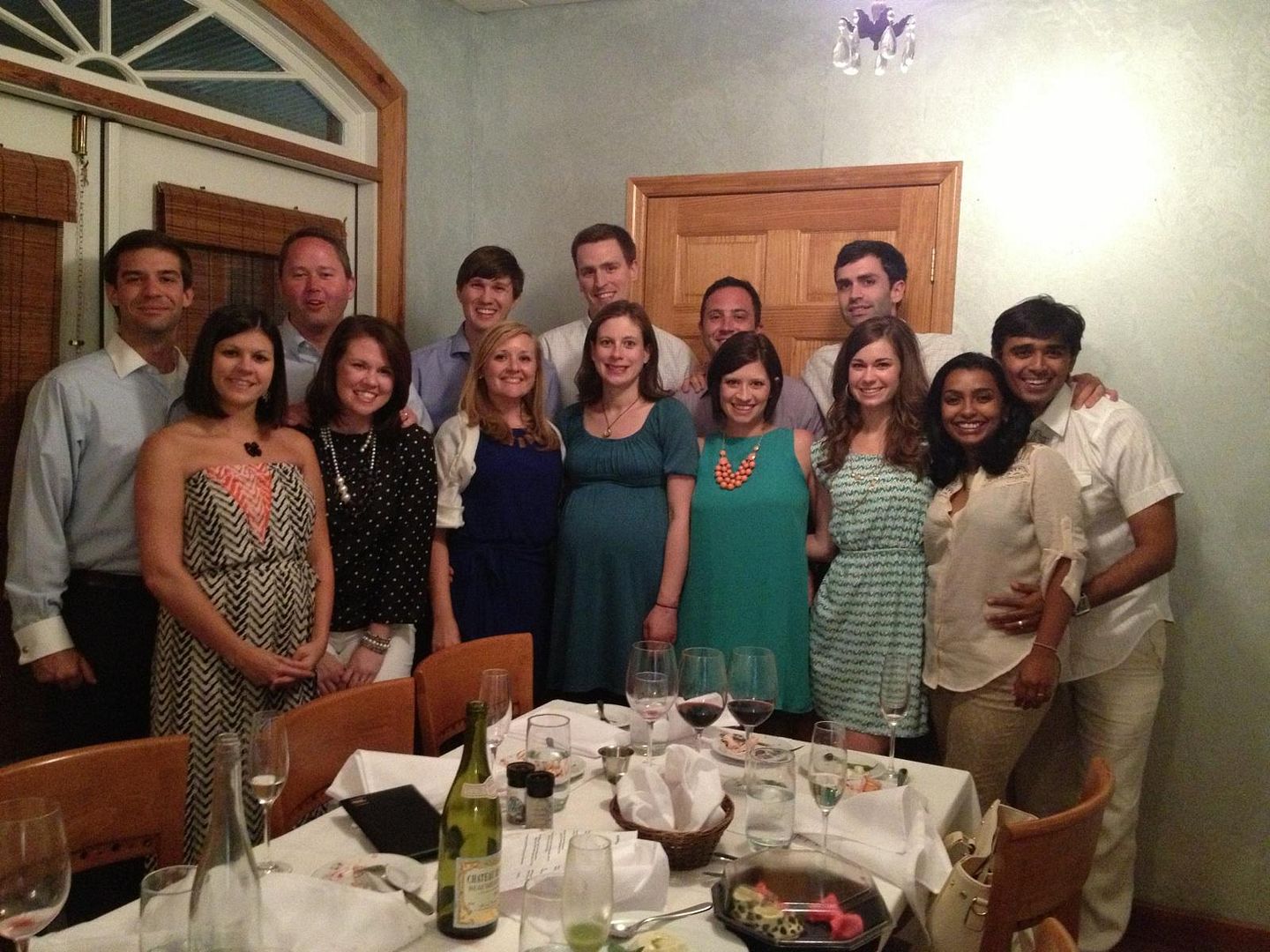 Hi from our group!
2. Decide how often you want to meet. We meet once a month, which is plenty. Every other month might work nicely if everyone can keep on schedule! We will meet on weekends or week days depending on what works the best for everyone, but the host has final say on the date.
3. Hosting: Each month, a different couple hosts at their home. We have a schedule so everyone hosts the same number of times. However, once we get to the end of the list we reevaluate and make a new line up that suits everyone best. When you host, you are in charge of everything and you get to do it your way. Sometimes we have a theme, other times people just cook what they want. The hosts can go as fancy or as casual as they wish. One time I did a casual cook out and the next time I did a fancy Italian style dinner. We found it easier for the host to be in charge of the entire meal, but you could also do it pot luck. Or BYOB. Or appetizers and drinks. Or however you wish! I've also heard of clubs that eat out every month. We decided that we eat out every June and December since those months are busy for everyone. Plus, it gives everyone a fun evening out on the town!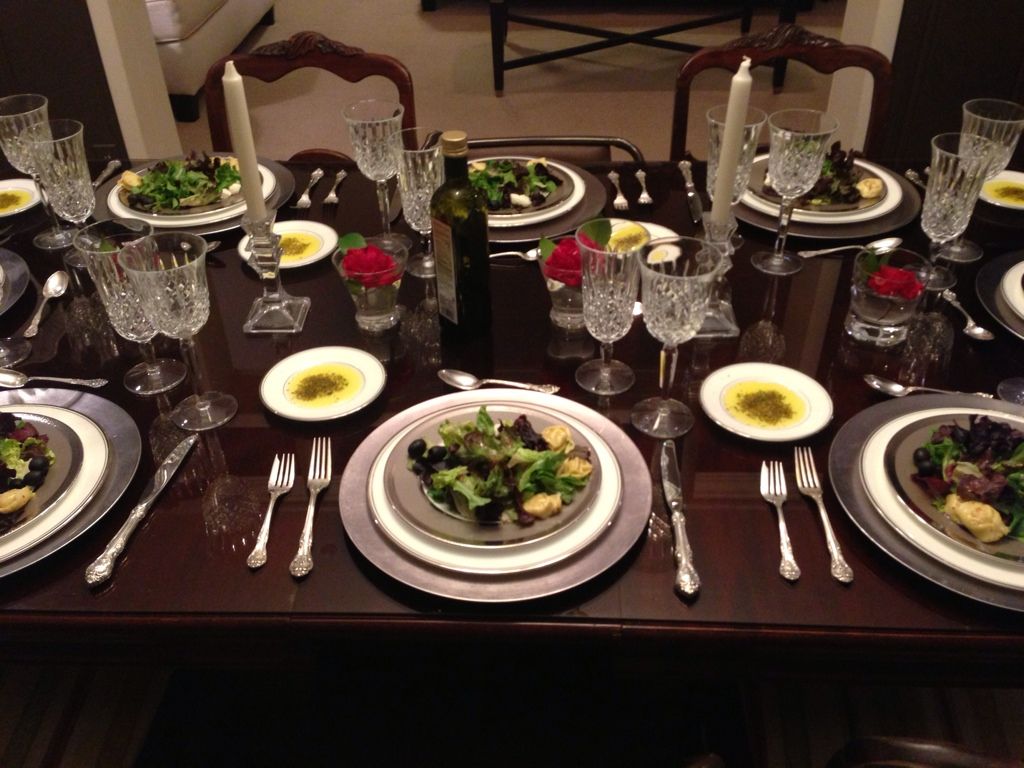 I went all out last time with my Italian dinner: china, silver, crystal, the works! Check out my menu and recipes from that night
HERE.
4. Guests: Our group doesn't invite outsiders to our dinners. Maybe a time or two a host has invited someone that everyone needed to meet because they were new in town, but otherwise, no guests. It just makes the group too large. However, I know some groups allow the hosts to invite whomever they want, or each couple is allowed another guest couple each month. It just depends again on what type of meal you are serving and how much space you have. I do think it would be fun for a group to host a party where everyone brought an appetizer, a bottle, and a different couple each month. Maybe I will start that!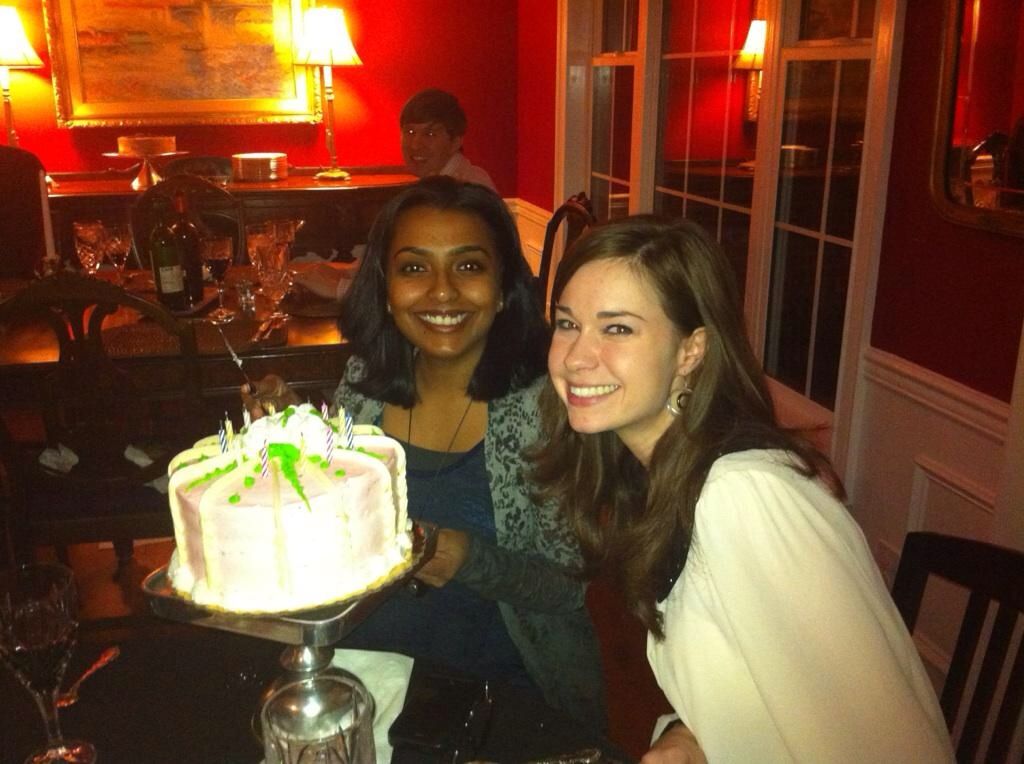 Celebrating Mamatha's birthday at Claire and Paul's dinner in January. We always try to do something special for birthdays and babies!
Anyone out there interested in starting a group like this? Anyone already in one? Let me know how your group works!
ALSO--please check out
Noor's Place
today--I'm her guest! Find out why I thought she was British!
Linking up with
Just Because
! Check these girls out! I'm actually sponsoring Catalyn this month!