"What are things I didn't need at the lake this weekend Alex?" YES! I never once put on my sunglasses at the lake this weekend. Why? It was pouring down rain the entire time. Or at least it was cloudy. I was cold the majority of the time and wandered around the house in pajamas. Oh, and apparently if there is nothing else to do I can really get into tennis. I watched Wimbledon pretty much all day on Friday and then I watched the men's finals on Sunday. Anyway, since there aren't any cute 4th of July celebration pics, I'll leave you with this quick instagram recap. Happy Monday! But FIRST, I'm excited to announce that I have teamed up with some fabulous bloggers to start a Monday recipe link up: Mouthwatering Mondays! Hooray--doesn't that sound fun? We will have a theme each week and you can link up your recipes that go with the theme. It's ok if you use a post that you have already done--the more the merrier! We will start next Monday and our theme will be: Summer Sweets! I can't wait to read everyone's posts next week!!
And now for the saddest photo collage in blog history: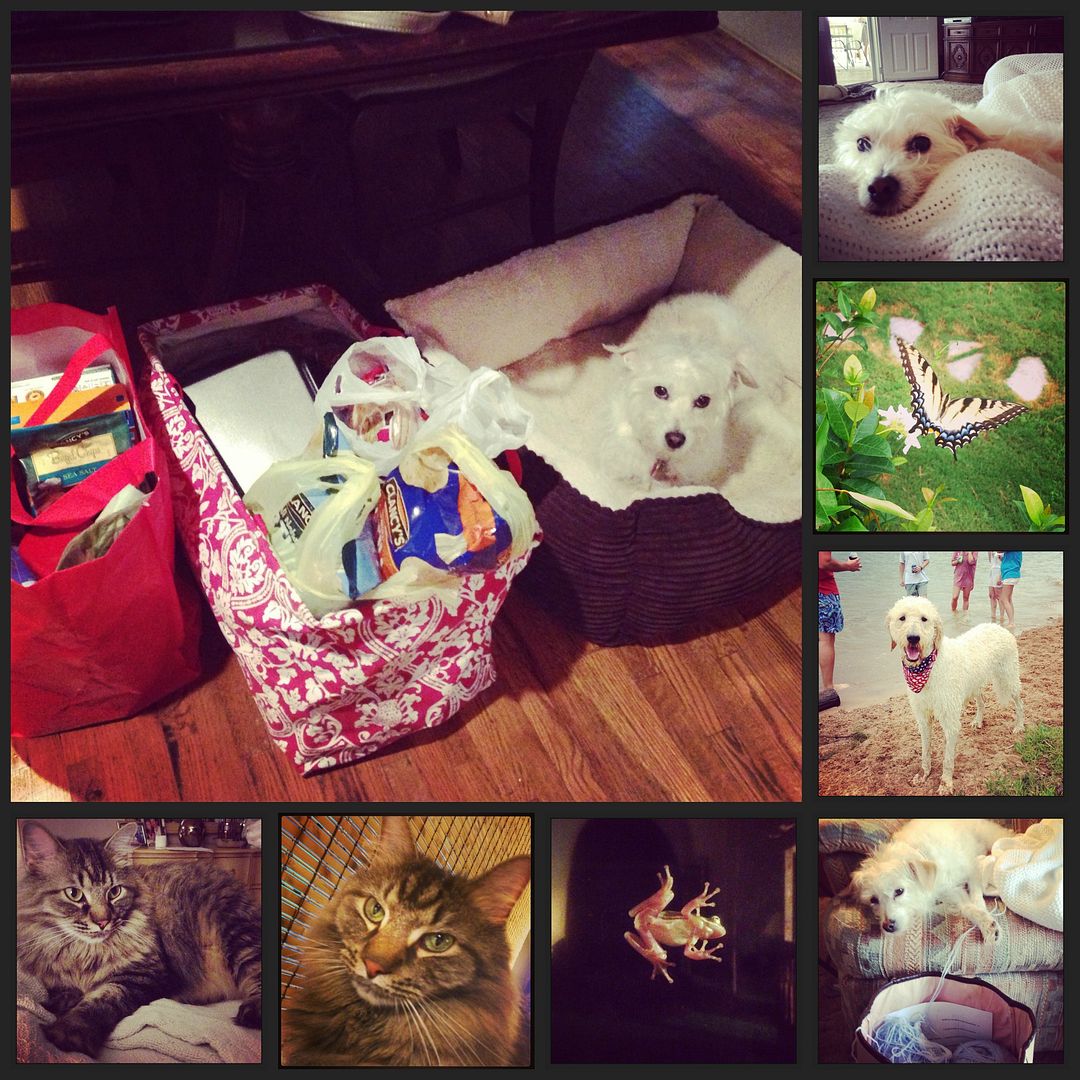 Ok let's start with the big picture and then go clockwise, shall we?
1. Packing for 5 days at the lake. This is just our food (and Ruffles of course). Apparently Ruff was afraid she would be left behind, because she stayed in her bed next to the packing area for 2 hours while I was running around like crazy.
2. Happy 4th of July from Ruffles! We were very sad that it was a dreary day.
3. We spent the afternoon at Jay and Claire's lake house, just 3 doors down from ours (ok, at Claire's parents' lake house, which is 3 doors down from my parents' house.) It was overcast but the rain stopped for a few hours, long enough for us to take a boat ride and sit outside. This butterfly came by and was super friendly.
4. This is Jay and Claire's dog Bailey Ann! She LOVED chasing Sonny but wouldn't follow him into the water. We worked with her all afternoon and by the time she left, she was a water loving dog!
5. The next morning, more rain! Ruffles spent the day on the couch with my mom who was crocheting.
6. That night, more rain! We wathed "Vacation" and found this little frog on the window. Little did we know he was just one of many!
7. Once we were home the cats were SUPER sweet and friendly. They usually get mad when we leave them for a few days but I guess they missed us. Here is Brownie saying "please don't leave me again!" I'm sure the fireworks all weekend long scared them.
8. Even Stella (who is a boy), missed us. He seriously wouldn't leave me along all night and slept next to me. Sweet kitty!
Ok, are you tired of seeing pictures of animals? Sorry--wish there were some fun pics of Sonny in the water, or me on a boat or some fun fireworks pictures, but alas.
Hope you all had a great 4th, even if you had rainy weather! Don't forget to enter my
GIVEAWAY
! Just one more day! And I hope you will all join the summer sweets link up on Monday! Get excited!
AND don't forget to follow me on BlogLovin!!
and to link up your posts with
I LOVE BLOGLOVIN
!