A, A-O, the only way to go! And when you see that smile on me you'll know, that I'm an Alpha O! A-O! The only one for me, and when you see that smile on me you'll know, that I'm an AOII!
I am thrilled to be participating in this week's Greek is Greek link up! Sorority life was a wonderful experience for me and I always recommend it to any girl going off to college. No matter the sorority you choose, sorority life is a great way to meet new people when you move away to college, plus, it gives you a ready made family that helps to make college life a little less daunting. I went through "Rush" 11 years ago at the University of Alabama, which notoriously has one of the hardest recruitment processes in the country, and pledged Alpha Omicron Pi. Two of my cousins are "going through" at Alabama starting THIS Friday and I am SO jealous of them. Just thinking about all the fun times they have ahead--swaps, sisterhood events, formals, dinner at the house with their sisters--ahh, those were the days, right? Here is a little glimpse into my world as a sorority girl. I don't have digital photos of anything prior to 2004 though!
L-R, T-B
1. Initiation with my "family"--little sisters and grand little sisters!
2. Dinner before Halloween Party with Deborah
3. Bus to Formal! (I have this photo framed next to my bed)
4. Pledge class Christmas dinner
5. I was the recruitment chair for 2 years and this was the graphic on our shirt the 2nd year.
6. AOII's at the Lambda Chi cocktail
7. 80's party
8. New girls at a football game
9. Going out for graduation
Since I don't have any of my Bid Day pictures, I will share some from my sister's day.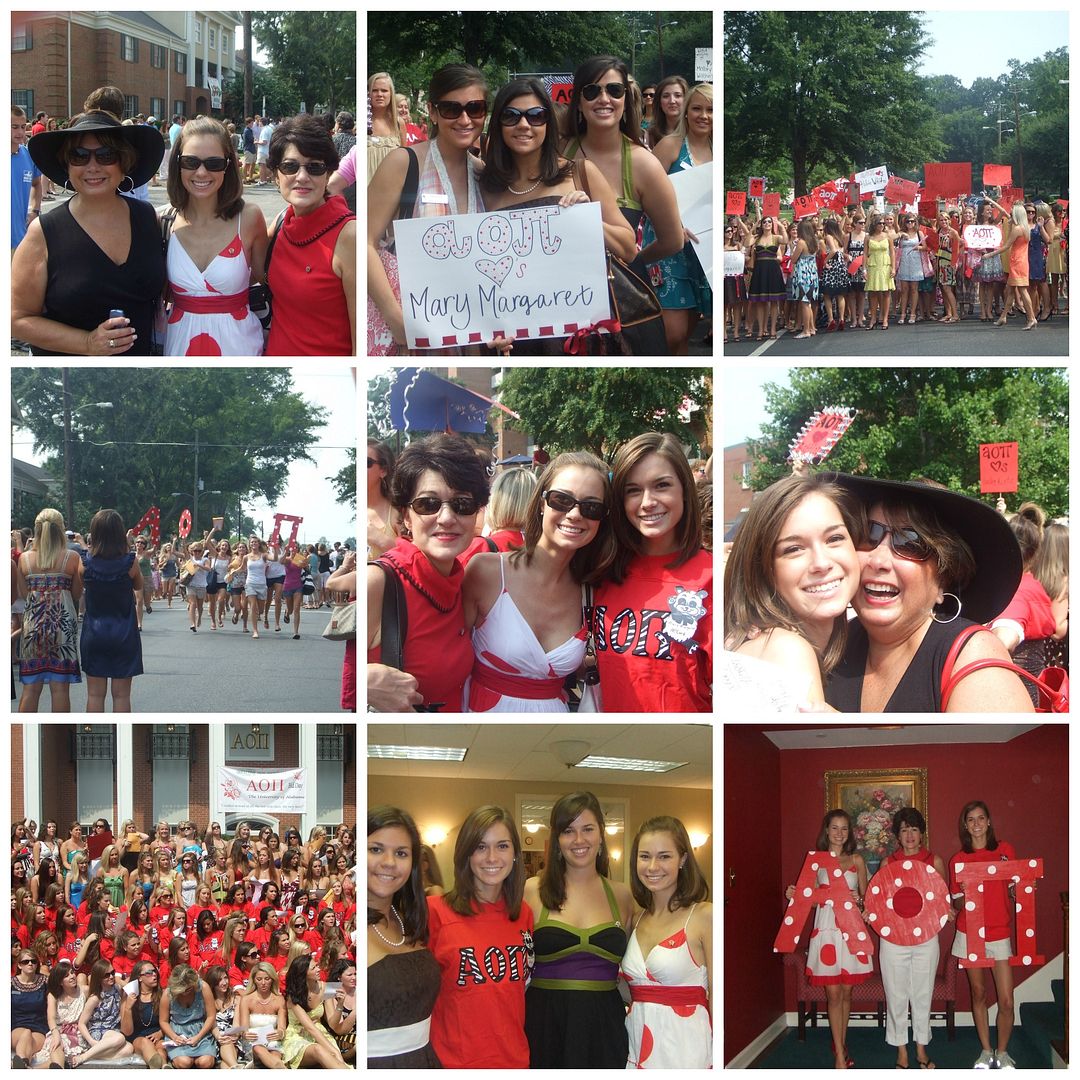 L-R, T-B
1. Aunt Fran, Mom, and I waiting on MMM to run to the AOII house! In disbelief that she actually pledged our house! (all of us were in the same sorority, at different times, of course).
2. Gadsden AOII's waiting on our girl!
3. All the AOII's waiting on the new girls to run to the house
4. Here they come!
5. A family of sisters
6. Aunt Fran was thrilled!
7. Taking the hottest picture in the world--the bid day photo!
8. Lunch at the house with the Gadsden AOII's
9. Alpha Love! Me, my mom, and my sister--all AOII's!
And to this day, I still spend time with my favorite sisters, whether it's at the sorority house for game day, weddings, girls' weekend, etc.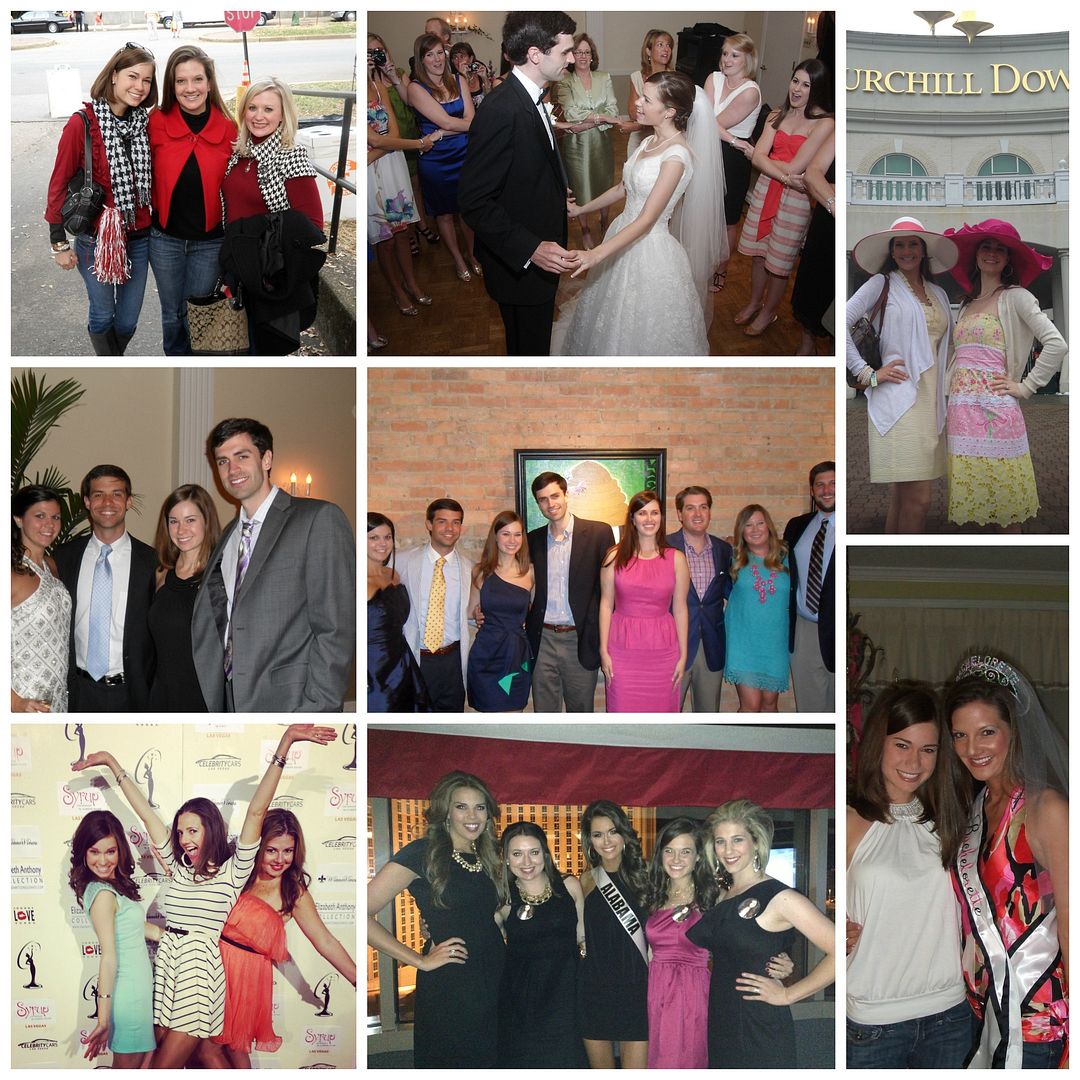 L-R, T-B
1. Bama v. TN game--we always go to Knoxville to see Deborah, or she comes to Tuscaloosa to see us!
2. Sisters sing at your wedding!
3. And they invite you last minute to the Kentucky Derby
4. And you set them up with their eventual husband, and you get to make a speech at their rehearsal dinner.
5. This picture is one of my favorites. All of the girls are AOII's and their husbands are all Lambda Chi's. All but one of these people is from the same home town.
6. Your sisters will come with you to Vegas to see your (actual) sister compete for Miss USA.
7. And your sister's (who is your sorority sister) sisters will fly to Vegas to be with her as she competes for Miss USA. We had a LOT of AOII's representing in Vegas!
8. One of my most favorite weekends--throwing Deborah's bachelorette party at the beach!
My sorority sisters have been with me through most of the big events of my life and I know they will continue to be there throughout the years--when I have my babies, when those babies grow up and go to college themselves, through all the ups and downs and joys and sorrows--those girls will be there for me.
On serious night we sing Steven Curtis Chapman's "I Will Be Here" and that song perfectly describes the relationship I have with my very best friends: "Tomorrow morning if you wake up, and the sun does not appear, I will be here. I will be here, when the laughing turns to crying, through the winning, losing, and trying, I will love you, and I will be here". Yes, I'm tearing up as I type these words, but it isn't because of nostalgia or because of the sappiness--it's because those works actually hold true. Was I friends with every girl in the sorority? No. Do I still talk to every single one of my close college sorority friends? No. That's normal life. But my sorority days did give me my very best friends--the true friends who know me inside and out and who will be a part of my life forever. The friends on whom I have no fear to call.
Alpha love!
To look sharp, be a college girl! To feel sharp, be a sorority girl! To BE sharp, be an AOII! We're the very very best of all!!