I am THRILLED to start offering Bailey Dailies sponsorships! With the advent of the new passionfruit ads 2.0, I decided to take my sponsorships into my own hands. I LOVED working with passionfruit, but I just couldn't justify the new monthly cost on top of what I already pay for this blog each month. To that end, I've come up with a sponsoring scheme that best works for myself and my blog! I've updated the sponsorship tab at the top of the page but because clicking is hard and annoying, here are my new options:
Bailey Dailies Sponsorship Opportunities
Email me at catherinemccordbailey@gmail.com to get started! Can't wait to have you as part of my blog!
Flavor of the month--$10 per month
I will be hosting one featured blogger per month! As the feature, you will get a solo guest post, 3 links in the monthly sponsor giveaway, and lots of social media shout outs!
Sponsorship--$5 per month
As a sponsor, your button will be featured on the side bar for an entire month. You will also get 2 links in the monthly sponsor giveaway and many social media shout outs.
Button Swap—Free!
Want to swap buttons with me? The idea is simple—you put my button up, I put up yours. It's as easy as that! I run 3 free swaps per month.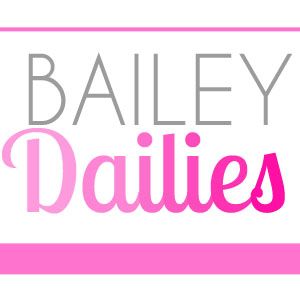 All payments must be made through paypal.
Do you have a shop, business, or product that you would like me to review or promote?
I am committed to promoting shops and businesses that I believe it—those with smart business models, quality products, and excellent customer service. I enjoy highlighting each shop and offering a giveaway from you to my readers. Please contact me at catherinemccordbailey@gmail.com for more details. I will be happy to come up with the best sponsorship option for you!
Some businesses that I have reviewed:
I love reviewing products and offering my honest opinion to my readers. If I love your product, I will do a dedicated review post, complete with pictures, links, and my opinion of your product. I can also do several social media shout outs (Twitter, Instagram, Facebook, and Pinterest). Please email me at catherinemccordbailey@gmail.com and we can work out the details.
Products that I have reviewed:
Hana Pro Flat Iron--coming soon!
All sponsors will be accepted on a fist come, first serve basis, and I am only accepting payments via pay pal at this time. I hope that some of you will decide to hope on the band wagon and sponsor Bailey Dailies! Thanks to those of you who already do! You truly honor me by your presence on my side bar.