Trying to keep a level head in the midst of all of this house buying and selling is really hard for me, especially since I love to decorate, organize, and BUY things! The thought of a new house overwhelms me but at the same time thrills the hyper-organized part of me. The packing, the unpacking, the labeling, the purchasing of new organizers--ahh--that is my happy place! Plus, my aunt is an interior designer and we have SO much fun when we get together and decorate. She did my house now as well as Forrest's office and I can't wait to do another whole house! Think of the options--paint, wall paper, furniture, rugs--I literally can't wait for that part! Of course, we need to worry about buying a practical, functional home before I start selecting laundry room paint colors! After living in our current house, I have been able to see what things work for us and what things don't, what we need, etc. Here is a glimpse at my dream wish list. I add the extra adjective "dream" to wish list because I KNOW that not all of this is doable or practical or affordable or even available in my town, but hey, a girl has the right to hope, right??
Kitchen:
double ovens (wall mounted)
large double door refrigerator
granite counters (not marble--I will jack that up)
farm sink or under mounted sink
pull out drawers in cabinets
-eat in area, perhaps with banquet?
butler's pantry (because they make me feel fancy)
island with prep sink and extra storage
large pantry (either walk in or with pull outs--I hate stuff getting lost in the far recesses!)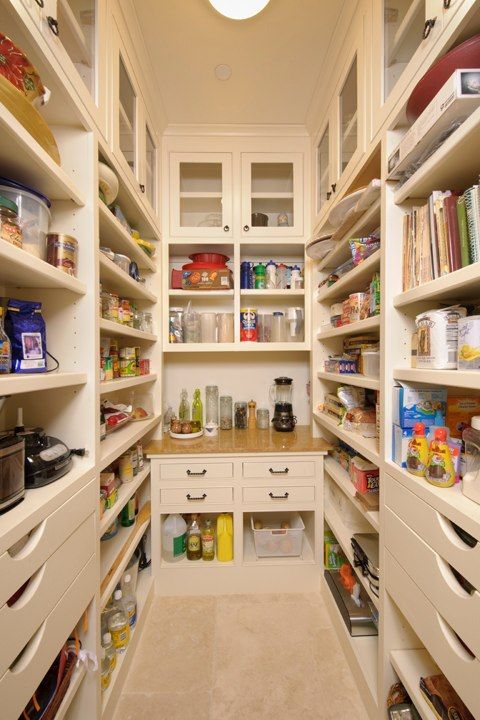 Dream pantry!
VIA
Master Bedroom:
-nice size but not giant-no use wasting space
-his and hers closets
-his and hers bathrooms! (this is my ultimate dream--my grandparents have this and it is awesome)
-in the alternative, large vanity with double sinks and lots of storage
-jet tub
-glass door walk in shower with lots of water spouts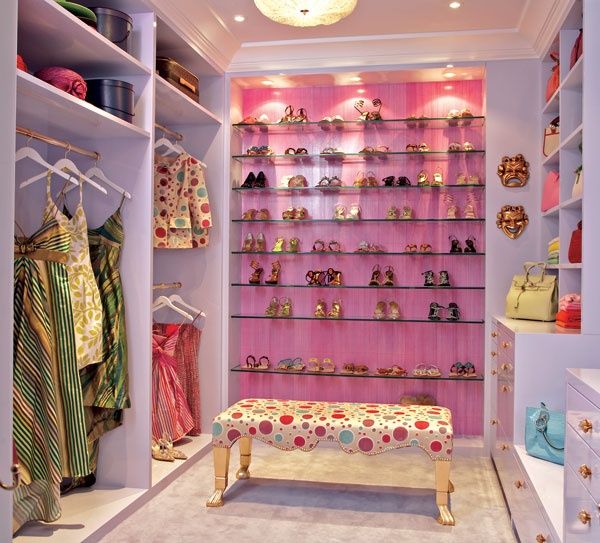 Dare I dream?
VIA
Bedrooms in general:
I think we need at least 4? I mean, how am I supposed to know how many kids we will have? 0? 10?
Living Area:
I would love a separate casual den and formal living room, or at least a great room that is large enough for our piano. I am really more concerned about the "flow" of the house--I'm always thinking about hosting parties and where my guests would be. I also want an actual foyer so you are not walking right into a room, but I'm not a fan of 2 story foyers--the whole balcony things scares me--kids like to climb and I'm afraid of heights. Not a good combo.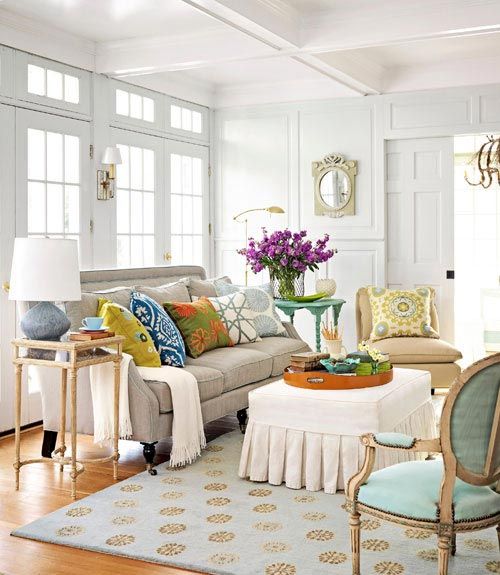 I simply cannot wait to pick out furniture!
VIA
Outdoor Space:
-fenced in yard
-pool!!
-deck/courtyard
-grilling area
VIA
Other spaces:
-I would love a bonus room/play room area for future kiddos
-basement/man cave
-work out area (for our treadmill, weights, etc)
-I also want part of the basement to be underground so we can be safe from tornadoes (if you live in a tornado prone area, you understand this obsession--this is probably number on on my list)
-PLENTY of storage space--I'm talking closets out the wazoo-
-coat closet by the front door (empty and waiting for guests with coats)
-mudroom-so no guests have to see all of the crap that we bring in daily
-formal dining-I know these are kind of on their way out but I LOVE them and they make me feel fancy. We are always hosting so we would definitely use it!
-at least one bedroom on the same level as the master (so any hypothetical infants would be close by)
-powder room near living area but not right in it so you can use it in private
-dedicated laundry room-I don't have that now and I really really want one please!
I do know that I will paint my laundry room purple since it will be MY room!
VIA
So what do you think of my list? I could have put a million idea pictures so I spared you that long post, but, if you want to see my other ideas, you can check out my
PINTEREST
idea boards!
Please let me know what features of your home that you LOVE or HATE so I know what to look for!