It's Monday y'all! Since Alabama had a "bye" week, every one tried to squeeze their parties into this weekend, so party we did. We enjoyed First Friday with a wine tasting downtown and then dinner at Davis and Megumi's, then on Saturday we had a Bailey family reunion (Hi Paula--hope you are reading!), Kim's 30th birthday party (complete with a pretty rad photo booth) (yes I said "rad"), an engagement party for our friends Laney and Marshall, and Forrest's 10 year reunion. Forrest's class was pretty small and therefore so was the crowd, but we still had a great time talking with old friends. However, it was mostly the "old" friends that we see anyway, so that got me thinking about class reunions in general. My perception might be a little off since Forrest and I went to the same high school and had lots of the same friends, and especially off since our school was so small AND because we live in the same city that we grew up in, but humor me.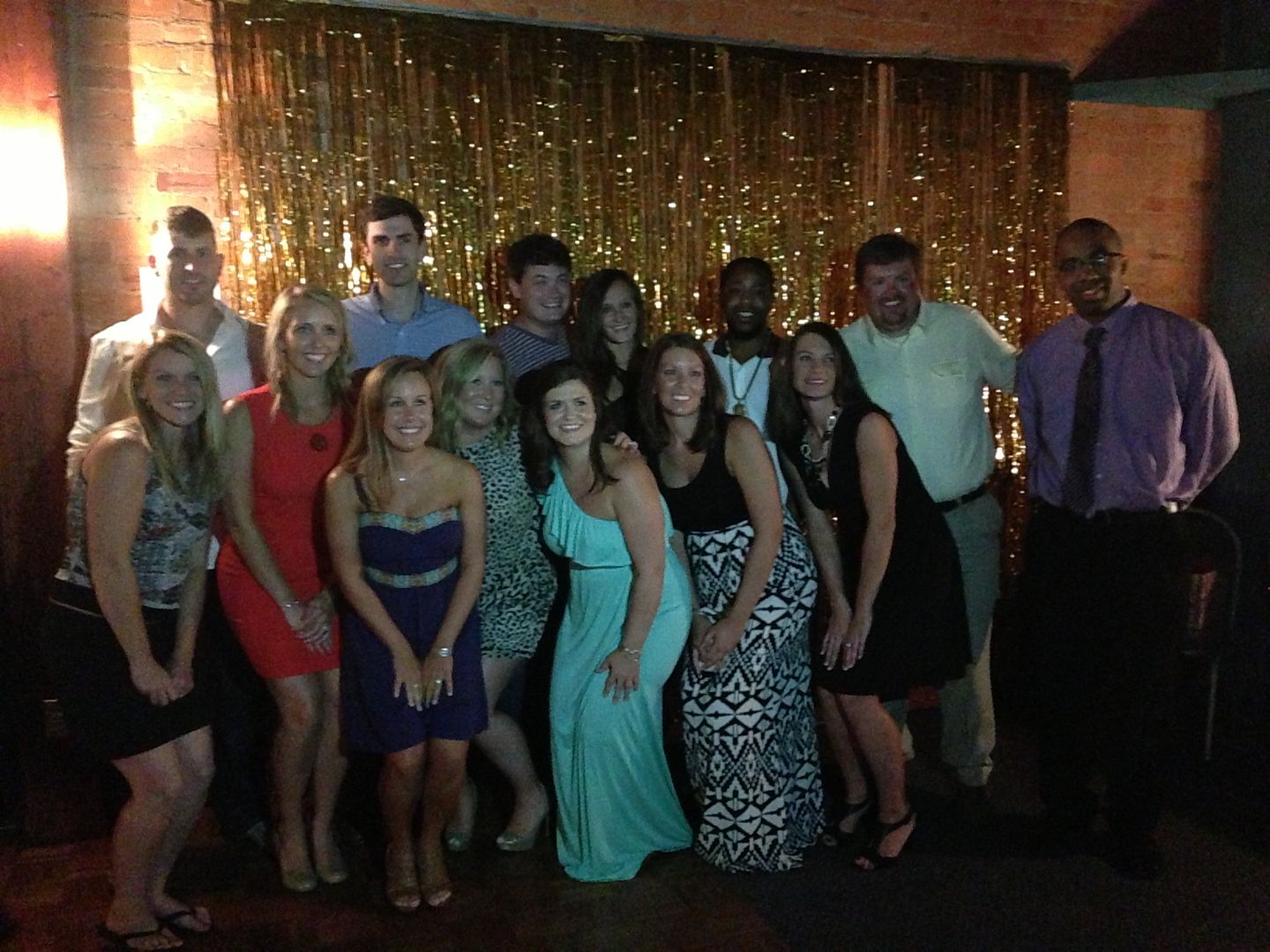 Emma Sansom High School, class of 2003
Ok, so at this reunion, we hung out with the friends that we see anyway, because that is who came. Now, we don't see them all the time, but we do keep up with them and see them a few times a year. My question is, if you spend the night talking with friends you see fairly regularly, what's the point of paying to hang out with them? I mean, we basically hung out with the same people at Megan's wedding 2 weeks ago for free (well, free for us). It was a class reunion in itself, but with free drinks and wedding cake! That, to me was a special "reunion".
Of course, it was nice to see some blasts from the past, but I mean, that's kind of awkward, you know? You don't know what they've been doing since graduation so you don't want to say anything that might be upsetting. "Are you married?" "Where do you work?", etc can all end in disaster if you haven't seen the person since you took off the cap and gown. Maybe some people don't worry about that kind of stuff but I am always so afraid I will put my foot in my mouth. Then, of course, you don't want to talk about yourself the whole time so you kind of just say hi and stare at the wall.
Another problem is recognizing people--I look exactly the same but some people change so much that it is hard to remember that you actually spent time in the same school for 4 years. I had no idea who one guy was last night because he had grown his hair out, but it turns out he was the much vaunted quarterback, so I felt so silly! He even said "WOW! You weren't this tall in high school" to me, as I stood there in my stacked wedges. I felt so bad that my brain didn't allow for 10 years of hair changes but his allowed for 5 extra inches of my height. Luckily, he was a great sport.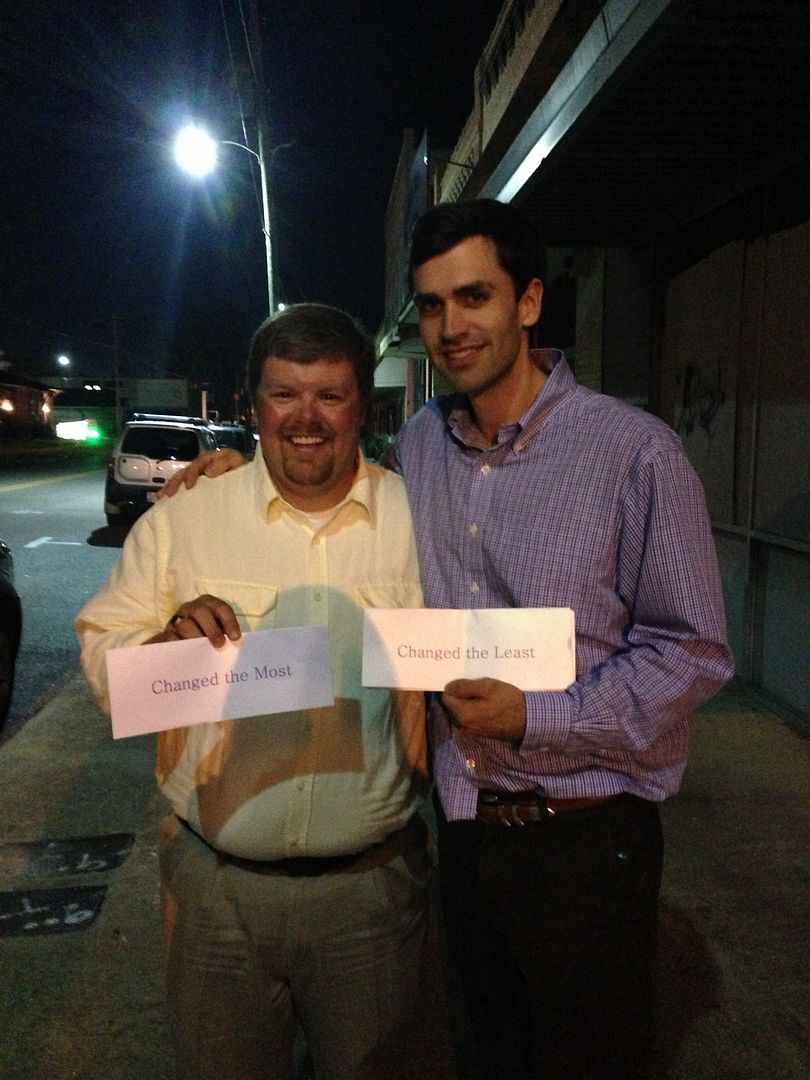 Miles and Forrest (and my shadow). Miles won "Changed the Most" and Forrest won "Changed the Least". Not sure what the criteria was. (yes, I'm aware that this is one of the worst pics of all time)
Anyway, last night made me wonder what the whole point of reuniting every 5 or 10 years with people that you either see often or that you don't see at all really is. I mean, if I've gone 10 whole years without talking to someone, is it really that big of a deal for me to pay to see them again? Don't get me wrong, it's not that I don't want to see them or that I wouldn't enjoy seeing friends from years gone by, but I just wonder if there wasn't a reunion, would people be sad? I'm guessing probably not. I mean, my reunion was last year and I talked to so many friends that I hadn't talked to seriously since we walked out of graduation, but have we talked since? Unfortunately, no. You hold on to the friendships that truly are important to you and you let the others go. That's not mean, that is just life. People grow and change and move away and so I think it's totally ok and normal not to be bff with everyone you might have gone to school with. I actually am pretty good about keeping up with friends, both close and not, and the advent of social media really allows me to be a pro at that. Laney, whose engagement party we went to last night? Well we spent a summer abroad together during law school but since she's moved to Mobile, I never see her. BUT, thanks to twitter, I always know what she's up to and she is able to keep track of me as well, so I don't feel like our friendship has fallen by the wayside--it's just grown as we have grown. Without social media, it might not be the same.
Sorry this post is so jumbled, I just had lots of random thoughts about all of that and needed to get it off of my chest. We really did have a great time last night, don't get me wrong! Any excuse to see our friends is fine by me, I just wonder really what the whole drama of a "reunion" is such a big deal.
What are your thoughts about class reunions? Have you been to yours? Did you reconnect with anyone? Do you have any ideas of ways to make reunions "worth it"?
.