Oh how I LOVE a 3 day weekend! You just can't beat having an extra day of leisure, now can you? Of course we were wide open this weekend because it was the first weekend of COLLEGE FOOTBALL! Dear readers who aren't football fans, I apologize in advance to the football references between now and January. Anyway, Forrest and I headed out to ATL to see our team in the Chick Fil A kick off classic. I have had a BLAST at these neutral site home openers in the past (you can read about that
HERE
) so I was so anxious to go to this game. Even better, my dad gave us his AWESOME tickets so we were totally fired up. We spent the day tailgating with Forrest's fraternity brothers AND my sister.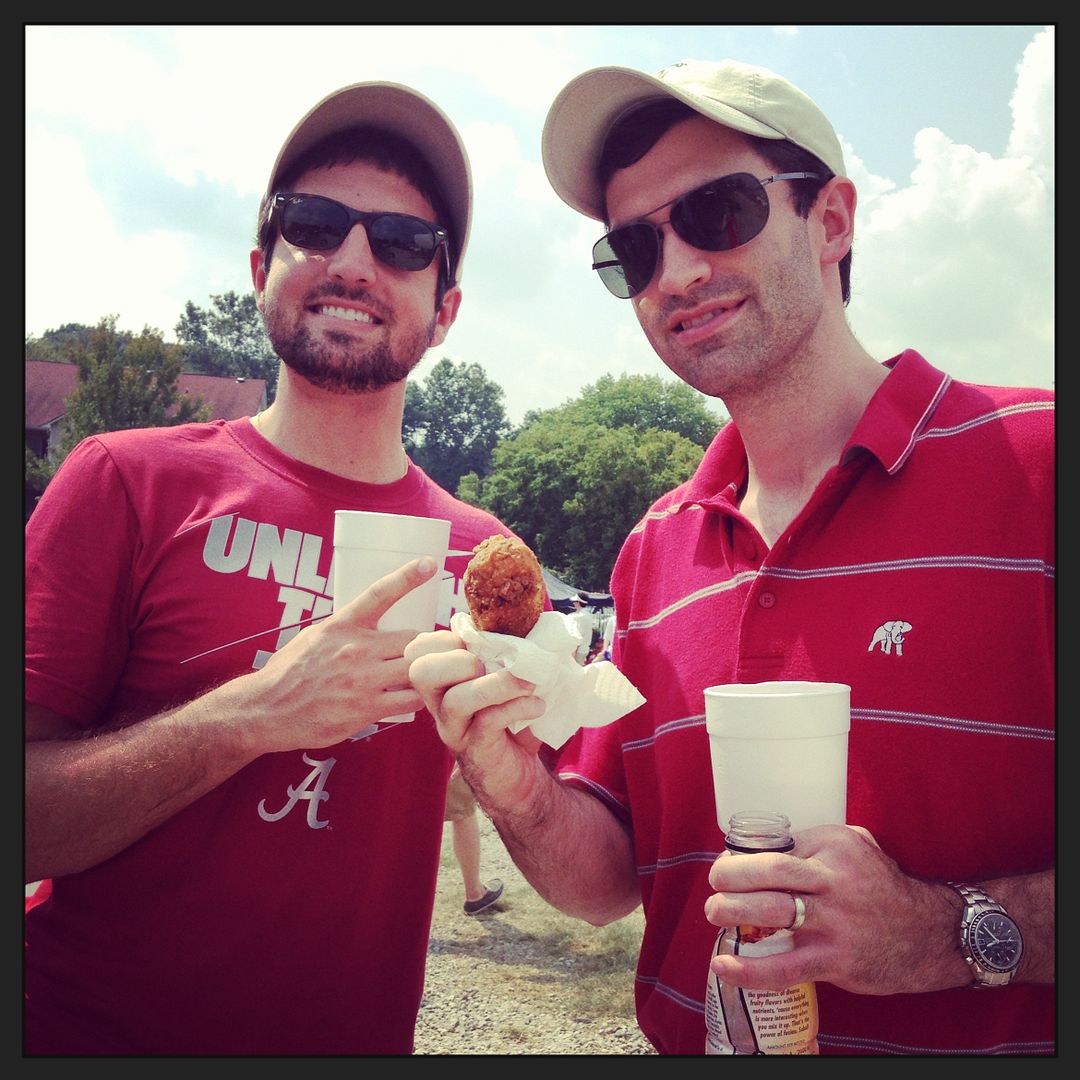 Then into the stadium we went--grateful for the air con and for the stadium sites...
like this over zealously patterned fan.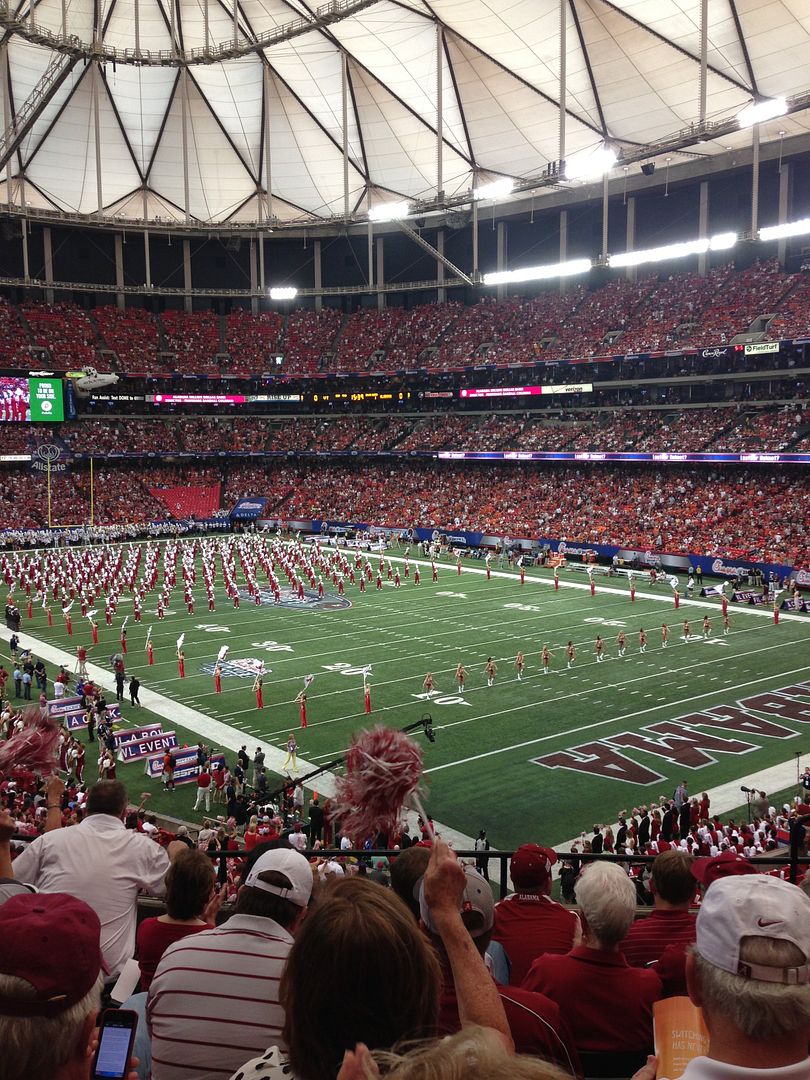 Ahhh, and now I feel at home.
Ok, don't judge me by what I have to say next. We won, 35-10, and I was NOT happy about it. Sounds crazy, right? Our offensive line was NOT clicking and we couldn't put together a drive to save our lives. It was the strangest thing--our team is usually so dominant. Our special teams was lights out (thank you for the 2 run back TD's Christion Jones, thank you!) and our D of course imposed it's will, but the offense was totally lack luster. I was a pouty baby all the way home. Yes, I am one spoiled brat of a football fan, I know. Really though, I chalk it up to expectations. Bama fans expect to be awesome. We expect to steamroll everyone in our tracks, and that we did not do. Yes, we won, but in the ugliest fashion. Don't get me wrong, I am totally 100% grateful for the win. I know VT would much rather win ugly than lose pretty (which it really did, actually). And yes, I actually do remember that it wasn't really that long ago that we totally sucked. I'm being a brat, I know. I'm working on it. I promise I'm not really this obnoxious.
We did manage a little sun time on Monday, for which I am very thankful. I know that we probably will not have many if any days of lake or pool time now that it's football season so I was glad to soak up what I could! Thank you weather!!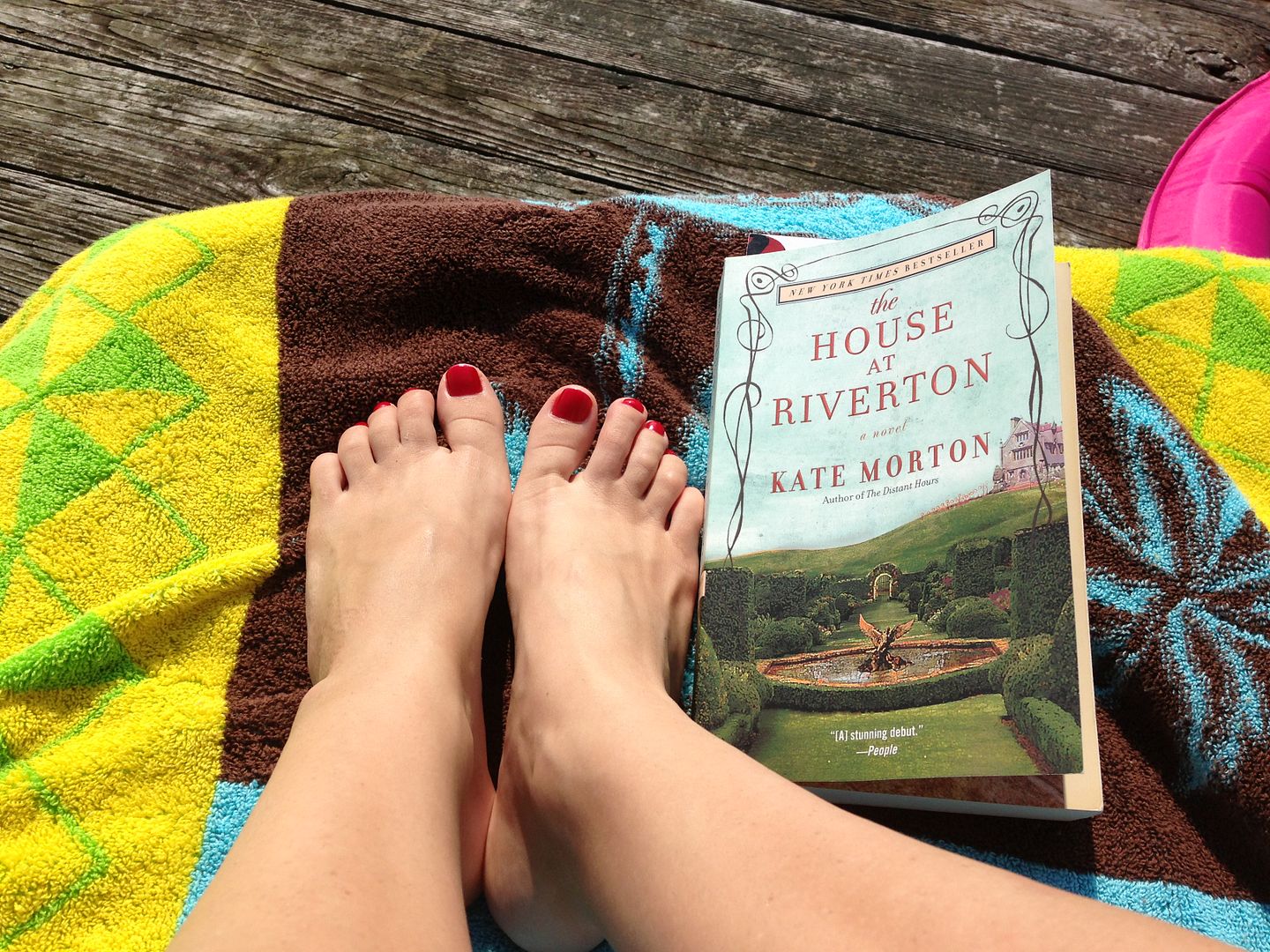 And since you are here, don't forget to entire my gameday dress gift card
giveaway
from DressU!!
Have a great week!