So Texas is hot. Really hot. Last year we went to the first Bama home game in Dallas and had to abandon our tailgating plans because it was just too hot for that nonsense. Instead, we just went inside Dallas Cowboys Stadium and enjoyed a drink in the air conditioning. I don't know why I thought this year's trip to Texas would be any different. I knew it would be hot--the game kicked off at 2:30pm in September in the South--that is basically summer. I dressed in my breeziest dress, strapless, of course, to avoid tan lines. I packed a total change of clothes. I drank lots and lots of water. I covered myself in SPF 50 (thanks Farrah). Still, I think I was the hottest I have ever been on Saturday, and I've been to Vegas in July. That didn't stop us from having a blast though! Check it out!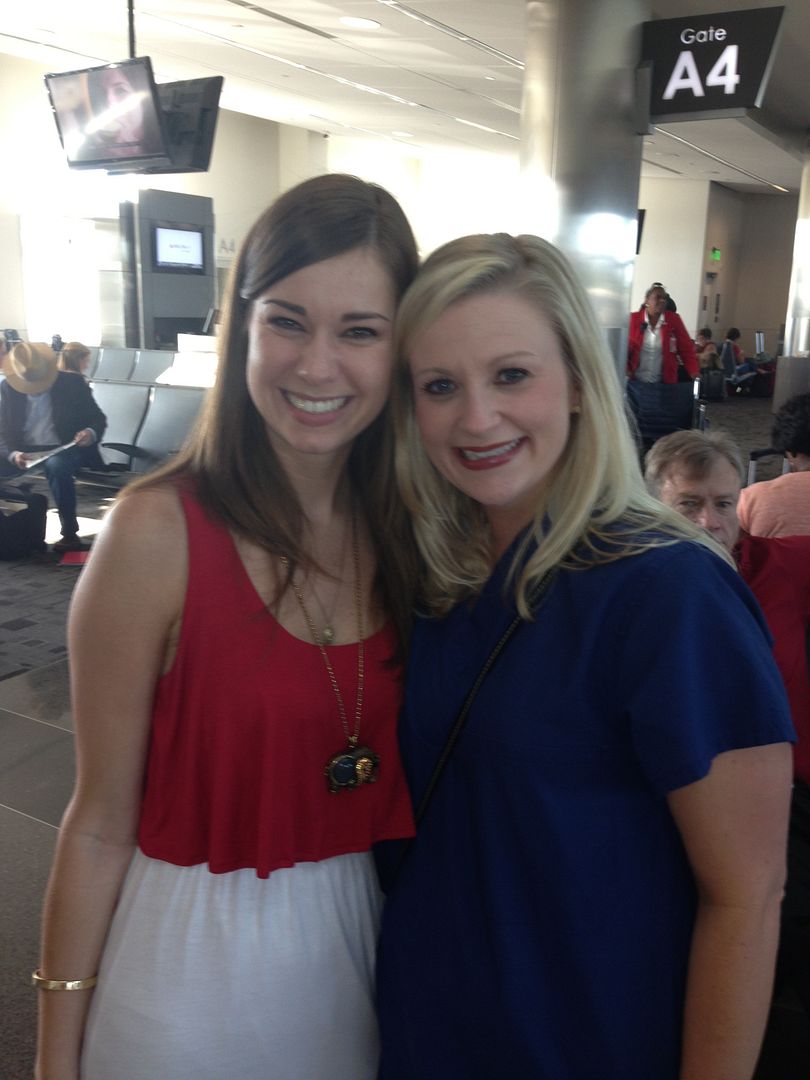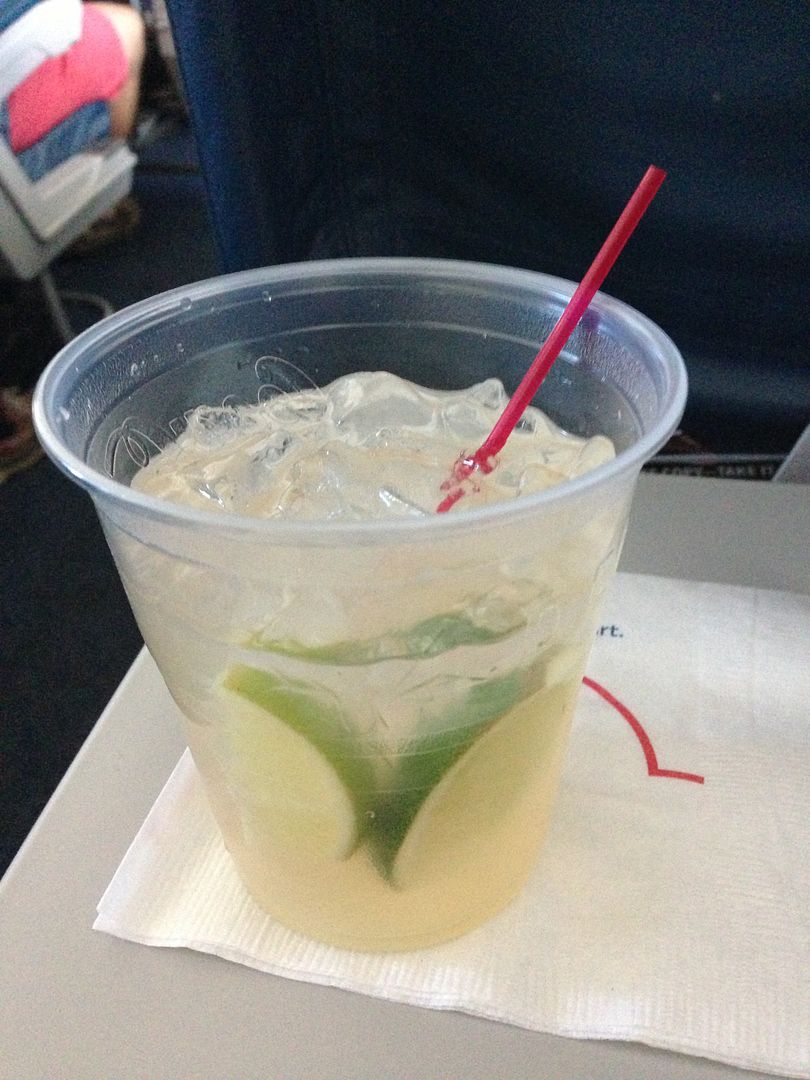 When we arrived at the airport, who was there? None other than my sweet friend Randi! (Don't you love my dress? It's from
DressU
!)
I was super nervous on the plane. I was worked up about finding tickets (yes, we went sans tickets!) and the game in general, and planes always make me a little jittery. Who knew they served margaritas on planes! Hooray! It was only 100 calories, so I went for it. I have to say it was a great choice. (PS, they announced on the plane that we needed tickets--thanks Delta.)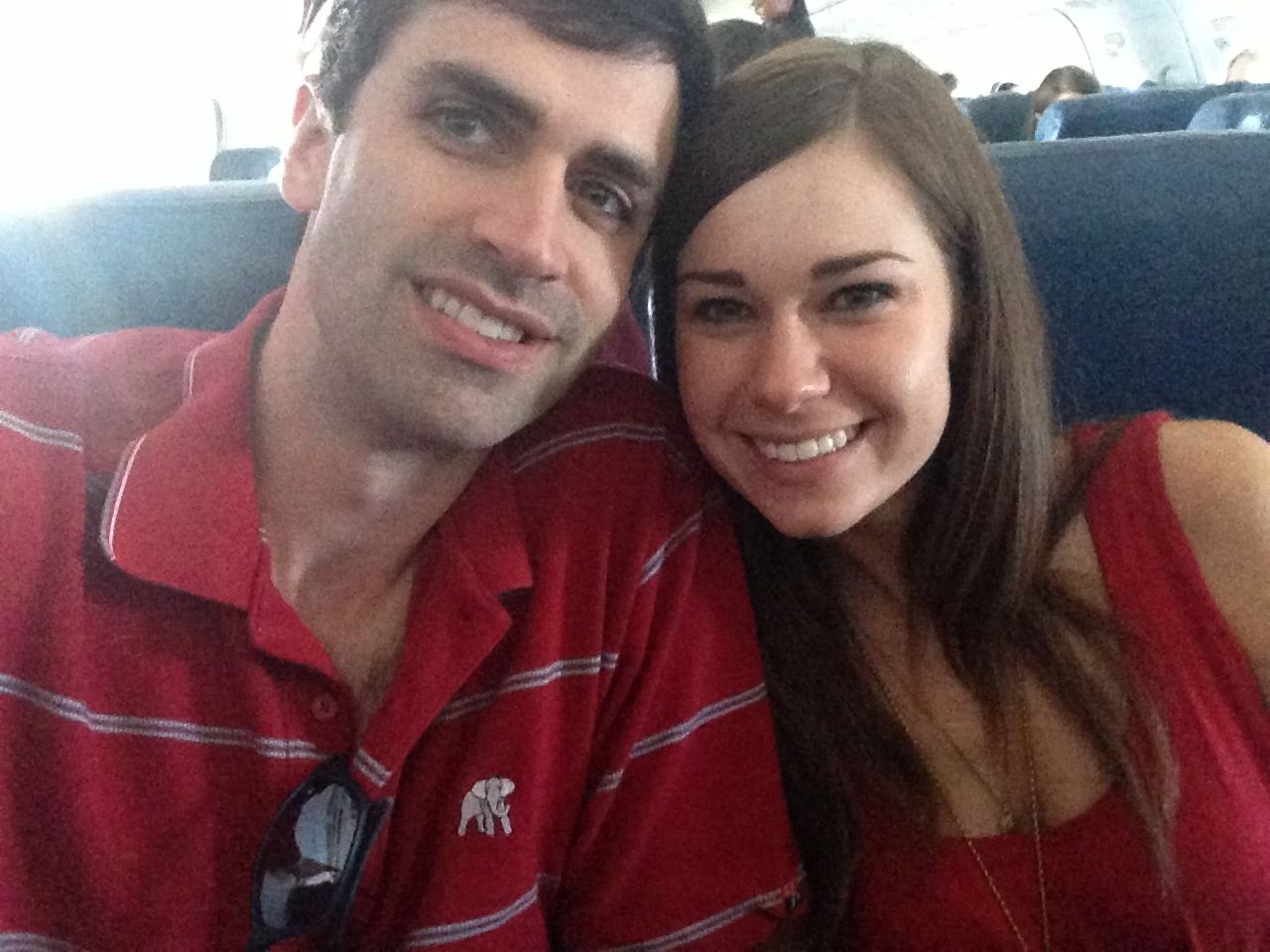 The Baileys do Texas!
(Notice we both wear our game day wear the whole weekend. That's how we roll)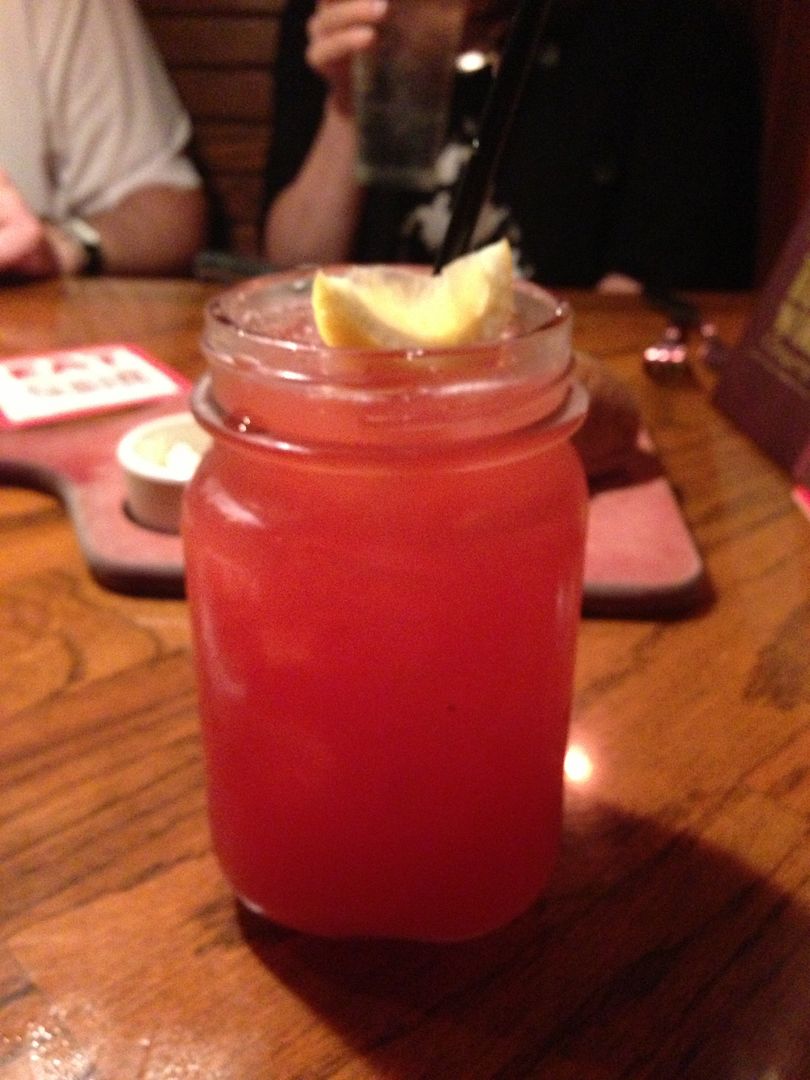 When we arrived in Houston, we had to stop at Outback--if we don't eat at Outback on away game trips, we don't win. It's a fact (LSU 2010). Anyway I always order the Sangria and it usually comes in a wine glass. In Texas, you get a whole mason jar. Everything really is bigger in Texas!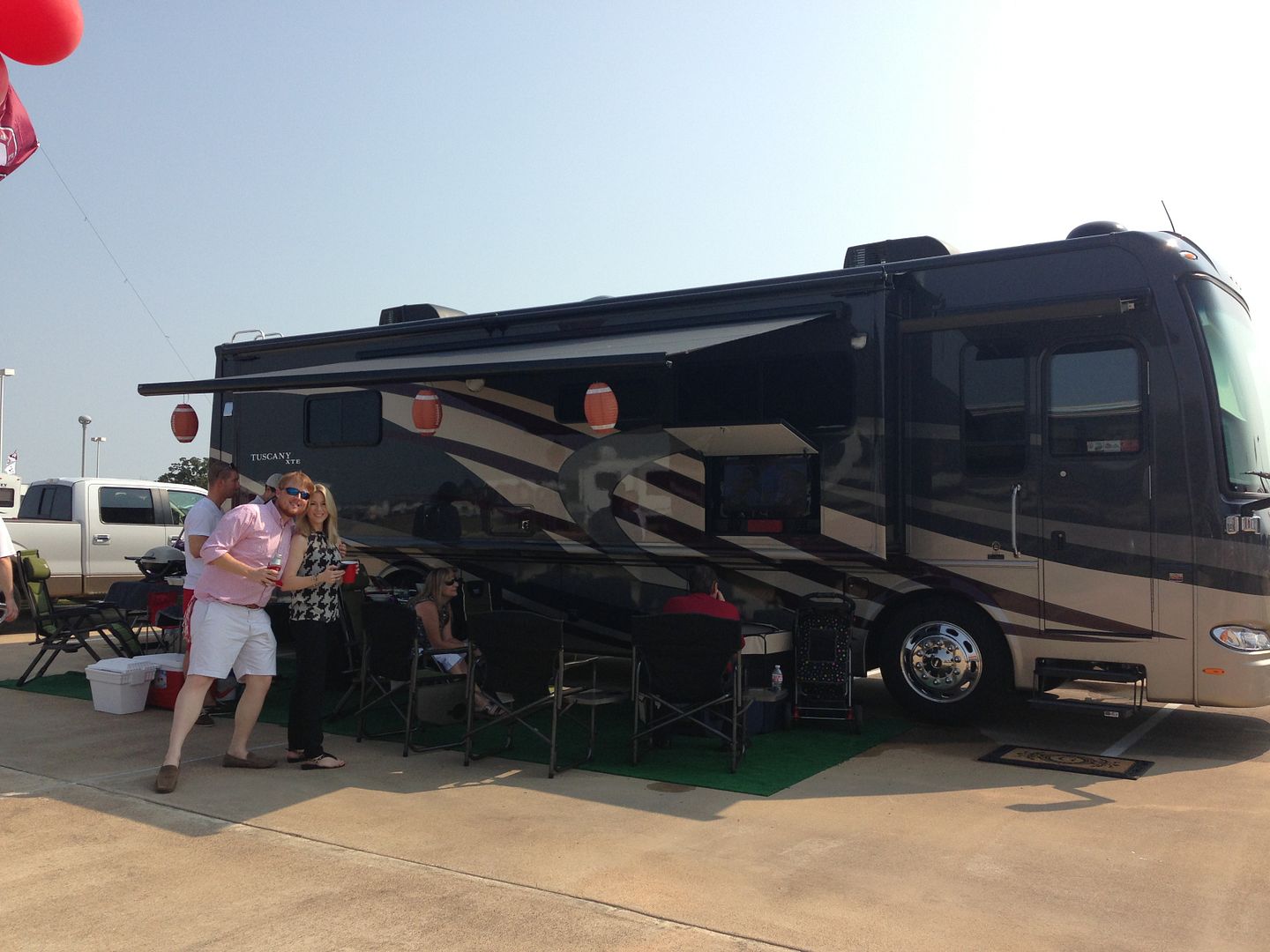 On Saturday morning we got up way too early for a Saturday and drove to College Station to tailgate with Ben and Julianne and Ben's parents at their AWESOME RV. I can't go back to regular tailgating ever again. I'm much too spoiled!
I need to give a shout out to Frank and Michael D'Amico--the bearers of our tickets! I was all set to have to go stand in the heat right before kick off and beg scalpers for tickets. I wasn't worried--I think I've done it in 3 different states and I've always been successful. Still, it was miserably hot and I didn't want to leave the air conditioned tailgate (with ice cream bars!). While we were standing outside of the RV, this man starts walking towards us and I realize it's my mom's cousins Frank. He was surprised to see me--he was just heading our direction because the RV had a big Alabama flag flying and he had some tickets in the Alabama section for sale--does anyone need them? I thought he must know that I needed tickets and he was joking, but he actually had no idea. What a weird coincidence! Hooray! Thanks for saving the day guys!!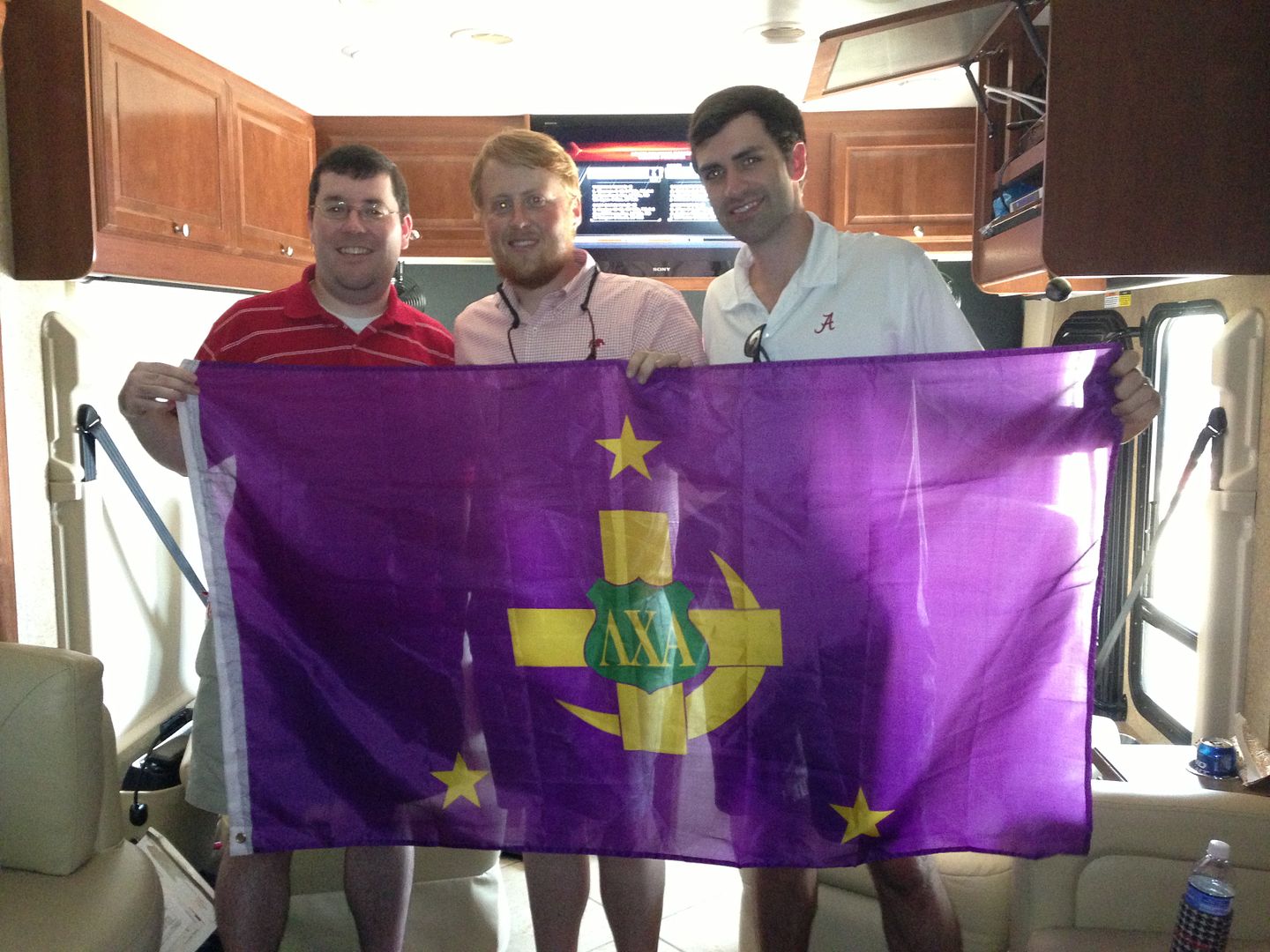 Bradley, Ben, and Forrest--fraternity brothers getting ready for the game in Texas. Bradley and Laurie live in Texas, Ben and Julianne are in California, and we are in Alabama, yet football brings us all together at least once a year! Love that!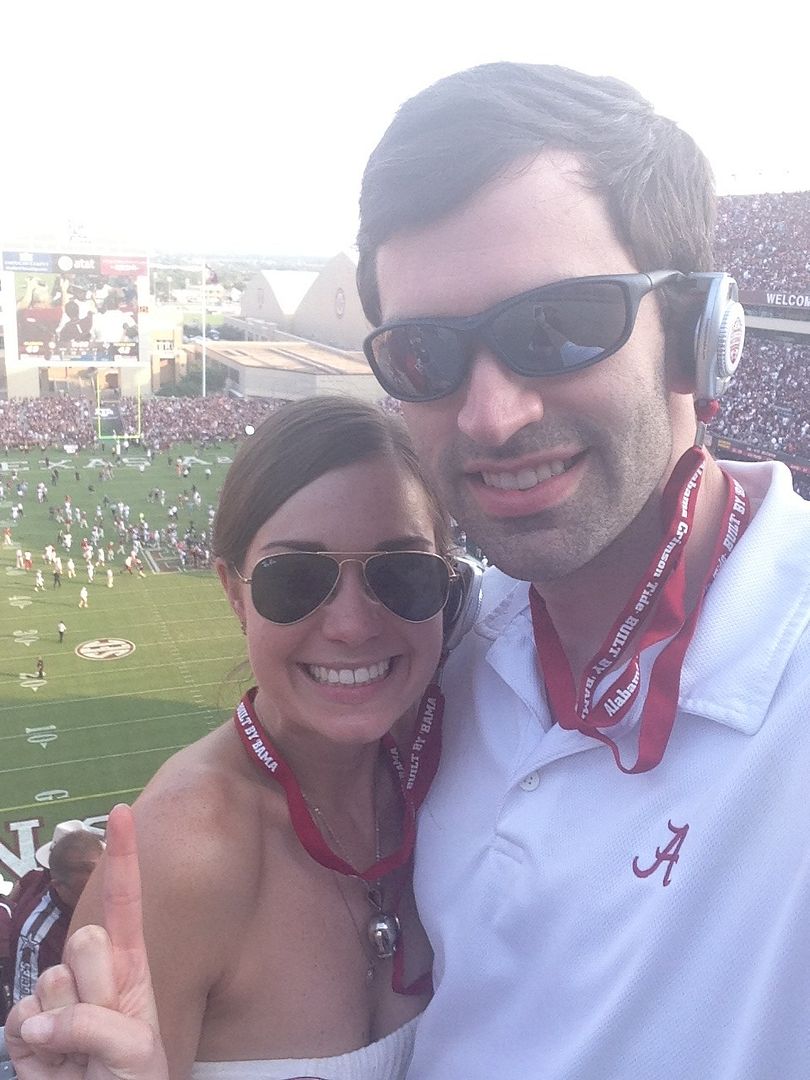 Excited and tired smiles after the big win. We were down by 14, up by 21, and still had to win in the last seconds. The people in our section clearly hadn't read my post about
game day etiquette
, because Forrest didn't have a seat. He stood up through the 3rd quarter until we found 2 seats together in the A&M section. Let me say the A&M fans were totally nice to us and I really respect that. When we finally pulled it out, I felt bad to scream and cheer because a) we almost lost and b) they were so nice I didn't want to be rude. I am surprised how descent we look in this picture because we were totally sweaty and disgusting (the extra clothes I had at the RV really changed my life) and I had been so stressed out at the end of the game I felt like a crazy person. I literally didn't see the end of the game because I was laying my head on my knees, pinching my ears shut. I did have my play by play radio on but it was so loud I couldn't hear it. Those A&M fans were ridiculous loud, even when they were losing by 21, and none of them left. It was really a miracle that 2 seats opened up for us!
Despite the heat, and the anxiety, we had a fantastic time in Texas. Granted, I never need to go to A&M again (because of said heat and anxiety) but it was well worth the trip. I might not have thought so if we had lost, I'll admit. Happy Hump Day!