Meighan
tagged me in her "6 Things" post forever ago and I'm finally getting around to it. I have done a few "Things" posts in the past and am not really sure what else there is to say about little old me, so I thought I would do 6 Things about me right now.
1. I'm in my office and I'm freezing--this is nothing new. It's fall in Alabama which means it's in the high 70's. We really don't need the air conditioner blowing at top summer speed, but in my office, they think that we do (we haven't had the air on at home in weeks). So, for the next month or so, I will continue to alternate between shivering and blasting my feet with my little space heater.
2. All I want to do is blow off work and watch Orange is the New Black forever and ever. I am totally hooked on this show. Yes, it makes me afraid that somehow I'm going to wind up in women's prison, and from the looks of it I would not do well. I'm not really sure the food is as good as it looks on tv, or if friends can send you all the books you want. Plus, I'm kinda germaphobic so I really need to just mind my P's and Q's and never ever ever go there. Any suggestions of what we should watch after we finish this??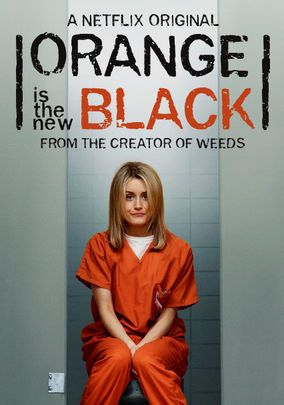 VIA
3. I'm obsessed with my nail color right now--Essie Glamour Purse. It's the perfect color for fall and goes with everything. I usually don't do color on my nails for work reasons, but this one isn't too dark so I think it's' appropriate. I've been carrying the bottle with me everywhere because I HATE chipped nails.
VIA
4. I alternating between writing this post and searching for Christmas party invitations for our sorority alumni chapter Christmas party, which is in 2 months from today. That means Christmas is in 2 months and 10 days, and I'm spazzing. I need to order Christmas cards, gifts, etc! I'm hoping to do most of my shopping online this year to save time and aggravation. I've never done that before so I need your help--let me know where you like to shop online for gifts AND your tips for saving money! Also, what is your "must give" gift this year? I feel like I'm running out of ideas!
5. I may be freaking out about Christmas but I am NOT freaking out about Halloween because we aren't doing Halloween this year. Yes, that's right, I'm throwing in the Halloween towel. We never get trick or treaters, except those that I invite. Plus, our service guild rummage sale set up is the week of Halloween and while we are shutting it down so everyone can enjoy the festivities, I'm already planning on going home and sleeping. It's not that I'm against Halloween--I LOVE dressing up and candy, for reals. BUT, I just don't have time for it this year and since we are sans kids, I think it's ok if I put the kabosh on it.
6. So ready for lunch--but also dreading it a little bit because I've put myself on a strict "salad and lean cuisine only" lunch diet. When football season comes around, I lose all sense of common decency when it comes to eating. I just have no self control when it comes to displays of foods at tailgates! To that end, I've put myself on restriction for lunch. It's less of a weight thing and more of a heart healthy thing. It's ok to splurge once I week I figure if you control yourself during the week. I actually LOVE salads and Lean Cuisines, so it's not that hard. It just get's old day after day. I'm also making sure to cook heart healthy dinners during the week and ordering salads if we go out (like for girls' night tonight--woop woop!)
Well that's me! Back to work!