...proclaims that beer commercial. I'm here to tell you that why I do think that superstitions are silly, I still hang on to some pretty hard core when it comes to my team. Far be it from me to upset the time/space continuum and be the reason they lost the game. Here are some of my game day weirdnesses
1. I will only use my "lucky shaker".
If I leave it at home, we have a serious problem for sure, but I'm definitely not going to use your loaner shaker. No way. It's my shaker or no shaker. Otherwise, who knows what may happen. When my lucky shaker got stolen in Tennessee, it took me a long time to find another shaker with suitable luckiness. (PS--that theft resulted in my discovery of game day karma--please see #2)
RIP, lucky shaker #1
2. Game day karma
I will not be rude to anyone from the other team before, during, or after the game because I'm pretty sure there is gameday karma. You want to nearly run me down with your car while I'm trying to cross the street to get to the stadium? You'll only get a smile from me. I'm not going to do anything that may jeopardize the game--and polite people always win. I get mad at fans who taunt the other team's fans after a big play, because just as soon as you act like an idiot, our team is going to fumble and now you look really stupid. I'll taunt you, at that point. And when the team is out there dancing on the field like fools when they have narrowly escaped defeat? Um, no. Act like you've been there before and show some sportsmanship, because next time, you might not be dancing. Don't be cocky, because game day karma is going to find you. (And if you steal my shaker, your team will lose to my team for many years in a row--it's a proven fact.)
3. I won't wear the same outfit twice during the season
I"ll wear the same jeans or shoes but NOT the same "outfit". This applies to outfits I wear to watch games at home. I always thought this was a thing and then I found out for sure it was a thing last season. I wore this cute houndstooth print tunic over black leggings to watch the LSU game at a friend's house. We won in the final seconds--hooray! Well then the next weekend we went to see us play Texas A&M in Tuscaloosa and I felt that it would be a shame not to show off that cute of an outfit, so I wore it. And we lost. I didn't confess that until after we won the National Championship in January. See number 4 to learn more about my outfit dilemma with that dress.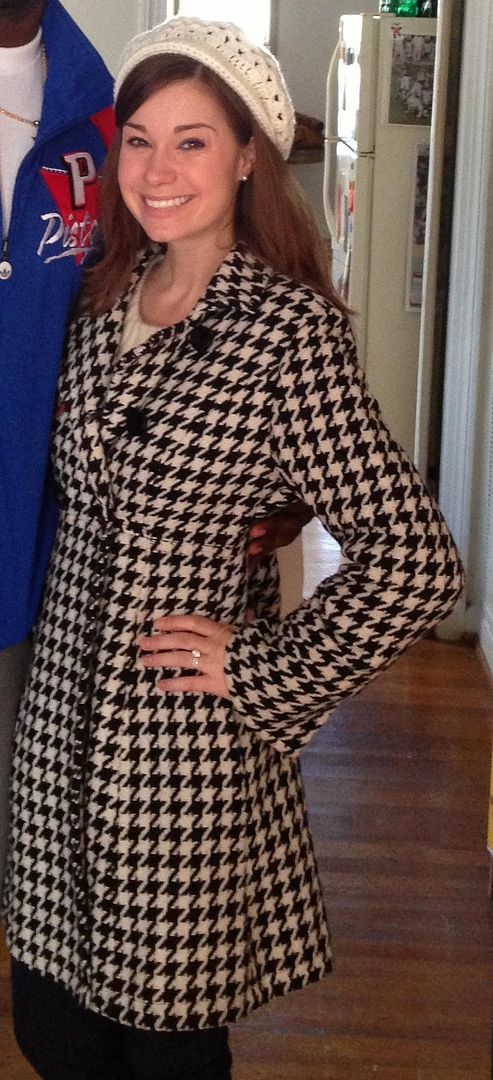 The rule applies to outer wear as well--I only get to wear this houndtooth coat once a season
4. I won't wear the houndstooth jacket until after the season ends--or any other outfits that I wore when we lost.
I have this adorable houndstooth jacket (not the coat from above). The collar is a BOW for crying out loud! I've worn it to 2 different home games and we lost both of them. Therefore, I won't even wear it during the season to work in case it's nasty powers work during the week. Because of this rule, I'm unsure what to do about the adorable houndstooth tunic from number 3. I mean, yes we lost in it, but can I wear it to a game in which we are assured a victory? (Have I gone totally crazy?)
See? It's so cute! But right after this Auburn beat us, so never, never again.
5. Elephant necklaces, etc with trunks pointing up only
When you are a Bama fan you are kind of lucky because you get good team colors (crimson and white and gray) and then the added bonus of houndstooth (because our famous coach, Bear Bryant, used to wear it) AND you get to wear elephants! To that end I have tons of elephant jewelry, scarves, etc, but I will only buy an elephant something or another if their trunks are pointing up. A friend from Peru told me that elephants with their trunks up are a symbol of good luck. Therefore, no bad luck elephants for me!! (and I might make you take yours off if you are sitting near me)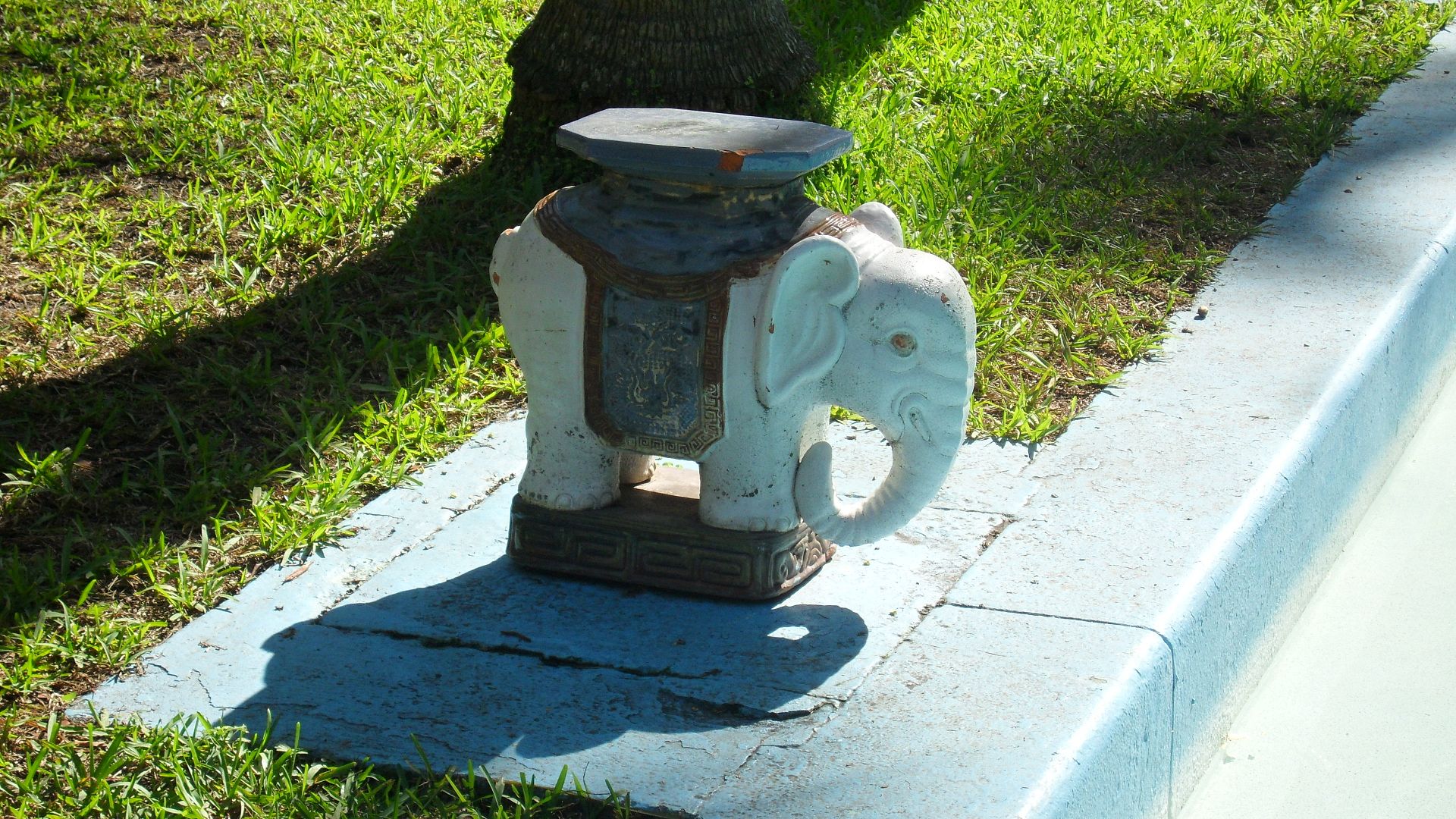 Sad, unlucky elephant
6. No game day pictures (unless we will definitely win)
I won't get my picture taken in the stadium until after we win. I mean, I don't want a picture of us somewhere that we've lost. I think that goes without saying. When I look at that picture I think "aww, look how happy I was before the carnage ensued" and that is not a feeling I want to have. Winning photos ONLY. Exceptions: when we will definitely win (sorry cupcake teams) and the reason below
Ok I found a picture where I broke this rule. The only reason we took this was because I had a stomach virus and I was afraid I wouldn't be able to make it through the game. Looking back though, I can't believe I was so flippant at such a big game (this is the National Championship game in Miami)
7. No game day shirts before the game
This is part and parcel with number 6. I don't want the SEC Championship shirt if we end up losing, so I'm not going to buy it until after the game. Yes, they may be sold out, but they sell them online too, my friends. I always think people who buy shirts pregame are being cocky, or else they don't care to waste $35 on a shirt from a game we lost, or they will actually wear the shirt even though we lost. Either way, I don't understand you.
8. I you leave the room/area and we start doing well, you can't come back.
If you try I will force you out. If we are really sucking badly we better rearrange seats until we start doing better. One time when I was young we were losing to LSU by 2 touch downs with less than 3 minutes to go. My dad got really mad and so he made us all go upstairs--well, we won. I'm sure it was all because of our shift, so now we do that if we really need to change our luck. During another LSU game, I was babysitting my cousin Sara and we scored while she was in the bathroom. I made her stay there the rest of the game (babysitter of the year), or at least, until she started crying. Well, she came out and we lost. I will never forgive her for that (love you Sara!).
9. I must eat Outback before any road game for us to win
When we travel with the Hayes to away games, it is a rule that we have to eat at the Outback. I started this on the way to Duke a few years ago, when we wanted to eat somewhere "sit down" but close to the interstate. We don't have Outback and there was one available so we chose that. We elected NOT to eat at Outback before an LSU away game one year and we lost. It was only then that we realized the winning powers of the Outback. This year we went separately to our opening in Atlanta and the Hayes ate at Outback and we didn't. Well, the defense was awesome but the offense was stagnant, so we realized that we both had to go to make it work. Despite the fact I was sick with the stomach bug at the National Championship game, I still ate some Outback bread before kick off to ensure a victory!
What are some of your game day superstitions??