We spent a beautiful weekend in Lexington, Kentucky and I'm thrilled to tell you all about it! If you are looking for a great place to visit, I highly recommend Lexington. The downtown area was clean and not sketchy, you could walk to many bars and restaurants, and there was some amazing architecture. With a variety of activities readily available, Lexington is a great place to visit for couples, families, or even a girls or guys weekend! Here are some of my suggestions:
Eat
We used Trip
Advisor
to help us select our restaurants, as per our usual, and we were NOT disappointed!
Tulip Bistro
I actually ate here with Deborah when we were in route to the Kentucky Derby in May. I knew our group would like it this time because of the variety of menu options, the great prices, and the atmosphere. I was right, of course! :) The best part of the Tulip Bistro is the location. It's not too far from downtown or the UK campus and you get to drive through some beautiful neighborhoods with some spectacular homes. You can even sit outside and enjoy the magnificent Kentucky weather, or you can keep up with your favorite teams inside, as they have plenty of tvs, without feeling like a sports bar.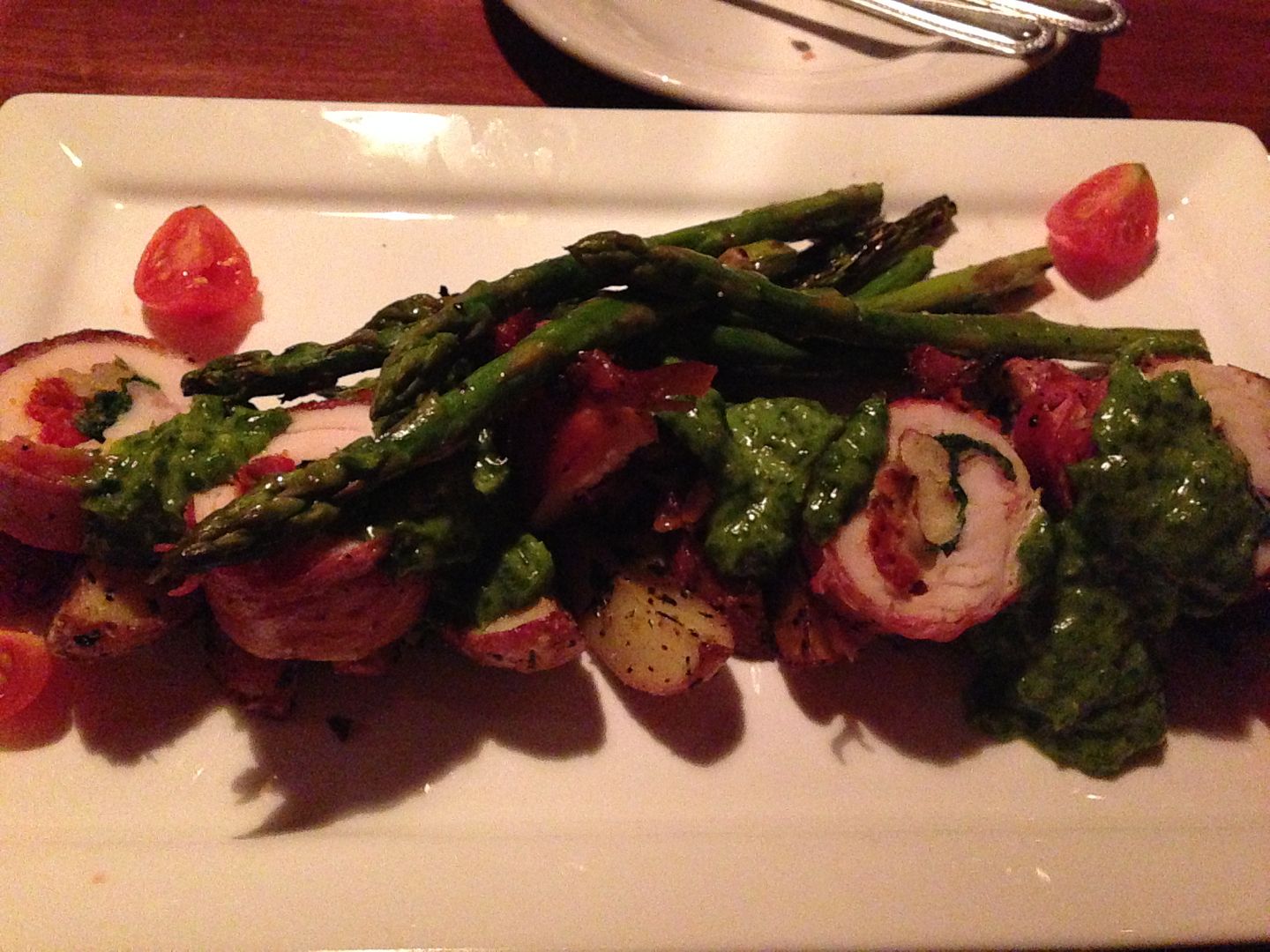 Prosciutto wrapped chicken stuffed with walnuts, sun dried tomatoes, spinach, and mozzarella, served with potatoes and asparagus and topped with pesto.
Table Three Ten
This place was near our hotel and reasonably priced, plus it had great reviews. We sat outside watching the people go by and thoroughly enjoyed our meal! My favorite parts of the restaurant itself were the plank board ceiling and the bathrooms--go figure.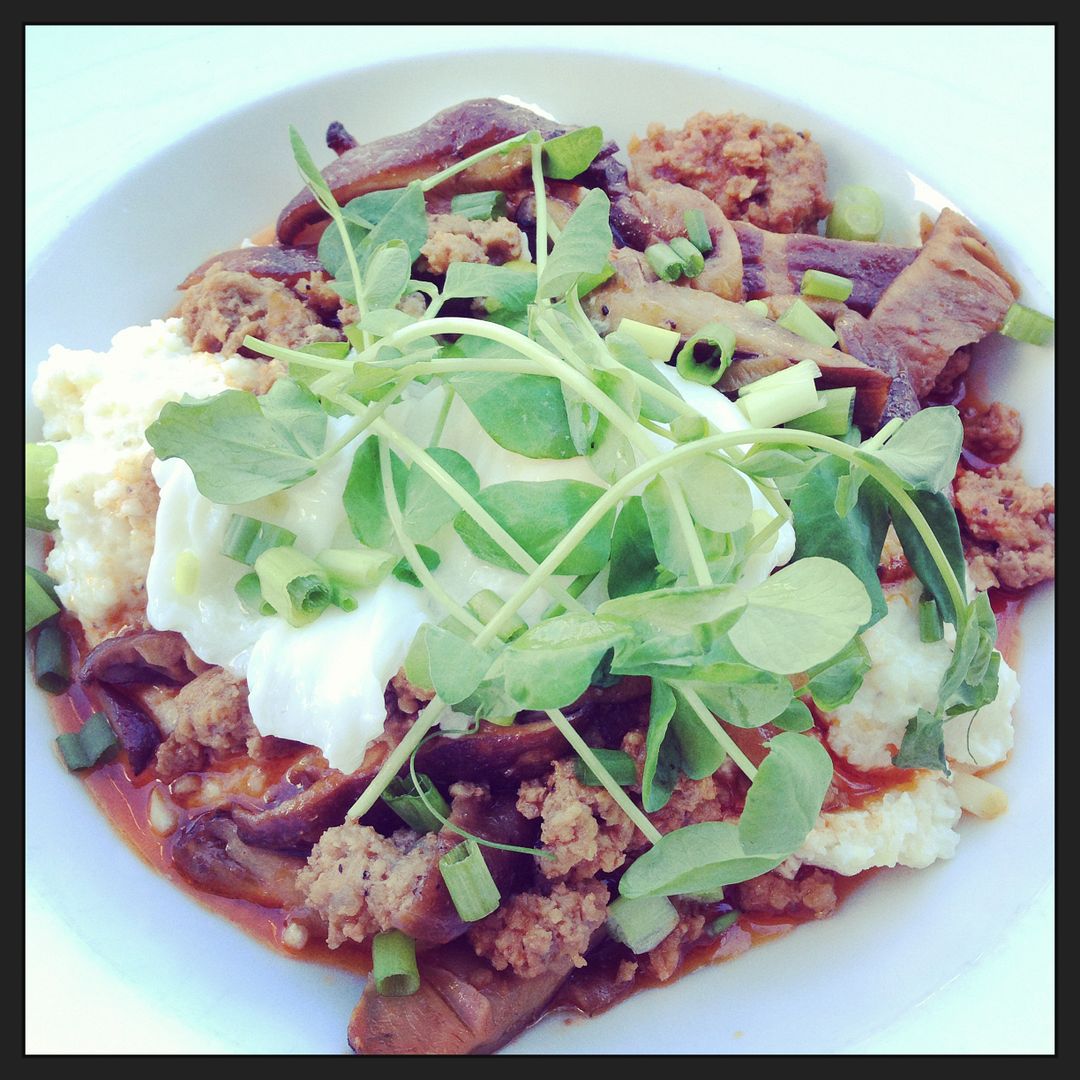 Grits with roasted shitake mushrooms and ground veal
Go
Keeneland
After my muddy experience at the
Kentucky Derby
, I had pretty much sworn off horse racing forever. That is, until our friends Alana and Matt invited us to Keeneland. No mud and I get to sit the whole time? Sign me up. They only hold Keeneland races in April and October so of course we weren't going to miss it since we were already going to be there. Everything about it was lovely and I would totally drive back this weekend to go again. It was the perfect event for hanging with friends, to take a date, and even to take your kids. I loved seeing little kids with their dads at the betting window shouting "I want the pink on Daddy", "I want to pick number 7!". Totally presh. I had a great time picking horses, although I really didn't know what I was doing, but it didn't matter because it was all around a great experience. We stayed for all 10 races! If you go, make sure to try the burgoo, the signature Kentucky soup!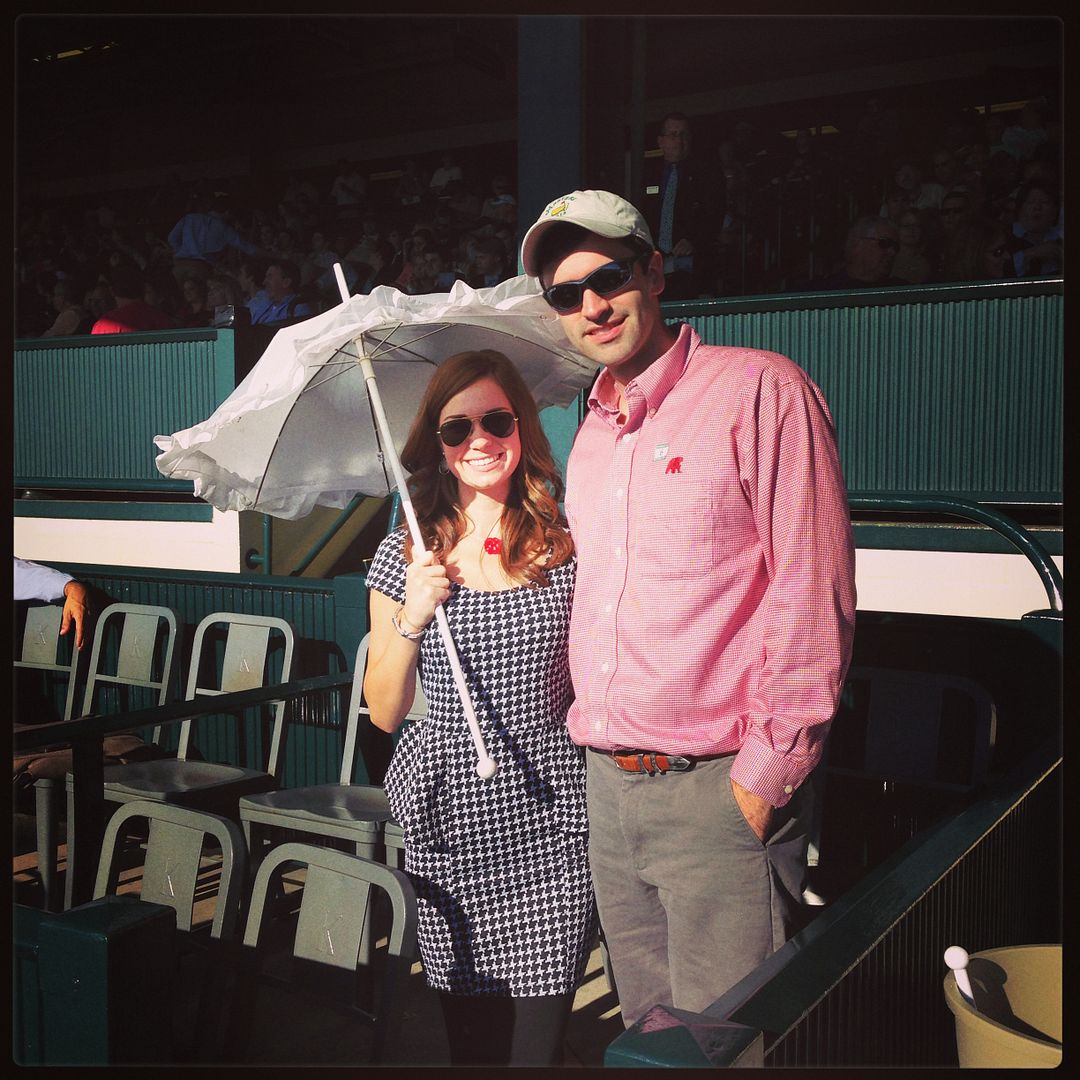 I'm down with any place that hands out parasols!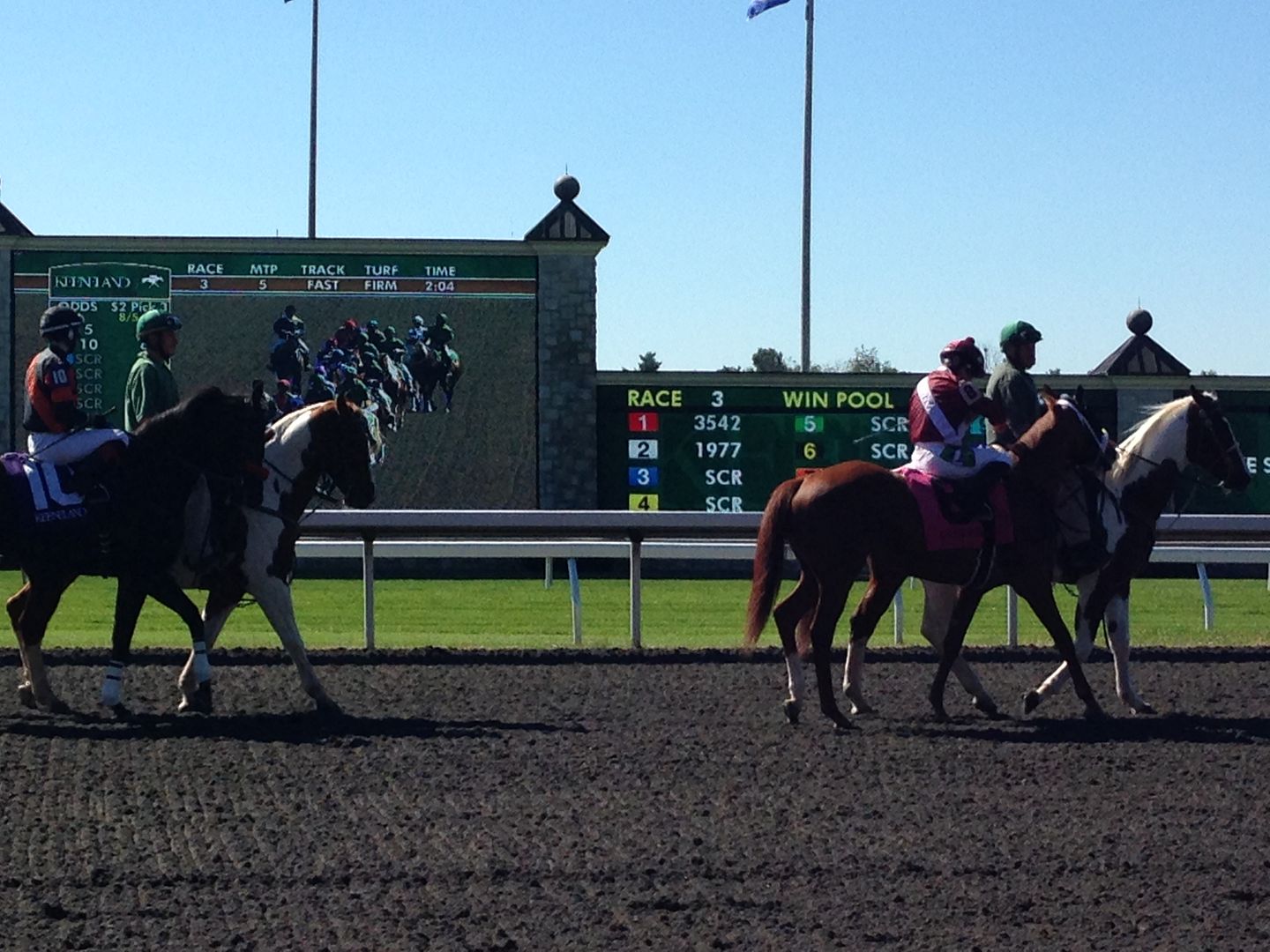 I LOVED the horses. They are gorgeous! You can by a general admission ticket and sit right up at the rails while watching the race. We did that once but I much preferred the shade!
Slightly blurry pic of me and Calvin Borel, a famous jockey who has won the Kentucky Derby!
Kentucky Football Game
If you like to travel for football games, you MUST go to Commonwealth Stadium. I have been to nearly all of the SEC stadiums and UK's is BY FAR the best. Great jumbo trons and banners, excellent views from any seat in the house, amazing music playing during time outs! UK is definitely a basketball school. We could have driven right up to the stadium, no one heckled us, and their fans cleared out pretty early. Again, if you want to take your kids to an away game, this is the place to go. They get the full game day experience, and you don't have to worry about some UK fan getting all obnoxious. Plus, you can get tickets for really cheap.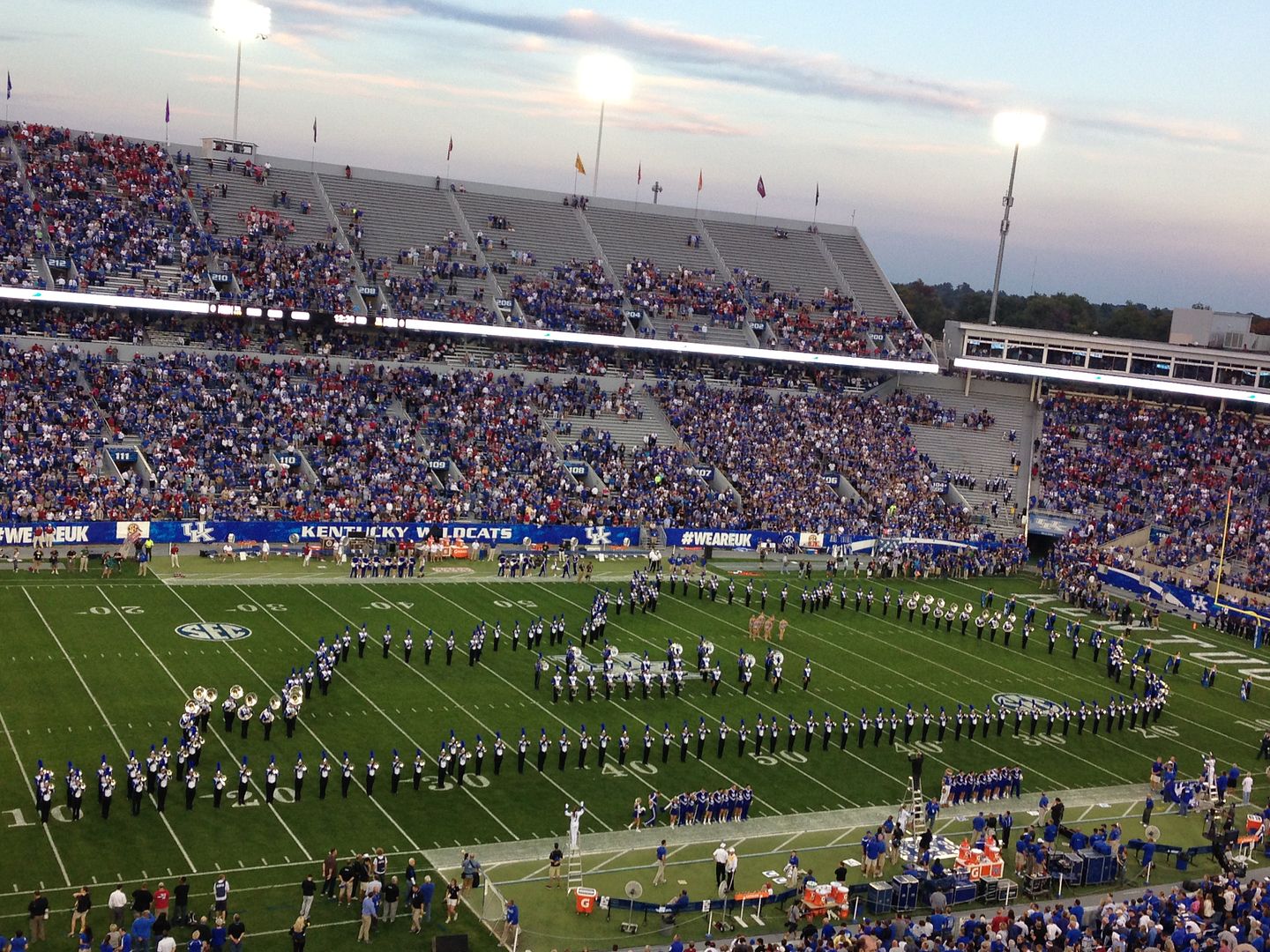 I mean the band forms out the state of Kentucky. That's pretty awesome if you ask me.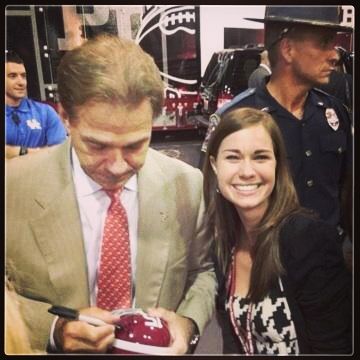 I'll do a post on all of the cool people we met this weekend later in the week, but suffice it to say, Nick Saban was the highlight.
Next Time....
Bourbon Tour
I'm actually NOT a big bourbon fan (yes I know this is nutty, especially since I went to the University of Alabama). It's just not my favorite. BUT--next time we go to Kentucky I definitely want to do a tour of a distillery or 2.
Bengals Game
Had the Bengals been playing at home we definitely would have gone. A friend of ours is actually on the team and we have never seen him play. Plus, it's fun to visit different stadiums and I have never been on an NFL game other than a preseason game.
Have you ever been to Lexington? Do you live there? What are your favorite places to eat, see, and go there??