I was BEYOND stoked when I received an email inviting me to a special media tour of the new West Elm store in Birmingham. Although I haven't actually purchased anything from West Elm before, I love their website and have been checking it out much more lately now that we are moving, so I couldn't wait to get myself into that store! Several other bloggers and I were given a tour of the new store before it opened an were told all about the West Elm brand and products. I for one, loved how they paid attention to local art and flavor, and how they give amateur artists and designers a chance to design for them on a national level. Also, their design center is top notch. They have in house, on staff designers that will help you design your room, totally free of charge. You can bring in your swatches, ideas, even your pinterest, and they will work with you until you are satisfied. They will even come to your house--for free! How cool is that!! I took about 8 million quick pictures on my phone and so I hope some of these are helpful in proving to you just how awesome West Elm really is! The design, the price, the service--you just can't beat it!
One of my favorite things about the store is that they show you how to use all of the items in the store together. Here we have dishes, napkins, vases, candles, from all over the store, but put together to help you with your own design concept. Plus, most of the furniture is on sale, as you can see!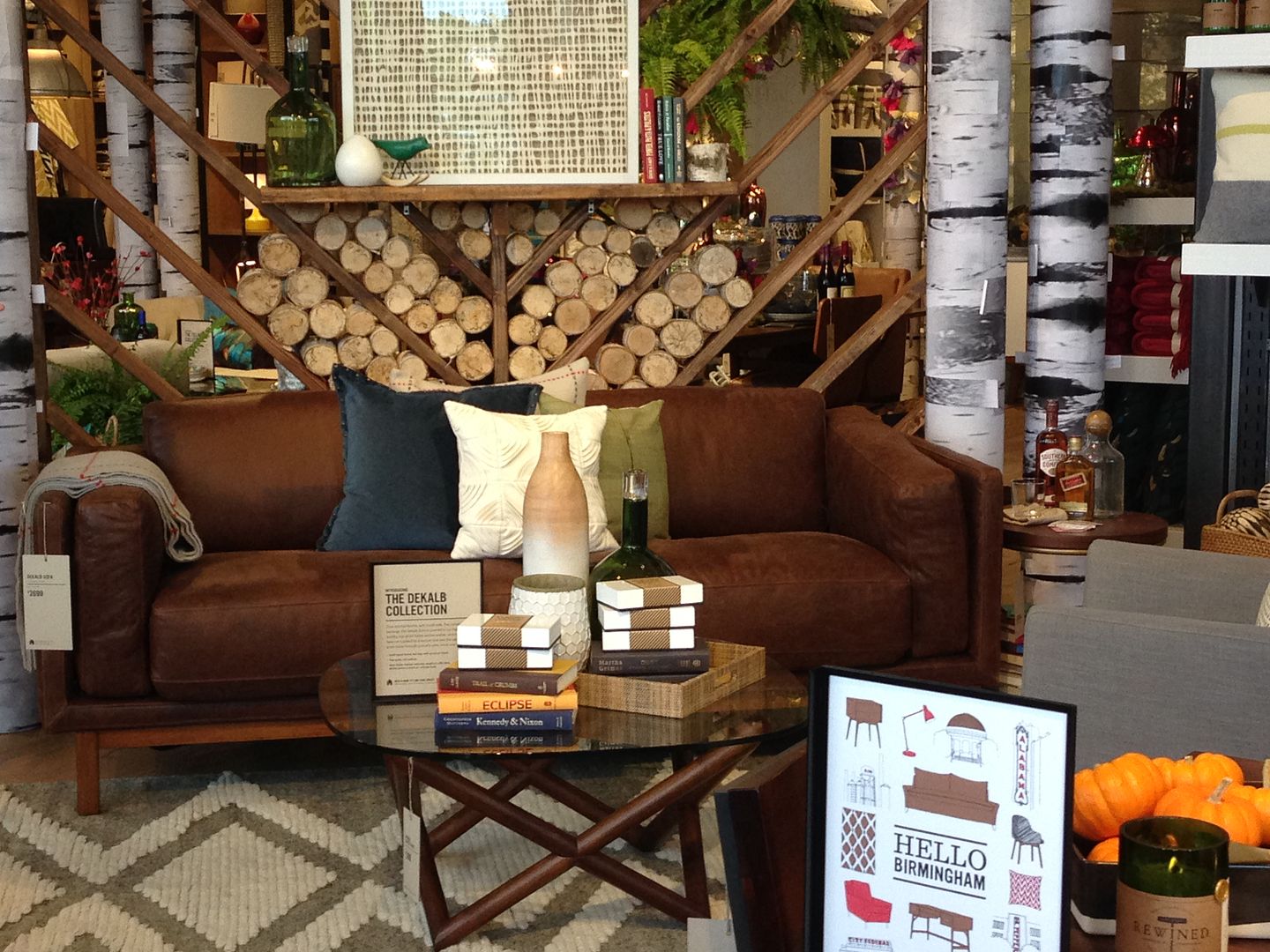 I really love how they have everything sorted by collections. This is the Dekalb collection, properly accessorized of course.
Here is the Rustic collection. One thing I really liked was that the collections have pieces for all areas of your home, so you can get this Rustic coffee table for your den and the side table for the bedroom and not look too matchy matchy. They do a good job of blending collections for a deeper design appeal.
Ok this is cool. Thousands of graphic artists submitted work to West Elm and some were chosen to be sold in stores! These are some of the cool designs! Also, the rhino head is part of their taxidermy collection. They have different white head all over the store.
West Elm is great about using plain white dishes as a base and then jazzing them up. For example, you can purchase these adorable dapper deer plates to put on top of your basic, every day white plates. By changing your accent plates and chargers, you can give your china a whole new look and feel without breaking the bank!
West Elm also worked with local Alabama Etsy artists and are selling many of their designs in the store! How cool!
I really need yall to know that really is the softest throw ever. Their regular, every day throw is also pretty soft and is only $19!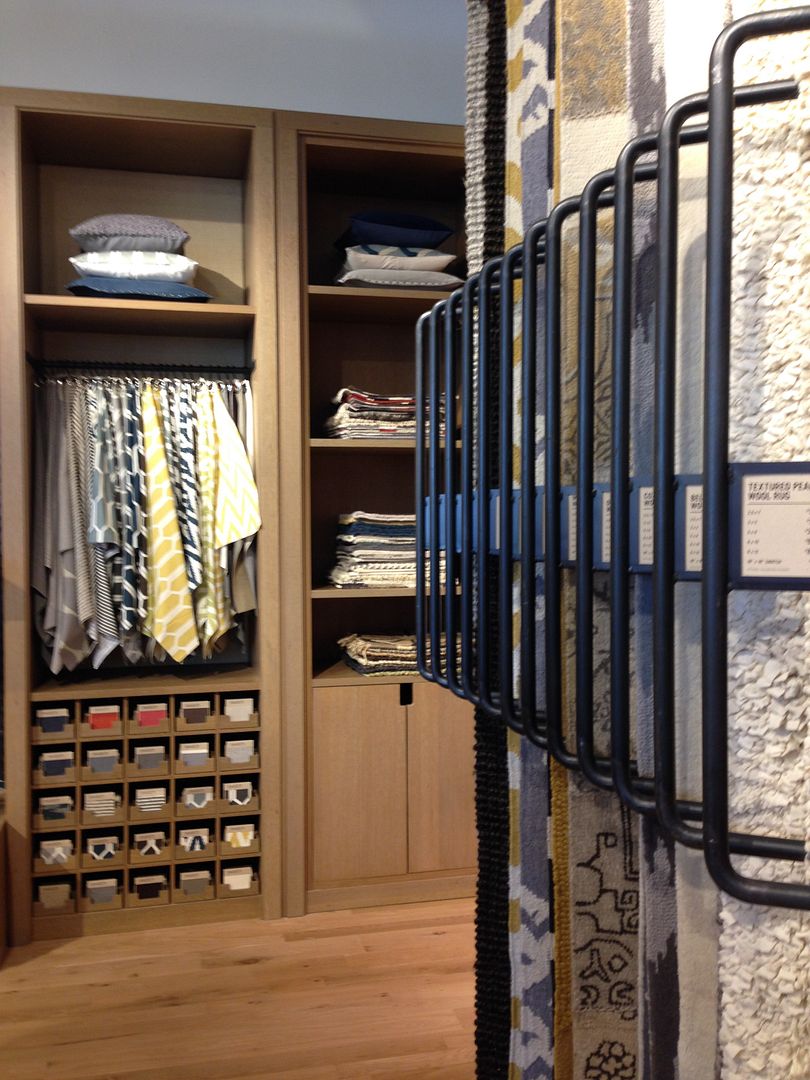 The design center, full of swatches and samples! You could spend HOURS in here mixing and matching!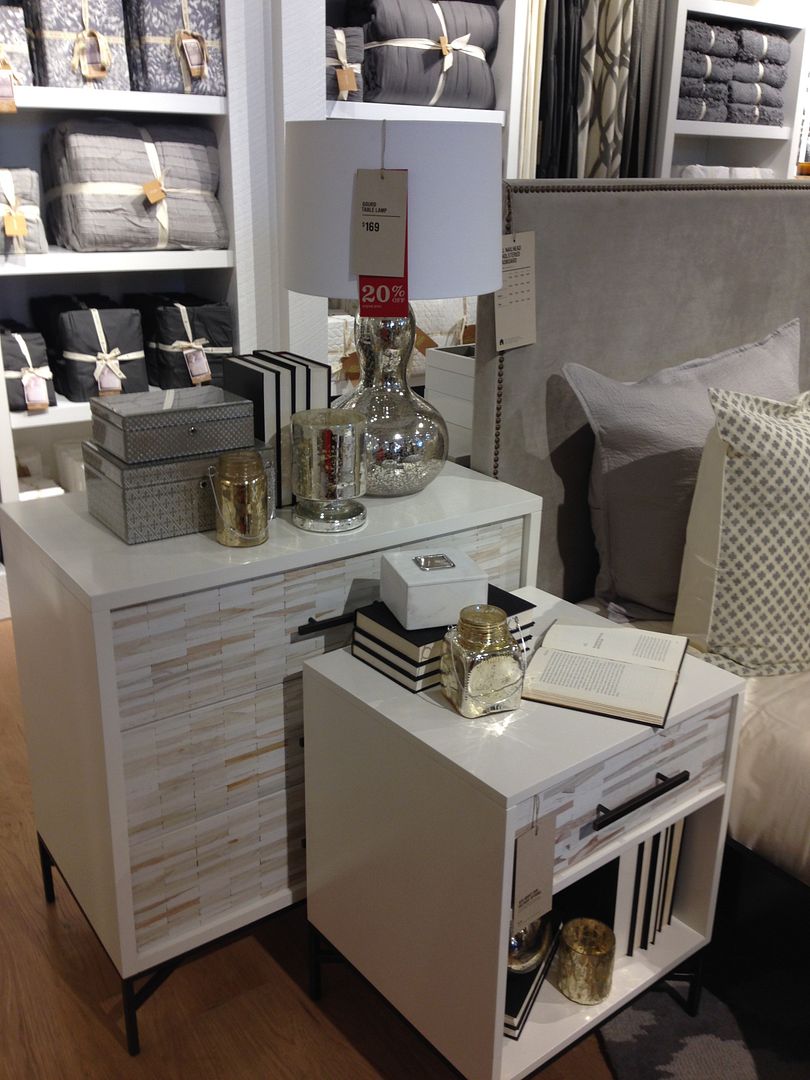 I personally need these white tables. I love this color scheme, don't you? I have got to incorporate these into my new house!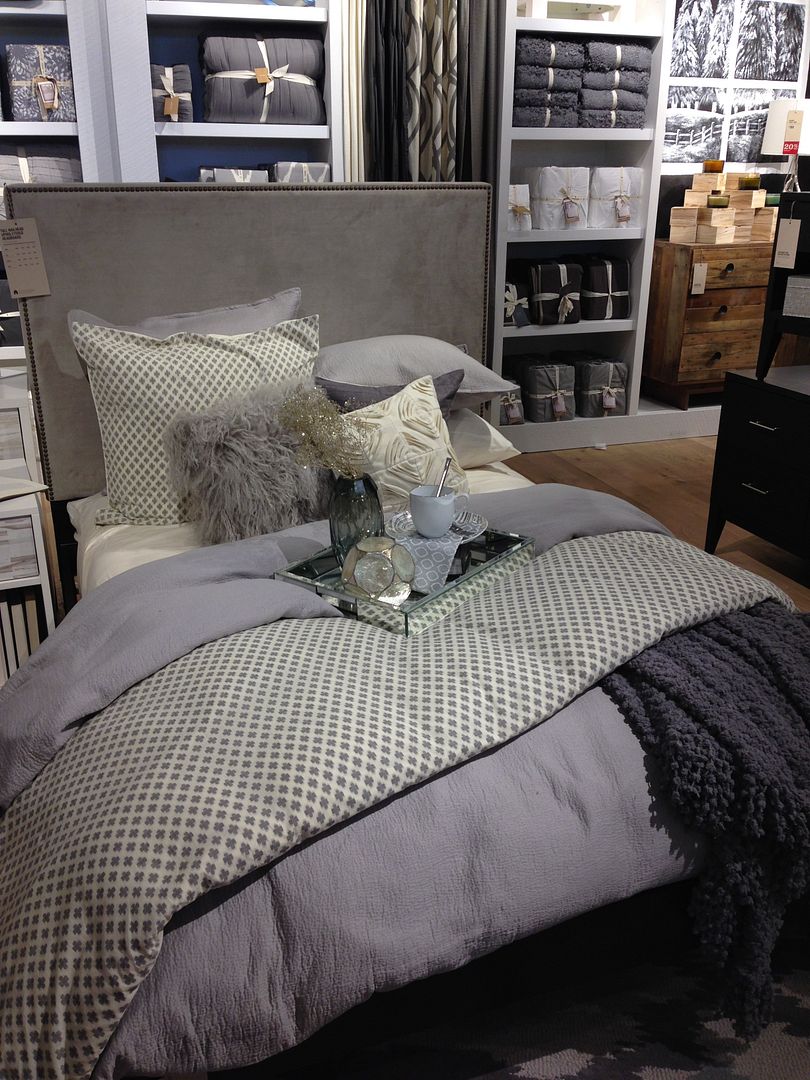 West Elm has something for every room, including the bed room! All of their beds are layered and look so cozy. I love again how you can start with something plain and simple and "umph" it up just by adding an inexpensive throw!
How cool is this coffee table??
Ok, these are just funny. We actually all got a fun shopping bag for attending the event! Thanks West Elm!
Now this is a bar that Don Draper would be proud of. I really need those glasses, like, really bad. This would look great in your dining room year round!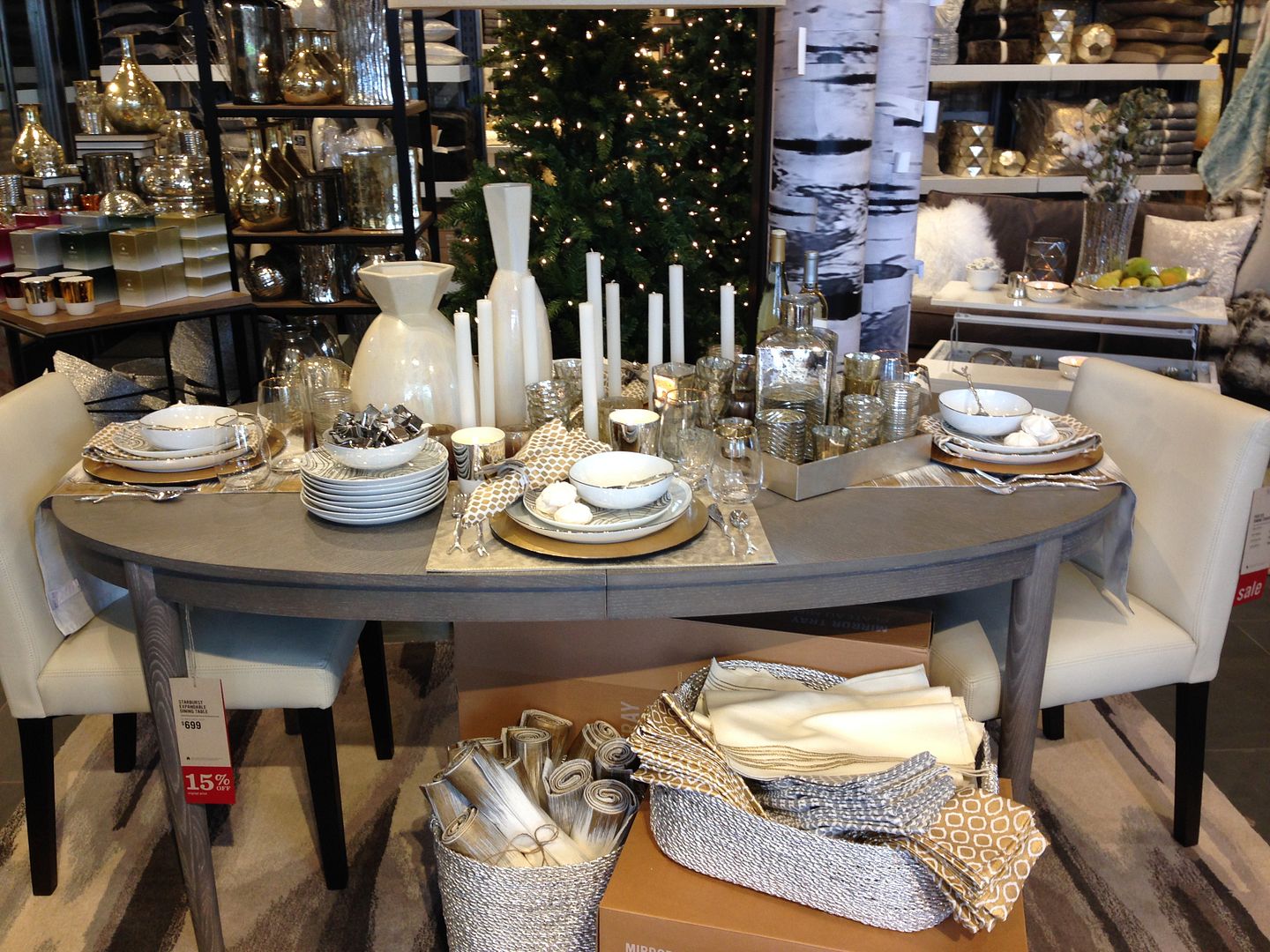 I think this tablescape is lovely. I love all the candles, the white and the gold, and the different textures.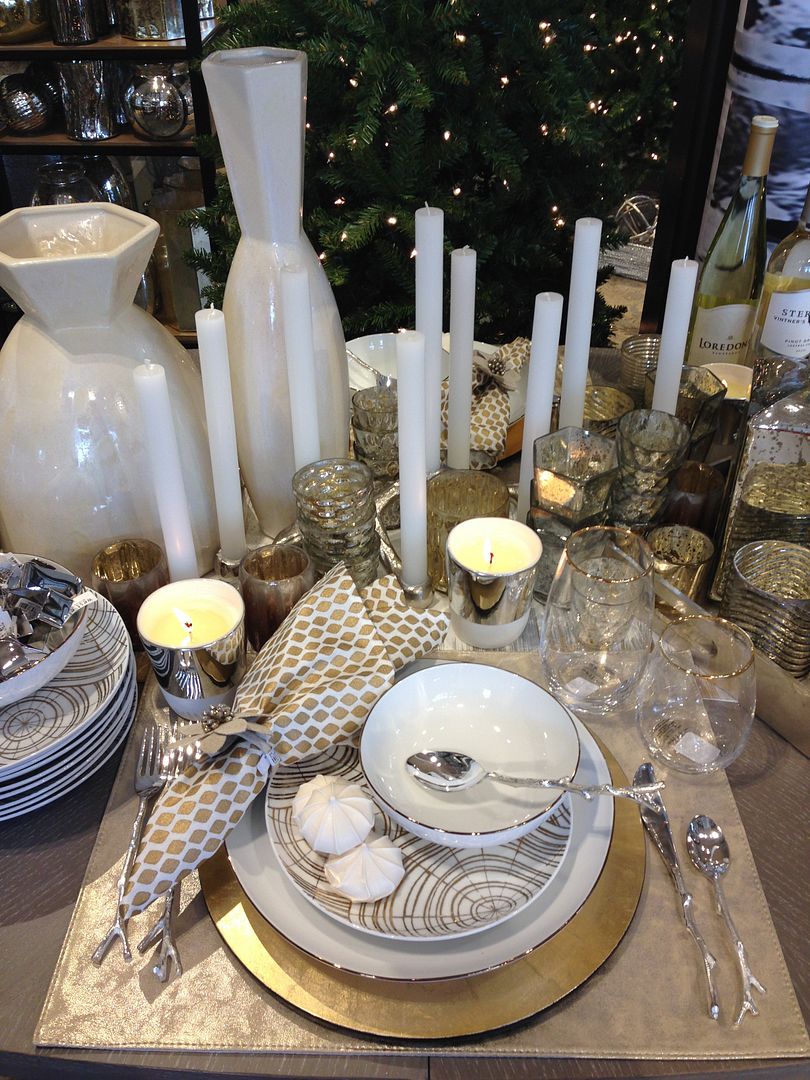 Close up of the table above. I really need those accent plates in silver to match my formal china. And the bowls, and the rimmed glasses, and the napkins. Hmmmmmm
Beautiful, colorful bowls, perfect for every room in the house! Eat out of them, put your jewelry in them, use it as a soap dish in your powder room. Some of these were as low as $4, so you can buy one in every color!
Ok--have I won you over to the West Elm team? I sure hope so! Check out their website or a store near you!! Thanks again, WE, for inviting me!
*West Elm did give me a gift card for attending the event but all of the opinions in this post are my own! They ROCK!