I did this post for my friends Josh and Wendy about a month ago and I hated that you guys had to miss out on my favorite football game party foods and party tips, especially since this was the topic of my latest
Gadsden Style
article! I hope you enjoy! I've included pictures and recipes below--just click the title link to access my tips for cooking and serving.
Appetizers
When I think of a game day party, I think of a variety of appetizers. I love nothing more than a table full of tiny foods that I can graze on for hours! You want to make sure to have a good variety available--some light, some hearty, some hot, and some cold, to ensure that you tickle the fancy of all of your guests! Some of my favorites include:
Bama Caviar
2 cans black eye peas, drained
1 can white corn, drained
2 medium tomatoes, chopped
4-5 green onions, chopped with tops
2 cloves garlic, minced
1 medium green pepper, chopped
1 jalapeno pepper, chopped
1 cup chopped onion
1 cup fresh parsley
2 small cans sliced black olives
1 bottle Italian salad dressing
Mix together and cover to sit over night in the fridge. In the morning, drain and serve.
1 9 oz package of Three Cheese Tortellini ,(I used Buitoni )cooked to package directions
1 can Medium or Large pitted Black Olives
1 5.75 oz jar Green Olives
2 12 oz containers of marinated mozzarella balls(of course I couldn't find marinated)
15 slices of Salami, cut in half
30 pieces of pepperoni
1 cup Balsamic Vinaigrette Salad Dressing (store bought or homemade)
30 Skewers How ever many you want to make. I had to cut mine in half
Place the cooked tortellini in a bowl or large gallon freeze bag. Pour the salad dressing over the top and marinade in the fridge for a few hours.
Drain the pasta.
Place one of each item onto the skewer using the pointy side.
Can be made a few hours in advance. Just cover tightly and place in the refrigerator.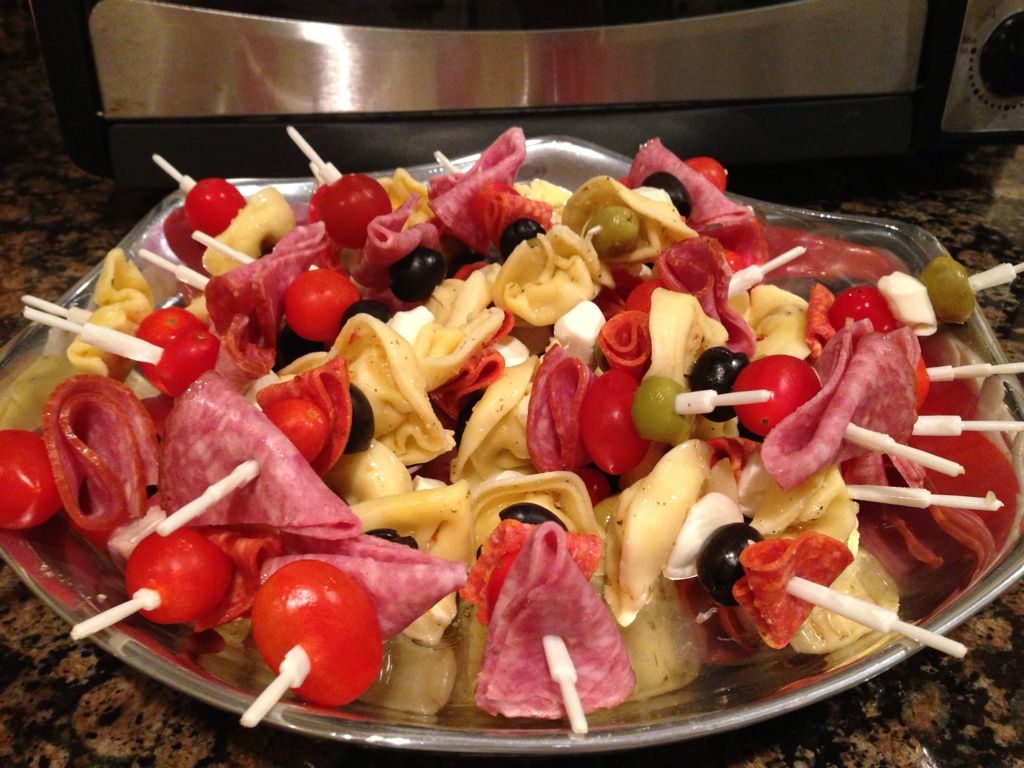 Baked Feta
I had this at a restaurant before and then found it in a cookbook. I ended up "cheating" and doing it the easy way!
3 5oz containers of crumbled Feta cheese
1 1/2 jars marinara sauce (I used Garlic and Carmelized onion mixed with half a jar of mushroom)
Stir together in a 9x9 baking dish. Bake at 350 for 25 minutes. Serve with crostini.
Brown Sugar Brie
13.2 ounce wheel of Brie
2/3 cup pecans (2.5 ounces), toasted and chopped
1/4 cup brown sugar
2 1/2 tablespoons Kahlua
crackers
1-2 sweet apples (like Honeycrisp or Gala)
directions:
Preheat oven to 350º F. Using a knife, score a circle around the top edge of the brie (leave 1/4 inch rim). Take a spoon and scrape the white rind off the center circle of the brie (to the inside of the 1/4" rim). Place brie on the center of and oven safe platter.
Mix the pecans, brown sugar, and Kahlua in a small bowl. Carefully place the mixture in then center of the brie and spread to the edges (staying within the 1/4" rim you left). Bake for 8-15 minutes until brown sugar/pecan mixture begins to bubble. Be careful not to overcook (the brie will literally melt and loose its shape if baked too long). You want it nice a warm.
Serve with crackers and apple slices.
Desserts
You will of course want to serve some sweets with your appetizers. Cookies and brownies, and I love these Neiman Marcus brownies!
Neiman Marcus Brownies
1 Butter Pecan Cake Mix
1 Stick butter, melted
--Mix these together and press into greased 13x9 pan.
1 8oz cream cheese
1 stick butter, melted (yes, another one)
1 box powdered sugar
2 eggs, beaten
Combine these things with electric mixer and pour over 1st layer. Top with 1 cup chopped pecans if desired (I don't do the pecans because some people are allergic to nuts).
Bake at 300 for 50 min or until golden brown. (mine take about an hour when I use the white dish below)
Game Day Meals
Nothing says "football" like a hearty bowl of chili or soup. I love serving soups during games because they allow me, as the hostess, to set it and forget it while I am enjoying my guests and cheering on my team. I like to serve this Chicken Tortilla Soup from the
Pioneer Woman
because it is unexpected and actually healthy!
Chicken Tortilla Soup (a la Pioneer Woman)
Ingredients
2 whole Boneless, Skinless Chicken Breasts
1 Tablespoon Olive Oil
1-1/2 teaspoon Cumin
1 teaspoon Chili Powder
1/2 teaspoon Garlic Powder
1/2 teaspoon Salt
1 Tablespoon Olive Oil
1 cup Diced Onion
1/4 cup Diced Green Bell Pepper
1/4 cup Red Bell Pepper
3 cloves Garlic, Minced
1 can (10 Oz. Can) Rotel Tomatoes And Green Chilies
32 ounces, fluid Low Sodium Chicken Stock
3 Tablespoons Tomato Paste
4 cups Hot Water
2 cans (15 Oz. Can) Black Beans, Drained
3 Tablespoons Cornmeal Or Masa
5 whole Corn Tortillas, Cut Into Uniform Strips Around 2 To 3 Inches
_____
FOR THE GARNISHES:
Sour Cream
Diced Avocado
Diced Red Onion
Salsa Or Pico De Gallo
Grated Monterey Jack Cheese
Cilantro
Preparation Instructions
Preheat oven to 375 degrees. Mix cumin, chili pepper, garlic powder, and salt. Drizzle 1 tablespoon olive oil on chicken breasts, then sprinkle a small amount of spice mix on both sides. Set aside the rest of the spice mix.
Place chicken breasts on a baking sheet. Bake for 20 to 25 minutes, or until chicken is done.
Use two forks to shred chicken. Set aside.
Heat 1 tablespoon olive oil in a pot over medium high heat. Add onions, red pepper, green pepper, and minced garlic.
Stir and begin cooking, then add the rest of the spice mix. Stir to combine, then add shredded chicken and stir.
Pour in Rotel, chicken stock, tomato paste, water, and black beans. Bring to a boil, then reduce heat to a simmer. Simmer for 45 minutes, uncovered.
Mix cornmeal with a small amount of water. Pour into the soup, then simmer for an additional 30 minutes. Check seasonings, adding more if needed---add more chili powder if it needs more spice, and be sure not to undersalt. Turn off heat and allow to sit for 15 to 20 minutes before serving. Five minutes before serving, gently stir in tortilla strips.
Alcohol
If I'm serving alcohol, I like to go with a team color theme! Since I live in Alabama, you are either a red fan or a blue fan...
Bama Sangria
(actually this is
Pioneer Woman's
sangria)
2 cups pineapple chunks
2 Granny Smith apples, cored and cut into cubes
2 unpeeled lemons, thinly sliced
2 unpeeled limes, thinly sliced
1 cup green seedless grapes
1 cup red seedless grapes
1 small unpeeled orange, thinly sliced
1.5 liter red wine, such as cabernet sauvignon, merlot or pinot noir, chilled
1.5 liter dry white wine, such as chardonnay, sauvignon blanc or pinot grigio, chilled
1 cup orange or citrus flavored rum
1 cup orange or citrus flavored vodka
1 cup sugar
Ice, for serving
Directions
Place the fruit in a large vat. Pour in the red wine, white wine, citrus rum and citrus vodka. Next, to add a subtle sweetness, dissolve the sugar in 1 cup water and add it to the mix. Stir well, then cover and refrigerate for several hours, giving the fruit and liquids time to meld. Serve in glasses over ice, and have tongs nearby so guests can help themselves to the fruit.
Tiger Punch
(also great for baby boy showers!)
Ingredients:
Blue Curacao
2 bottles Lemonade (I used the bottled kind from the grocery store--it is lighter in color--good for mixing)
Peach Schnapps
Mix until desired color is achieved!
Want to see what else I'm cooking up this football season? You can check out my Game Day
Pinterest
boards. You can find all of my favorite recipes
HERE
as well!
Do you have any favorite game day treats/recipes? I'd love it if you'd share them with me!