I LOVE invitations. If I'm helping to host a party, I always try to be in charge of them. I could browse through them all day long! Finding the right invitation is actually very important--it sets the tone of your party and gives your guests a peek into the party. A good invitation should of course tell the time, date, and place of the party, but it also should set the tone and theme of the party. You really should be able to know what to wear to the party just by looking at the invitation (although a good hostess will instruct you on the actual invitation if there is a suggested guest code). Your invitation should be clutter free, meaning the design isn't too busy and the words shouldn't be squished on top of each other. Therefore, you need to pick a simple design AND a card that can fit all of the words you wish to send. Remember, the invitations set the tone so that should determine what words you actually use. You don't need to "cordially invite" people to your 80's dress up party--that's too formal, unless of course you are being ironic--and you would never tell to people to "Come on down" to celebrate your grandmother's 80th birthday (unless maybe it was a Price is Right theme). Definitely use your best judgement when it comes to wording so your guests understand exactly what the party is for. You also need to consider the font. I hate nothing more than a card with 8 hundred fonts on it. The standard rules say no more than 2 fonts, but you can bold some of those for emphasis. I actually like the 2 font idea because you can make important lines of text stand out from the rest. Again, make sure your fonts are in keeping with the tone of the party. Comic sans is not acceptable for a formal dinner party (or most things, fyi).
I think I can illustrate these points by showing you some great examples from my favorite invitation site,
Paper Style.
This is slightly blurry because I wanted to enlarge as much as possible so you could see the details I'm going to refer to. Notice the simple design--festive yet not too cluttered. This invitation accomplishes something very difficult--it's fancy/casual. Fancy/causal is my FAVORITE--the best of both worlds! You can tell it's a little fancy because of the background design but then we have the polka dots on the bow--polka dots are nearly always casual. This makes for a perfect in between type of event. The 2 fonts are perfectly balanced and reasonable. The print is all caps, making it casual, and the script is of course fancy. Props to these people on their script--it's totally reasonable.
I like the little rhyme at the top, but BE CAREFUL with these! Don't you hate getting those invitations that are one huge sappy poem? Limit your rhyme to 2 to 4 lines (haha) please! From this invitation I know that I'm supposed to be at a dinner with close friends, dressed nicely (no jeans and sweat shirts) but not formally (leave the prom dress at home). A+ to this invite!
**A word on RSVP--It is 100% rude NOT to rsvp to a party. It's even ruder to RSVP to another guest or to the guest of honor (like, if you are invited to a bridal shower hosted by friends of the bride, do NOT rsvp to the bride herself, rsvp to the hostesses!). It is not their job to handle the guest list! I have started to move away from "Regrets" only to RSVP simply because people today don't feel the need to RSVP at all, so I get no regrets, thinking I will have a full party, and then I only have 10 guests show up. RSVP means to call and let the hostess come if you are coming or not, so at least I know how many to plan for. Don't be mad at the hostess if she runs out of room or if you have no where to sit when in fact you didn't RSVP. It's your own fault! :) (CLEARLY this is a major pet peeve of mine!)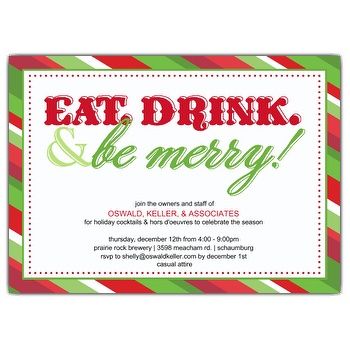 I LOVE this invitation too! So cute and funky and modern--perfect for this office party! It was very wise of them to include "casual attire" on the invitation, because people get nervous when going to a work event. They don't want to be under or over dressed in front of their bosses! I really like how they used one font but used the lower case letters for the information and used upper case letters for the business name. Typically changing the colors on your font is a no-no but this works very nicely.
Also, this card doesn't use the word "Christmas" in it. I know a lot of people get up in arms over the whole Christmas v. Holiday issue, so I'm really not going to get into all of that. However, this business is inviting people, including its staff, to an event around the holidays. It was totally savvy of them to say that they were "celebrating the season". I mean, there are lots of holidays in December, so come and celebrate yours!
By picking any of the holidays, Christmas, Hanukkah, etc, they might exclude people, and this seems to be a party for the entire group. Of course, if you are going to be celebrating a particular holiday or if the party is at your home, call it whatever you like! The invitation should again, explain the theme of the party, and as the hostess, you get to pick the theme! Follow me?
Ok I had to include this because it was adorable even though it breaks lots of the rules. It's a tad busy, the font is hard to read, the poem is longer than 4 lines and none of the important info is clearly visible (I'm guessing it's on the back). What a perfect girls night out invitation though! This is great if you are having a close group of girls over. The invitation does tell you what to wear (sassy party clothes), what you will be doing (drinking like there's no tomorrow), and hopefully on the back, where you will partying it up and when. To make it even better, change the font and put the party info where that poem is--ta da! Fixed it!
My last invitation suggestion is this: if you are throwing a party for someone, like a bridal shower, etc, PLEASE ask the guest of honor what kind of invitation she wants! Some don't care and others really do, so it is always a good idea, and good manners, to check.
Happy planning!
Do you love invitations like me? What are your invitation pet peeves??