Hello and happy Veterans Day! A special shout out to all of our Veterans and active military personnel today. Your sacrifice to keep our country safe is truly appreciated! Special love today goes out to our sweet office runner, Clark, who is a veteran!
Ok so it's time to update you on the weekend. I'm sure you know where this is going--Bama football. The LSU game is one of the biggest games we play during the entire regular season. Usually, the fans are whipped into a frenzy on both sides by the time this game rolls around. LSU and Bama are in the same division of the SEC, and usually the winner of this game goes to the SEC Championship, which always has BCS national championship significance. This year was a little different because LSU had 2 losses so they definitely couldn't secure a SEC championship spot with a win, but wouldn't they like to take us down during our undefeated run. Forrest and I stayed in Friday night resting and getting our game faces on for the big game. We didn't have to leave until 1 so we also got to relax all Saturday morning. Of course, the ESPN guys were making me pretty nervous about the game, and on top of that I was watching bootlegged videos of the Miss Universe pageant on my phone, so I was pretty nervous (my sister is the 1st runner up to Miss USA and if she had won Miss Universe, my sister would have bumped up and been Miss USA).
We arrive in Tuscaloosa and went straight to the quad to do some tailgating. It had been YEARS since we were treated to a tailgate by the Heltons and I thought it was a good sign that they brought the tradition back for this big game. I was feeling very nostalgic at the tailgate because we started going to this same tailgate, put on by the family of one of Forrest's fraternity brothers, nearly 10 years ago. It made me feel pretty old, but at the same time, so thankful to have remained friends with everyone for so long!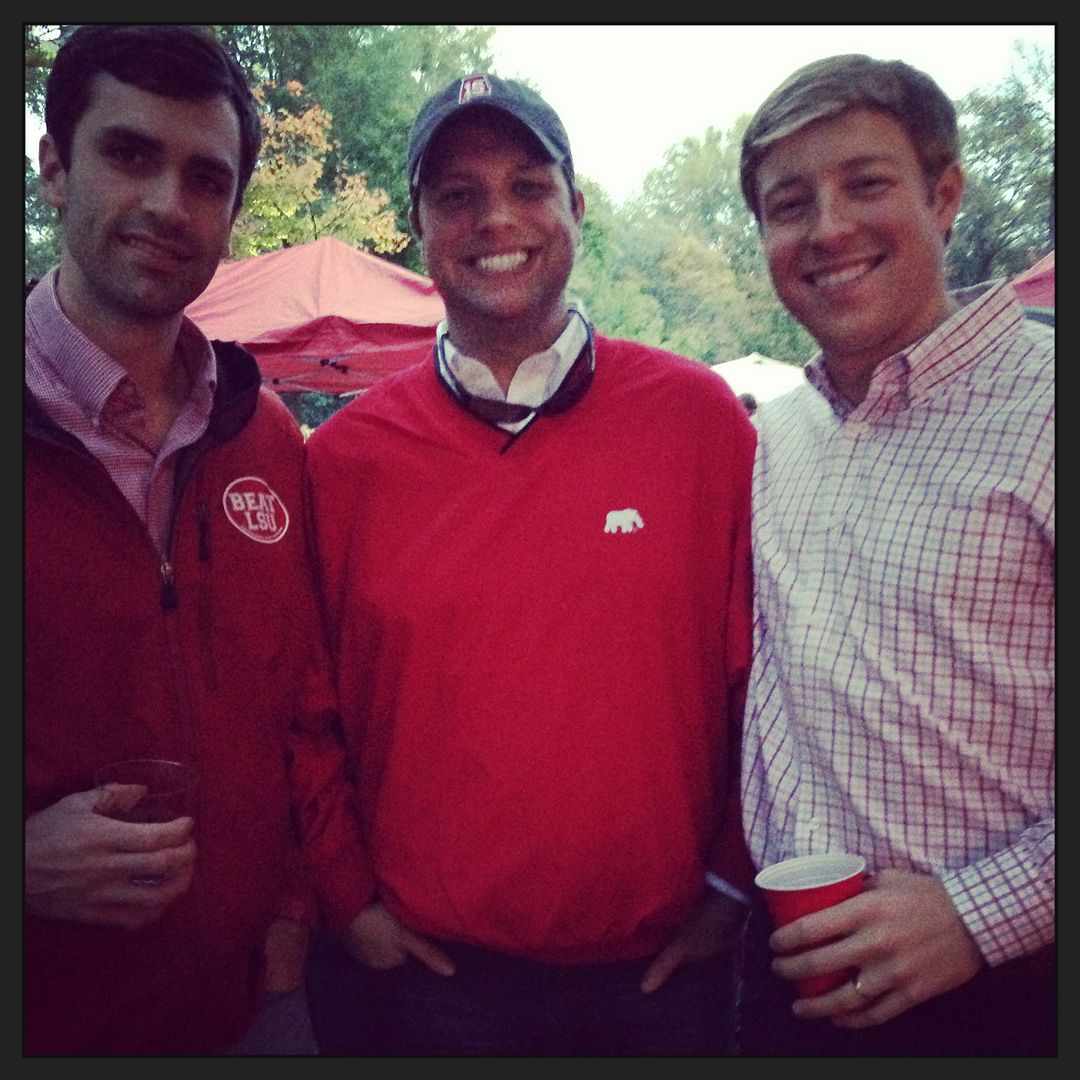 My brother wanted to come to the game and my friend Carla had an extra ticket, so I gave him mine and sat with her. My sister even got to come to the game, so the fam was all in one place for a change.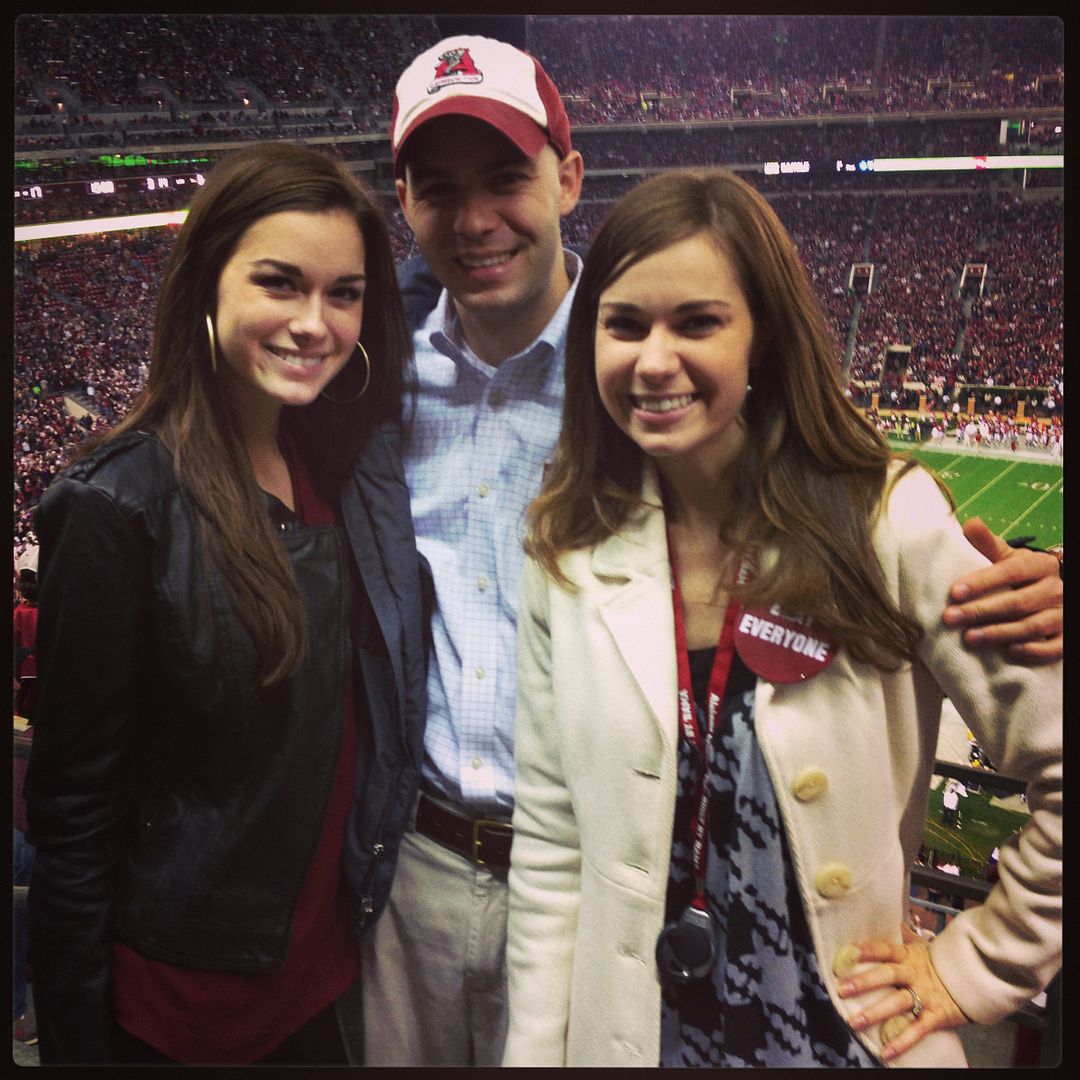 When the game started, we looked pretty terrible, I have to admit. I was so frustrated I slapped my leg with my shaker so hard that now I have a bruise. Yes, Nick Saban would be upset by my frustrations, I'm aware. After half time, we apparently got it together because it was a different game all together. We dominated, both the team AND the fans were in tip top fighting conditions. It was SO loud in there and SO much fun. That is my favorite kind of game--the kind where everyone is doing their part to be dominating. We screaming, cheered, danced, hugged strangers, and helped our team come out with a big win! It was great to see the Coach run around the field, waving and thanking the fans for our dedication. I didn't even mind driving us all home, or getting into bed at 2am, simply because the day was well worth it.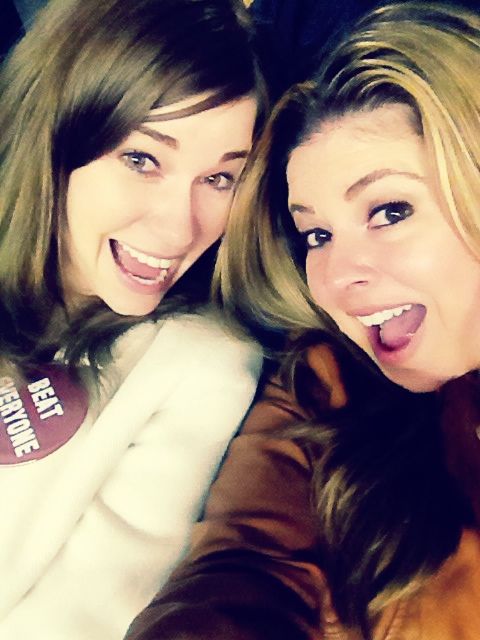 ROLL TIDE! "MHAQ"
Sunday was literally a day of rest. We got some errands done but mostly we looked like this the majority of the day: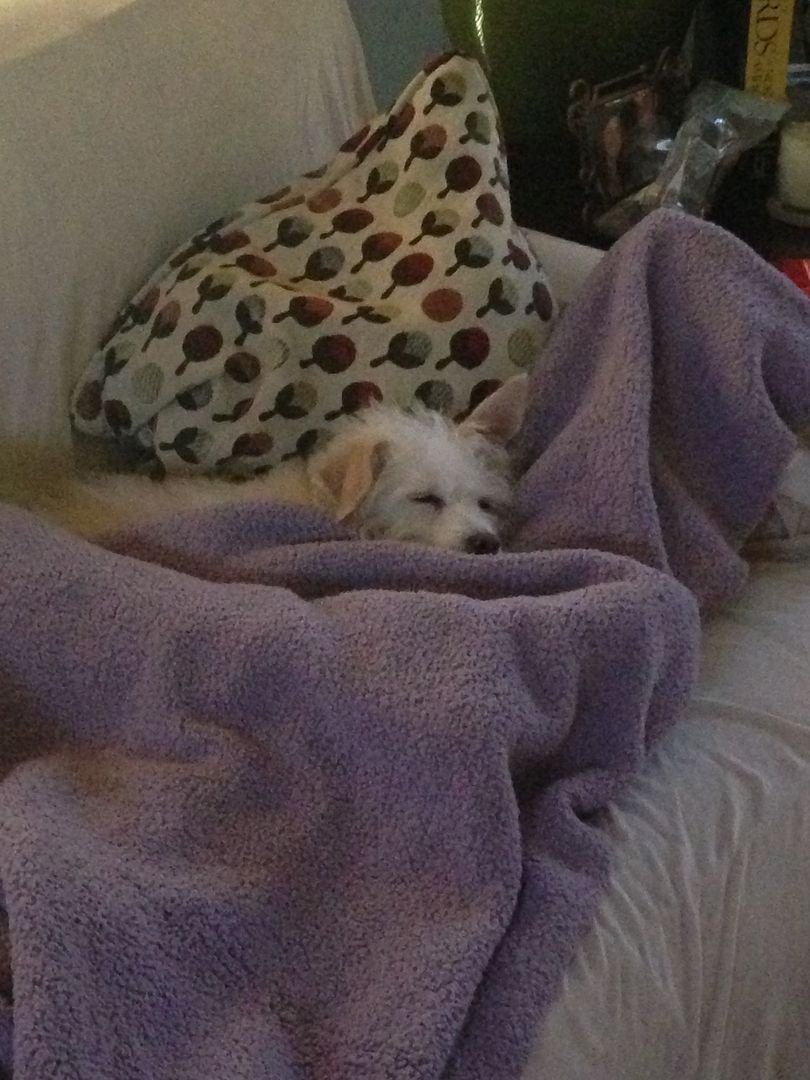 Ok--now I need to explain the title of my post. I wanted to get all the good stuff out there before I told this kind of icky story. While I was waiting on Carla to come back to her seats after half time, a girl comes shooting down the stairs from up above me and throws up all over the stairs in front of her and the hand rail. Poor girl keeps on running. Let me say that I couldn't tell how old she was or if she was sick or drunk or what, but she was pretty nimble getting down those stairs so I'm thinking sick. Anyway, I stood in the aisle (above said vomit) waiting for Carla so I could signal her to NOT step in it and to NOT touch the hand rail. The number of people who I saw glide their hand along the entire length of hand rail, vomit and all, was astounding, especially since I was there trying to flag them while waiting for Carla. Ick. Half of them didn't notice and half wiped their hand on their pants and kept going. THIS, my friends, is the reason I always use hand sanitizer--you never know when someone has just vomited on something you may have touched.
Did you watch our game this weekend? Thoughts??
Also, do you sanitize like I do? Surely I'm not the only one!!