Yes, that is what I was doing on Thanksgiving night. My tummy was full of carbs, we'd spent a fun day with family, and I'd already squeaked out a Thanksgiving nap. I actually had a terrible headache and was so ready to get home and lay in the quite and watch tv with a plate of leftovers on my chest.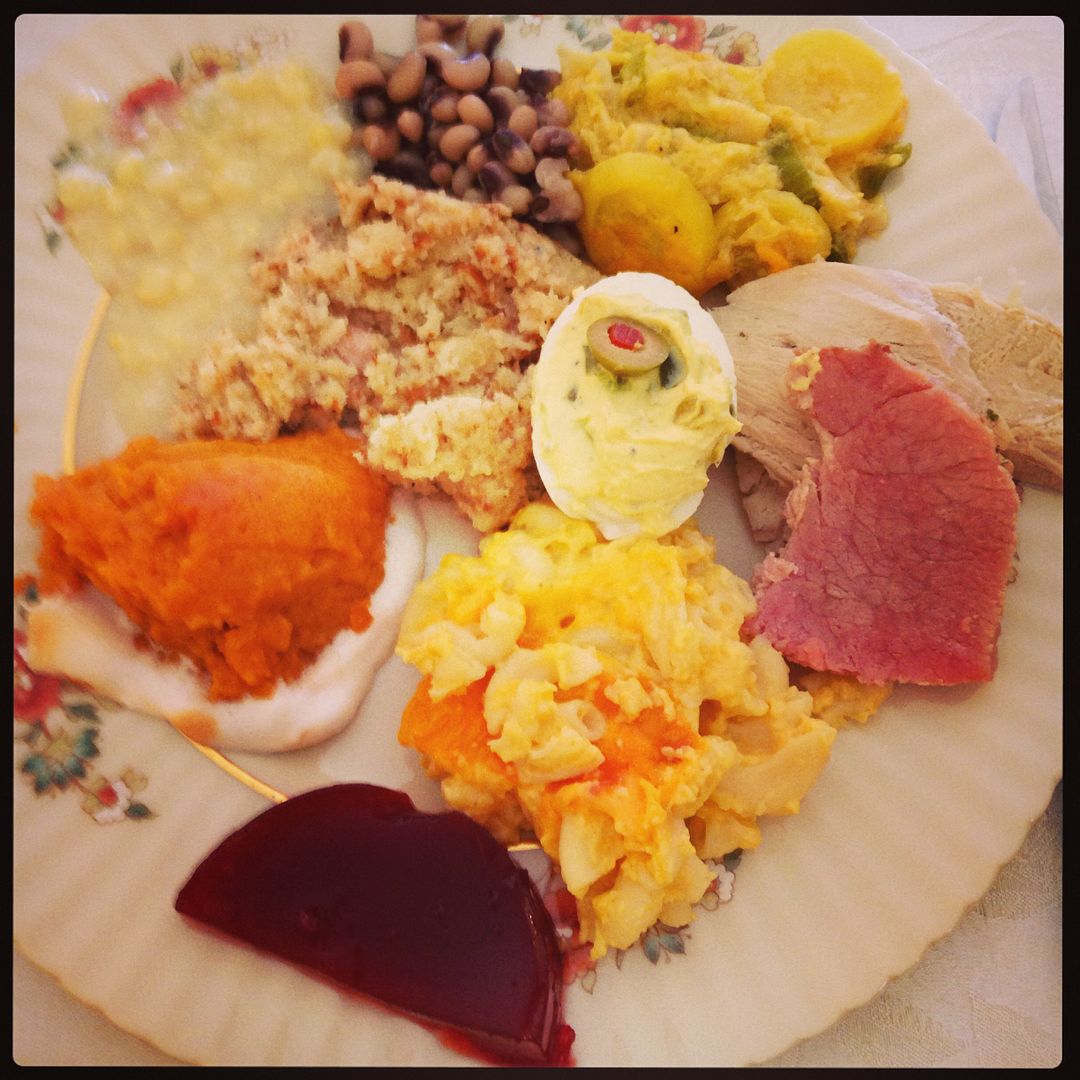 Can you blame me??
Forrest, however, had other plans. Forrest is a lover of black Friday and he honestly has been getting amazing deals for years. He's the camp out in the cold for hours kind of black Friday shopper. My first black Friday experience was last year and that was only because he couldn't be in two places at once. I really have no desire to brave the masses, fight people over coffee makers, and stay up past my bed time. Plus, if I have to wait outside, there is just nothing worth it in my mind. Except, well, for the washer and dryer for Forrest's office that was more than half off. On our way home on Thanksgiving we drove through the mall parking lot to assess the situation. I got really nervous because it was about 5:30 and he had gotten to the mall at 4 the year before and the line had already formed. No one was outside of Sears though so we went home so he could get warm clothes. The cars pouring into the mall parking lot revved my competitive engine, so instead of resting my headache, I suited up myself and went back with Forrest to the mall. No one was in line when we arrived but there were some people sitting in their cars. Thank you, oh warm-loving people of Gadsden. Thank you for deciding that it was ok to wait in the cars! We sat in the car with the heat on for about an hour. Every time someone would open their door I would scream and Forrest would leap out of the car. Luckily, most of these people were just on their phones and not forming a line. About an hour into the wait though, a group got in line. There were 4 of them and only 5 washer and dryer sets. Forrest posted up while I sat in the car. I didn't want to burn out all the gas so I just sat in the cold for a while until I realized I could go into the movie theater--hooray for heat! There were people lining up at the gated entrance to the mall from the movies--why? I have no idea. Apparently, the washer and dryer sets were not what people wanted at all--it was boots for $19.99, among other things. Considering those boots had been that price since Wednesday, I was shocked. I was only there to hang out with Forrest and to see if I could get a few gifts for his staff. If he hadn't gone, I would have stayed home. However, it was kind of fun, being in the frenzy. I did get some good deals, but probably nothing that I couldn't still get today. Forrest was the first person to get the washer and dryer set--apparently that wasn't a big draw at all! I was really shocked at that because I know I wouldn't wait outside for anything less than a super deal like that. This brings me to my discussion for today: Black Friday--love it or leave it? I see both sides of this argument. Thanksgiving should be about spending time with family. However, what if you don't do Thanksgiving on the actual day? Or what if, like us, you were done with Thanksgiving? In all the years Forrest has done Black Friday he has never missed any Thanksgiving time. Then you have to think about the workers. It totally sucks for them to have to cut their holiday short. Thanksgiving or not, no one wants to have a half-off work day, and probably no one wants to be working at 2am selling $10 sweaters. However, a friend of mine works at a store in the mall on Black Friday only! They pay her really well and so she makes lots of extra Christmas money. Ok so there's that. Then you have to think about the business owners. They know people love a great deal and they can entice them to come to their stores, day or night, to get said deals. Business is business and so from a business stand point, Black Friday has become such a huge deal that businesses would be remiss to not tap into it on some level I would imagine. I read an article saying that the shoppers were the problem. I can't entirely agree with that. If the shoppers didn't go, then the businesses wouldn't open. Yes. But if the businesses didn't offer such great deals (I'm talking the washer and dryer) than people wouldn't feel the need to go. Well, maybe yes they would because of all of the people that were at the mall for deals that were less than stellar in my eyes, but everyone has their own ideas of what they think is a good deal and what they want. Oh and we can't forget those people who literally physically assaulted others during the fray! Seriously! Anyway, what do you think about Black Friday? Do you shop? What kind of deals would entice you to stand in the cold or shop in the middle of the night??
And on the subject of deals, I got this awesome one night stay in Chattanooga for $132, including a wine and cheese plate and $50 towards dinner! I can't wait to cash this in for a quick vacation sometime soon!
https://www.livingsocial.com/deals/927043-romantic-chattanooga-b-b-wine?ref=share-post_purchase-copy_box-web-deals&rui=1193027&rpi=142510505