Over the holidays, we attended several events. At those events, I was acutely aware of a startling fact: people have no idea how to dress any more. I do not profess to be a beacon of style, and that is not what this post is about. When I say "how to dress" I mean how to dress appropriately for different events. Yes, there is a right and a wrong and yes it matters. Wearing the correct attire shows those around you that a) you care about the event and the people that are throwing it and b) you have some sort of knowledge of how to behave in public. You might not think that people care but they do--not in a snooty way, but because what you wear says so much about what you think about the people you are around. When those in the know see you dressed inappropriately at their event, then they think that you don't care about it/them--and that is something that you really should be conscious of and care about! Let's run a few examples, shall we?
Weddings
Weddings are always SO hard to dress for in my opinion because honestly brides mess them up. You may get the impression that the wedding is a casual event because of the bride's casual invitation, but when the wedding says 7pm, that means it is at minimum a cocktail event. You should always dress for the time of the party. However, that may be uncomfortable if you show up dressed appropriately and the rest of the group hasn't. What to do!!?? Here are a few simple rules of thumb based on the time of the event:
Afternoon wedding (like 2pm)
Wear something dressy that you would wear to a bridal shower or dressy church. A day wedding does not mean "casual", it means that you wear appropriate wedding attire for the day time. The is the only time you should ever wear a sundress to a wedding--never in the evening (unless it is maybe on a beach).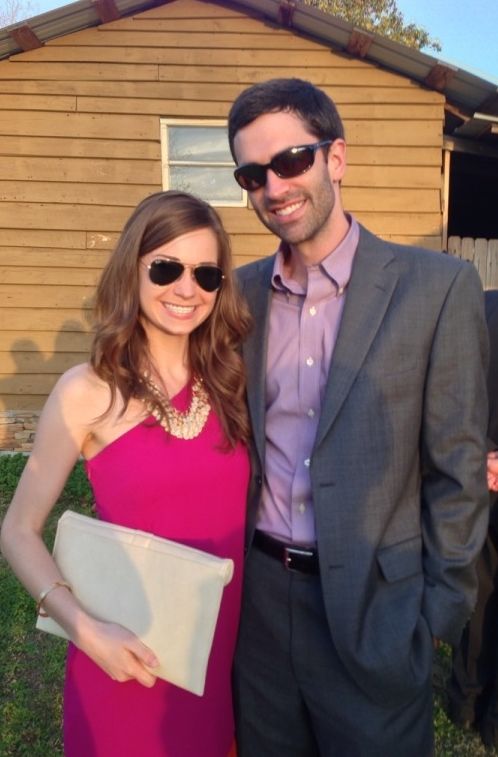 Day time wedding appropriate. Too dressy for a shower probably.
Evening Wedding:
The later the wedding, the dressier you should be. Anything "after 5" is considered cocktail attire, but you should be dressier for a 7pm wedding than for a 5pm wedding. A cocktail dress is obviously appropriate, as is a heeled shoe. For the love, do not wear a cardigan with your cocktail dress--cardigans are for day time, hence the cotton/knit fabric. Pick up a pashmina please! If you are going to an outdoor wedding during the cocktail hours, it is appropriate to wear wedges or other suitable shoes for standing outside. NEVER wear flip flops (again, unless maybe you are on a beach OR if you are getting your dance on!).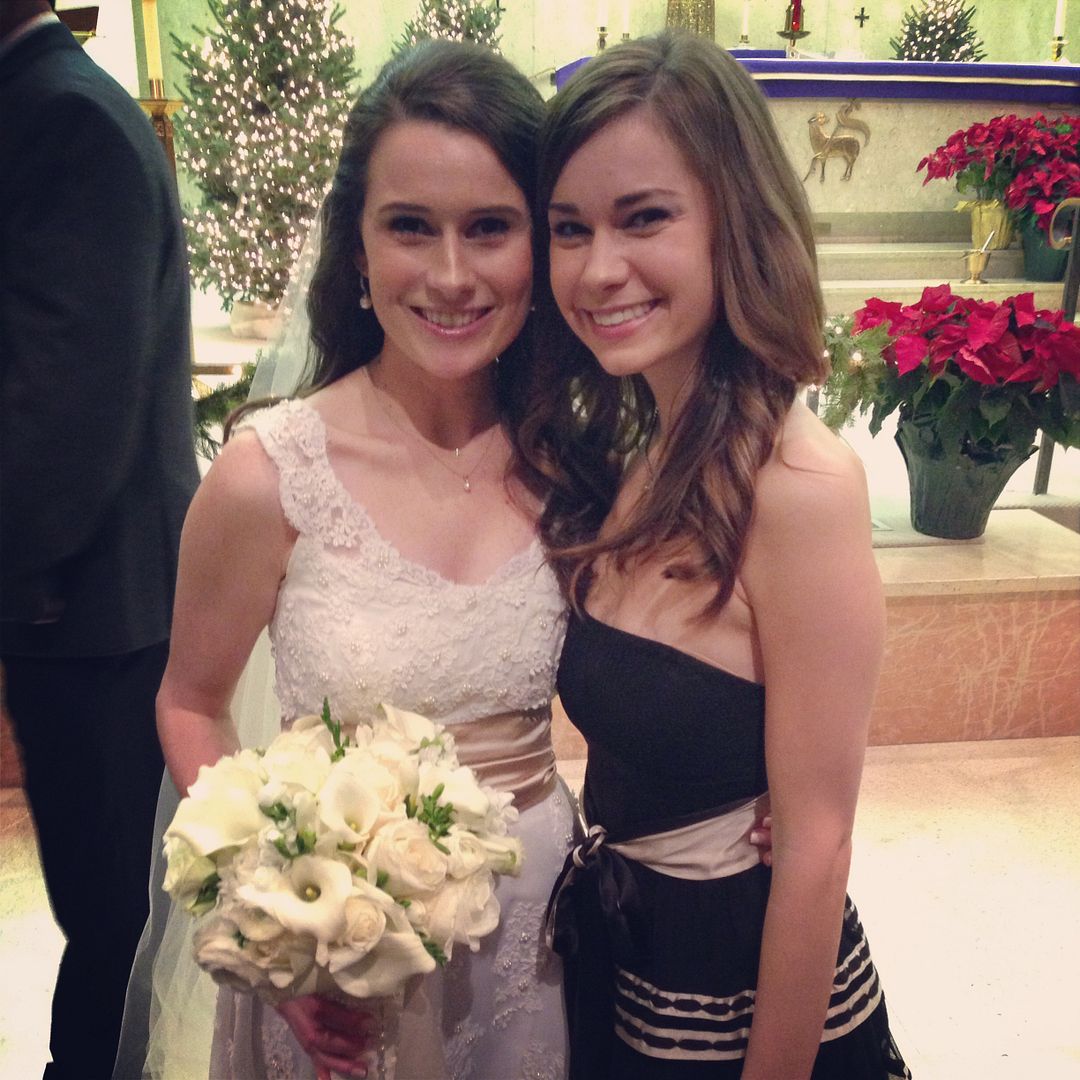 7pm wedding requires cocktail all the way! Would you stand up next to this gorgeous bride wearing flat boots and leggings? I think not!! And girls, please politely instruct your dates on what to wear--they are not always as savvy as us!!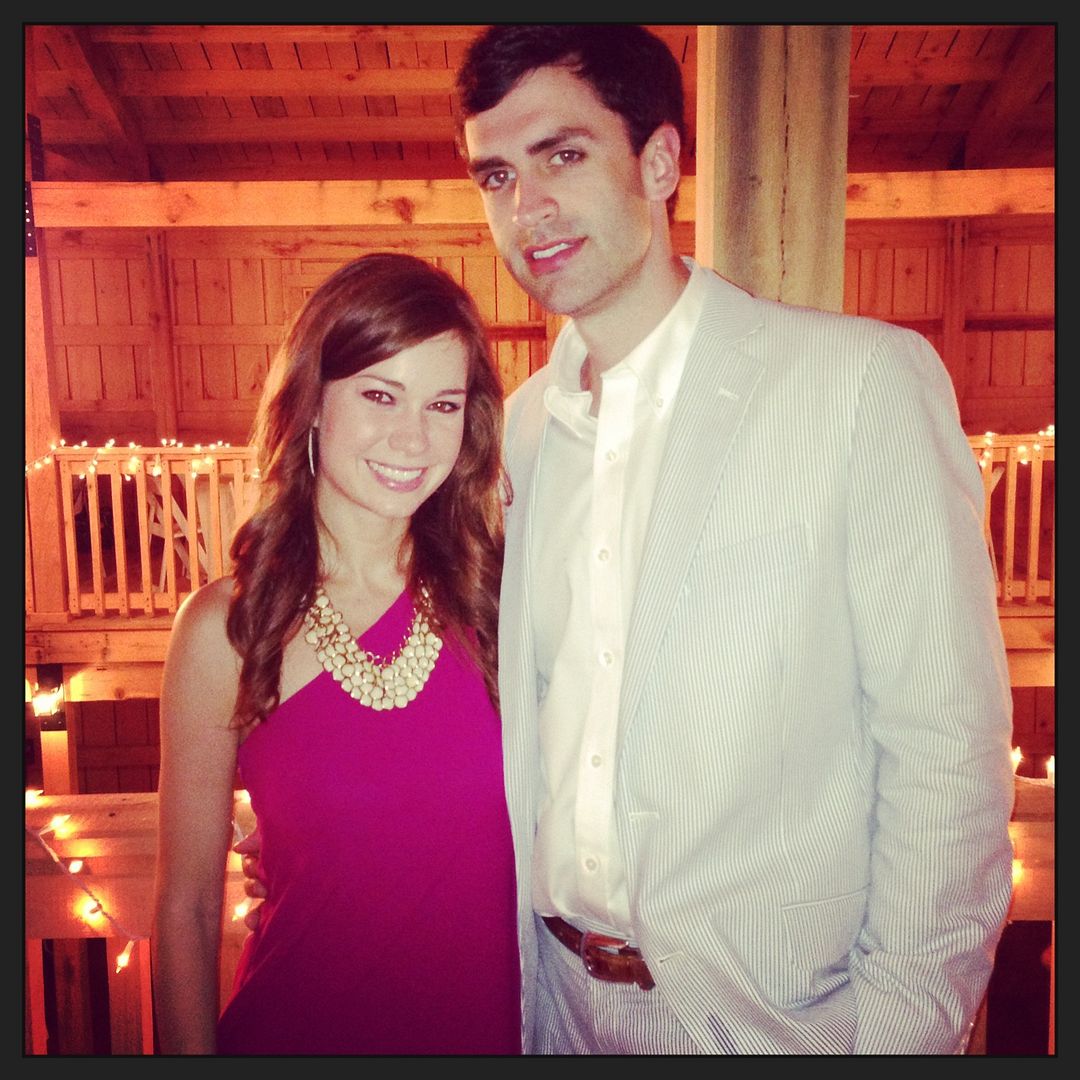 Remember this dress from the day time wedding? I recycled it for an evening wedding that was outside. The jewelry still works for night time and I wore metallic gold wedges since we were outside. (Forrest was wearing a tie before we started dancing...)
Cocktail Parties
Cocktail parties require a cocktail dress people! This usually involves some sort of shimmer, sequin. You cannot wear a church dress to a cocktail party--you cannot wear a cardigan to a cocktail party, and unless you are really old or incredibly chic, you can't wear pants. You can get a cocktail dress for $20 at TJMAXX. A cocktail dress requires appropriate heeled shoes (NO flats and no flip flops and probably not a wedge, although I've seen some wedges that are cocktail suitable) and accessories (no cardigans and no plastic day time jewelry). Tights are now being worn with cocktail dresses but do this at your own risk. I like the whole cocktail dress/tights combo because it's an easy way to dress down a cocktail dress for something like a rehearsal dinner or evening party when you know the attire is dressy but not quite "cocktail". However, don't wear tights with your cocktail dress at a real cocktail event--you will be too casual.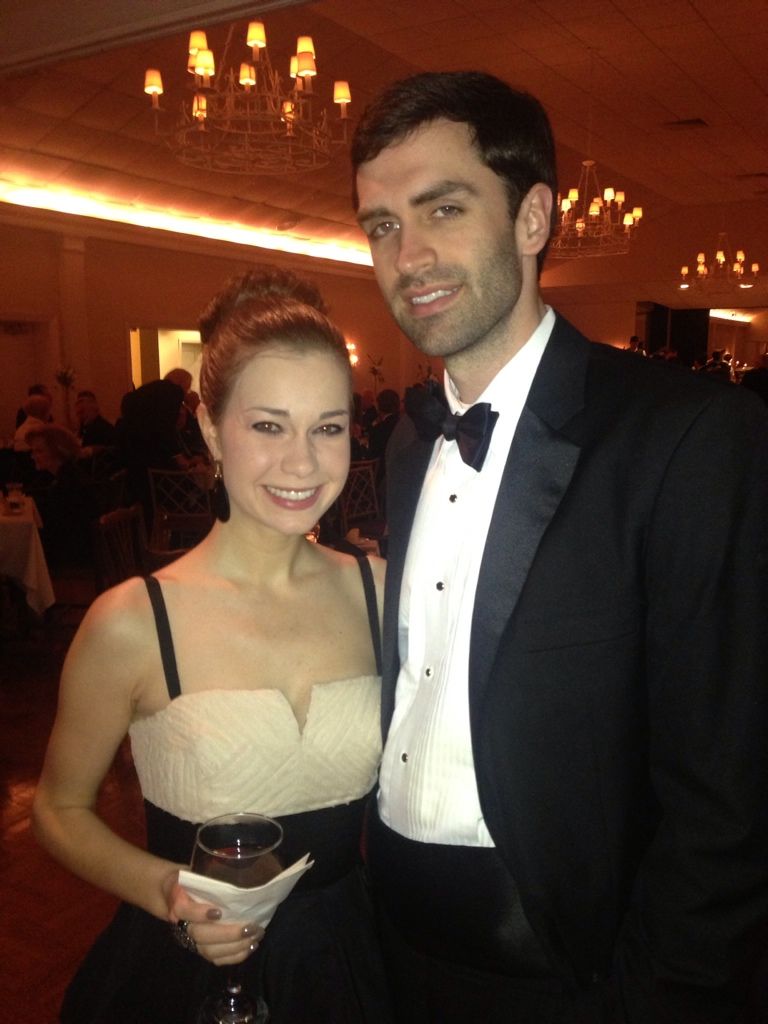 If boys are wearing tuxes, do not wear tights!
Brunch/Day time showers
A morning brunch is quite dressy--you should wear what you would wear to a day time wedding or shower. Church and even work clothes are quite suitable! Break out as many cardigans as you want for a brunch or shower. You can also get away with pants and even flat shoes.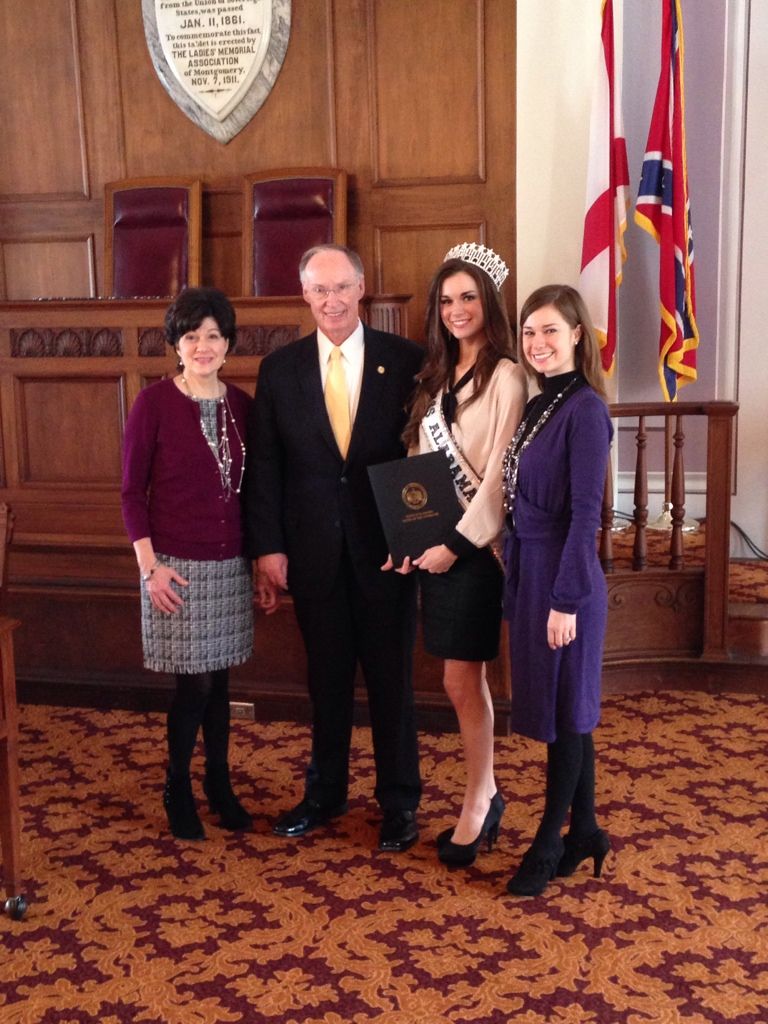 Here we are meeting with the Governor of Alabama. All of our outfits and shoes are perfect for a day time shower or brunch. We are all probably not dressy enough for a wedding, however.
Christmas Eve Church Service
I thought I was going to die at the Christmas Eve Service at my church--people were wearing jeans and tennis shoes! Now, I'm all for being comfy at church. I'm the first one to roll into Saturday evening Mass with no make up on. I'm pretty sure God would rather have us there, you know? BUT--it's Christmas Eve--can we not make a bit of an effort please? It's not just any church service, we are praising God for sending us His Son to save us all! I know He sees us in our jammies and loves us anyway but I can't take you seriously if you are a fully grown man wearing jeans and tennis shoes. At least put on a sports coat or a lame Christmas tie. Give me some effort. All I see when you are dressed like that is that you really don't want to be there and you really don't care. It's one hour, one day a YEAR! (Except Easter--you should wear the good stuff at Easter too). Just wear a nice outfit, perhaps a dress or skirt and for men, a shirt with a collar and shoes that are not suitable for the playing of sports.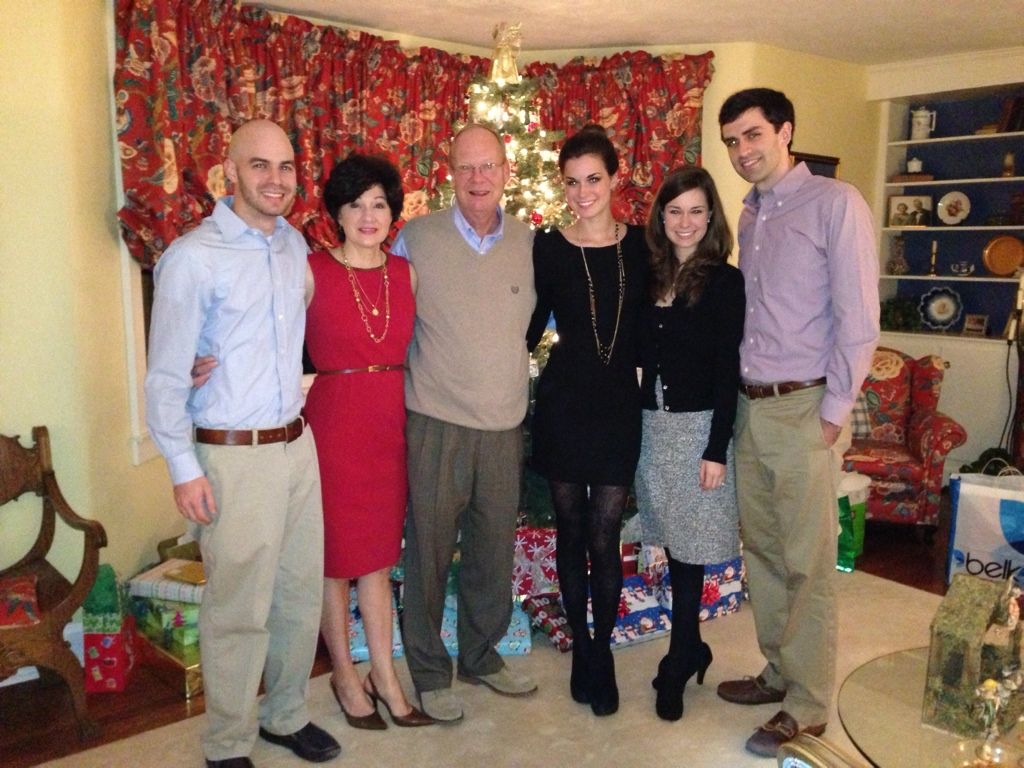 Now this is how you dress for Christmas Eve Church. The guys wore jackets and ties to the service but even if they hadn't, this is better than nothing. (I'm wearing that same outfit today at work...hmmm)
Some specific no-nos that I see particularly with younger girls:
Flat, tall boots are not dressy. Leggings are not dressy. Scarves are not dressy. It is also never appropriate to have your bra straps showing--we are not Carrie Bradshaw. Super high stripper-esque shoes may be cute but they are not appropriate during the day--not at work, not at a shower or a wedding, and definitely not at church. When you are going to an event, you should be worried less about being trendy and stylish and more with wearing the right type of ensemble. Of course, you want to be stylish but just because chevron scarves may be in style does not mean it is correct to wear one to your cousins' 7pm wedding.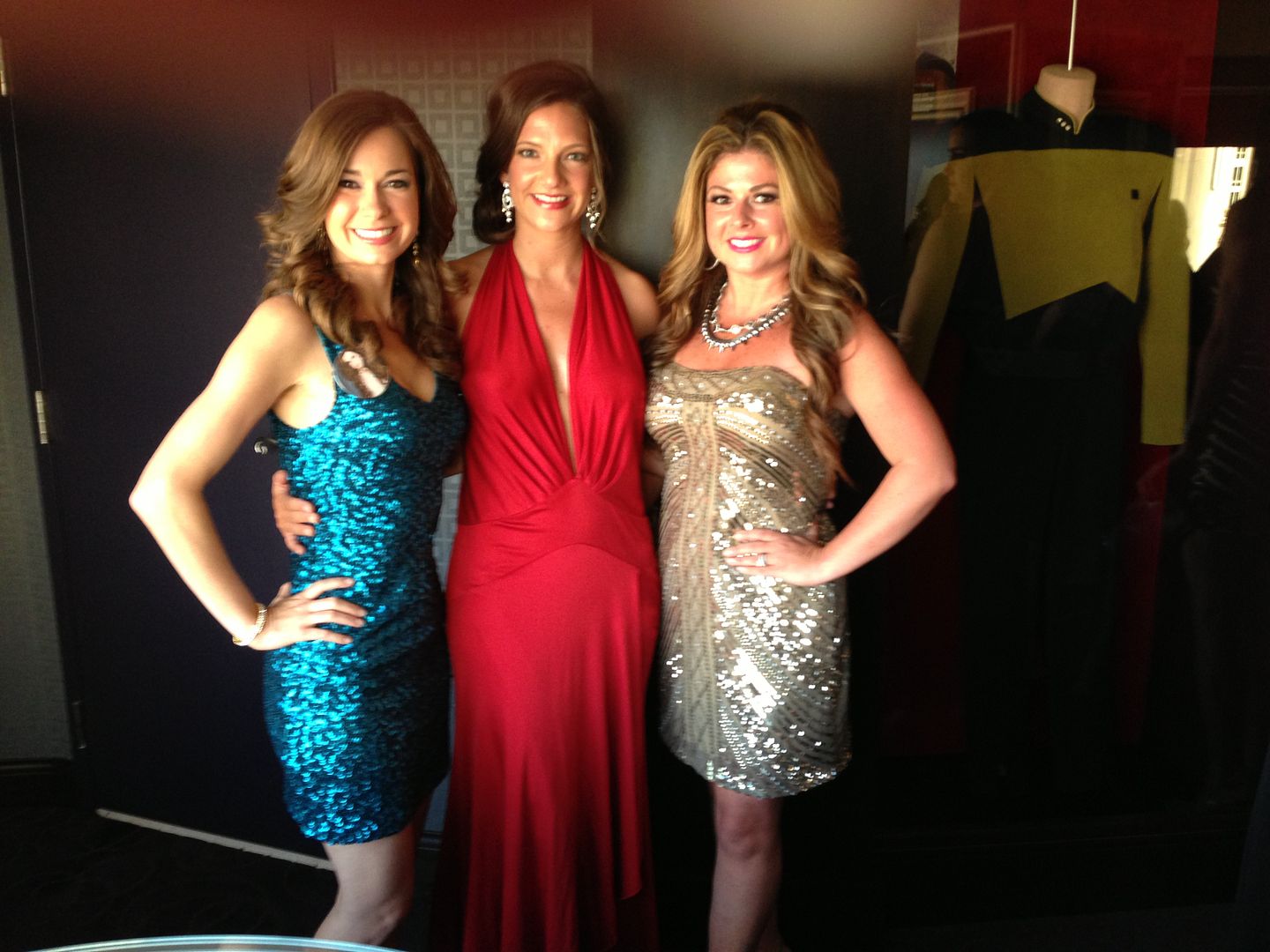 Vegas clothes--not appropriate for much else than Vegas, although perhaps for the right wedding or cocktail party. Maybe New Years?? Can you tell I'm dying to bust out the blue dress again?
Whew--I feel so much better. I promise that if you remember just a few of these simple rules, you will feel confident that you are walking into a party appropriately clad. Your host will know how savvy you are, as will all of the other guests! Not exactly sure on which side to err? Always err on the dressier side--you'd rather be slightly too dressy than slightly too casual. Wouldn't you rather feel elegant and pretty in a room full of too casually dressed people instead of feeling like you are dressed for a ho down when everyone else is dressy??? Of course, take all of this with a grain of salt. You know what works best around your family and friends!
What are some fashion blunders that drive you bonkers?? What else would you add to my list?