There are some distinctions in life that are honors and to me, "baby shower hostess" is one of them. "Honor" is exactly what I felt ever since I Laura told me she was pregnant. My first question was if I could host her shower and she said yes. I have known Laura practically my entire life. Her sister Rachel and I have been best buddies since we were 2 years old at our little day school. Laura was always "our" big sister--she taught me all about music, combat boots, and always let us dance to "Booty Mix 97" when she drove us around. Since Forrest and I moved back to Gadsden she has always included us in all of her parties and fun events and we have gotten to be really close (I mean, you can't go see NKOTB twice with just anyone!). I wanted her shower to be unforgettable and meaningful and I think it's safe to say we pulled it off. There were 11 hostesses, one florist, plus Rachel and her mom as helpers. Even though my next Gadsden Style article is (spoiler alert) about baby showers and how pretty much anything goes this day and age, I wanted Laura's little girl (eeeekk!) to have a perfectly pink shower, full of frilly, meaningful touches. Shall I show you?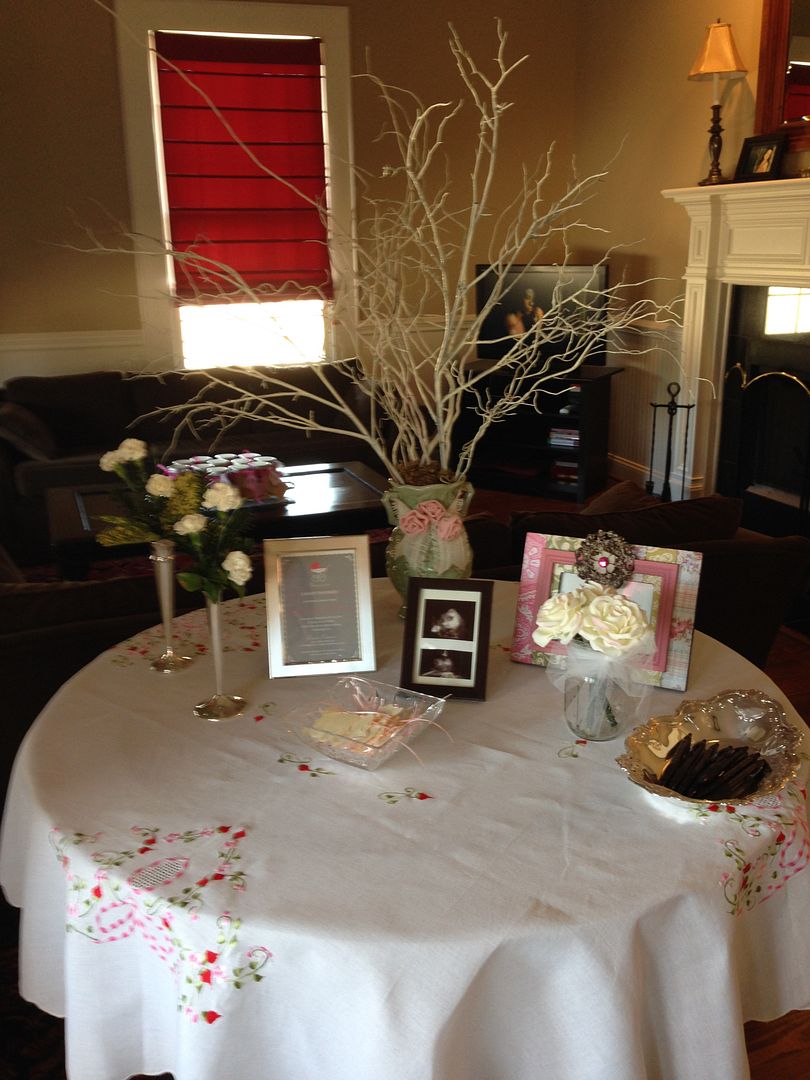 Upon entering the shower, guests were greeted by the "Wish Tree", designed by Julie. They were to write their wishes and words of wisdom for Mommy and baby and hang them on the tree. I thought Julie did a beautiful job!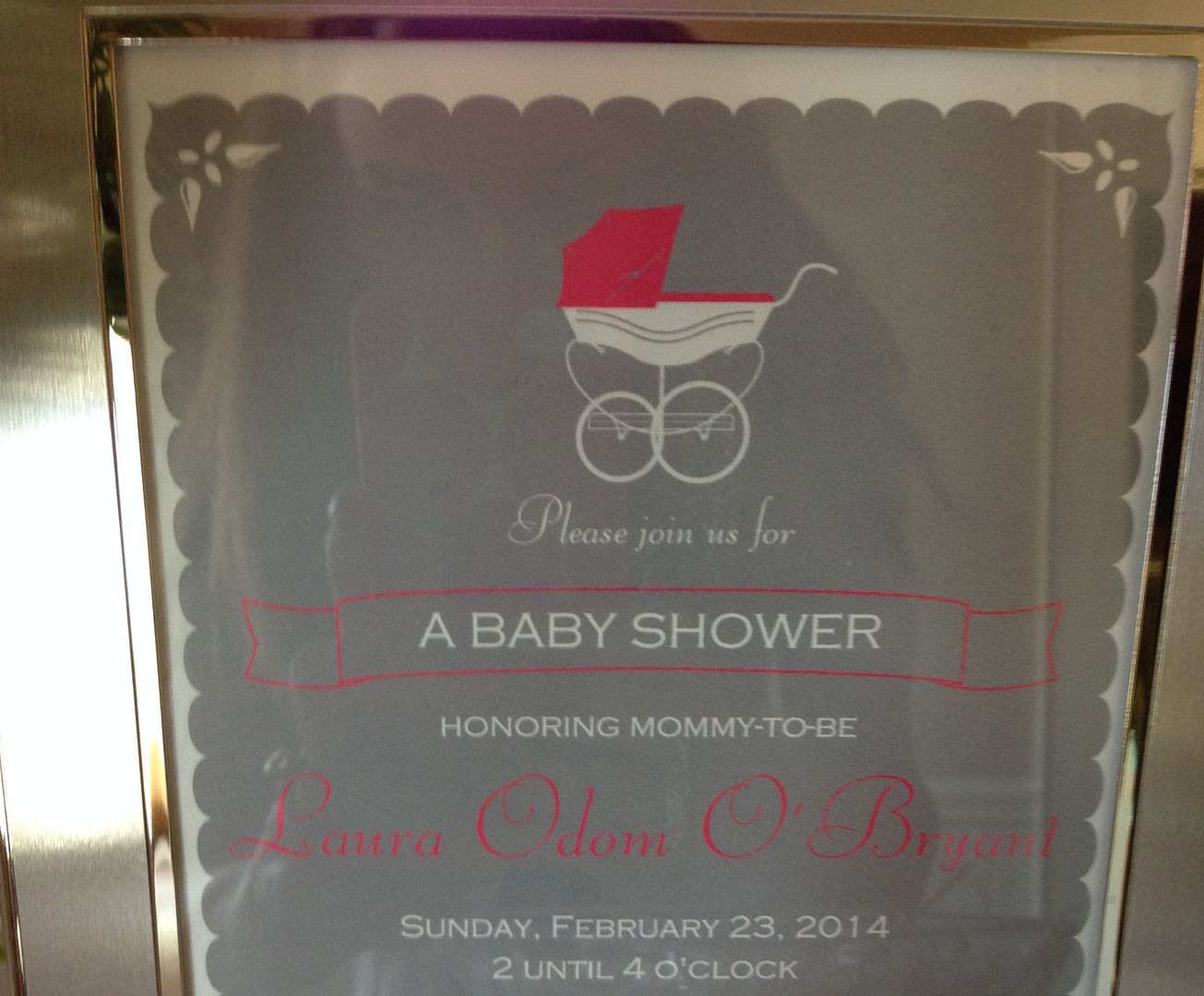 This was our invitation. I loved how it wasn't too baby pink but still had a traditional feel. We went with a "pram" theme overall.
The coolest thing about the shower was that we held it in Laura's own home. That way, she didn't have to haul any gifts AND the guests got to see the baby's nursery! This is a shot of her crib, decked out in Peter Rabbit as well as the heirloom christening gown and bonnet from the 1800's that has been passed down in Laura's family!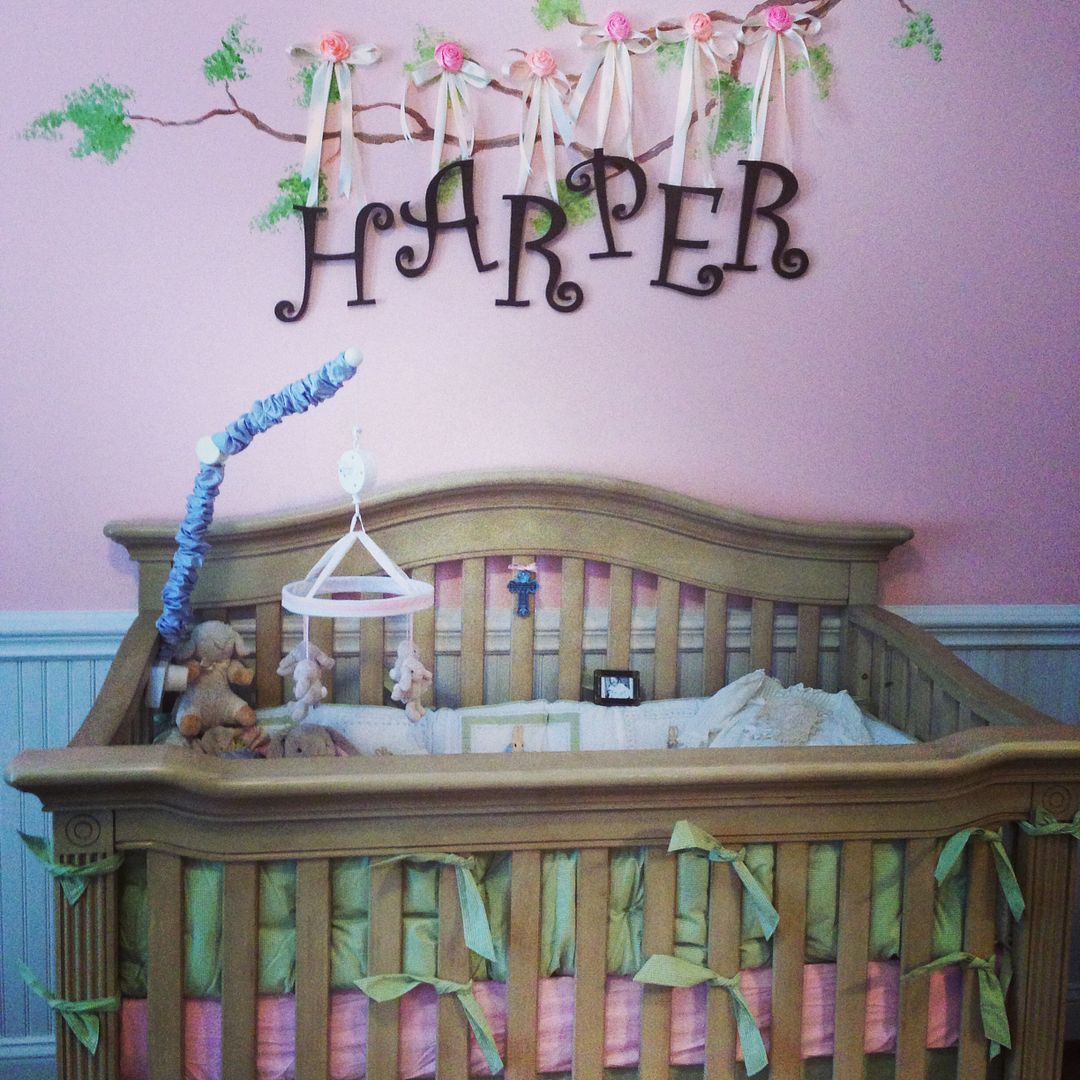 Rachel and her Aunt Dianne painted this mural for baby Harper and hung the letters with rosettes and ribbons! A bedroom fit for a princess!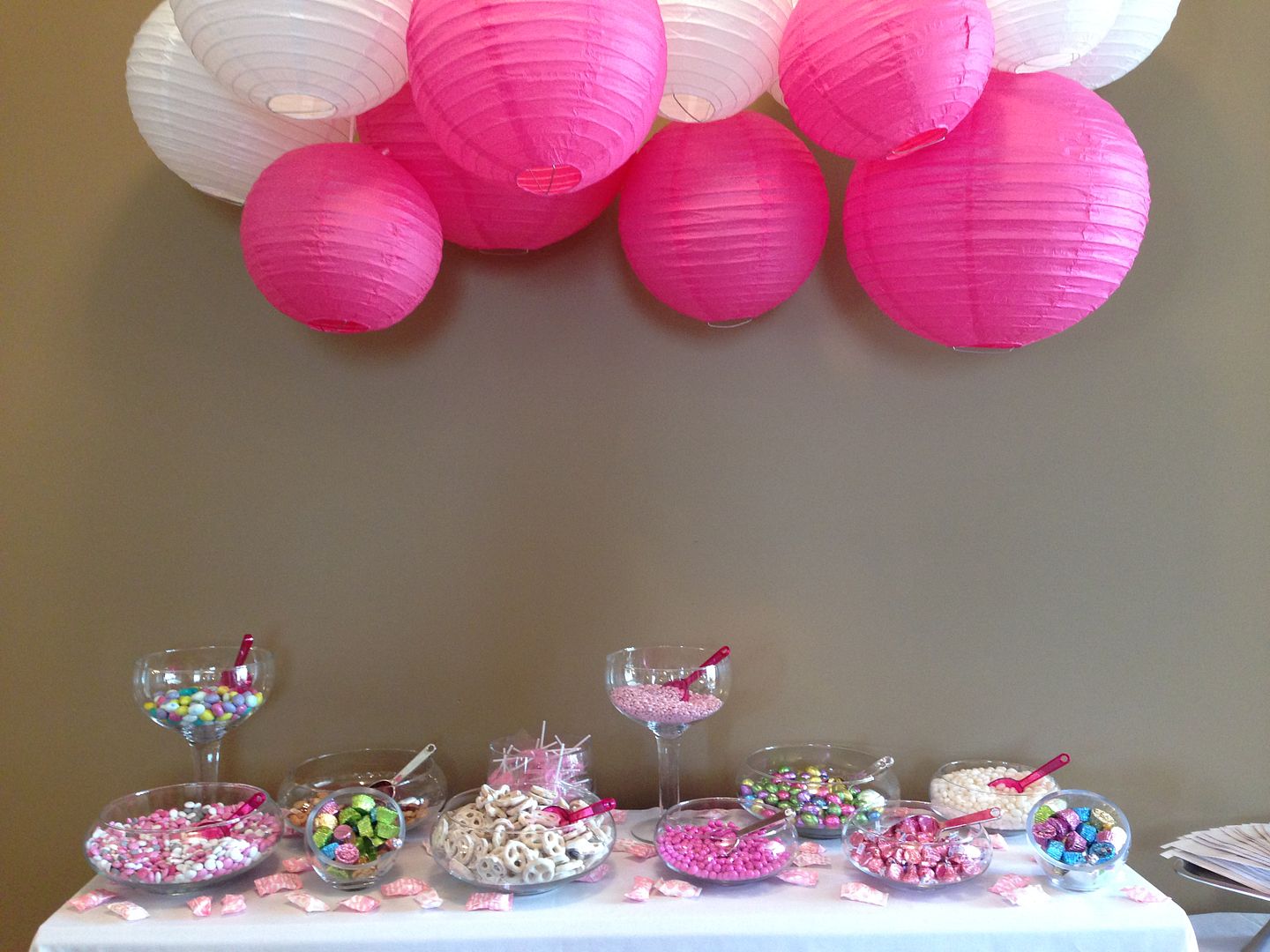 Lauren, aside from being the set up guru, created this sweet candy station! Guests enjoyed filling bags of sweet treats to take home as favors from the shower.
We had these beautiful cookies made from our resident cookie extraordinaire, Alison!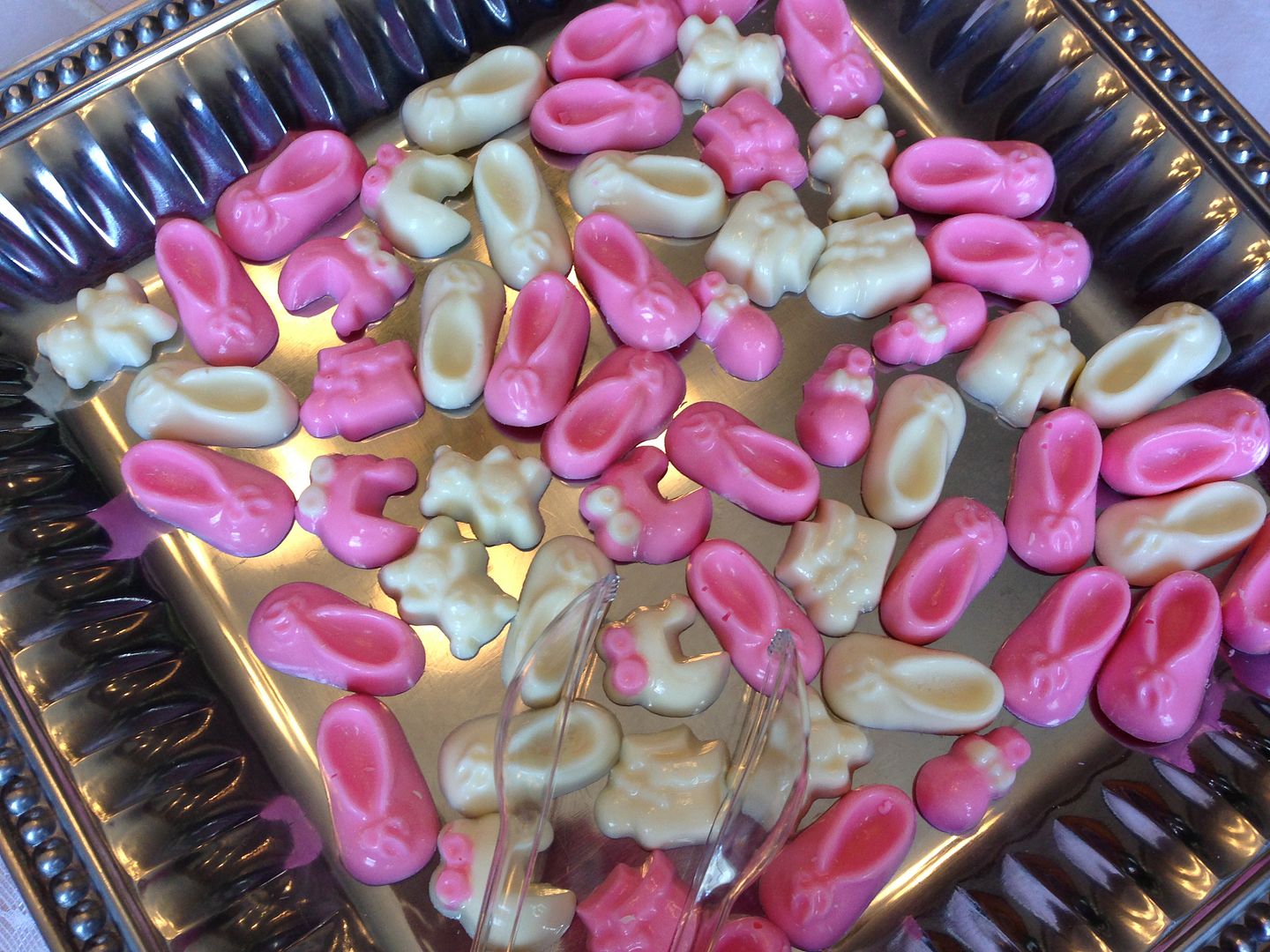 Casey hand made these adorable mints! It was so special to have touches added by each individual hostess.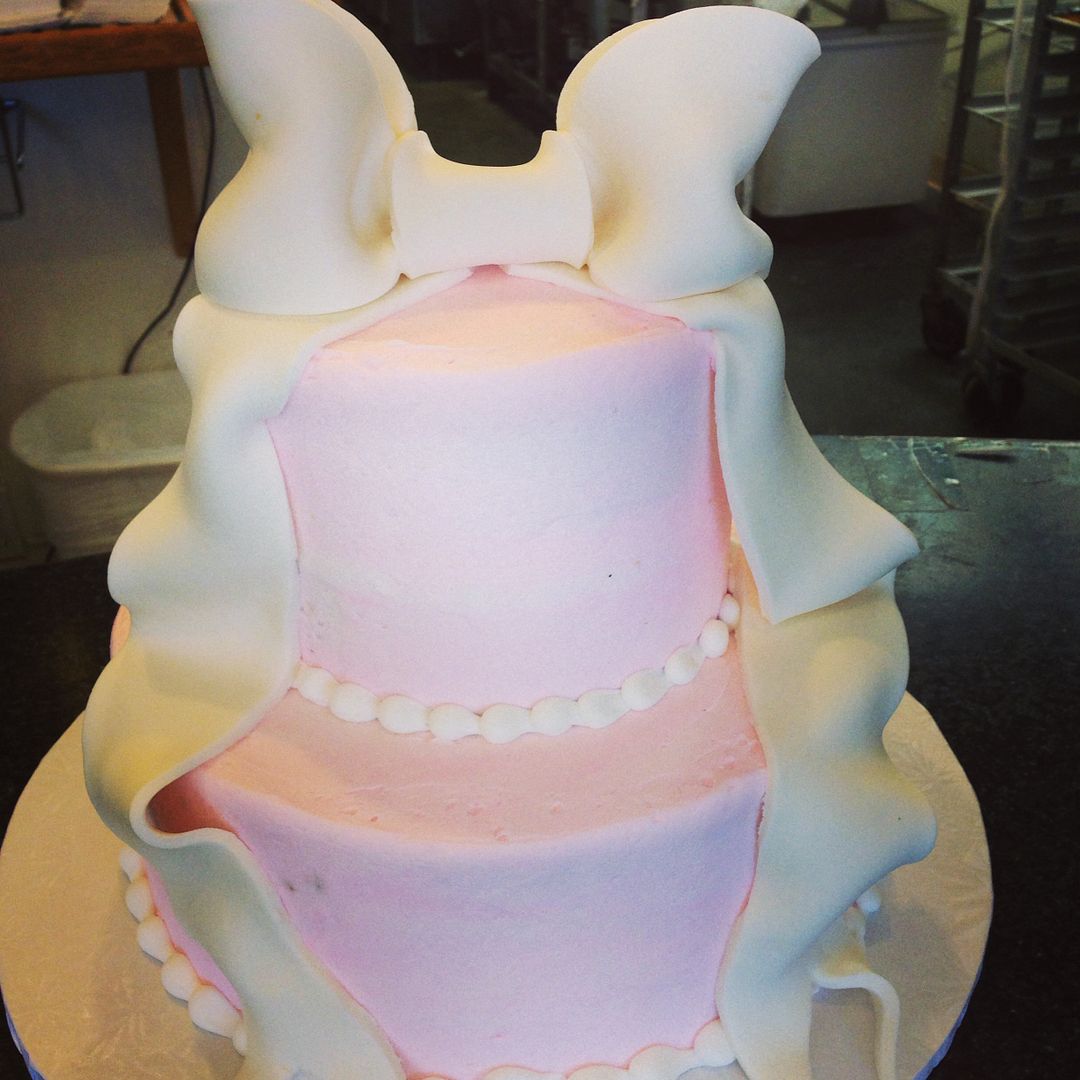 This cake--simple and elegant! It was the perfect compliment to the party (especially because the cake inside was also pink and white!) I really wish I had taken more pictures but it was such a busy day! Laura received some beautiful gifts and should truly feel blessed by all the love that was in that house, just for her and her baby! It was a thrill to be such a big part of such a special occasion, and I hope it was all she ever wanted!