Sometimes I do a Life Lately post, but today I wanted to share with you a "Food Lately" post. I've done some cooking over the past 2 days and I have found some amazing recipes to share! Let's start with Cousin's Dinner.....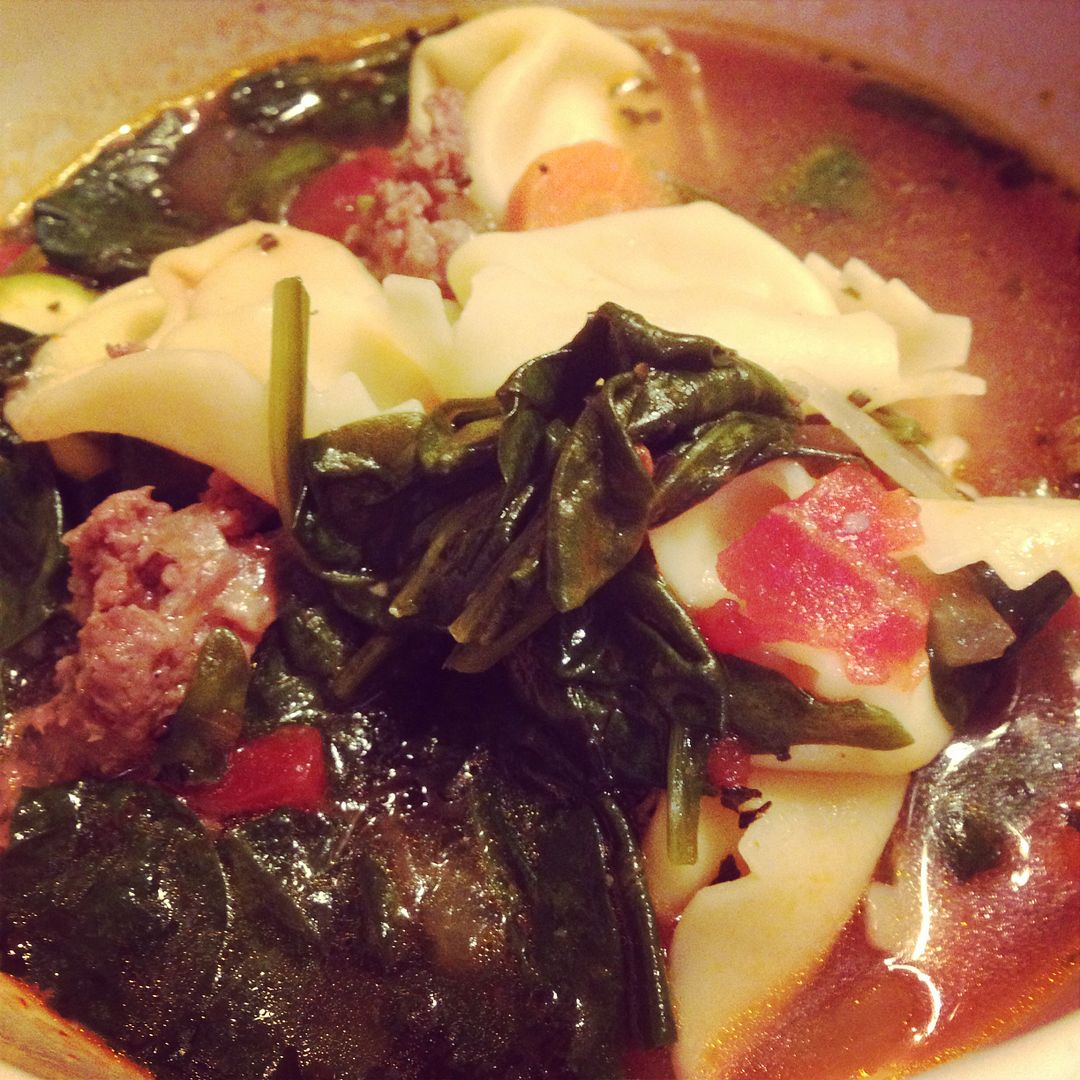 Remember this picture from yesterday's post? This is Tortellini Soup, made here by my cousin Ashley but discovered by Aunt Dawn. They were sweet enough to give me the recipe so I could share with you. This is chock full of veggies and every good thing, and you could make some simple modifications to make it extra healthy for you!
Italian Sausage Tortellini Soup
3.5 oz Italian Sausage (casing removed)--you could use turkey sausage, shrimp, or go meatless for a little extra hearth health (although MAN the sausage was good)
1 c chopped onions
2 cloves garlic, minced
5 c beef stock
1/3 c water
1/2 c red wine
4 tomatoes, peeled, seeded and chopped
1 c chopped carrots
1 zucchini, chopped
1/2 teaspoon dried basil
1/2 teaspoon dried oregano
1 c tomato sauce
8 oz cheese tortellini
1 green pepper, chopped
1 tblsp fresh parsley
Parmesan cheese for topping
(Ashley also added spinach, and Kale would be amazing!!)
1. In a large pot, brown sausage according to package directions (I always use ground sausage when I cook, not sausage in casings--way easier). Drain the fat and add in the onions and garlic and saute for 5 minutes.
2. Add the beef stock, water, wine, tomatoes, carrots, basil, oregano, and tomato sauce. Bring to a boil, reduce, reduce heat to low and simmer for 30 min, skimming any fat that may surface.
3. Add the zucchini, tortellini, bell pepper, and parsley to taste. Simmer, for 10 minutes, or until tortellini is fully cooked. Serve topped with Parmesan cheese.
Hammies
My friend Kelly calls these "baby shower sandwiches". You know what they are, right? The gooey, melty, hammy and cheesy sandwiches? LOVE these but have never made them--I actually always ask Justin and Farrah to bring them to any events so I can eat them but not make them (I do the same thing with Buffalo chicken dip--yum). Anyway, since we were having soup at Cousin's Dinner I thought we needed a hearty appetizer and so I selected this tried and true favorite. I don't have a picture because we kind of gobbled them up before I thought to take one! You are just going to have to make them and take a picture for yourself! Here is the recipe, according to Farrah:
2 pkg King Hawaiian rolls
1 pkg thinly sliced deli ham
1-2 pkg Swiss cheese, sliced
Topping:
1 stick butter, melted
1 tsp worcestershire sauce
1 1/2 Tbsp mustard
1 tbsp dried minced onion
1 tbsp poppy seeds
Cut the top off rolls and set aside. Place a slice of ham and a slice of cheese inside each roll. Replace tops. Place them in a large baking dish or heavy cookie sheet tightly together.
In a medium bowl, whisk together topping ingredients. Pour over all of the sandwiches--just enough to cover tops. Let sit 10 minutes or until butter slightly sets.
Cover with foil and bake at 350 for 12-15 minutes or until cheese is melted. Uncover and cook 2 more minutes or until tops are crispy. Serve warm.
Oh how I wish I had some of these left over!!!!!
Now on Monday night I had it in me to cook a full dinner and I wanted to try out some new recipes I found on pinterest. Forrest and I LOVE breakfast so I went with a fancy breakfast for dinner theme. Here is what we had:
Paleo Friendly Baked Eggs in Avocados, by My Tiny Little Life
Preheat oven to 325 degrees.
Halve your avocado, sprinkle inside with a bit of extra virgin olive oil, some cracked sea salt and some thyme.
Crack your (preferably organic) egg, discarding about half of the white, into the cavities.
Sprinkle top with a tad more extra virgin olive oil, more thyme, and a bit more sea salt.
Bake for about 10 minutes, checking your eggs every few minutes after that, and when they are done to your liking, remove from the oven.
Let them cool a bit so that the flavors can continue to meld just a little.
Clean Eating Blueberry French Toast Casserole, by The Gracious Pantry
- I had an entire loaf of bread left over from the snow (yes I was that person who bought bread). We never have bread and I hated to waste it so I found this yummy and easy way to get us to eat it!
8 egg whites
1 1/2 cups unsweetened almond milk
1/4 cup honey (or maple syrup)
1 teaspoon vanilla extract
2 teaspoons almond extract
2 teaspoons ground cinnamon
2 cups fresh blueberries (frozen works too, as do other berries.)
Directions:
In a large mixing bowl, combine the egg whites, almond milk, honey, extracts and cinnamon. Whisk well.
Oil a baking dish (about 9 x 13), and fill it with the bread.
Pour the liquid mixture over the bread and allow it to sit for at least 30 minutes, mixing once or twice to be sure all parts of the bread are moistened.
Mix in the blueberries.
Bake the casserole at 350 F. for about 45 minutes or until there is no longer any liquid between the bread.
Allow to cool a bit and serve.
This was SO tasty and you didn't realize you were eating "healthy"! The best part is you can reheat it and it tastes just the same!
For the final flourish, I went with a tried and true favorite, shrimp and grits--a dish I love but had never made. It's now safe to say I will be making this much more often because it was that good and that easy!
Ingredients:
3 cups fat free low sodium chicken broth
1 cup old fashioned grits (instant grits seem to be frowned upon by real Southern cooks, so do them some justice and use the real stuff)
½ cup 2% shredded cheddar cheese
½ cup shredded parmesan cheese
1 tsp olive oil
6 slices ultra-thin deli ham, chopped
1 ½ lbs large/jumbo shrimp, peeled and deveined
Juice of one lemon
3 tsp low sodium Worcestershire sauce
2 tsp finely minced garlic
1 T chopped fresh parsley
Salt & Pepper to taste
Preparation:
In a medium saucepan, boil the chicken broth over medium heat. Slowly stir in the grits and reduce heat to med/low. Cover and simmer for approximately 12 minutes stirring occasionally. Remove from heat and mix in the cheeses, stirring until melted. Cover and set aside.
In a large skillet heat olive oil over med/high heat and add ham when hot. Cook the ham until it is a little bit crispy – about 3 minutes – remove to a paper towel and set aside.
In the same pan, cook the shrimp for about 3 minutes, sprinkling with salt and pepper to taste. Flip the shrimp about halfway through, and cook until no longer pink.
Add the lemon juice, Worcestershire sauce, and garlic and stir. Heat through to a low simmer and remove from heat. Stir in the ham.
Spoon grits onto plates and top with shrimp mixture and parsley. Be sure to include sauce, the combination is divine! Serve and enjoy!
Anyone got the urge to try any of these? Which look best to you??