I know you know I have decided on a living room color scheme and I'm not showing it yet, but I thought it would be fun to show you some of the inspiration pictures I've been working from for the rest of the house!
VIA
I'm currently crushing HARD on apple green kitchens. The current cabinets and countertops are white and will probably stay white, although we want to reface the cabinets and I want new countertops. I think the green looks great with any color--red, blue, pink, yellow, anything--so I'm leaning towards it for now.
VIA
I'm sure you have seen some fantastic outdoor spaces on Pinterest, but let's be honest--those things are majorly expensive to create. We actually have a courtyard at the new house that looks a lot like this one, minus the giant fountain. While I do want to get some cute outdoor couches, that might have to be a next year's purchase. We currently have furniture just like this and I think with some lights and lots of potted plants the courtyard will look magical!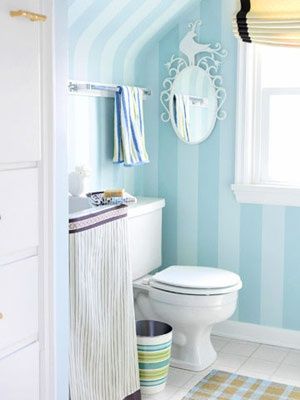 VIA
I want our bathroom striped exactly like this, just a little bit deeper blues. Our current bedroom is white, blue, and chocolate brown and we are going to continue with that at the new house. We will keep the room a neutral khaki wall color but I wanted the bathroom to have a little pizazz. I think these stripes will be just
the thing!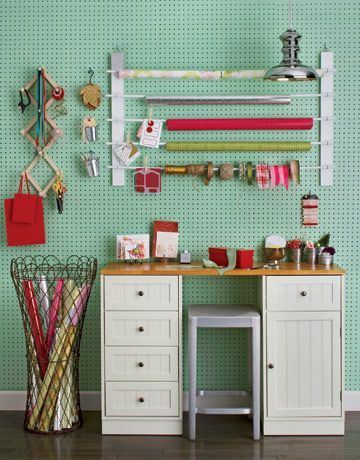 VIA
I'm getting a gift wrap station in my laundry room! Forrest is going to make it for me and I am beyond excited. It won't look exactly like this but I want everything on the walls with dowels sort of like this one and I'll have a table for cutting, etc.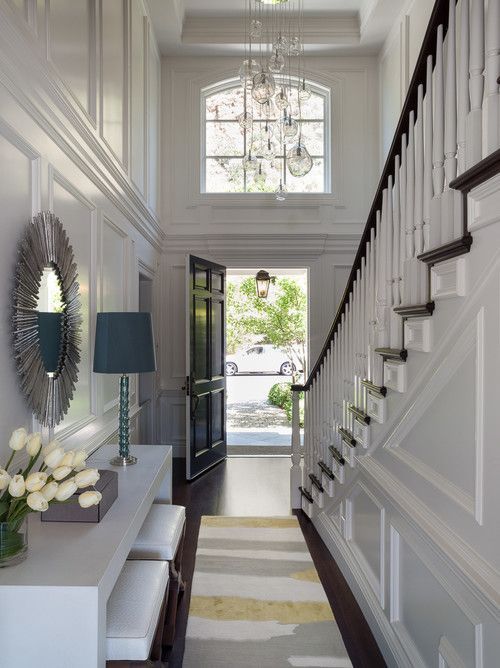 VIA
My entry way currently is laid out identically to this one. However I want to make it even more exact by adding molding on the stair wall and painting the inside of the door black. Also I want a funky light fixture, and man oh man are they expensive. Any websites with great buys on lighting?
VIA
I like the layout of this room SO much. We have a fireplace in the great room so I'm using this picture as my lay out inspiration.
VIA
My husband is building us a farm table like this one for the dining room. I haven't found any chairs that I like and I'm not a huge fan of these but I'm really open to ideas right now. If you know where I can get decently priced dining room chairs pleas share!
Eeeeek!! Looking at all these pics makes me super excited, yet so overwhelmed! I have SO much to do!