Guys!!!! So I'm sure lots of you are aware of the
Influenster
VoxBox program. You know that thing where you sign up to review products and they send you free stuff? I know I've talked about the 2 that I have received before, but they were no where NEAR as awesome as my latest one! The JaDore VoxBox arrived at my office on Wednesday chock FULL of items that I either use or need! Let's break it down, shall we?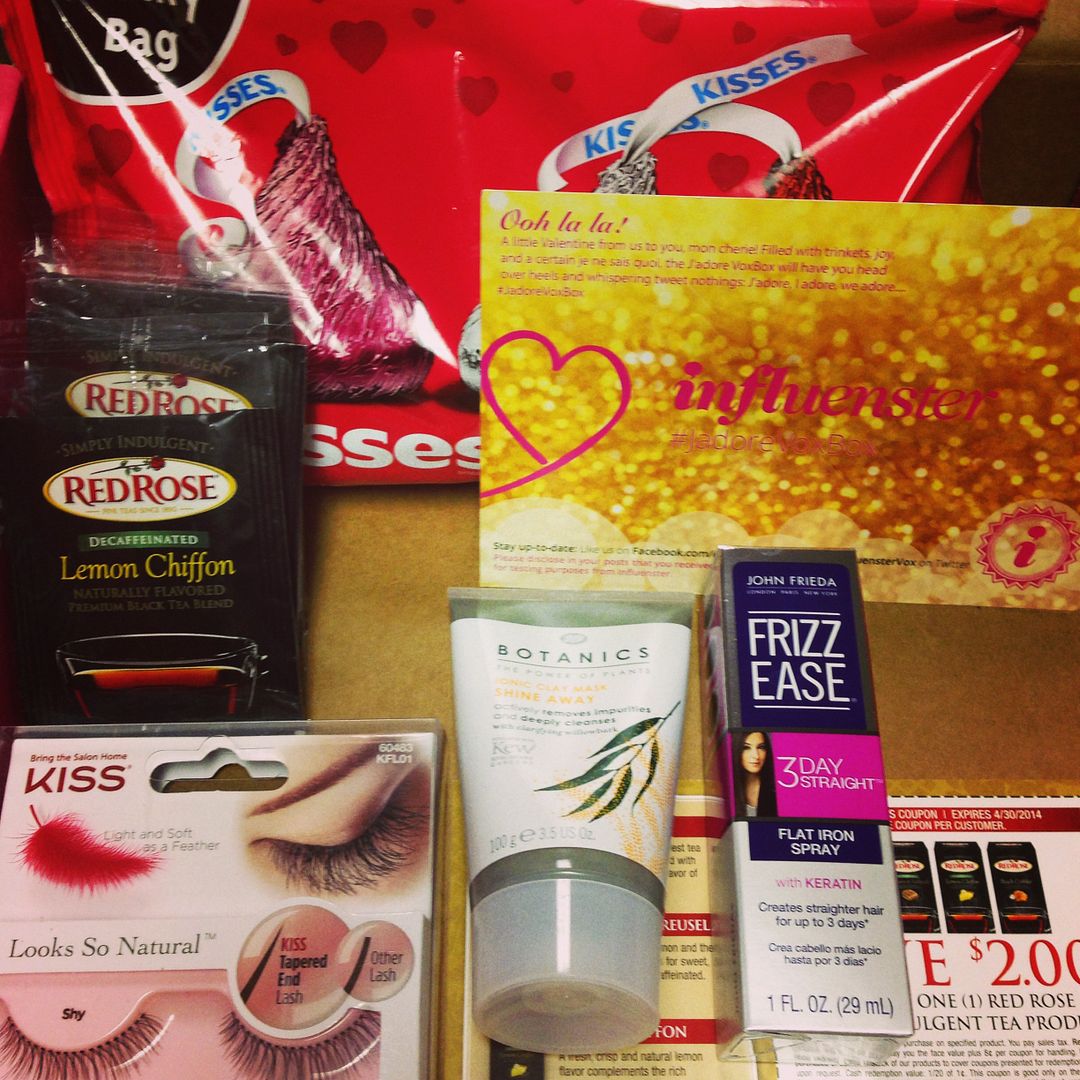 1. Let's start with the FAMILY SIZED bag of
Hershey's Kisses
! Who doesn't love these little treats? I ate about 10 trillion of them right off the bat but I think I should probably take some home to share... Or maybe I can make some more of my famous
Snuggles
candy??
2. Moving right along to the
Red Rose Tea
. I love having a cup of hot tea at my desk in the late afternoons. I have to have an afternoon snack and a cup of tea is usually enough. Plus, it warms me up on cold days and also calms me during stressful afternoons! I'm excited about the Lemon Chiffon decaf tea because I can't do caffeine, plus I love lemon, so it's a perfect combo! I'm going to give the caffeinated bags to my brother and sister in law, as they are tea connoisseurs! A $2 off coupon was included so I will be buying more Lemon Chiffon in the very near future!
3. On to the
Kiss
eyelashes. Truth be told I really like wearing fake lashes. I don't do it regularly but I do for special occasions. I really got into them when my sister was Miss Alabama and we all went to Vegas for Miss USA. I am saving these babies for our next formal event, which is coming up in the next few weeks. I know I'm going to love the "Shy" style of lashes because they are full without being overwhelming. I like to looked amped up, but I like to be as natural looking as possible in the process.
4. Next we have what I consider a full sized bottle of Botanics Shine Away Ionic Clay Mask. I really like doing facial masks because I have such junky skin, especially in the winter. First it's peeling because it's too dry. then I moisturize and it get's oily and I break out. There is no happy middle ground. I have been reading about Botanics online and I think that this may be the thing for my hyper active skin. You can check all of their products out for yourself at
Target
!
5. Last but not least is
John Frieda 3 Day Straight Flat Iron Spray
. Now I'm sure you all remember my discussion of my hybrid hair so I'm really looking forward to trying this. I may wait to try it until we go on vacation so I don't have to pack my straightener. We shall see how much patience I can have!
I am beyond thrilled with the contents of this box! I know that lots of you also received it and that some of you got different products in yours. Since I haven't really started using my products let me know what your favorite things are!!! Can't wait!
*I did receive this box and the products inside for free but the opinions are all my own!