Well friends, I am happy to say that the winter listed to my letter yesterday and went easy on us. We had about 3 inches of beautiful snow, kept our power on, and got to sleep in this morning! Now it's melting and we can go back to our regularly scheduled lives! Hooray!
Since it is Valentine's Day tomorrow I thought I would share some Valentine's treats I have made this week! Everyone loves treats, right??
Catherine's Own Valentine's Mix
mini marshmallows
peanuts
white chocolate chips
Teddy Grahams
Valentine's M&M's
Pretzel Goldfish (did you know they made these? my mind was blown)
Valentine's candy corns (yes, they make these too!)
Throw all of this in a storage bag, shake it on up, and pour in a jar. People LOVE getting gifts in jars!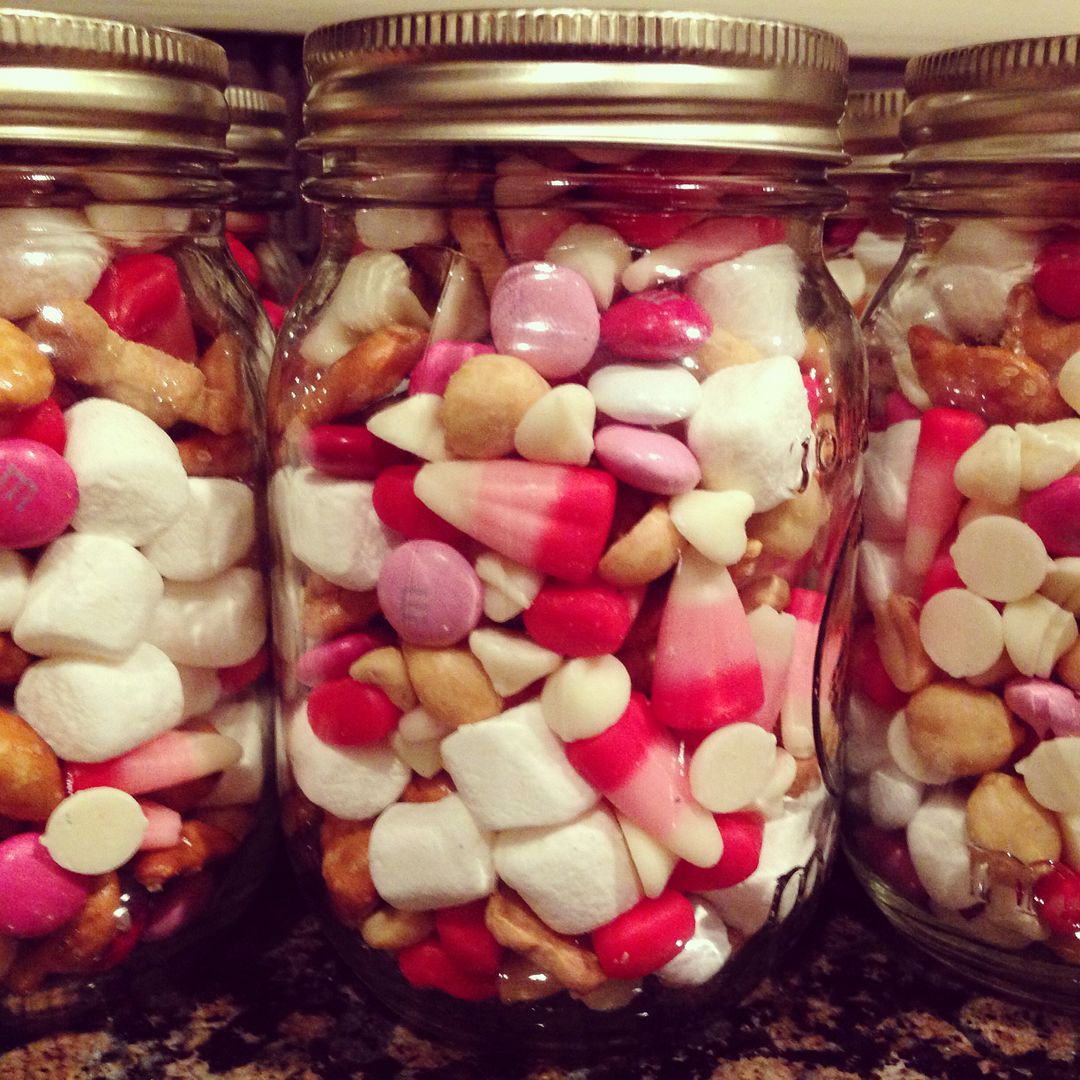 Valentine's Snuggles
I LOVE these things SO much and they are so easy to make!
Put a Hershey's hug or kiss on a pretzel, bake for 3 min at 250, then quickly press in a holiday colored M&M. After I ran out of those I starting using mini marshmallows--delish.
Tuscan Bean Soup (from the Pioneer Woman)
Nothing says love like a big ole bowl of soup! PLUS, this soup is actually good for your heart!
Pioneer Woman's Ingredients
5 cloves Garlic, Minced
1 whole Medium Onion, Diced
3 cans (14.5 Ounce) Cans Great Norther Beans, Drained And Rinsed
2 Tablespoons Olive Oil
1 teaspoon Red Pepper Flakes
2 teaspoons Dried Oregano
1/4 cup Tomato Paste
3/4 cups Dry White Wine
1 can (28 Ounces) Whole Or Diced Tomatoes
6 cups Low Sodium Chicken Broth
1 bunch Kale (more If Desired)
Plenty Of Torn Fresh Basil
4 Tablespoons Butter
1-1/2 pound Raw Shrimp, Peeled And Deveined
1/4 cup Chopped Fresh Parsley
Fresh Parmesan Shavings
Pioneer Woman's Preparation Instructions
Heat olive oil in a large pot over medium high heat. Add onions and garlic and stir to cook for 3 to 4 minutes. Add tomato paste and stir to cook about 2 minutes, getting lots of flavor in the bottom of the pan. Stir in red pepper flakes and dried oregano; stir and cook for another 30 seconds.
Pour in wine and whisk, scraping the bottom of the pan a bit as you go. Allow this to bubble up and reduce, cooking until the wine is reduced by half.
Add canned tomatoes. Drain and rinse beans, then add to pot. Pour in chicken broth. Stir to combine and allow it to simmer for 20-25 minutes. Sprinkle in salt and pepper to taste.
While the soup is simmering, cook the shrimp: melt butter in a small skillet over medium-high (or high) heat. Throw in the shrimp and chopped parsley and toss to cook until no longer opaque, about 4 minutes. Season with salt. Set aside.
Rinse the kale and tear it into chunks. Stir into soup. (It'll shrink quite a bit, so don't be afraid when you first add it!) Add a bunch of torn basil and stir. Allow the soup to simmer for another 5 minutes, tasting and adding salt and pepper (or even more red pepper flakes) as needed.
Transfer soup to a large serving bowl and top with the shrimp, or ladle into individual bowls and top with 3 or 4 shrimp.
Add big, fat Parmesan or Romano shavings and more torn basil at the end.
Love it!!!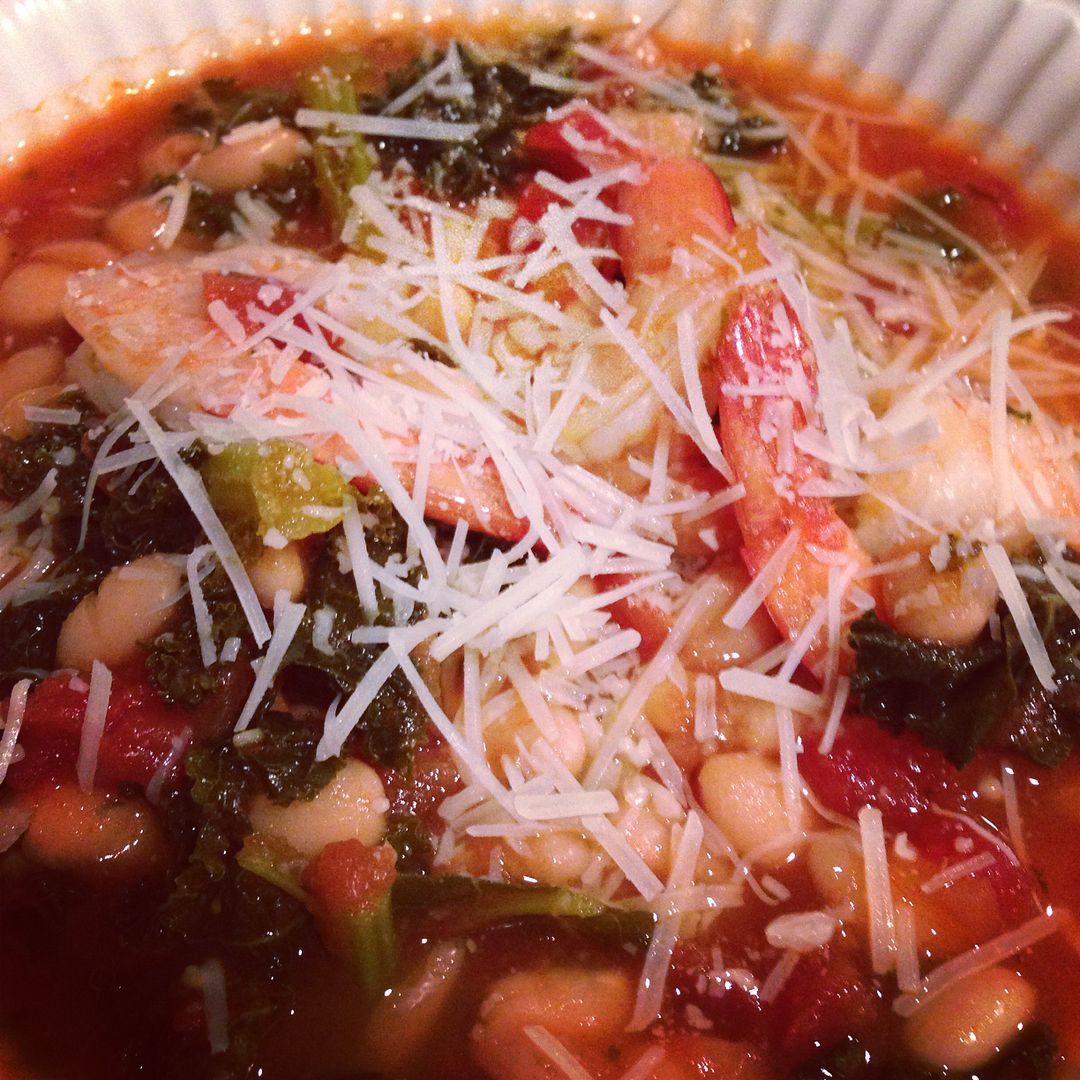 Happy eating!!!